This was definitely one of the stranger races I have completed. One for many reasons best forgotten, which is one reason why it has taken over a month to commit my report into words.
Long Bennington's Summer Solstice 10k has been a bittersweet race for me over the years. It is Grantham Running Club's flagship race so is a prominent fixture in my calendar. The first year I ran it, two years ago, I probably shouldn't have and for a while after questioned the whole wisdom of racing. I returned last year, mind refreshed, the body recovering from two serious injuries but in good shape. I finished third with a 10k PB. I was delighted but tempered with frustration that were it not for a niggle in my left glute, I would have almost certainly broken 34 minutes.
The 2016 edition was looking promising off the back of a strong showing at the Duathlon World Championships a couple of weeks earlier. I had the complication that I was working that day and couldn't guarantee my participation, but in the end I was just about able to make it to the race on time. What wasn't accounted for was waking on the Thursday morning with severe tightness in my right hamstring. It may have been a delayed reaction from the 25 mile bike Time Trial I'd ridden on Tuesday evening. It may just have easily been a case of sleeping in an odd position Wednesday night and tweaking the back (I think, in hindsight, it was another, short-lived, bout of sciatica). Whatever it was running was out of the question on Thursday and up to Friday afternoon things weren't looking promising.
At 6:37pm I ran, close to my house, just over a mile warm up as a fitness test. The right hamstring hurt a lot, but my pace didn't seemed diminished and the pain wasn't getting any worse. I decided to drive to the race and see what happened. I arrived at 7:10pm, too late to get to the official car park, so dumped the car on the main road and jogged half a mile to the start, when the heavens opened and scattered runners and spectators to try and find cover.
I arrived at race HQ and spotted my massage guru David McKee, With ten minutes to the start, he performed some very quick and pretty painful massage on the upper right hamstring, before sending me on my way to the start line. I got to the start line a couple of minutes before the go, I ran one set of strides to test the leg – no miracle cure, but it was bearable to run on. The rain couldn't decided whether it was going to persist, the conundrum of whether to go with wearing the sunglasses distracted my attention from the matter of racing.
The race began at 7:30pm prompt. I'd spied Aaron Scott and a few of his 'mates' (i.e. quick runners) on the start line, so knew there was no hope of a podium finish, I quickly found myself sixth, leading the second pack, trying to ignore the hamstring tightness that would come and go in waves.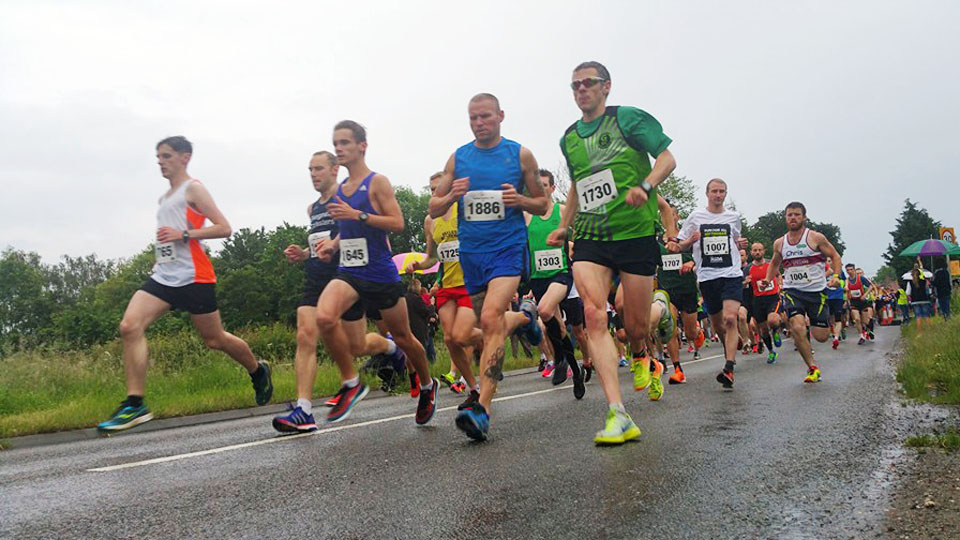 Despite the discomfort, the poor preparation and rushed warm up, the first mile was quick – 5:21, comfortably ahead of PB pace. Aerobically I was feeling unchallenged so I continued to push on as hard as I could, the discomfort in the right hamstring the limiting factor.
The group soon disintegrated so I was just running with one other runner who I shared the pace with through to 5k. Mile 2 slowed a touch to 5:29, mile 3 was 5:28 and I passed 5k in 16:53, which was essentially the same halfway split I ran in 2015. It was at near bang on 5k I began to get severe discomfort in my stomach, on the right hand side. It had all the hallmarks of stitch. I tried altering my breathing and did a bit of prodding to make the pain go but it rapidly got worse to the point where I found myself slowing uncontrollably and before I knew it grinding to a halt and walking!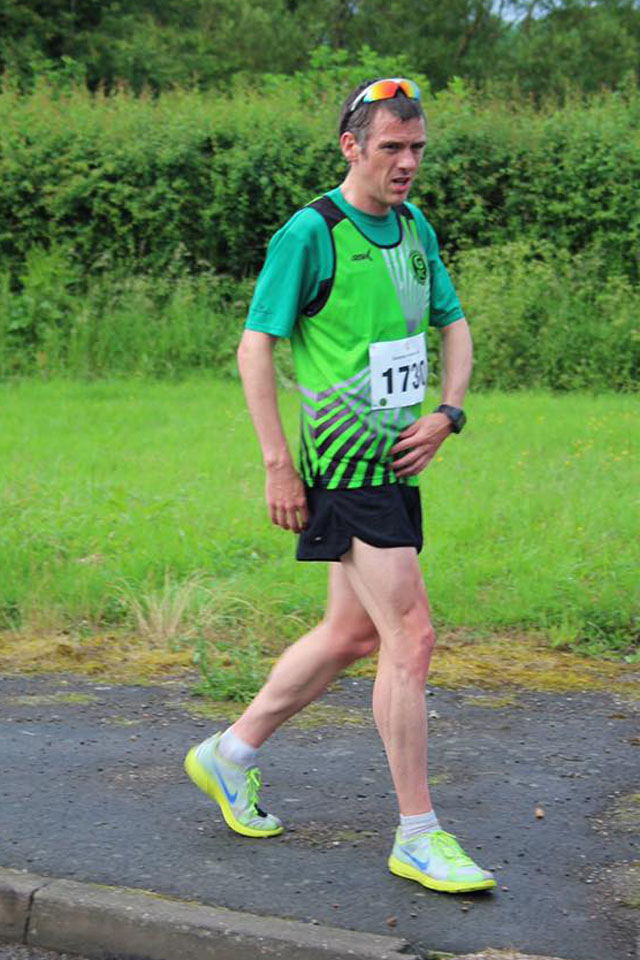 I very rarely get stitch and for a while doubted whether it was that or if it was something like a Psoas muscle locking and going into spasm as a result of the hamstring tightness causing issues with the lower back. I had stopped just before the left turn at Staunton-in-the-Vale, a spot where the sparsely spectated race tends to get a few onlookers. I had sympathetic applause from a few, the offer of a lift back to the start from a couple of others. Not quite sure what to do, I politely declined and grabbed a cup of water at the fortuitously placed drinks station.
I spotted club mate Chris Limmer close and past me, along with around ten other runners who had managed to keep going and overtake me. The discomfort began to ease in the stomach and, not fancying hanging around for the broom wagon, I resumed running – a jog at first then quite quickly into something resembling full pace. The stitch had all but gone, the hamstring pain still there but no better nor worse. Sportstracks reliably informs me that the stitch incident saw me walking for 77 seconds, and jogging for 40 seconds more. The four mile split was 6:52, which, in hindsight, is not too bad considering the amount of time not actually running.
With thoughts of a good time and maybe even a PB out of the window, I relaxed and focused on getting to the finish. I also pinpointed club mate Chris who was around 10-20 seconds up the road. In the fifth mile I began to reel him in, I passed him at almost exactly 5 miles (a 5:36 effort). I considered briefly running alongside him or pacing him, as I knew he was close to running a PB, but I felt the best course of action was to push on as hard as possible myself and try and act as a rabbit for him to chase. The sixth and final mile was a 5:27 as I came onto the final straight which, this year, was much improved with the finish line on the main road rather than in a gravel pit just off it.
Not wanting to risk the hamstring I didn't put in a sprint finish, crossing the line a fairly fresh fourteenth in 35:25. I grabbed a water and walked to some friends who were at the finish. Chris soon came past me, delighted that he had indeed broken his 10k PB. I hung around a few minutes to cheer (Shout) home another club mate Scott, who I was delighted to see break 40 minutes for the first time.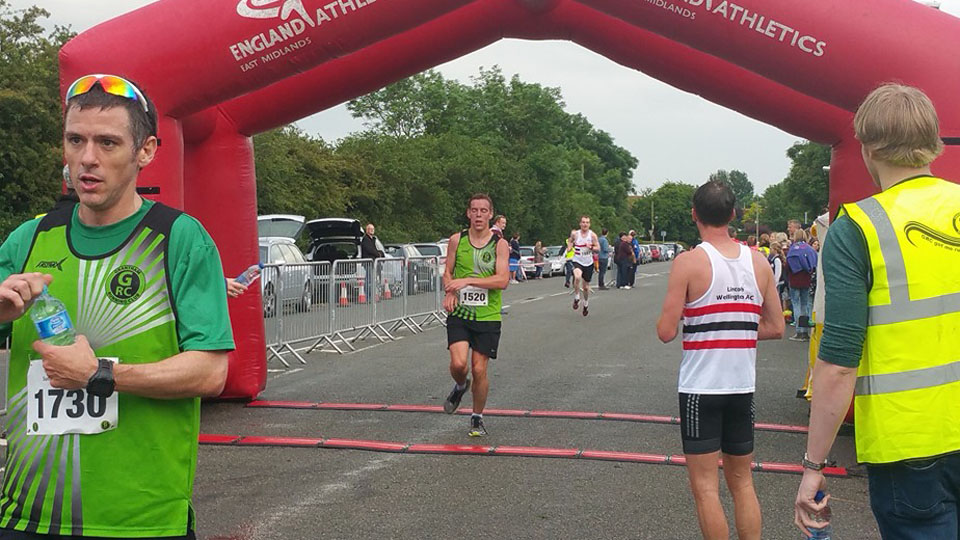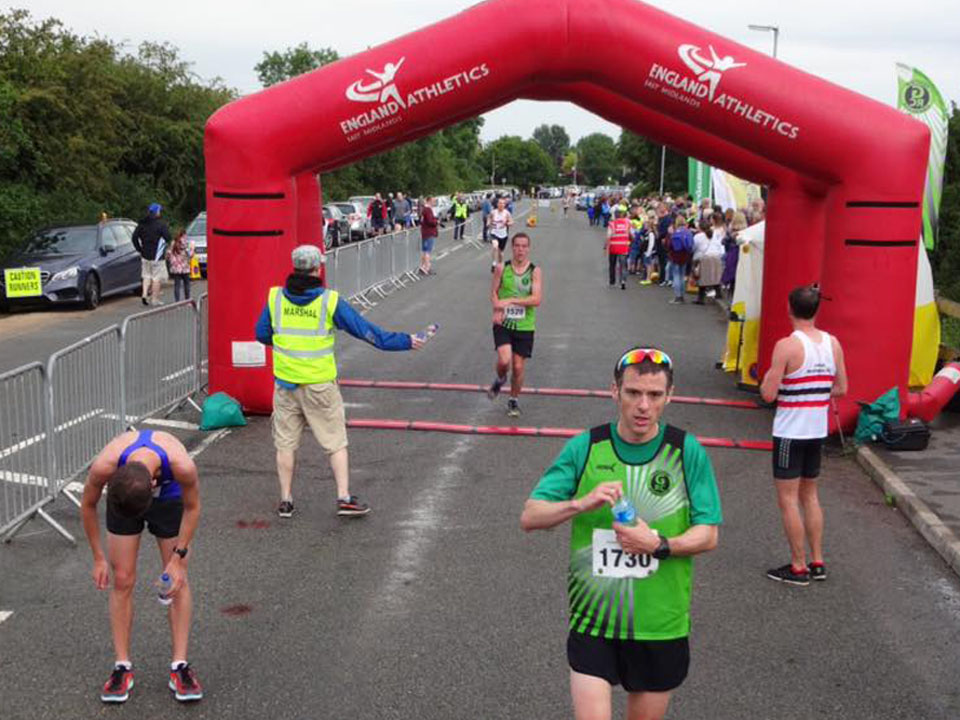 I collected my beer (still not drunk), my half pint glass, printed off my results, lamented with a few runners then limped back to the car, the hamstring feeling very sorry for itself as I nodded to race winner Aaron Scott as he put in a post race warm down. Before I knew it I was home and back to work, finally leaving my desk at 11pm.
Over a month on I still don't know quite how to judge this race. On one side I was really disappointed that I was clearly in the shape, had I not had the hamstring issue and the mid-race stitch, to break 34 minutes. On the other hand I should be pretty pleased that I walked for over a minute, but still ran sub 36 minutes and thankfully suffered no ill effects from the risky run on the hamstring. I just hope that I have another opportunity to be in similar shape to attack a 10k at similar pace again. For now I lament on what might have been.