Following the unexpected success at the Stilton Stumble I had just seven days to recover and prepare for the Holdenby Duathlon, a race I'd been targeting for some time, but only entered a day or two before the Stumble.  The left Achilles was pretty stiff and sore following the race so I opted to spend as little time running as possible to give it a chance to recover.
Monday saw an hour on the elliptical trainer then a spin session in the evening operating at half gas. Considering the efforts of the day before that felt pretty good. Tuesday saw an hour on the elliptical trainer and an hour on the turbo following an easy program on TrainerRoad. These felt somewhat harder than Monday's efforts.
Wednesday I headed out on the bike using the summer road bike I had planned to use with the addition of tri bars. This ride was something of an alarm call – the quads had absolutely nothing to give as soon as I went into the TT position. The HR was really low, but not in a good way low, more a something is not quite right low. It was a two hour ride that felt longer and harder.
Thursday saw two hours on the elliptical trainer, which wasn't too arduous but felt as if I was fighting a cold trying to erupt. By Friday I had changed my mind over what bike to ride for the duathlon. A tip off by Hywel Davies on Strava who had recced the course on Wednesday, he suggested that a TT bike was definitely the way to go, even if the first half of the course was a little lumpy, and the second half had road surfaces of dubious quality.
This change of mind meant I needed to head out on the TT bike which I hadn't ridden outside since the end of July. Riding the Witham Wheelers TT course the bike felt fine, save the Garmin mount which was somewhat broken, but the legs, if anything, felt worse than they did on Wednesday. I had little choice but to ride easy, rest up and hope for the best. That I kind of did, straight after a one mile brick run – a test of the Achilles and a test of the Hoka Hoka Clifton 2 trainers I'd bought a couple of months earlier and hadn't got around to trying. They felt pretty good and the legs felt more lively running than when cycling.
Rest should mean rest but I read somewhere over lunch that Achilles problems can be caused by issues in the hip / glute area. This part of the body has been giving me a few issues recently, probably because the weekly core strength and conditioning programme has, let's say, slipped over the past few months to not really doing anything at all save for some planks.
Friday I did twenty minutes and felt no ill effects. Saturday came and  I was still feeling the effects of the 'Stumble and by now suffering the consequences of being on Austin, Texas time covering the F1 by night and being on British Summer Time by day (i.e. being awake most of the time). Nonetheless I was keen to put in another S&T session, focusing on the glute medius muscle. All was going well until a set off crossover crunches saw my right hamstring tighten alarmingly near the glutes. The session was quickly abandoned for half an hour intense massage and stretching before needing to start work. By the evening and still walking with a little limp I considering not bothering to take part – the lure of a lie in was strong. Only the fact I had parted with a sum of hard cash persuaded me to set the alarm for 6am as I headed to bed shortly before 2am on Sunday morning.
Knowing that I would be pretty much comatose while staggering around the house Sunday morning, I had prepared as best I could to ensure an easy departure. This was achieved, leaving just a few minutes later than planned, but then 10 minutes into the journey I had a panic that I'd not remembered my trainers! I fretted all the way to my doorstep before remembering they were safely packed in my rucksack! Annoyed I went in anyway and picked up my rain jacket – a token gesture to suggest the return wasn't entirely wasted – it was after all raining quite heavily in Grantham. Thankfully I was able to make up a little time en route to Holdenby and the rain was a distant memory when I pulled into the field to park. While the right hamstring was happily almost pain free I did manage to complicate matters by finding a tender spot in the right quad while poking around bored on the A1. This caused quite a deep long lasting pain which forced some frantic quad stretching on my arrival.
It was immediately apparent this was no World Championship event, this was a fairly low key relaxed race, albeit still with proper transition areas, chip timing and the like. I had just over an hour to get prepared. This is not as straightforward a task as when running – there is a bike to set-up and check, things to put in boxes, things to keep and not keep in transition. I must have fretted away 30 minutes before I made my final trip into transition shortly before the start and was satisfied I was ready.
The warm up was a token mile jogging slowly back and forth. Thankfully there was just a subtle ache in the Achilles, the right hamstring was fine, the right quad felt a little fuzzy, but bearable. I joined the rest of the field for an organised warm up session. I normally baulk at such an undertaking, but after a minute or so I realised that they were doing pretty much all the same exercises I was doing, so joined in – and felt better for it.
The final instructions were more important than normal to listen to. There was to be a foot down rule at a junction we had been warned about. There was also some temporary roadworks on the bike route covered by traffic lights. This was clearly not an ideal state of affairs. The thought of being unjustly held up by a costly red light already had me seeing red before the race had begun. Still there was nothing that could be done and there was always the chance this random luck / bad luck generator could play into my favour.
The warm up over we were greeted with a loud buzzing noise and the somewhat off putting sight of a drone hovering somewhat unsteadily just above us. We were encouraged to wave; I felt more inclined to duck for cover. Thankfully we were promptly given the countdown from five to begin and once off we were soon we were clear of the flying camera which, I presume, wasn't seen again. I felt a little conspicuous to be taking part in my Team GB tri-suit. This wasn't bragging, more the reality of only having one tri-suit. Hopefully soon I can get hold of a less conspicuous one.
As with the Stumble I instantly found myself at the head of the field from the off, but this time there was two or three who were quickly keen to take the pace, passed me and pulled out a small gap chasing the lead vehicle which would accompany us for most of the first lap only. I wasn't overly concerned, but was a little bemused when after around three minutes of running we came down a short sharp descent and was swamped by five or six minutes hurtling down as if the finish was at the bottom of the hill! Admittedly I was taking it fairly gingerly here – I didn't want to stress the quads, already showing signs of fragility and which have form for cramping up early in races on a descent.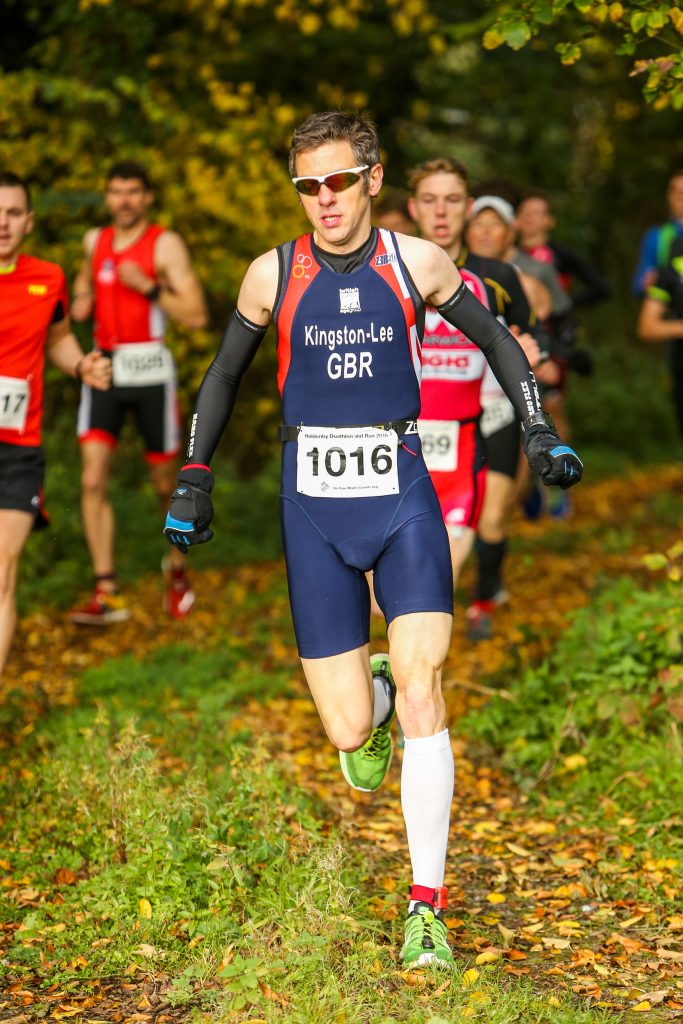 Thankfully the quads and all the other aching bits survived and, lo and behold, it wasn't too many yards later where I began to pretty much all of the runners who flew past me a minute earlier and were now already beginning to show signs of paying the consequences. The first mile was swift – 5:41 but it was mostly downhill, so a 6:05 according to Strava GAP. The run was off road but the kind of off-road I'm agreeable with – firm underfoot and, for the most, part fairly even and not rutted.
The second mile was where i established my position in the race. I found myself moving up to third as we tackled the big steep hill on the climb. The lead two were around 20 seconds ahead but as looked at them I began to wonder whether they were actually competitors. I remembered that as well as the standard distance Duathlon with its 10km opening run leg, there was a sprint Duathlon with a 5k opening run leg, and also a 10km standalone running race. This explained why one of the lead two was wearing a baggy vest and shorts, which would be awfully casual attire for the lycra obsessed multi-sport world.
As I struggled with a section of hills and hollows coming in to complete the first lap the lycra clad runner peeled off to collect his bike in transition. I was now at worst second and likely to be leading the Standard distanced race. I very nearly ended up throwing it all away at the start of the second lap when I was confused by a poorly posted direction sign (It pointed left when it should have been straight ahead) and a gate that had become partially closed suggesting we should indeed turn left. This I did, but after a few seconds guessed that we hadn't run through a farmyard on the first lap and had probably taken a wrong turn. I lost around 10-15 seconds but no one had passed me.
The run was proving to be hard but sustainable in terms of effort – mile 2 was 6:14 (5:50 GAP), mile 3 6:26, mile 4 6:13 and mile 5 6:02. There was no problem with low heart rate today, if anything it was a struggle to keep it down – the weeks of running inactivity beginning to show. The penultimate climb of the big hill was a struggle but I was pulling well clear of those behind me. Mile six was the slowest of the full mile of the run at 6:32 and there was a another 3/5s of a mile tackling before the the pesky hollows approaching transition to complete. It was here I received confirmation via the PA system that the runner ahead was indeed a runner and not planning on taking to a bicycle.
My transition to bike went really well and was commented on by a couple of spectators watching intently. As we were on wet grass and with the start of the bike leg tricky, I saw no point in attempting to run barefoot with bike shoes attached to bike. I calmly put helmet on first, took off trainers, put on bike shoes, unracked the bike and headed off to the mount point.
The bike leg was largely uneventful and played somewhat to my strengths. A two lap course, the first half of the lap was mostly uphill with two long descents. It meant that although I was on my TT bike there was little benefit of spending too much time in the TT position and I could put power through my quads in a more upright position. Also to save the quads I pedaled at a fairly high average cadence. I got myself in the TT position on the few flat sections of the course and on the gentle descents where the poor road conditions allowed. It transpired the road that had traffic lights had some of the most appalling road quality I've encountered – so rough that my bike mount broke and I had to hold onto the Garmin for dear life to avoid losing it altogether.
It was tricky to know how I was fairing on the bike as I was soon passing riders taking part in the sprint event. What I did know was that no-one passed me and no-one was in sight for the entire ride. I was fortunate in that on the two laps I was only held up for a few seconds at the traffic lights, and then again for 20 seconds or so coming into the village near Holdenby where parked cars were wreaking havoc.
An hour and nine minutes or so and the bike leg was over. I opted again to leave the bike shoes on when dismounting rather than get the socks wet. There was a little drama when the left calf wanted to cramp when taking the shoe off (Just as at Aviles) but again I was able to quickly stretch the calf and the pain passed. It wasn't the quickest transition of the day but by now I was relaxed, confident that as long as the legs wanted to play ball on the run I was going to win.
Thankfully despite a little hip discomfort from the bike ride, the legs were soon up to speed, even if they didn't feel like they were. The first mile was a 6:06 and half a mile later I was able to take a look back where I could see for nearly half a mile and I could no-one behind me. I relaxed as I settled to 6:16 for the second mile and almost allowed myself the luxury of walking up the last hill as mile three was a pedestrian 6:48 (6:15 Strava GAP).  The last 0.3 mile was a little tortuous on the hollows but I was receiving congratulations from the Sprint athletes as they came to the finish too.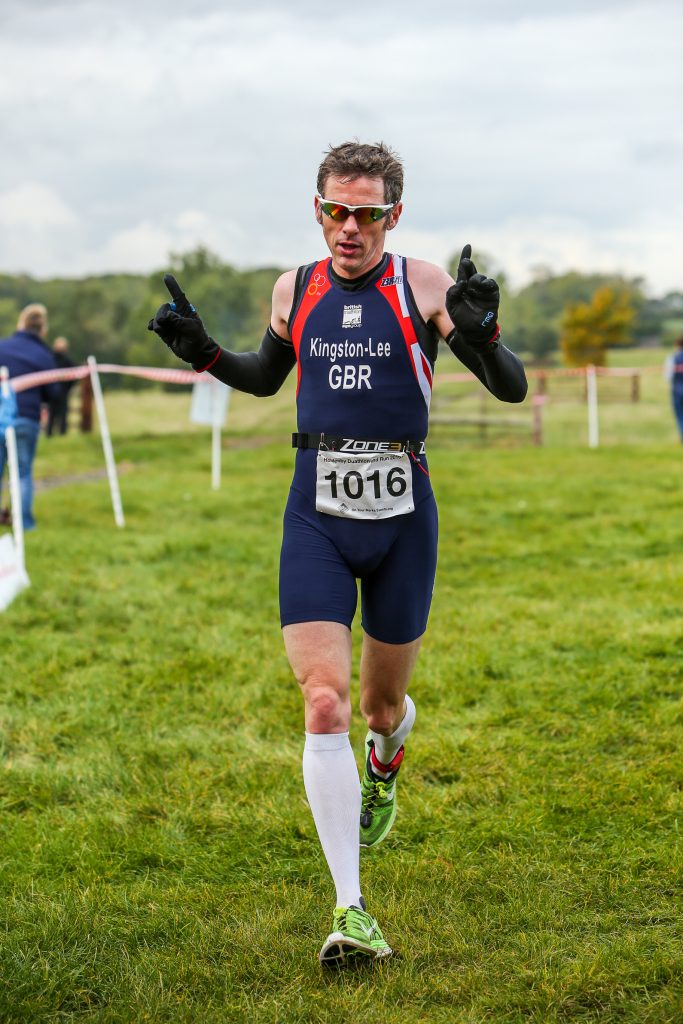 As I crossed the line there was a small celebration but little in the way of elation. I'm not sure why I wasn't happier, I think it was sheer relief that I managed to get around largely in one piece. There was also the matter of not being able to hang around too much as there was work at home to be done. I quickly changed and packed the bike in the car before a short podium presentation, minus the trophy I am still waiting for, which apparently hadn't arrived and will be posted.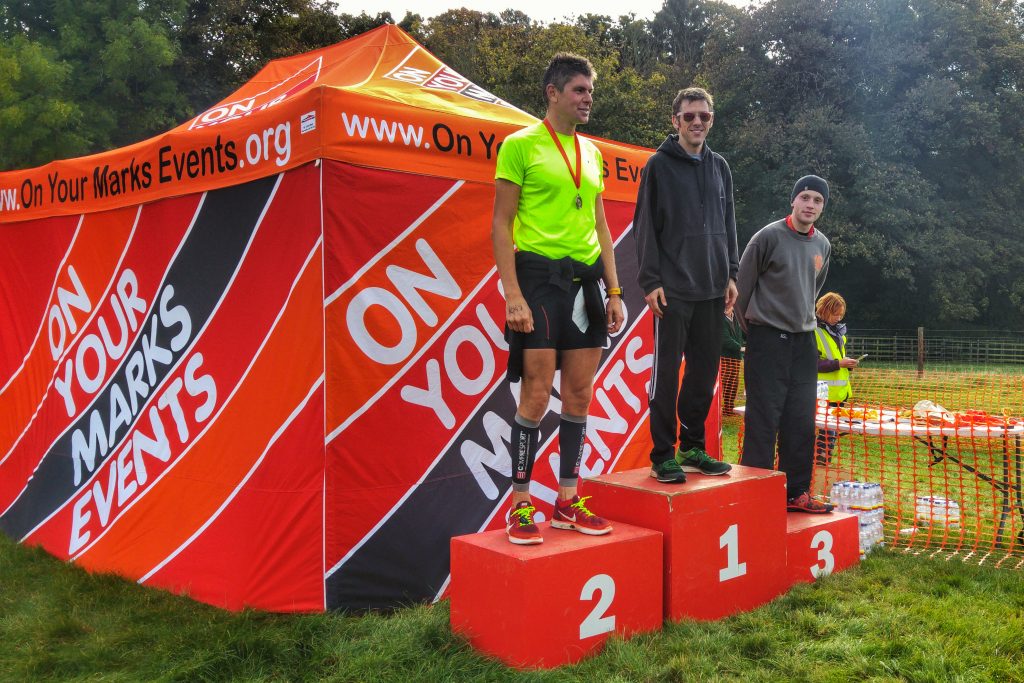 And that was that. My second win in as many weeks! They will be days I look back on with affection, for these victories are unlikely to happen very often. In the end I won by over three minutes – fastest on both the run legs and, pleasingly second fastest on the bike leg. The field may not have been the biggest or strongest, but, as they say, a win is a win is a win!