Compared to running races, where I have at least 136 recorded finishes to my name, I have a grand total of one cycle race and not many more sportives on my palmares. For those who are not aware of the difference between a cycle race and a sportive, whereas a race usually sees everyone departing at the same time with the goal to find a winner and losers, a sportive is basically a group ride on a course against the clock. For legal reasons to do with road closures (lack of, primarily) and the like, in the UK a sportive can award riders with things like gold medals or distinctions for completing a ride in a certain time. What it cannot do is give you a finishing position – although a lot of results are published in such a way to make it fairly easy to sort by time and then add a column with position if you are curious to see how your performed relative to others.
My first sportive was in November 2007 when I took part in the Exmoor Beast – a tough introduction to group rides, which I thoroughly enjoyed despite the severity of the climbs and suffering a heavy cold at the time. Six months or so later I took part in the Dragon Ride in Wales – a bigger, more famous event, but in my opinion quite an easy ride in comparison to the Beast at the time. Not long after my eldest daughter was born and with the sudden lack of time available to train given the demands of parenthood and my job requiring a lot of overseas travel, cycling pretty much went out of the window for a good number of years.
It was when I fractured my sacrum in 2014, now living in Grantham, when I rekindled my love of cycling that I've had, on and off, ever since I began cycling at three years of age. Unable to run, or walk, but strangely able to ride, I joined a cycling club, Witham Wheelers, my first since a very brief membership with Leamington Cycling and Athletics Club back in 1999, I began taking part in group Sunday rides for the first time ever. The following spring I began taking part in their time trials, did badly in my first and only TLI organised bike race, then took part in a small sportive in Yorkshire called the Bronte – where I snapped my chain on the first hill and somehow managed to finish using gears not designed for 20% climbs.
Since 2015 my cycling has slowly increased in volume but has continued to play second fiddle to running. My participation in Duathlons has meant I've had to practice the Time Trial more than any other discipline – an event I'm not particularly good at, but need to work on to improve my Duathlons. In 2016, in another busy summer, I took part in two sportives on consecutive days in mid-July: the Wiggle Stratford (Warwick really) Tempest Sportive (Epic) and the Tour of the Cotswolds Sportive (Epic).
The current cycling boom has seen sportives transform from a fairly limited number of events often low in numbers to the current situation where there are literally hundreds of rides to choose from all over the country, some of the largest requiring a ballot to enter and having thousands of riders taking part. One such event is the Fred Whitton Challenge. A 112 mile ride in the Lake District which features 12,000 feet of vertical ascent and traverses some of the park's most difficult climbs including – Kirkstone, Honister, Newlands, Whinlatter, Hardknott and Wrynose passes. The first Fred Whitton was in 1999 following the passing in 1998 of the Lakes Road Club Secretary whose name was given to the newly established event dedicated to his memory.  It has now established itself as one of the largest sportives in the country, with over 2000 entrants, on the sportive calendar, and this year came under the indirect ownership of the ASO, organisers of the Tour de France no less.
I think I first became aware of the event back in 2007 when I was searching for my first sportive before settling on the Exmoor Beast. Back then the Fred was by the far the daddy of all British sportives, harder than any other and with a bigger reputation. Since then other sportives, such as the Prudential Ride London have become bigger in terms of participation and other sportives, such as the Tour of The Peak can rival the Fred Whitton in terms of the challenge on offer. But the Fred Whitton Challenge largely retains its position as one of the few must do sportives for any keen amateur cyclist.
I'd ducked out on entering in 2016 but entered the ballot in January 2017 for the ride taking place on May 7th. To my joy I was informed a few weeks into the year that my application was successful and I was taking part! One of the challenges of an early season event is that training for the event is not easy over the winter months. It's more of an issue for myself in that the winter and spring months my training is heavily geared towards the London Marathon. So preparation for the Fred Whitton consisted of the Witham Wheelers Reliability Rides, spinning sessions at the gym and one specific training ride a month or so before the event – the 13 Hills of Belvoir Ride which took in the best of the local hills on a well know club route, done twice in one go. At 118 miles and 8,000 feet of elevation it wasn't exactly the same as the Fred, but at least it was something.
Another issue was that Fred Whitton comes just two weeks after the London Marathon. I'd expect it will take around a month to fully recover from a marathon. I made the mistake of maybe over doing the running post marathon, acquiring a minor overuse injury, but more worryingly suffering deep fatigue over a week post marathon, which saw my watts drop noticeable on the bike and elliptical trainer, and saw me dropped literally very early on during a chain gang on the Thursday before Fred. I made do with an easy 30 mile ride instead and the reassurance I had two days where I could rest up and recover as best as possible.
Originally the plan had been for the family to head en masse after school on the Friday and spend the weekend in Kendal in the caravan before somehow getting the kids back to school on the Monday morning. Ten days out though the logistics of this through work for my wife in particular meant this idea had to be shelved. Instead I opted to stay in a B&B on the Saturday night and drive home directly after the event. Booking so close to the ride meant very little local availability, but I settled on a The Old School B&B in Tebay. This is around a 50 minute drive from Grasmere, the host town of the Fred Whitton, but I reckoned this would not be too much of an issue with a very early start on the Sunday morning.
I drove up to the B&B on the Saturday afternoon. It was a really easy journey up the A1 to Scotch Corner then along the A66 – roads pretty quiet, weather good. I arrived at the B&& at around 4:30pm. Being the last to book I had been assigned a small broom cupboard of a room, but it was fine – I had a shower, a kettle, a bed and supefast wifi to hook onto and literally catch the last five minutes of the Giro stage. There was no room for the bike, that would have to stay in the boot of the car, but it was well hidden from view on a very quiet road and I felt fairly confident it would still be there in the morning.
With that watched I thought I'd go and loosen the legs with a half hour walk or so. I'd hoped for something super scenic, alas I mostly followed the path of the neighbouring M6 as I walked along the surprisingly sandy footpath alongside the river below.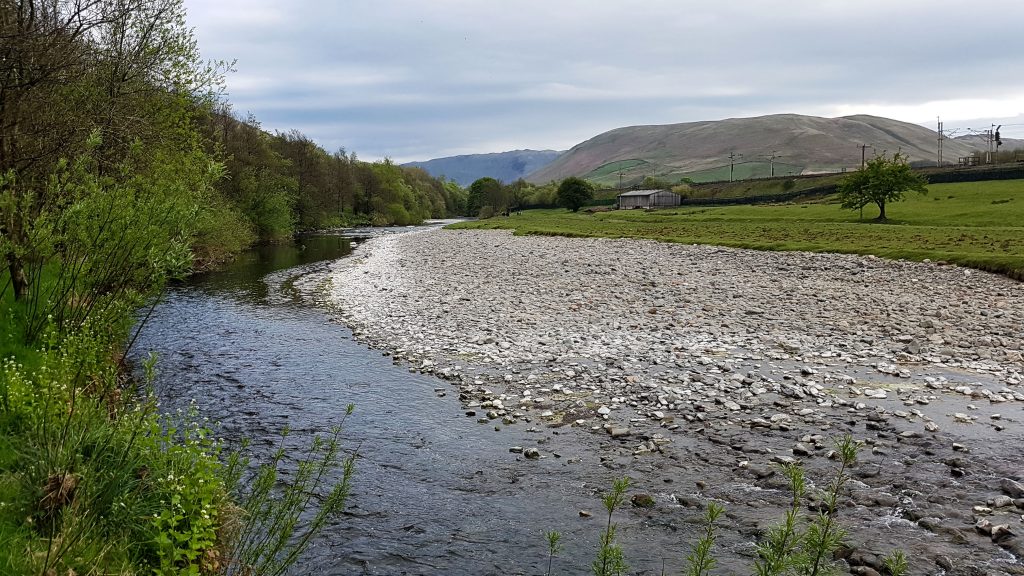 The walk duly loosened the legs a little stiff having spent the best part of three hours driving and worked up an appetite. Luckily I'd sourced a pub nearby which was serving food. The Cross Keys Inn has been around for 100s of years. It certainly has a lovely view which we were encouraged to enjoy from the beer garden.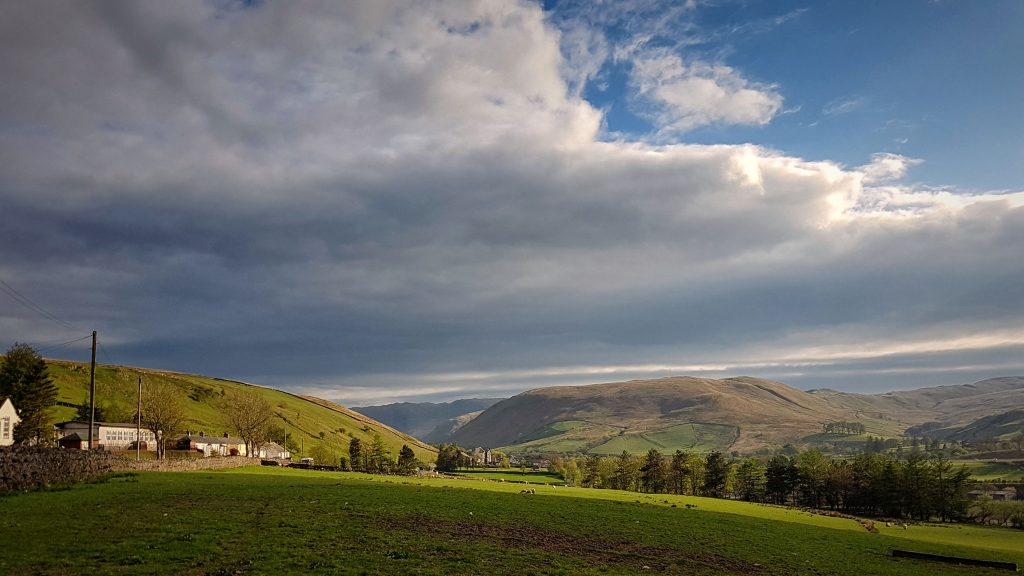 Alas it was a little too cold to be sitting outside so I had to make do with a pew inside, complete with a glass of wine to help unwind and hopefully send me to an early sleep. I turned up not long after 6pm hence the rather empty appearance of the pub. It wasn't long after that the pub filled up quite nicely.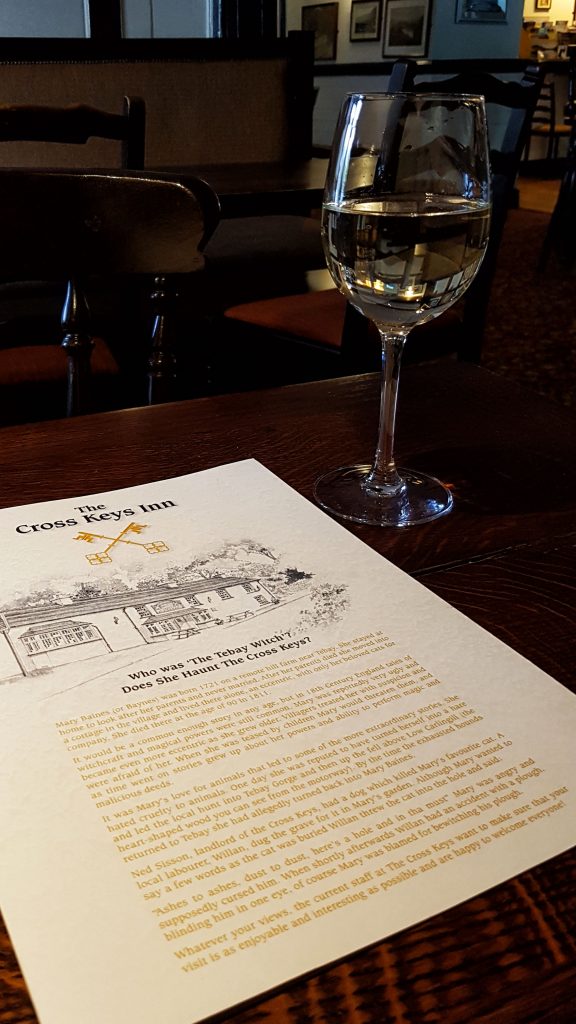 Food ordered I reread the final ride instructions for the event, taking good note especially of where the hardest climbs and most dangerous descents were. Fortunately the weather forecast was looking dry and not too windy, even if it was set to be a bit chilly first thing in the morning. The food arrived – a pie, which if I was brutally honest, wasn't the best I'd ever had, but it served a purpose. I treated myself to a sticky toffee pudding for desert, reckoning I'd be riding plenty long enough in the morning to justify the extra calorie intake.
With dinner done and dusted by before 8pm I took another short walk before heading back to my little room – the sun setting offered the opportunity for some nice light as I walked part way up a short, sharp hill. On another day I could have explored for longer, but being sensible I headed back to put my feet up for an hour or so before attempting to get to sleep at around 10pm.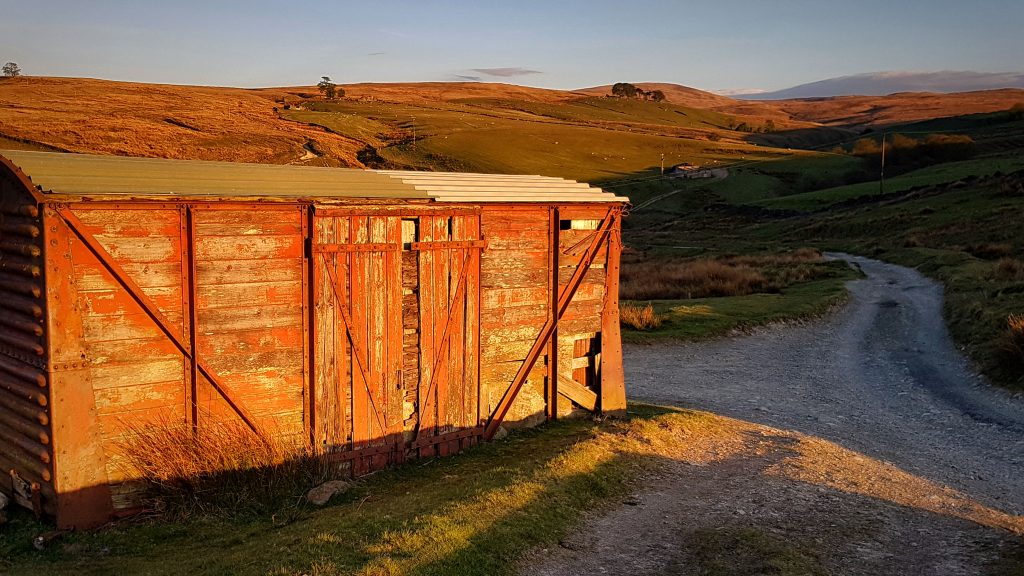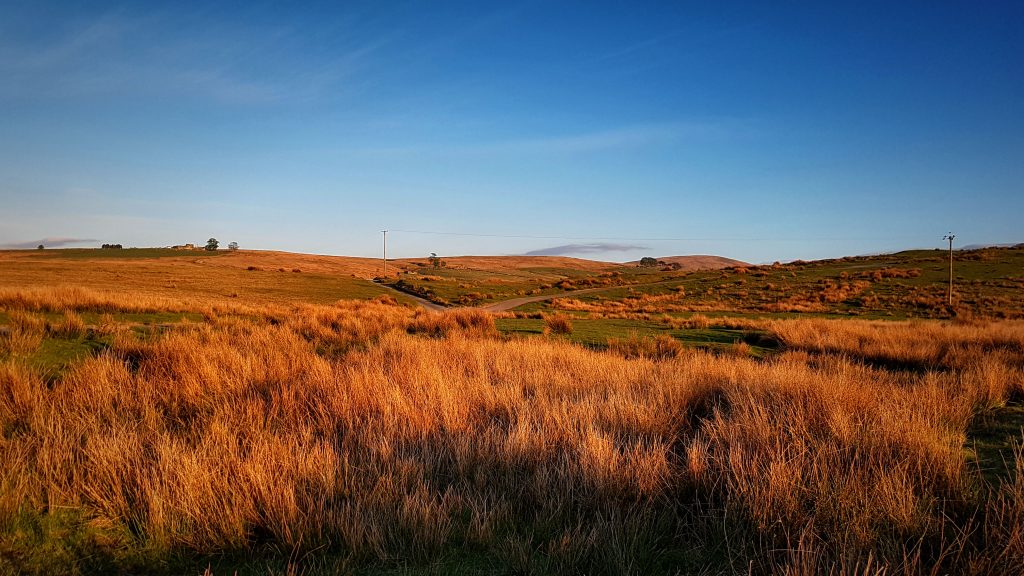 I'm not the best at sleeping in a strange bed, not the best at nodding off at an early hour, and not the best when the mattress is a little on the soft side. It took longer than I would have liked to finally get to sleep as I saw my clock tick over past 11pm, but it was better than it could have been. Paranoid that I wasn't going to wake I set two alarms for 5am, as is fairly typical for me I woke up two minutes before the alarm went off…
I didn't have long to get my groove on. The instructions said you could start from any time after 6am, with the last riders being allowed to leave at 8am. I had no intention of being one of the first off, but had plans of wanting to leave at around 7am. Back when I rode a sportive in Yorkshire and had my chain snap on me, I ran perilously close to being eliminated by the broom wagon as I'd set off late. I didn't want to risk that again.
It was too early for the B&B to offer me any breakfast. I'd come prepared with oats and skimmed milk powder in a newly acquired food thermos. I got the kettle boiled, made myself a proper strong coffee, filled my oats with water and went about getting changed into my cycling shorts. I tried to eat a little breakfast but it was too early, so I packed it in my bag to eat at the start. I did though drink all my coffee before having one last check to make sure I'd not forgotten anything and headed to my car.
To my surprise on an early May morning the windscreen was covered in frost. The temperature read 2C! I hadn't anticipated it being this cold! Luckily as I set off and headed to Grasmere the temperature soon increased to around 7C. Nippy, but much more comfortable to ride in than barely above freezing. That drive to Grasmere was glorious as the sat-nav avoided the M6 and I had a wonderful former A road all to myself. Even the run in from Kendal to Grasmere wasn't too busy, albeit probably busier than it would be normally at 6:15am with tell tale bike racks aplenty.
As we approached Grasmere we were confronted by swarms of cyclists who had started the Fred Whitton. The adrenaline began to hit! Inexplicably rather than take the normal A road on the final miles to Grasmere, my SatNav took me the wrong way around the lake, taking in some pretty narrow, steep country lanes. Definitely not the fastest way, I breathed a sigh of relief that the only traffic I faced coming towards me were a couple of runners.
I arrived at the start at around 6:50. The makeshift car park was pretty packed already. Being so late I thought I'd be miles away from the HQ. As luck would have it I was guided in to a spot pretty much right next to the finish line!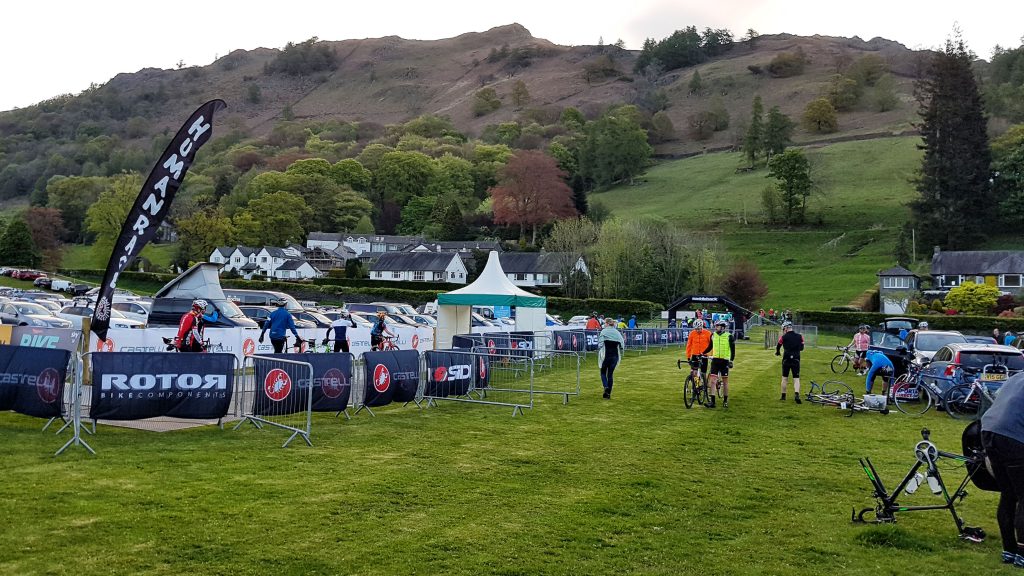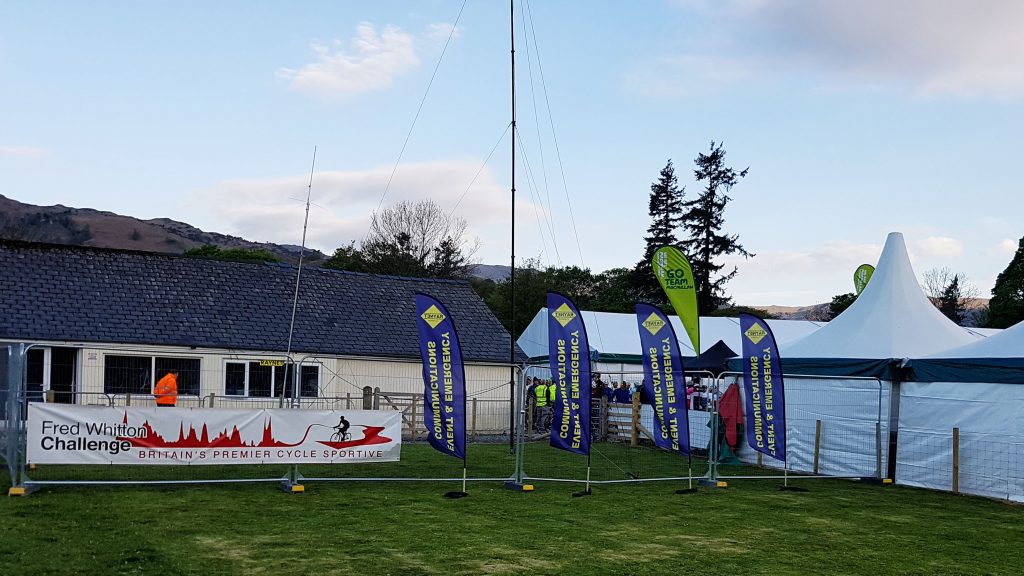 There was plenty to do in a short space of time. First off I went to collect my number and helmet tag at ride HQ. I passed the Bike Channel TV crew on the way who were preparing to put their first piece of the day to camera (The event was filmed to be shown at some point). Number collection done far faster than expected, I returned to the car.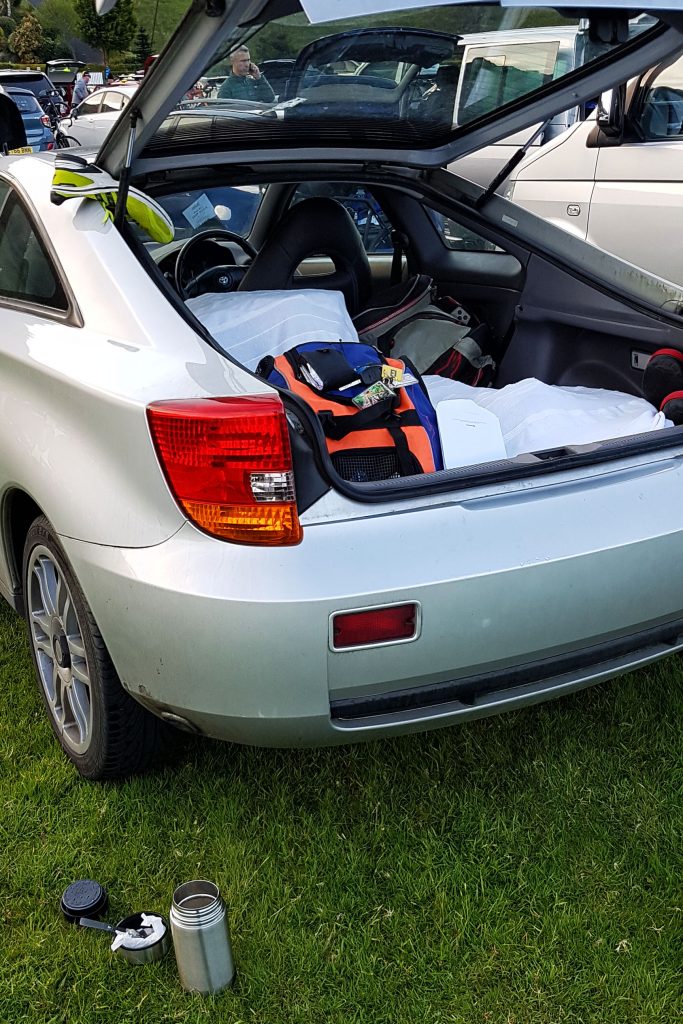 Boot lid wedged with old trainer (The struts don't work in cold conditions!) I got out the porridge and began to eat – a few spoons at a time while preparing the bike. Luckily there wasn't much to do aside from putting the front wheel on the bike and pumping the tyres, turning on the bike computer and calibrating the power meter pedals. With that done I got changed into my cycling kit and headed to the portaloos where I had to take off my cycling kit to do what I had to do before putting it all back on again. One day I'll remember that bib shorts are not as easy to deal with in such situations as running shorts…
With the load suitably lightened I had little more to do other than a final bike check, make sure I had everything I needed with me such as malt loaf, gels, compulsory rain jacket, money, phone, car key, inner tubes and so on. By fortune a small saddle bag I'd bought during the week had turned up earlier than expected on the Saturday so I was able to put my tubes and so on in there – otherwise I think I will have struggled to carry everything.
At the start we were offered a banana which seemed to good to resist. A guy wanted me to wait with him so we could ride the first miles together, but he was taking too long so I decided to go it alone. Unlike a running race there is not a lot of fanfare with a sportive start as riders set off when they like, solo or in small groups. I set off solo but within a couple of minutes I was caught by a couple of riders and we then caught three or four more.
The first miles on the A591 to Ambleside are an easy introduction to the ride, being gently undulating at worst. I was trying to conserve energy but with the adrenaline pumping the HR crept a little high for those first miles as we averaged comfortably over 20mph. What wasn't high was the power meter reading which, despite me feeling I wasn't riding full gas yet, was showing very low figures, often less than half what I'd expect having ridden with them for several months now. I thought at the time maybe the calibration was wrong, indeed later in the ride during a stop I re-calibrated them to no avail. This lack of power information was a bit annoying as I'd been planning my ride around hitting certain power limits on the climbs especially. On the flip side it meant I had to do what I've done for most my life and ride the climbs based on how hard it feels rather than sticking to a prescribed limit. This may or may not have helped me.
(Post ride I was pretty annoyed by this and assumed the pedals to be faulty. The following day I did a Google search, as you do, and found the answer to my lack of power issue. My bike computer has two bike profiles for a Cervelo and a Trek. Normally I just choose the Trek no matter what I ride as the crucial bike measurements are the same. On the morning of the Fred I chose the Cervelo profile, which I assumed I'd checked thoroughly for discrepancies. Sadly there was one and it's crucial for my pedal based power meter. The crank length, which is a standard 172.5mm, had for some unknown reason changed to 110mm, which is probably an eight year old bike's crank size. They say a 2.5 mm difference can cause a 20% discrepancy in power readings, my 6.5 mm difference explains why I reckon my average watts was down by around 100 on what I'd expect.)
We swept through Ambleside – a town I'm familiar with on my numerous holidays around Lake Windermere and onto the road where I saw all the riders swoop past me earlier in the morning. The majority of the field had certainly left earlier than I had – it was 7:30 before I finally set off. I knew from driving in that we'd soon turn left off the main road and up the first hill of the day.
That first climb was Holbeck Lane – the Strava segment has it at 0.9 mile at an average gradient of 7%, I took it fairly easy up the climb using it as a good opportunity to try and wake the legs. They didn't feel brilliant but they did feel as though they could come to life later in the ride. Feeling in my element on the hills I soon left all but one of the riders I had ridden the opening miles with. I left him not long after the steepest bit of the hill which we both remarked on being a good wake up for the legs. I soon began picking off more riders making their way up the hill. This was what I had hoped for by setting off quite late, working off passing up riders to give me more encouragement.
The first climb done there was a little respite before the first major climb of the day – Kirkstone Pass. This was actually the only climb of the day I'd ridden before, albeit on the previous occasion I think I started the climb from a different road perhaps lower down. Just like back then I didn't find the climb that difficult at three miles long at an average gradient of 6%. Then again, I didn't ride it that hard, taking time part way up the hill to consume the first of seven small slices of malt loaf I'd planned to take every ten miles. It was on this climb I hooked up with a rider I stuck almost like glue to for the best part of the next 40 miles. Of eastern Asian appearance with what looked like a German inspired cycling jersey I assumed that if he'd traveled from at least Germany to ride he must be pretty good to follow. I actually think he was from Yorkshire, but I liked the idea of having a continental peloton to ride with.
The only real reminder that we had been climbing for the best part of 30 minutes was when we passed the famous Kirkstone Pass Inn – the third highest pub in the UK – and continued climbing, temporarily losing the brilliant blue skies as we rode literally into the clouds. The high point of the ride at 1,489 feet, I was grateful that I was wearing a base layer under my cycling jersey and had opted to ride with full gloves, knee and arm warmers as I felt the chill when climbing, let alone when we started descending.
The first major climb done was followed by the first big descent. The first part was tricky with a 25% initial descent with some tight bends, but it soon leveled out, relatively speaking, and became less twisty, making for an enjoyable drop back down to around 500ft above sea level. The next ten miles were pretty flat. I rode with my German / Asian / White Rosed cycling buddy taking it in turns to keep the pace semi-decent before being caught by two quicker riders. We both sensed an opportunity for a quicker ride at a reduced effort by jumping on their wheels. This proved a success with the pace comfortably averaging over 20mph, despite being held up for a while by a slow moving horse box which allowed an large group of very swift riders to catch us. Staying on this train proved to be hard work, but the speed benefit was worth it as we approached the next climb, especially as we were heading north and into a slight headwind.
We hit the climb to Matterdale End at dead on 20 miles which was unfortunate timing to take on the malt loaf, struggling to swallow and breathe hard at the same time. This large group had some really good riders, some of whom proved to be a little too hot to keep up with. Me and my buddy stuck together on the climb with the two others we had ridden with, which was now proving pretty difficult as there were scores of riders scattered pretty much all over the road. At 1.3 miles and averaging 7.0% this was a challenging climb in that it was steeper in places that it looked making it mentally challenging. That said I rode up it fairly well, especially when we passed the small car park at Aria Force, which I had visited with our family last year – spurring me on to statistically my best climb of the day, as I currently sit 19th for the year on Strava for the hill segment (I assume that most of those times were set on the Fred).
Past Matterdale End came another climb steep at averaging 10%, but only half a mile long so not a big challenge. This took us to Troutbeck and a left hand turn on to the A66. This is a busy main road, one I'd driven on just the previous summer. We were encouraged to use the refuge inside the white line if possible, but I know that riding on this part of the road is an invitation to attract a puncture, so I, like nearly everyone else, rode close to, but just to the right of, the white line. Avoiding the raised cat's eyes did prove something of a challenge at times as the train gently meandered left and right like a slithering snake. We were advised by the police apparently to ride single file and for the most part this was respected by the riders. I'm not totally sure but I think I was somewhere near the back of a long train of bikes (perhaps 30 long) which may have had some of the quick riders I'd tried to stay with on the Matterdale End Climb.
We rode on the A66 for ten miles and although not entirely effort free, it will be some of the easiest miles I've ridden while averaging close to 25mph. Mostly gently downhill and aided with a slight tailwind and the long train of bikes, it was a good opportunity to recover, take on another bit of malt loaf, drink some energy drink and prepare myself for the harder miles that lay ahead.
The A66 journey ended at a large roundabout 34 miles into the ride where my Garmin Edge 810 decided to turn itself off. Normally this leads to a corrupt post ride FIT file and the prospect of having no evidence of my efforts. I was calm though as I'd prepared for this eventuality and was riding with my Forerunner watch which was also recording the ride and has, touch wood, been infallible when recording long bike rides. I turned on the Edge and it slowly came to life, taking around a mile or so to find the satellites and remember what ride it was meant to be following. The only real annoyance was that I didn't know the overall distance of the ride, nor my average speed without referring to my watch, which I find hard when riding. No major issue, but something to stew over as we continued meandering along some flat to gently undulating roads alongside Derwent Water.
The large group had split up braking for the roundabout and I now found myself in a small group of around six riders, still including my original group of two club mates and Asian / German / Yorkshire buddy, who I never actually talked to, but felt comfortable  enough in his bike skills to follow his wheel like glue, unlike some others who were sometimes a little erratic in their braking. At this point we were slowed quite a bit for around five miles by a double decker sightseeing bus who was struggling to get past slower riders further up the road. A few decided to take some major risks passing the bus on the twisty, narrow, main road. I and most of the others in a swelling group opted to suck it and accept that these obstacles are part and parcel of a sportive held on open roads.
Thankfully we passed the bus when it stopped as we bid farewell to Derwent Water and we enjoyed our last few miles of easy terrain as we passed through Rosthwaite and Borrowdale. At 42 miles passing through Seatoller we had our third big climb of the day and by far the hardest so far in the ride – the Honister Pass. Like the Kirkstone Pass earlier in the ride we were riding up it in the opposite direction to what is recommended in my favourite cycling books 100 Greatest Cycling Climbs and Another 100 Greatest Cycling Climbs. Whereas Kirkstone Pass has a 7/10 for difficulty, Simon Warren rates Honister as 9/10 and the difference in difficulty was soon apparent (Incidentally for any Grantham based people reading this: for comparison, our most feared climb Terrace Hill, scrapes into the first 100 climbs, but is awarded a measly 1/10) . The Strava segments have the climb at 1.5 mile long averaging 10%, with the steepest 0.4 mile averaging a challenging 15%.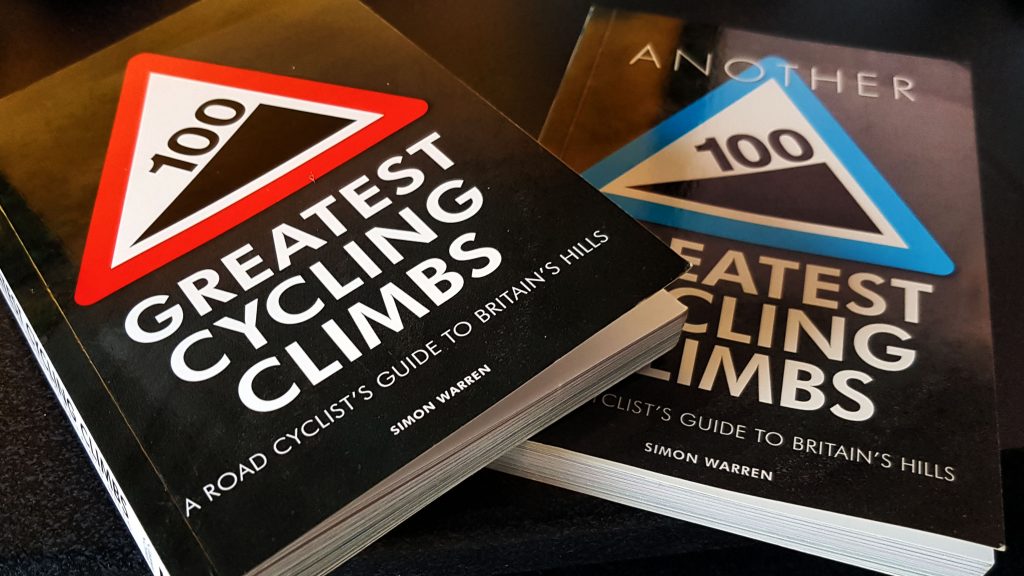 After an initial ramp of around 10% the climb soon got tough with a section of 25% to really test the legs. I was very thankful I'd invested in getting a 11-32 rear cassette on the bike – whereas in previous sportives I've been desperately trying to turn the pedals on a 25 sprocket, this larger cog at the back made it possible to keep the RPM at around 55 on the steepest sections as opposed to the 30 or less you can expect when trying to turn a bigger gear. It was here I said farewell to my continental / local friend as I pushed on, sticking to the wheel of the two club mates we had picked up way back at the descent of Kirkstone. With the sun shining for the first time I began to get a little warm in the kit I was wearing, but still not enough to justify stopping to strip off. The biggest issue now, aside from keeping going as the climb continued to alternate between stretches of anything from 8-25% was steering a path through the mass of riders all over the road trying to get up the hill with varying degrees of success. Add to that the odd car trying to creep down the hill to contend with and you had plenty on your plate trying to stay upright and in one piece.
I made it to the top, setting the 26th best time on the day for the steep bit on Strava, greeted by loads of spectators cheering us on. Plenty chose to stop and take a rest, I pushed on, albeit extremely carefully. The descent is described as the most beautiful of the lakes passes by Simon Warren when he was climbing it. It was frankly terrifying trying to tackle the 25% descents round hairpin bends on the opening section of the descent followed by technically an easier section made alarming by the huge slab boulders stuck randomly by the road side waiting to catch anyone who made the slightest error on the descent.
I followed the advice of the official instructions and began braking the moment I started to plummet and pretty much kept them on for the worst of the descent, briefly easing off to avoid too much heat build up on the rims. I was concerned by the number of bodies of fallen riders strewn by the side of the road, being tended to by concerned looking marshals and paramedics. I'm fairly sure I passed this poor chap who I believe, speaking to my car park neighbour after the ride, came to grief when his tyre exploded on the descent because of the brake rubbing tyre instead of rim (It may not have been the seriously injured man, but certainly someone crashed because of this on this descent).
My sense of mortality truly awakened by the descent I was relieved to finish the descent and have a fairly easy five miles as we passed through Gatesgarth and approached Buttermere. I heeded the advice of the instructions and took the opportunity to stop for a comfort break ahead of the first official feed station (although I used the trusted farmers' gate rather than public toilets that I failed to see anywhere en route. My two club mates (Not my club mates but two riders who were probably mates who rode for the same club) had stopped for the same reason a little earlier on the road. I didn't see them again. This break saw a two minute thirteen second pause as I also fiddled with my pedal calibration without joy, as noted previously above.
The first feed station was small in size, frantic with seemingly hundreds of riders milling around, but brilliantly organised by volunteers who had clearly manned at this point many times in the past. Unlike the Wiggle sportive last year where the first feed station saw a queue as long and as static as the M25 on any given Friday, we moved along the table packed with tempting morsels like an efficient factory conveyor belt. Acutely aware that we were less than half way into the ride and with much of the hardest miles yet to ride, I dived for the malt loaf, then took a piece covered with jam, took two pieces of flapjack, two jaffa cakes, a cheese and onion sandwich, two SIS energy bars, then one more piece of malt loaf and jam just for luck. I ate all of this except for the energy bars in the time it took me to walk back to my bike. I made the mistake of not bringing my empty bottle with me so had to return to have it filled with some electrolyte, costing me two or so more minutes. Removing my bike from the stone wall was a precision exercise as around 20 bikes were all relying one another to stay upright. Thankfully the rider next to me was leaving at the same time and we worked like a crack team to prise our bikes from the chain without mangling our or anybody else's precious carbon. Six minutes seventeen seconds was the time taken at the first of two feed stations, which wasn't too bad considering the business of the cramped venue.
As warned by the pre-race instructions, there was not a lot of time to keep down your food before the next big climb of the ride – Newlands Hause (#81 in the 100 Greatest Climbs). It was here that the organisers decided to stick in a KOM timed hill climb challenge. I didn't get off to the best start when I was stuck behind some slower riders, but with them out of the way, i made really good progress, feeling like I made light work of the 8/10 ranked ride which Strava reckons averages 11% for the 1.2 mile ascent. The final results show I finished just outside the top 50 for the climb, which is pleasing in a field of over 2000. The organisers really went to town as we hit the steepest part at nearing the top of the climb with polka dot flags, music and enthusiastic supporters urging us on.
The five mile descent that followed was thankfully a lot less challenging and therefore pretty enjoyable once the steep opening section had been safely negotiated. By now I was largely riding solo, passing more riders than I was being passed by, although every now and then a small group of riders on another level ability wise would come shooting past me with no hope of me jumping on their wheel.
Immediately before the next climb there was a brief delay when another bus (Single decker this time) again struggled to thread its way through the oncoming traffic. Thankfully some highly efficient marshaling meant we our disruption was kept to a minimum and we could attack the next climb, #82 in the 100 Greatest Climbs – the Whinlatter Pass. This was probably my favourite climb of the ride. It only rates 5/10 in the good book which meant it was a challenging, but not overly taxing affair. I rode it well, feeling strong, buoyed on by the crowds of people who had been encouraged by the organisers to use this climb as a vantage point, and they did so, lining the road cheering us on like we were in the the Tour De Yorkshire or other less well spectated bike races, like the Tour De France.
With the descent that followed there was another five miles of fairly easy riding to the sixty mile point before the 20 mile section described amusingly on a Strava segment the shit bit. Whether this is a reference to the undulating terrain that begins to tax on a rapidly wearying body, or the relative lack of scenic surroundings compared to the majesty of the rest of the Lakes (we had a good view of Sellafield Nuclear Power Station by the Irish Sea at Calder Bridge) I'm not sure. Regardless I ploughed on, enjoying the challenges of such climbs as Fangs Brow at 65 miles and Burn Edge (#180 in Another 100 Greatest Climbs) at 75 miles. This one was a 6/10 and as Simon says, it's a climb that cries wolf, appearing to end then going on again and again for what seems an eternity.  It did end though, a gazebo with very loud music welcoming us with biscuits handed out on the fly if you were lucky enough to hold onto one (I managed, just).
That climb tackled there were a couple of tricky hairpins to contend with as we approached Calder Bridge and the second feed station at 82 miles. This was where my biggest mistakes of the day were made. I'd been feeding quite happily on the SIS Energy Bars, and still had a couple of bits of malt loaf  and two Power Gels remaining. With 30 miles to go I should have just taken on more electrolyte, bagged another couple of energy bars, maybe a small piece of flapjack and been on my way. However I let the prospect of Hardknott Pass ten miles or so up the road interfere with rational thinking and so went on a ridiculous binge: a coffee while I returned to my bike to get the bottles I forgot again; I filled the bottles with electrolyte, then put the bottles back on the bike, to head back to the feed tables where I ate 3 or 4 bits of malt loaf with jam, three bits of flapjack, a couple of Jaffa Cakes, another cheese and onion sandwich, all stuffed down the gullet before I returned to my bike with another couple of energy bars stuffed into the back pocket. What with taking a minute to have some sun screen applied to the back of my neck (which I'd forgotten to do back at the B&B) and then removing the long fingered gloves and arm warmers, only to stop immediately after and put the arm warmers back on, I spent over eleven and a half minutes at the second feed station when I could have and should have spent a maximum of five, and could arguably have done without stopping at all.
Back on my way there was a brief section on the main coast road which wasn't that pleasant before we headed onto a much more scenic road that would lead to Hardknott itself. Before then we had Irton Pike, which averaged 9% at it's steepest part but wasn't too troublesome. That tackled there was a section of four miles that was gently rising. It was here I began to feel the affects of taking on too much food. I felt distinctly queasy, nauseous, and at times quite dizzy. It was a little unsettling, the only thing I could be thankful for was that I was cycling and not running, so at least the stomach wasn't being bounced around leading to inevitable, catastrophic, gastric distress.
We'd had warning signs a little way back that a road followed that should not be navigated by anything other than small, light vehicles, Then, in the distance I spotted a gap in the trees with a solitary red telephone box that I knew from The 100 Greatest Climbs meant the start of the hardest climb of the day – Hardknott Pass. Ranked as 10/10 for difficulty and described by Mr Warren as the king of climbs and arguably the hardest climb in the land. I'd seen the footage on Youtube and knew this was going to be tough – probably too tough with the way I felt right then, right now.
Past the telephone box and another set of severe warning signs there is a short steep climb through some woodland, over a cattle grid and out into the open where you are faced with the enormity of what awaits – a ribbon of narrow tarmac that just disappears off into the sky. Simon says the first switchbacks are 25% followed by a section of 30% before it levels off before it's finale at the end where there is a section of some more 30% to battle up.
Sadly today I failed on the first 25% section. Feeling rubbish and swayed a little too easily by the pre-race instructions that suggested it's almost more worthwhile walking than trying to cycle up, I unclipped at the first section of 25% and walked rather than risk grinding to a halt and falling off. At that moment the prospect of trying to ride up that hill seemed like the most ridiculously hard thing I'd ever been expected to do. So ridiculous, there was little point.
Detemined to minimise time lost I wasted no time in trying to walk up as quickly as you can up 1:4 and 1:3 roads in cycling shoes with their cleats pushing a bike and all that goes with it. It turned out that was almost as quick as trying to ride as many inched past me still in their saddles before I inched back past them feeling the strain in my calf muscles and hamstrings.
Once the road leveled a bit I was back on my bike, arm warmers down, jersey partially unzipped, working hard. Leveling though is a relative term with the gradient regularly in excess of 15%. The benefit of walking up the steepest bits was that, a bit fresher, I was able to re-pass a lot of the riders who had managed to ride past me and were now out of gas.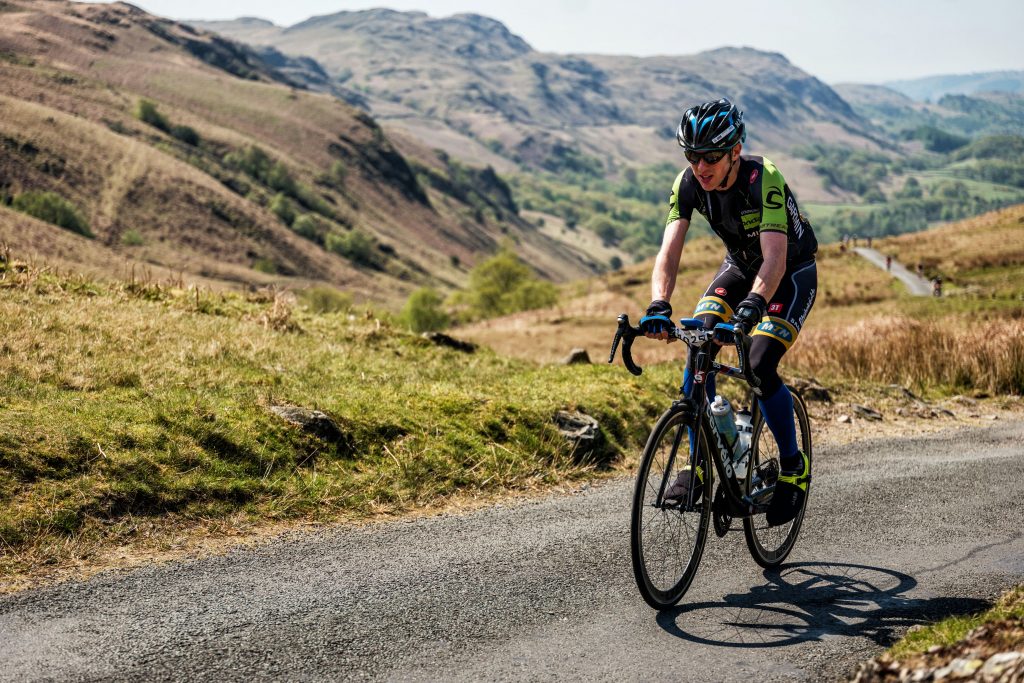 There was just the matter of the final kick of 30% to tackle. On another day with a happier digestive system and body that wasn't having a blood sugar overload emergency on its hands, I would have given this climb a bloody good stab at riding the whole damned lot. With a compact crank on the front (that's smaller chain rings attached to the cranks and the pedals) I would have definitely got up there. That's why if you watch the video above some appear to be getting up with relatively little difficulty, whereas others are pedalling as though the cranks have been super glued, and others, like myself, have resorted to walking. The really sassy ones also fit mountain bike cassettes to their back wheel which means you can spin up 30% climbs with relative ease, not relatively quickly, but you look cool still on your bike as opposed to the failures who have resorted to walking.
So with those excuses put on the table – I walked the final section, along with around half those around me. I did though mount the bike before reaching the very top. The brutal part of a climb like this is that, unless, you stop and have a moment to compose yourself, you have to concentrate hard on the very dangerous descent that follows immediately after. There was no time to recover, it was full on pulling the brake levers as hard as I could just to keep the speed under check, let alone consider coming to a halt. There were moments I thought I wouldn't be able to stop, like two guys just a few moments before me, who had just gone done and literally gone off the mountain, falling hard apparently onto some form of ravine.
There were cries from spectators for help, for medical assistance. It didn't sound good. Other riders offered up to stop and assist but we were informed that there were already people down there trying to assist. Just like in London I felt I was in no position to help, so the best course was to try and get down avoiding the distinct possibility of joining them on the casualty list. (As far as I know those riders were not badly injured in the accident).
Thankfully just when I thought my upper body could not hold onto the brakes much longer, the steepness of the descent subsided and I was able to recover somewhat. In another moment of questionable tactics I stopped at Cockley Beck where someone was handing out bottles of water. I had a full 750ml bottle of electrolyte remaining which would have easily lasted the 15 or so remaining miles, but the preservation instinct kicked in and I spent the best part of two minutes slowly filling my bottle. When I got home and lifted my bike with and without the two nearly full water bottles (I didn't take on much more liquid after Hardknott), I realised how much extra weight I was unnecessarily taking with me on the final hard climb of the day that immediately followed.
Wrynose is #85 in the book, ranked 10/10 and described as the queen to it's neighbouring king (Hardknott). This coming at nigh on 100 miles into the ride and so quickly after Hardknott meant it was a real beast. I knew it was coming and was warned, but much less is made of it than Hardknott. Mentally that made it easier, for although some of the gradients were in excess of 25% the climb, apart from the last little section (which I may or may not have walked – I genuinely cannot remember, although my cadence data suggests I walked 🙁 ) it wasn't as taxing and I made it up with minimal distress, starting to feel a little less nauseous.
The final major challenge of the day was getting safely down Wrynose. Although not as steep as Hardknott, the section where near permanent braking is required is longer. My arms were by now killing me and I had to shout to myself to summon the energy to keep on braking. It's a ridiculous situation where you are working nearly as hard downhill as you are uphill. The rather uncomfortable situation was amplified by some alarming squeals coming from the front brakes as I kept on plummeting down the hill while braking fully. Luckily just as I thought that something catastrophic was going to happen we had a long stretch of straight descent and I could release the brakes and allow them to recover. On inspection at the end of the ride I noticed they had worn significantly over the ride, but I think the squeal was more to do with heat build up than impending brake failure.
With 100 miles in the bag I knew from the instructions that the final 12 miles to the finish were relatively easy. On quite a technical descent I got on the back of two riders who encouraged me to join their train. This was quite beneficial as the lead rider seemed to have good knowedge of the roads and I could follow his quite fast lines fairly safely. I thought I would be able to hitch onto their train for the remainder of the ride but on the last little drag on the ride they slowed and then eased up to wait for a friend they had dropped.
Feeling quite fresh after the strains of the two previous passes I pushed on as best I could with a rider stuck firmly to my rear wheel (He thanked me at the end for the free ride, which was kind of him). Like many others arriving back into Grasmere at that time of day I lost a couple of minutes with slow moving traffic that had to be safely navigated. This made it impossible to give it full gas, thankfully any hopes of a super-sub-7 hour ride had long since passed and i was just riding to the finish.
That I did safely and relatively fresh after my uncomfortable section at 95 miles. My official time was 7:16. There are no finishing positions in a sportive, but a re-sorting of the results suggests I was around the 120th fastest rider on the day and I was awarded a First Class Distinction, a gold medal, so to speak, based on my finishing time. My Garmin time which takes out the stops, was 6:42:43, but I think that misses out a fair chunk of Hardknott when I walked and the computer auto paused. Still it means that the cherished sub 7 hour ride was within grasp, as it was for two guys who finished just behind me, almost in tears and hugging each other having cracked 7-hours on their tenth attempt. With knowledge of the course, more nouse at the feed stations and probably a compact crank, I think I can do it too. For the record only 10 riders broke the magic 6 hour barrier, the fastest Nick Williamson in 5:45.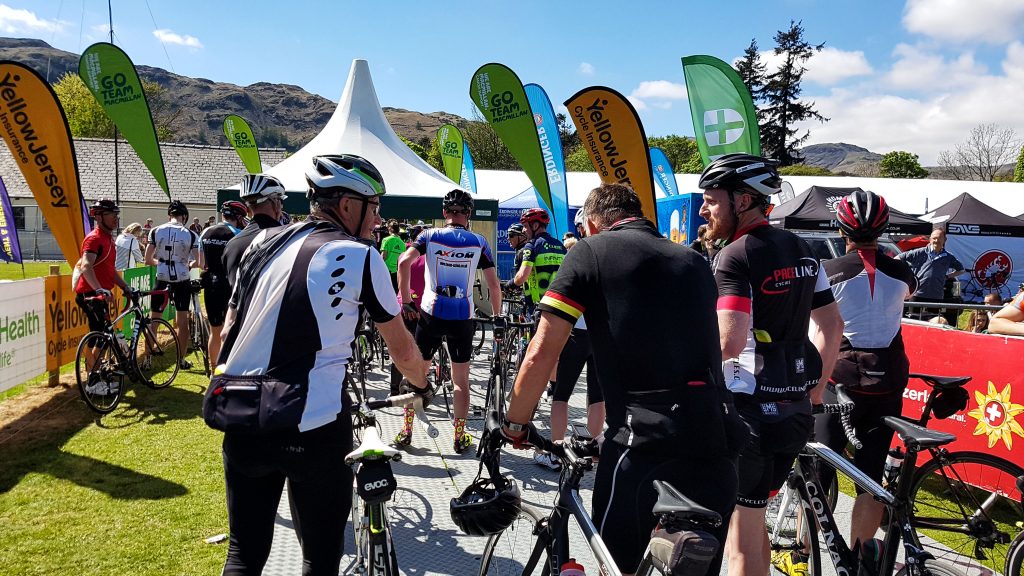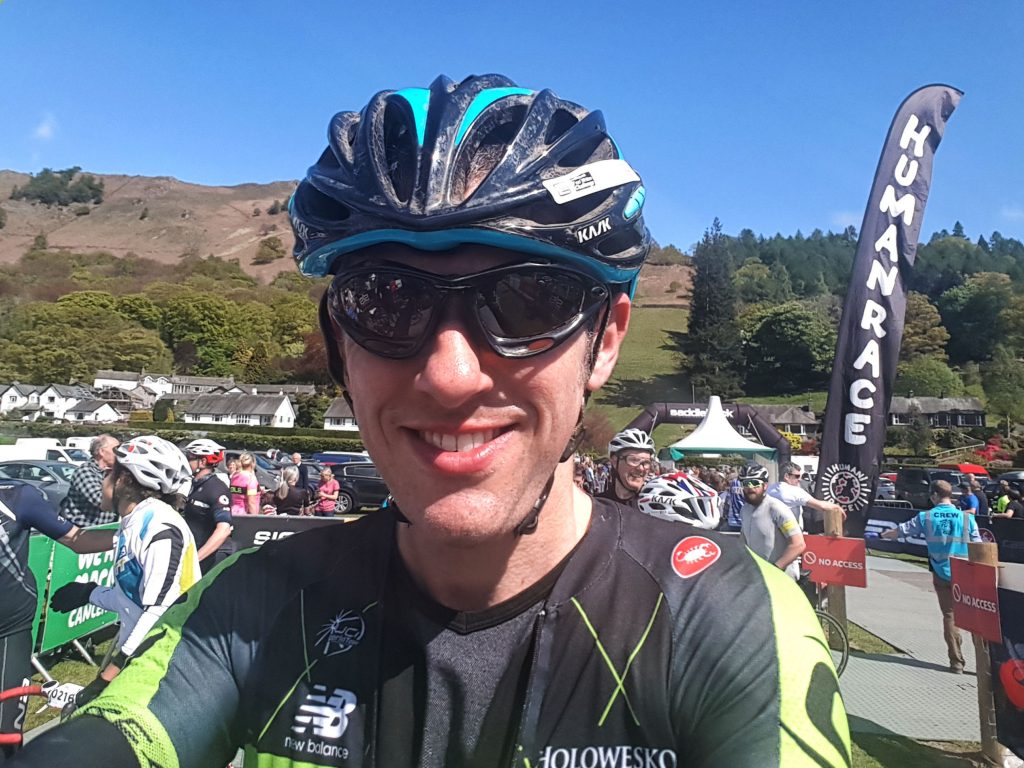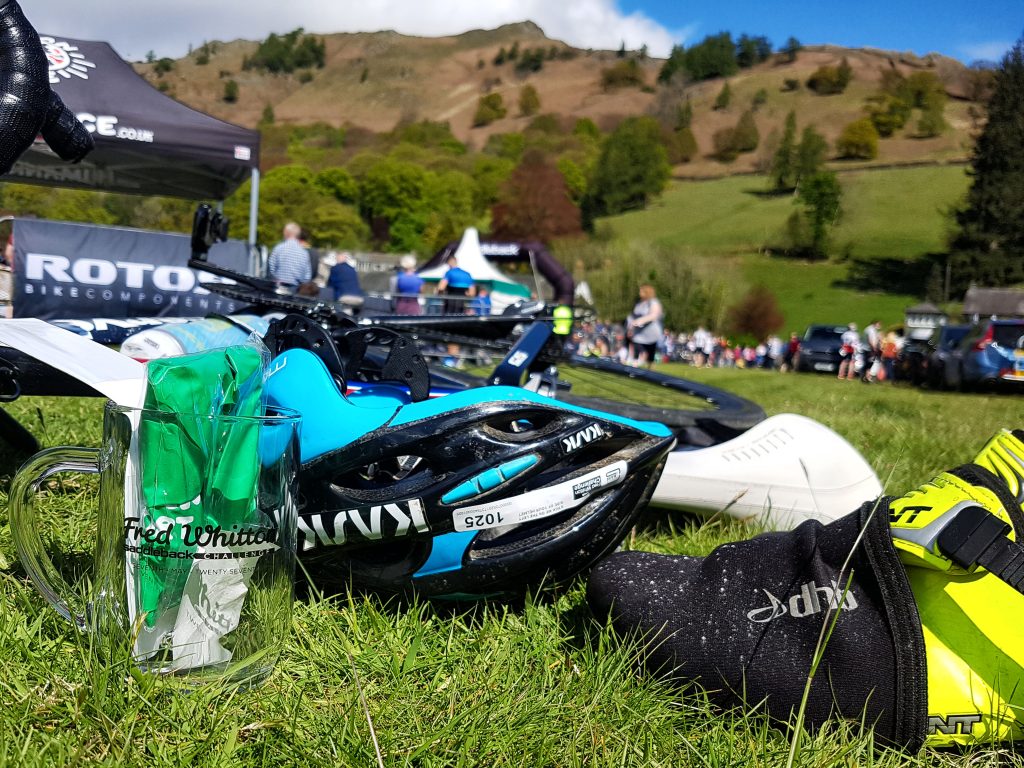 There was a bit of a queue at the finish as riders stopped to collect their print out of the results and their commemorative pint glass – filled with Erdinger alcohol free beer if you so wished (I politely declined). I phoned my wife as soon as I returned to my car to let her know I had finished safely. Originally I planned to hang around and recover for an hour or two before driving home. However, after packing the bike and having a quick wander around (Where I picked up my finishing certificate), I realised that I was probably best off trying to leave the still pretty full car park before the majority of the field attempted to do so. There was little to stay for as the the queue for the free post race meal was horrendous and I felt like I would never have to eat again after the second feed station (It took until 10pm that evening before I felt like doing so).
I left shortly before 4pm. For reasons best known to my satnav, rather than take me on the easy, mostly dual carriageway route I took getting to the Lakes, it would take me on a tortuous run through to Bradford. before finally hitting the via the M62. It took over an hour to cover the first 12 miles, it would be four and a half long hours before I got home, almost more painful than the ride itself thanks to some sciatic pain.
To conclude…. An amazing ride, as hard and as brilliant as I thought it would be – Hardknott perhaps harder. The organisation is quite informal but quietly slick, the marshaling and signposting exemplary. I can see why it is still arguably considered the daddy of all the tough sportives we now have in this country. I will definitely want to do it again – an official sub-7 as enticing as a sub 2:45 marathon. Whether I'd do it in heavy rain or wind is another matter. It's a hard and at times dangerous ride without those elements bringing more dangers. We were blessed with near perfect conditions, it was nearly a perfect ride. Damn you Hardknott and too much food!!!
I also would love to do the ride in a more informal manner, taking in the majesty of one of the my most favourite places in the world (Except when it is full of tourists, which is most of the time…), fully enjoying the breathtaking views and treating the feed stations more like relaxed coffee stops than the raids they turned into.
Thoroughly recommended, not for the novice cyclist, but a ride that any cyclist who likes their hills should be looking to complete.