After a flurry of races in June, July and most of August was race free, save for some time trials on the bike and, if you call parkruns a race (Which I don't), I came first at Ashton Court parkrun, which was quite a notable achievement if only because it was done on a not insignificant hangover after night one of my brother's Stag Do. Thanks to a hefty downhill run to the finish I also clocked my fastest ever mile at 4:48!
My brother's impending wedding certainly had an impact on my training for the Thorney 5. I'd only entered the race because the Notts 5 in July, which I'd intended to run, had been cancelled, and I needed another scoring race for our running club's Grand Prix series, of which Thorney was one of the 20 races to available to score from. I had a week or so back home after the stag do to train before heading off for five nights caravanning  in London, mainly to watch the World Athletics Championships.
I managed to get a short run in on the Thursday afternoon on the Green Link of parks in South London,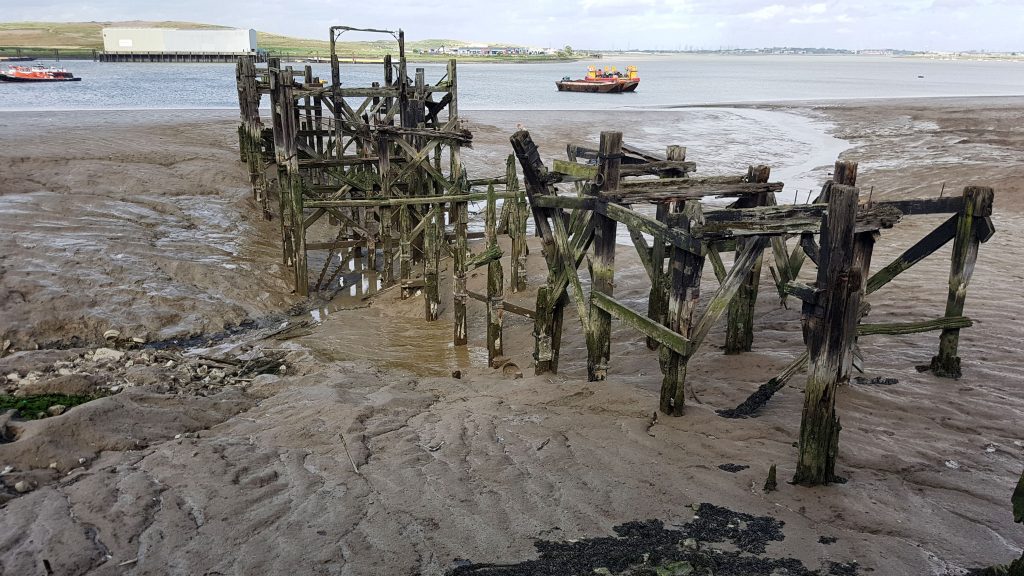 but nothing on the Friday, when my family and I attended the first evening session, thoroughly enjoying the atmosphere when Mo Farah won the 10,000m.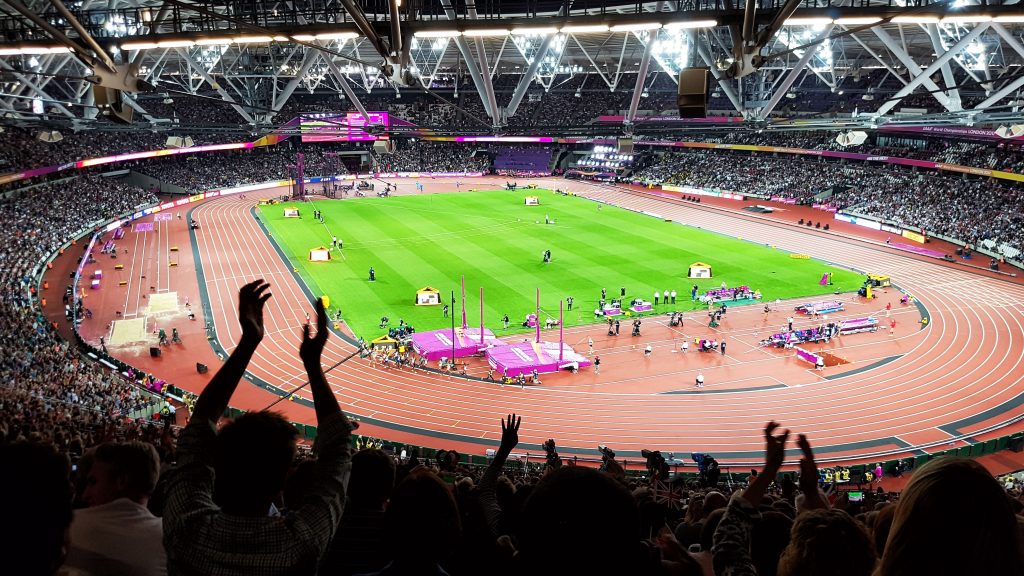 There was no run on Saturday either as I enjoyed a morning of athletics at the stadium before inviting my brother and fiance for the second of four barbecues we knocked up beside the caravan at Abbey Wood. Sunday saw no run either as I spent a second morning at the stadium before meeting my family to catch the start of the women's marathon and then sat down in the fan zone area to enjoy the race from the comfort of a deckchair and then the podium from a small grandstand just meters from the newly crowned men's and women's champions.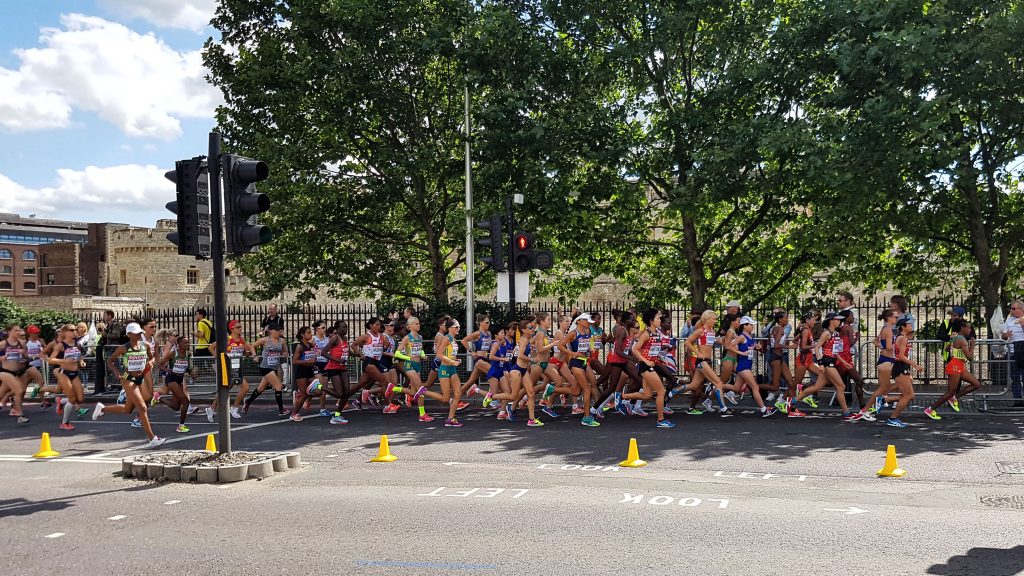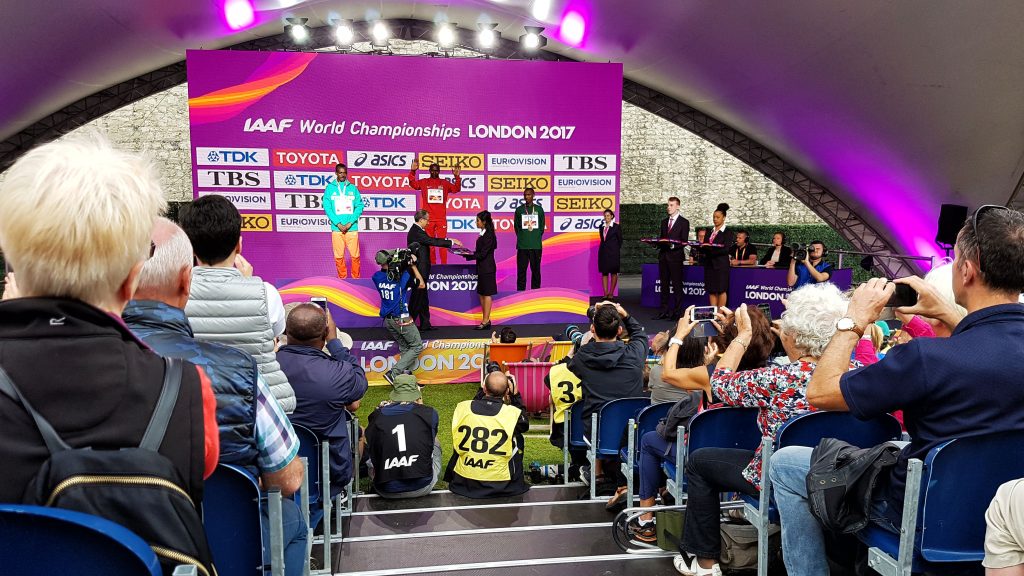 Monday at least saw a run – a bit of an epic 20 mile effort as I made the round trip to the first flat my wife and I rented in South East London almost 20 years ago. It was much as we had left it, although the area itself had got itself a whole load posher than when we were residents.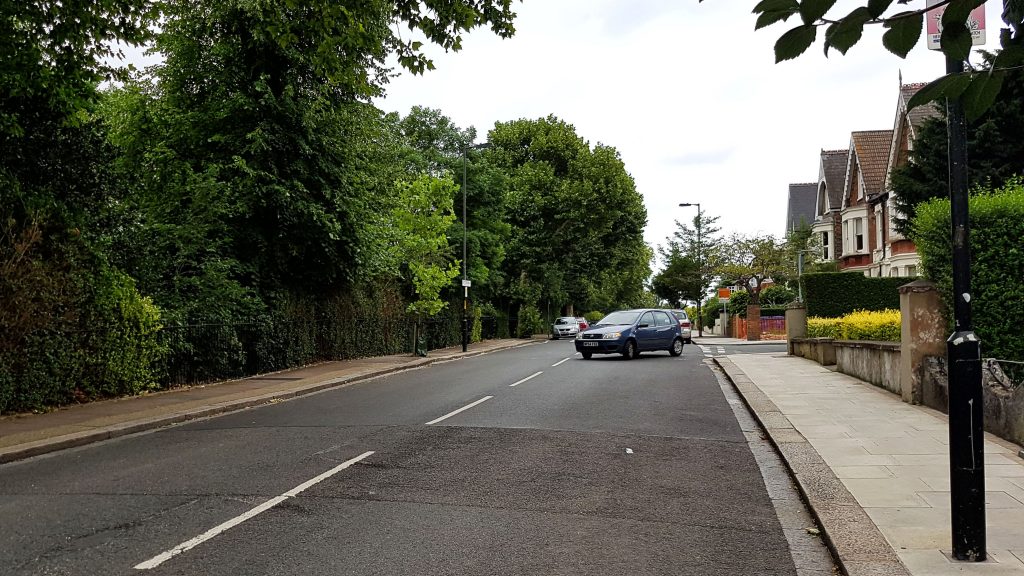 That evening we enjoyed one last night of live athletics, seeing Laura Muir agonsingly close to securing a medal. Another night home not long before 1am and I was ready for a good rest. The reality was that we had just a couple of days before heading off to Poland for my brother's wedding.
The wedding itself was amazing; Gdansk – where we spent three days after the wedding, was a fantastic city, as was Torun – where we'd briefly stayed before the wedding itself. I managed one somewhat hungover run there the morning after an evening of drinking at the bride to be's parents' house and, coincidentally the night of the worst storms apparently in Polish history, which knocked down thousands of trees and tragically killed five people.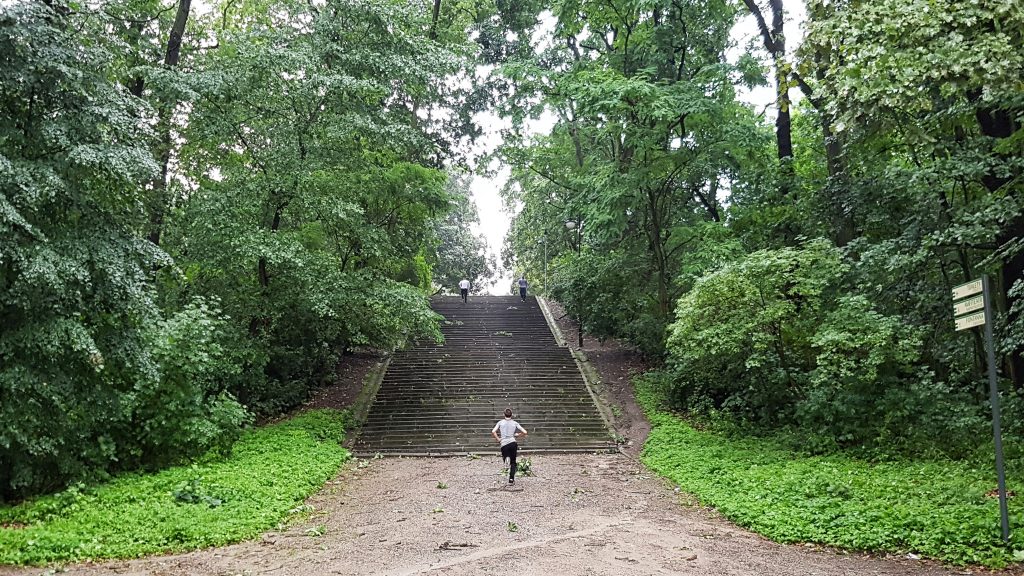 I also managed a very painfully hungover run on the morning after the wedding itself, the first few miles were as hard as anything I've done this year as the head cried enough!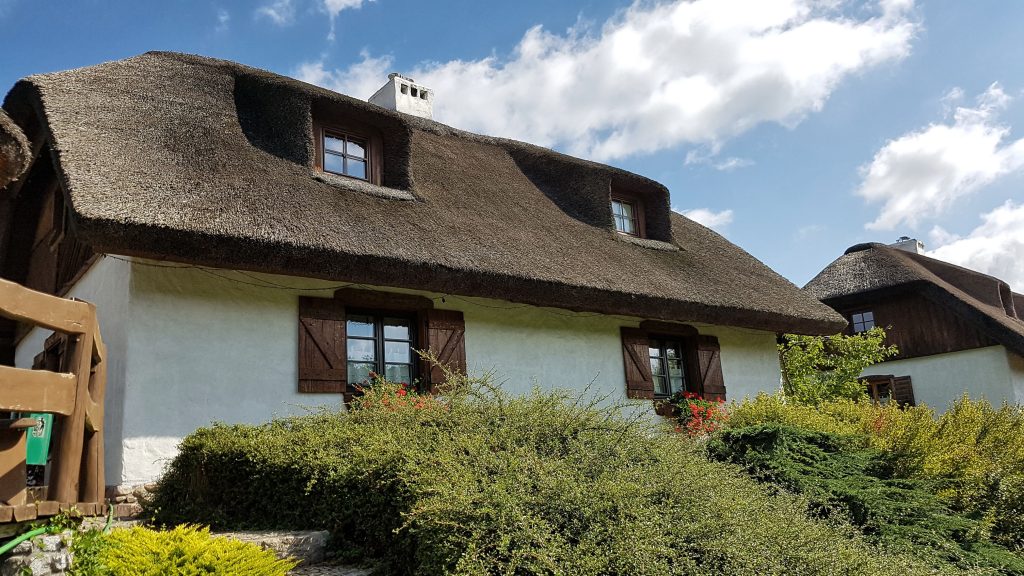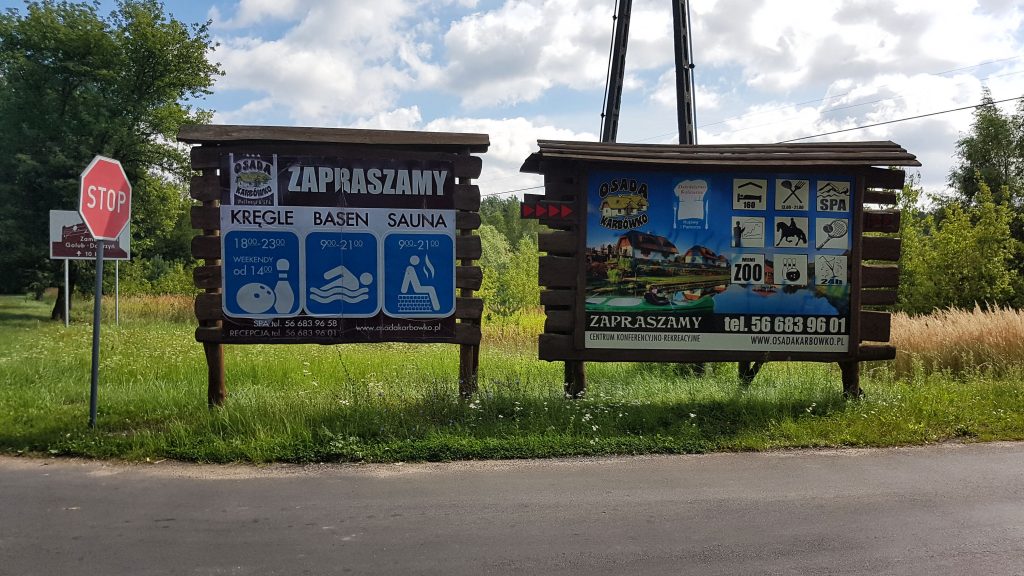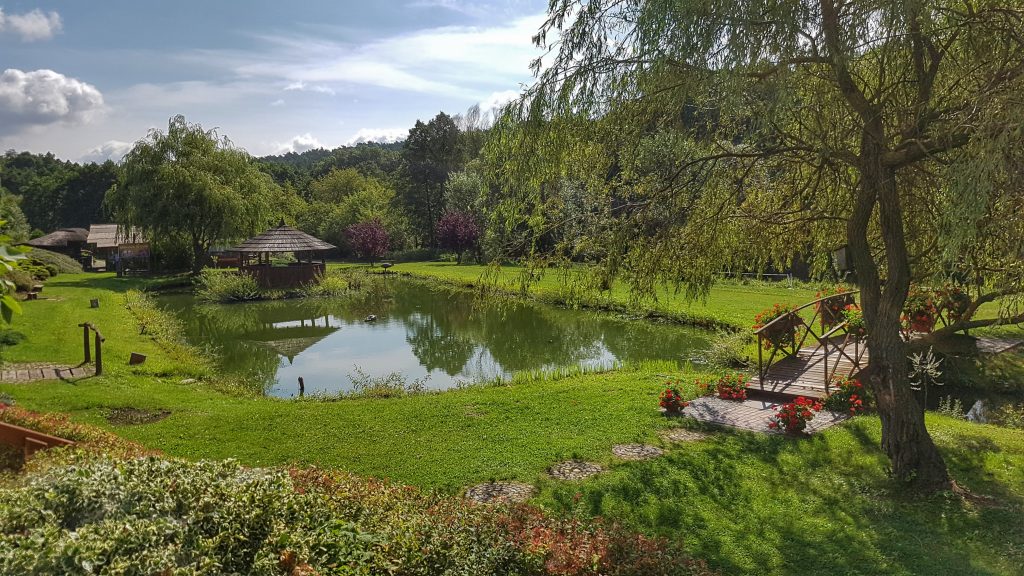 Gdansk should have seen plenty of miles and I at least managed to get out three times. There had been gentle attempts before we headed to Poland to sell the idea of me taking part in the Gdansk marathon, which took place on the Tuesday (a public holiday in Poland). Eventually I decided it perhaps wasn't the best idea to race a marathon in the middle of what was now a family holiday. As it transpired , a severe wasp sting on my right foot on the Monday, left it several times bigger than the left, which made running somewhat uncomfortable and almost certainly impossible to race a marathon.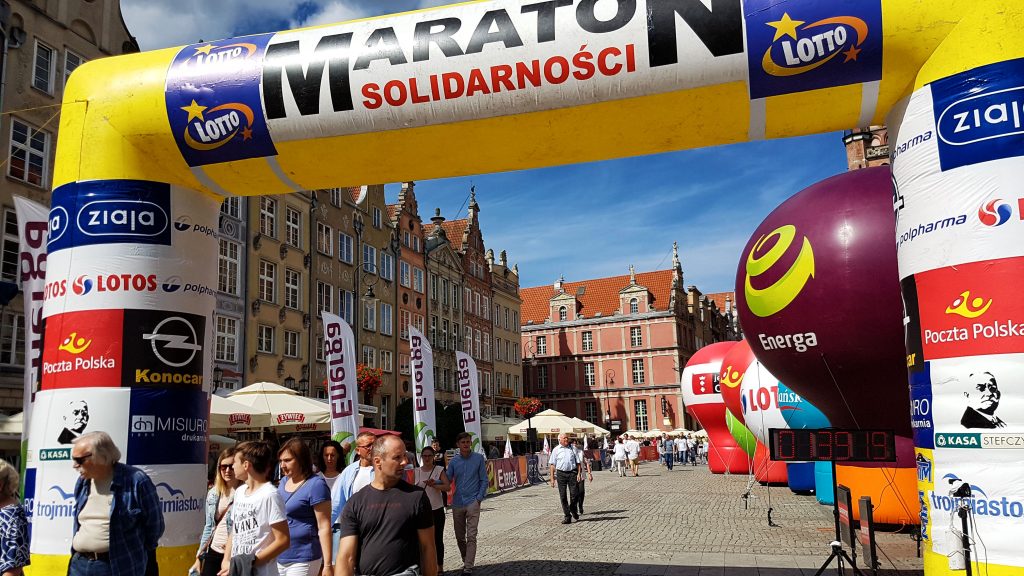 We arrived back from Poland late on Thursday night with the Thorney 5 on the Sunday morning. I ran an easy ten miles on the Friday morning, then took the Saturday off. I felt tired, lethargic and somewhat unfit having enjoyed the best part of two weeks drinking and eating too much, going to bed too often the wrong side of midnight and waking up not entirely rested. I even considered not racing on Saturday evening such was my lack of confidence over my fitness, race fitness especially, but I thought in the end it would be worth the effort to go along and give it a go – even if I ran sub-par.
Thorney is a 50 minute or so drive from Grantham, a small village northeast of Peterborough. I was one of the first to arrive, around 90 minutes before the start of the race. I collected my number and began to prepare myself for a warm up. Usually I do two miles maximum for a warm up – often due to time limitations, but with some more time to kill than usual I decided to opt for a 5k warm up, interspersed with some deep calf stretches on a conveniently placed kerb stone to try and alleviate a niggly Achilles that has been troubling me on and off for almost exactly a year now (It's actually a calf issue that is resolved with the regular stretching I sometimes neglect doing).
By coincidence I'd actually managed to run a good chunk of the race course. It was a simple out and back affair largely on the old A47, which is now a road vastly over sized for the volume of traffic it no longer carries thanks to a bypass built twelve or so years ago. The warm up felt fairly comfortable, and I was able to run the last mile at around 6:20 pace with little difficulty. It also served as a useful guide to how the wind would affect the race. The course is all but pancake flat and would be a guaranteed PB course were it not for the winds that usually afflict this fen land part of the country. For the fens the winds on the day of the race were not too challenging, but strong enough that they would determine the pattern of the race. They would be a tail wind for much of the first half before becoming a cross wind, then a head wind for the closing stages.
I still had nearly half an hour to kill so I headed to somewhere with a carpet to do some final stretches. The race physio was there, and with no-one to treat, he asked if I'd like some help with any thing. My right hamstring was quite tight, mostly thanks to having done a few too many squats, so I took him up on his offer. I was only there for about five minutes or so but i must say he worked wonders loosening off not just that hamstring, but the left one too, and my glute muscles.
With ten minutes to go before the start of the race I was totally ready to race – last toilet stop done, final stretches carried out and laces tightened for the final time. We lined up on the start line with a few minutes to kill. I scanned the front line of runners for recognisable local talent. The big names were clearly not there but there were some runners who looked lean and talented, so mentally I assumed it would be another race where I watched runners disappear quickly off into the distance.
The race started promptly at 10:30 – the opening 100 meters or so actually on the only incline of the race, although in any other race it wouldn't actually register as an incline, it was so shallow. I set off comfortably, but fairly briskly, yet I was well outside the top ten for the opening couple of minutes of the race. One runner quickly broke away to form a gap over a group of three and, around three minutes into the race, I found myself a few seconds behind that group in a larger pack of around six or seven runners. Feeling a little better than expected I put in a little effort to break clear of that group and catch the group ahead. I then sat at the back of the group as we went through the opening mile marker in 5:18. This is a fair few seconds quicker than I've run in the opening mile of the recent 10K races but because we were aided by the tail wind it actually felt fairly comfortable.
The second mile saw one of the three runners in my group break clear and attempt to catch up with the lead runner who, having established a gap of around 10 seconds appeared to be slowing. Indeed it wasn't long before he was indeed caught and passed, not just by the leader, but by our group of three too. I remained at the back of  the three strong group, the two ahead of me seemed to know each other fairly well and I was the interloper. The fact that all three of us were able to talk to each other suggested that maximal pace had not yet been reached. The runner ahead of us continued to pull away but at a reduced rate. Indeed as we turned right off the main road and onto a small country lane, the gap became static, and if anything began to reduce slightly.
We went through the second mile in 5:20, again largely wind assisted. The right turn meant we now faced a cross wind. I played a tactical card and drew alongside the other two (who were Robert Brownlee of Nene Valley Harriers and John Pike of Peterborough AC), but made sure I was by the gutter on the left hand side of the road, being sheltered as much as possible from the wind.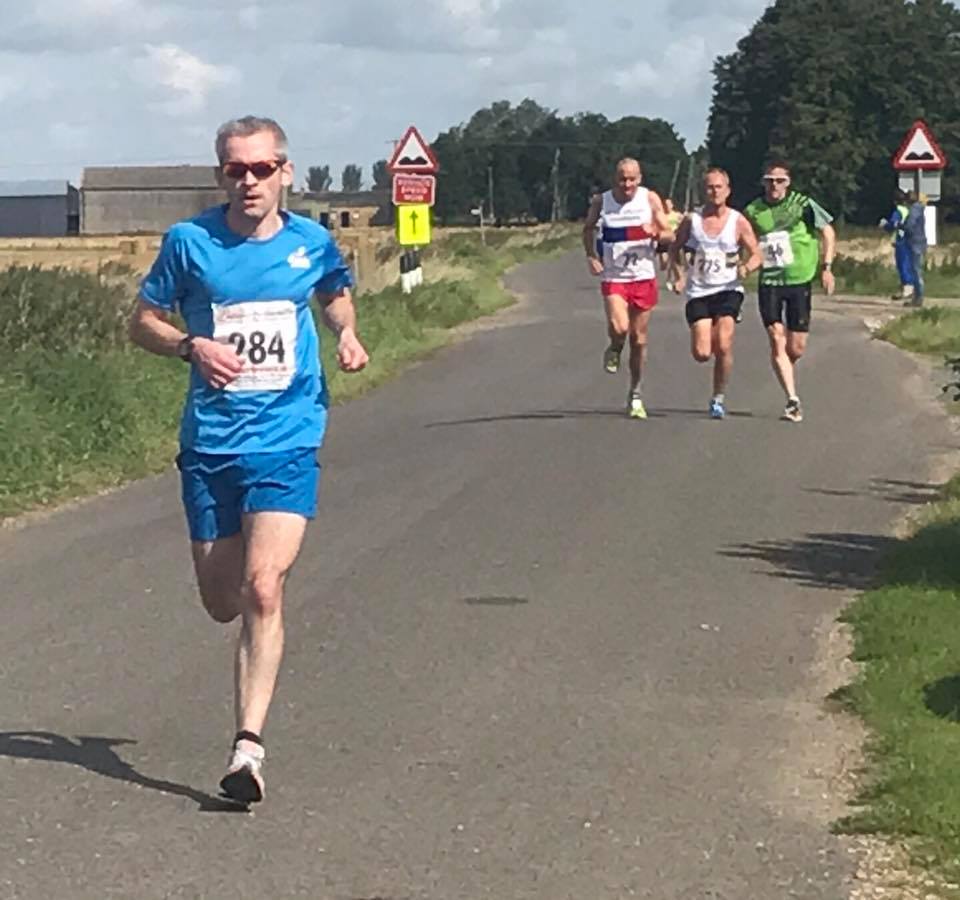 At just over 2.5 miles we made a dead turn to begin our return back to the start. I immediately placed myself in the middle of the road, to the right of the other two so that, again, I would get as much shelter from the cross wind as possible. It was at the dead turn that Robert Brownlee made the first surge of the race in an attempt to break the group. Both John and I were able to keep up with him and as we did I drew alongside and just past as the pace slowed back down.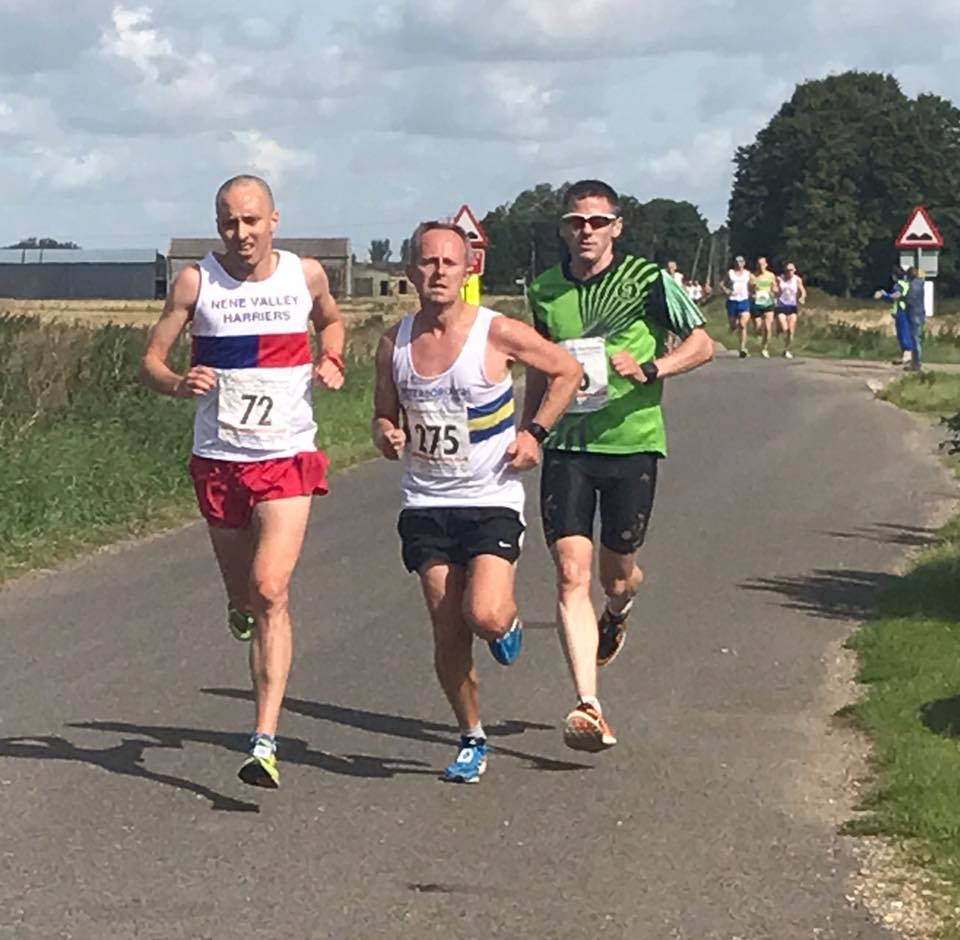 The third mile was clocked at 5:28, which meant we went through 5k in approximately 16:42. Had I known that I'd run comfortably inside my official 5k PB (and just outside my parkrun best), I may have scared myself into easing the pace. As it was I wasn't really paying too much attention to the watch and instead enjoying the race and the tactics that were unfolding.
This surge meant we quite quickly closed down the gap to the leader and before we even hit the main road again, we had passed Kieran White of Hercules Wimbledon, who would go onto finish fourth. Just before the main road, John put in a surge, running close to 5 minute mile pace before we slowed again to something around 5:40 pace. Once again I was able to stay with the surge and again I just allowed myself to drift towards the front of the group, giving the idea that I was helping with the pace and pushing on, when in reality I was keeping the pace steady and avoiding any kind of surging.
We turned left and back onto the main road, where we hit a near full on head wind. John made another strong surge in a big attempt to try and break the tow of Robert and myself. I had to dig quite deep to catch back up with him but I managed it, and once again, the pace slowed as I once again pulled alongside to co-lead the race. At a slight dogleg right we hit the four mile marker with a 5:35 mile clocked and Robert put in another strong surge. This proved too much for John and he began to drop back. I dug deep again and was able to pull alongside Robert. This time, rather than let the pace slow, I maintained the effort for a few more seconds, long enough for Robert to firstly drop behind me and tuck in, then to slowly, but inexorably, begin to drop back.
My HR was pretty high, not far off maximal, but I felt that I could have maintained the pace, even perhaps gone a little quicker. The limiting factor was a bit of tummy trouble which deteriorated the quicker I ran. Halfway through the final mile and fully into the headwind I was able to maintain a pace that saw me continue to slowly pull away but not feel like I was about to imminently about to have an unfortunate accident.
As we returned into Thorney village the realisation hit me that I was in the lead and on course for a very unlikely victory. I tried to relax as much as possible, but continued to nervously look behind to see if Robert was closing on me. Taking a right at the crossroads I knew I had less than a minute of running left and put on a semi hard sprint. I looked once again behind and was relieved to see that Mr Brownlee didn't have a Farah like finishing kick and so victory was assured.
As I turned into the finishing straight the clock ticked 27:15 and I realised a healthy PB was the reward for victory. I raised my arms in triumph as I crossed the finish line in 29:27.7 (with a 5:28 final mile), clocking a new five mile PB by 32 seconds. I waited for 10 seconds for Robert to cross the line, congratulated him and then, a few moments later, John on a good race. I recovered quickly enough to head back down the course a little to cheer home fellow GRC runners, accepting the congratulations of a few runners and spectators who recognised me as the winner.
With 40 minutes to kill until the prize giving ceremony I went on a rare post race warm down which was nearly another 5km long. This felt surprisingly easy – normally I struggle to walk properly after races! I went into the Village Hall, and after 10 or so minutes of winning I collected my rather impressive winners' trophy. It later transpired I would have also been the Cambridgeshire 5 Mile Road Race Champion, were it not for the fact I don't reside in, nor was born in, Cambridgeshire.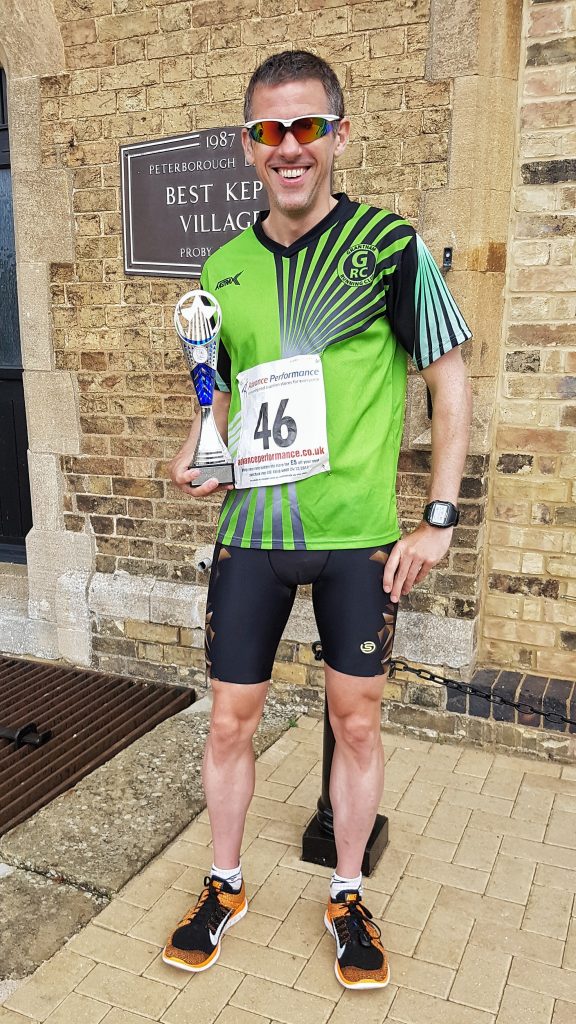 After a quick photo with the aforementioned trophy, the day was done and I returned to my car for the journey home, still not quite believing I had won. As the local Grantham Journal pointed out, when I made it onto the back page for the first time, if I recall correctly, If the recipe for success is eating, drinking, and partying to excess, then maybe I need to holiday more often!