Unless there is a dramatic change of heart, the Keyworth Turkey Trot half marathon will be my last race of 2016. This is a much hyped race, entries opened one morning in late September and all 1000+ places were filled by the same evening. I entered on a whim, confident I could sell my place if I didn't fancy racing it after all.
As the weeks went by I felt more compelled to give it a go, and so trained semi-specifically for it. I ran three short interval sessions (pretty much the first of the year aside from one at the very beginning) and a couple of quick tempo training runs before committing myself to base training (i.e. nothing hard or particularly fast) in preparation for the London Marathon in April. I'd done a couple of long runs with a parkrun stuck in the middle, a long run on the hilly Newton's Fraction half marathon course and three Tuesday evening runs containing the same killer hill at Great Gonerby. This was all done with the knowledge that the Turkey Trot is an undulating race with one stiff climb in particular – at around three miles.
Injury wise I was fairly clear of anything major – the left Achilles is still nagging away but continues to show every indication it is a calf issue. I've had a problem with a tendon aching on the top of the left foot – caused by overly tight laces on one run. It's been tricky, but I've been able to continue running with some readjustment of laces and sticking with a couple of pairs of trainers that hurt less than the others. The cramp sensations I've been suffering at random periods for much of the past two years are much diminished – all but disappeared since I began having some regular physio to establish the cause of them. Early days yet but the suspicion is it is a significant lack of any mobility in the thoracic spine and other issues regarding flexibility in the hip and pelvis area. A daily dose of specific stretches and mobility exercises have appeared to work wonders. So it was I went into the race fairly confident I would last without cramping up or suffering with bad Achilles pain. I was though fighting the inevitable colds that are flying around town and being brought en masse by my youngest daughter. Come race day however I was pretty much bug free.
A pleasant feature of the Keyworth Turkey Trot is the relatively late start – 10:30am. I doubt this is to let runners enjoy a pre-Christmas lie-in. The reality is more likely to give any overnight ice and frost the chance to melt away. Thankfully after a day of heavy rain on the Saturday, Sunday awoke dry and with fairly pleasant temperatures for running – around 8C – albeit with a slightly annoying breeze. I awoke at the normal hour for a Sunday, had breakfast, the coffee, grabbed as much Match of the Day I could before setting off for the 40 minute journey to Keyworth.
I made it to one of three car parks (all with postcodes provided and walking distance to race HQ on the pre-race instructions – a great touch) with over 90 minutes to spare. This guaranteed a seat in the school hall used as Headquarters for the race. I went about preparing for the race, taking a risk with the Nike Frees as the last time I tried to wear them they were too painful on the foot tendon – but today they felt fine. I had the chance to chat with a few guys and gals from Belvoir Tri Club, who had appeared in huge numbers for this race, before bidding adieu and setting off on an uneventful warm up and a queue for the toilets, which was long, but well managed by race crew.
The plan had been for a pre-race Grantham Running Club group photo but this never quite materialised due to people queuing for baggage, toilets, warming up etc. I'm never a big fan of the pre-race photo, I'd rather be concentrating on the race, so ten minutes before the off and with a last minute trip to the loo required, I declared the pre-race photo postponed until after the race. I joined the front of the race with five minutes to spare, the race looked like it was going to go off early until someone on a walkie-talkie reigned in the enthusiasm of the starter and insisted it go off on time.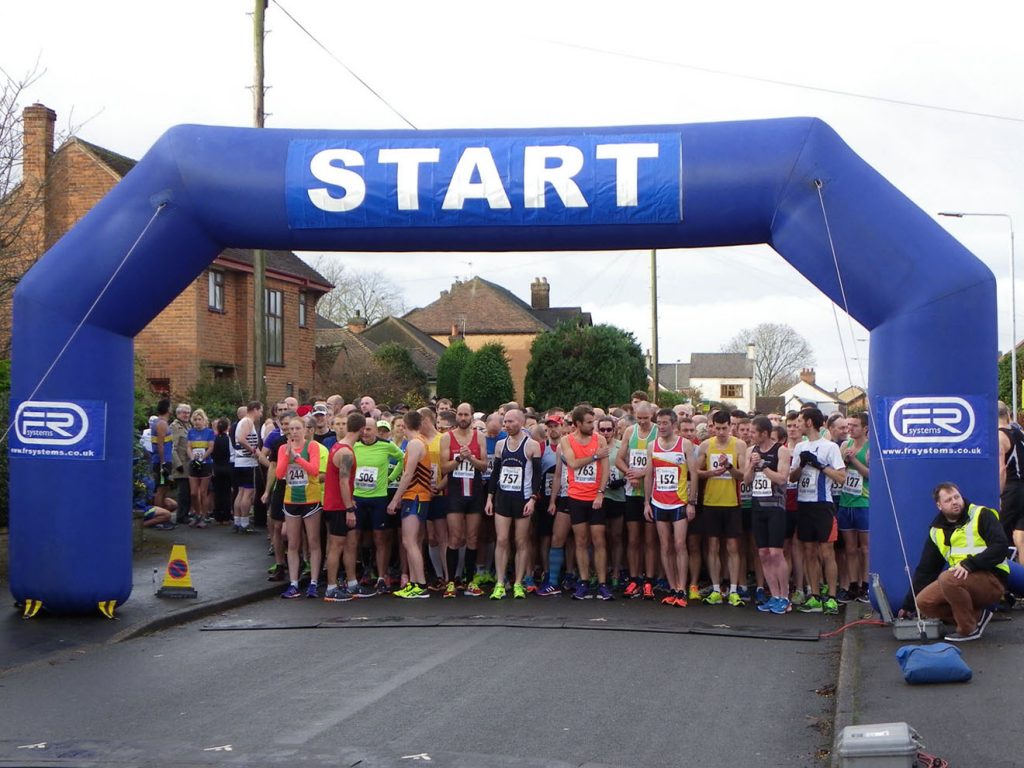 So at the prescribed time of 10:30 we were off. A key feature of the Keyworth Turkey Trot is the lightening fast start. The opening of the race is downhill and regularly sees runners hurtling off way faster than any pace they can maintain. A sting follows almost immediately with a drag uphill of around the same length before the race calms down on a section of flat before another downhill stretch as the local church is passed and Keyworth is departed. Much of the first three miles is downhill, albeit fairly gently. It is usually time to bank some seconds but at the same time being careful to not get too over exuberant and run faster than the descent allows for.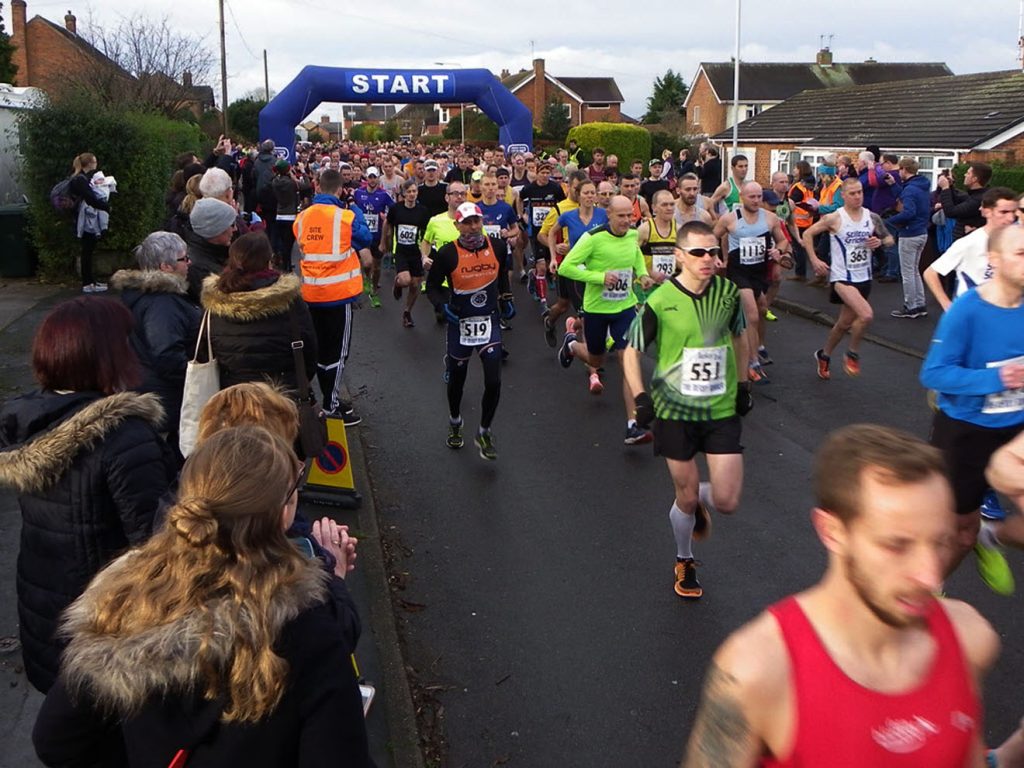 I had a fairly mediocre start to the race. My legs took a few minutes to come to life and a mile or so before the left Achilles stopped aching. The field soon became quite spread out with a rapid bunch of runners quickly disappearing into the distance. I went through the opening mile in 5:38, which I knew was eight seconds down on 2013, when I ran the race for the first and only time. The second mile saw me employ some tactics. We were heading west, into the not stiff, but noticeable breeze. I had two runners behind me who were clearly taking shelter behind me, so I slowed until they were forced to take the pace. I tucked in behind them. This wasn't particularly comfortable as I was chopping my stride a bit but I reckoned the protection could help later in the race energy wise. I went through the second mile in 5:45 compared to 5:40 in 2013. Back then I was setting off at PB speed, this year I knew I was already a bit off PB shape, but looking forward to another solid race.
At the two mile point we turned left and the headwind was a crosswind negated by tree cover. Instinctively I pulled out from the two in front of me and put in a little surge. One was able to follow, the other began to drift. I knew from experience in 2013 that there would be a pair of hills just before and just after three miles which would further shape the outcome of the race. Not caring about drafting I pushed on and focused on catching the couple of runners ahead of me.
The first hill came at just before the end of the third mile, I felt strong and clocked 5:57, comparing favourably to the 6:09 I set in 2013. Back then at this point I'd began to feel decidedly dodgy and suffered badly on the second hill – which felt as though it was one of the toughest I'd ever encountered. This time around the hill was a challenge but felt relatively easy, certainly easier than the local Grantham favourites Casthorpe and Woolsthorpe. It seems that the three and a bit years of Granthams' hills have weathered the legs well in coping with elevation. I passed the two runners ahead of me – but was a little perturbed that another runner passed me as we neared the top of the climb.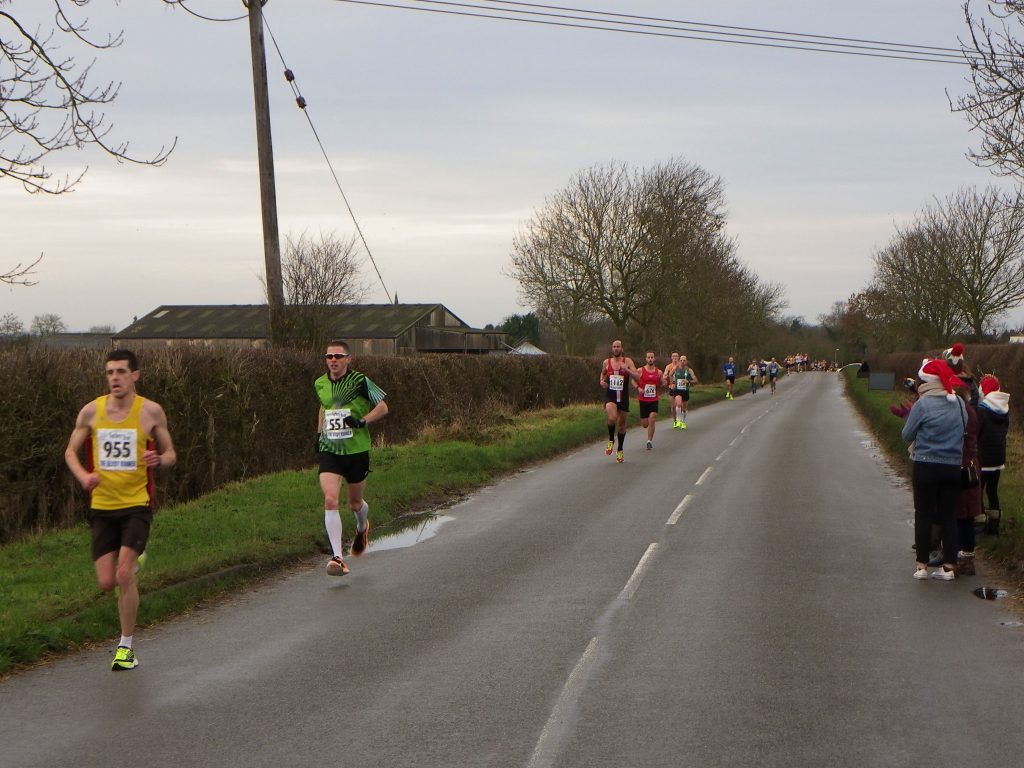 The hill came and ended early on during the fourth mile. The pace for that mile averaged around 6:55, so I knew that I'd have to forget about recovery and put in some effort to get that average down. Thankfully that was made easier by chasing down the guy who'd passed me on the hill. Once I caught him we actually worked together for a bit taking the pace. He appeared to be working hard so I reckoned eventually he would tire, but for now he was useful company. The fourth mile was the slowest of the race – 6:03, but that was ten seconds quicker than in 2013.
The next few miles were fairly unremarkable. We passed through a couple of pleasant villages where there was great support, and a few other places with small pockets of spectators, otherwise there wasn't much to entertain other than the aim of getting to the finish as quickly as possible. The fifth mile was a quick 5:35 (5:45 in 2013), the sixth was slower at 5:55 (6:00 in 2013), but the constant elevation changes made consistent pacing tricky. The seventh mile was 5:51 (5:52 in 2013) and it was here my mind got a little confused as the rolling hills I'd remembered as being at around 10 miles were evidently three miles earlier than the brain had processed them as being. It may have temporarily forgotten two miles or so, but the memory of a very pleasant gently descending stretch of road came flooding back.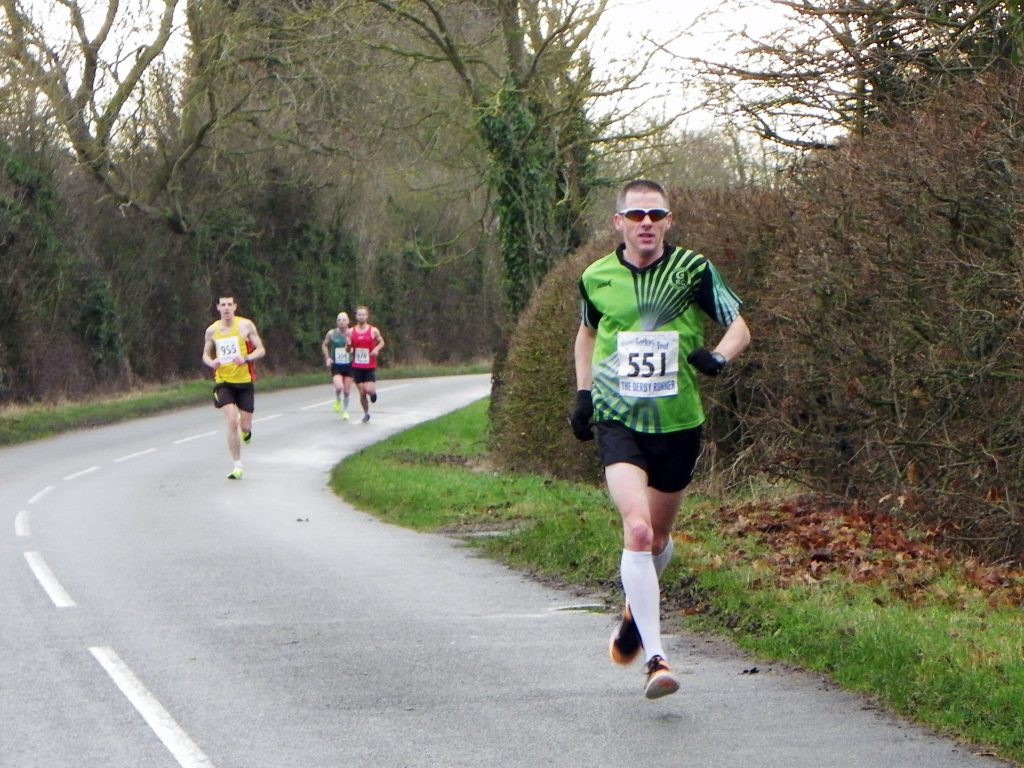 By now I had pulled slightly clear of the runner who'd passed me on the hill and I was chasing two runners in front of me. Mile 8 was 5:45 (5:51 in 2013) and mile 9 was 5:40 (a swift 5:32 in 2013). As we came to a small village where Keyworth Rugby Club were playing, I feared the sight of a whacking great hill. Fortunately we turned right and along a stretch of flat road I knew would lead to a left hand turn and the final hills of the race. As we did I caught one of the two runners in front of me, just as we were cheered on by his (heavily pregnant) wife sporting a helium balloon for the husband who was celebrating his birthday with a rather swift half marathon. Sadly for him I was offering no gifts and I passed him as we turned left, faced the headwind, once again, and began climbing.
The tenth mile was 5:48 (5:45 in 2013). I now began pushing to try and put a gap on the birthday boy who was proving stronger than his slight fade a few moments earlier had suggested. This last hill was a real pain – not particularly steep and with a brief descent in the middle, but seemingly going on forever. Still mile 11 was 5:57 (6:04 in 2013), and I knew that most of the way to the finish was downhill. I pushed on hard, fearful that I would be caught, but now my left hip and groin were giving a few aches, so I was tempered a touch. The 12th mile was another 5:57 (6:02 in 2013). The first half of the last mile was all downhill and quite steep in places. This though was almost a hindrance as it caused a little cramping in the left quad. Thankfully the descent ended and the cramp desisted and I pushed on, still thinking I had a runner right behind me.
The end of the Turkey Trot was a killer in 2013, an ill-timed hill right near the finish put pay to a chance of a PB. This year I felt stronger and knowing there would be a hill, better prepared. I didn't know it at the time but I climbed that hill only a few seconds slower than the winner which is fairly satisfying. I logged a 5:37 for the final mile (5:41 in 2013), and with a glance at the watch knew I was going to beat 1:17.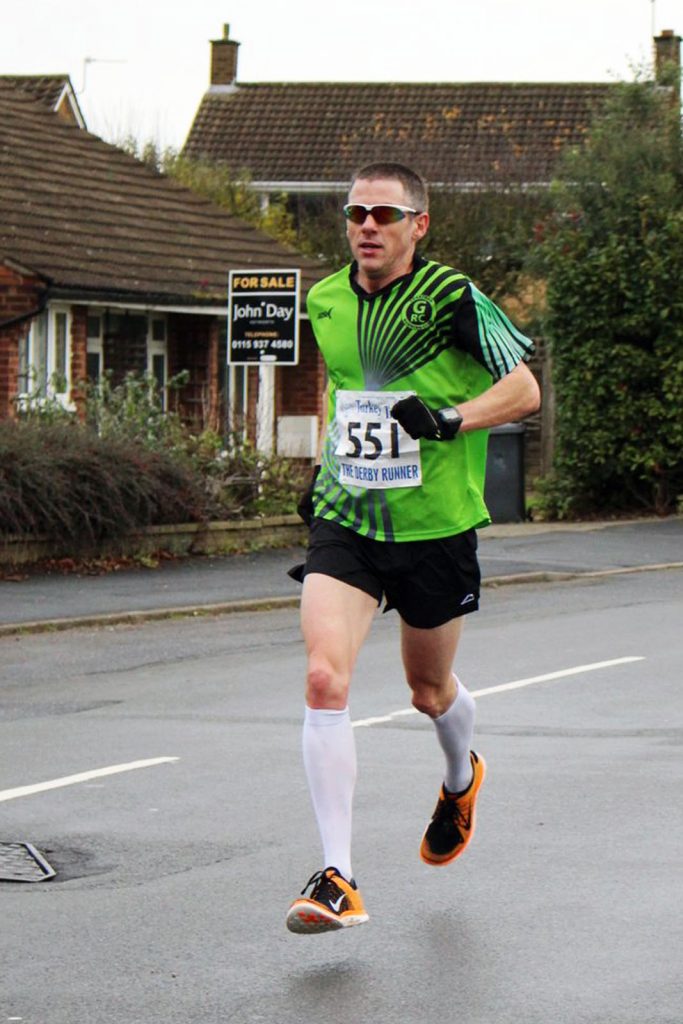 I crossed the line in 1:16:45, unaware of my finishing position (It was eighth), but made immediately aware that I had won the prize as first veteran finisher! I knew what was coming! First I received my multi-tool medal from Santa himself. I quickly got changed and got out just in time to photo most of the GRC runners coming to the finish line. Star of the day was SJ who knocked an impressive four minutes off her PB. I had little doubt she'd do well having struggled to chase her down on the way to Belton House parkrun a few weeks earlier!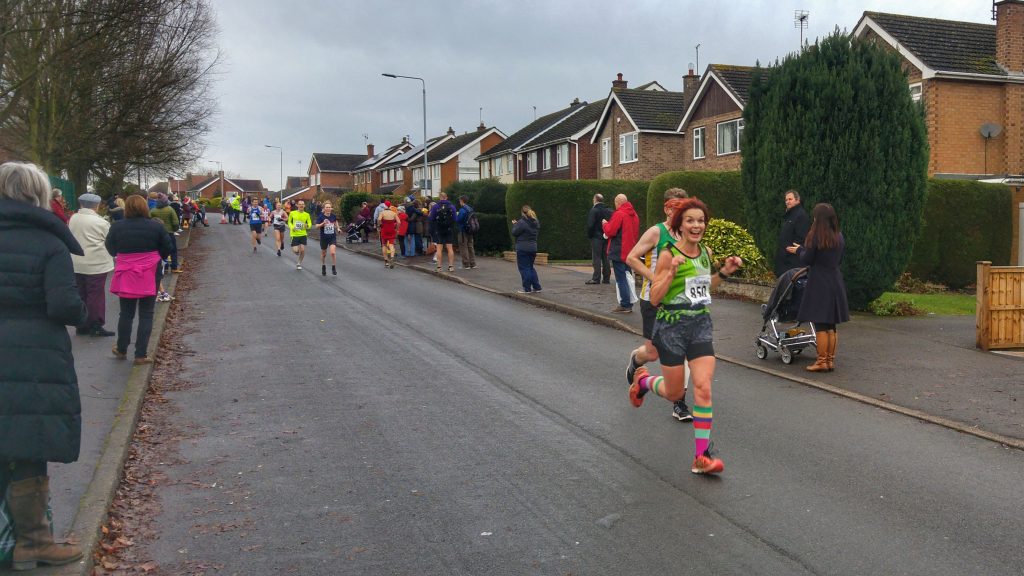 With all the GRC runners in there was finally chance for the obligatory group photo: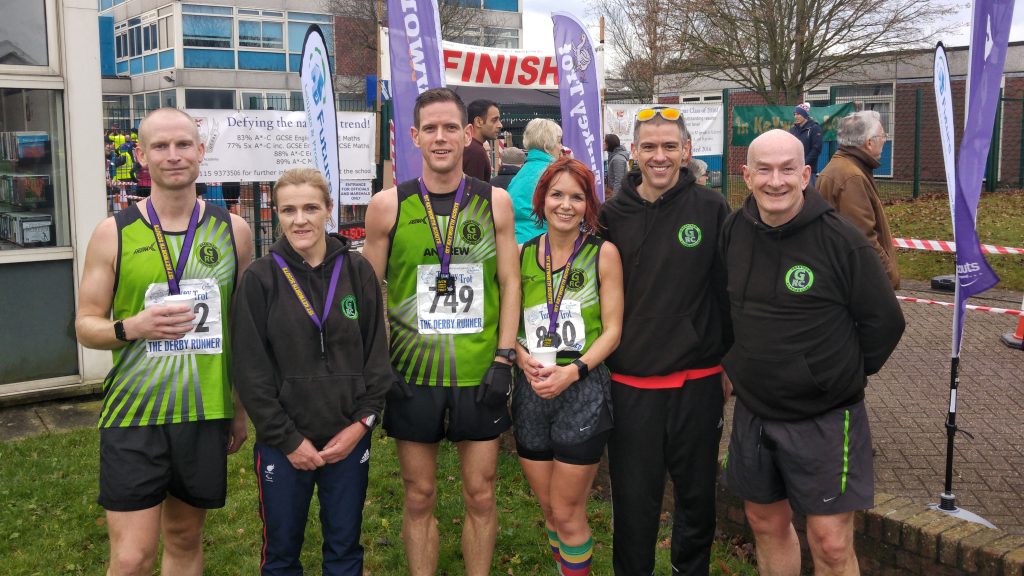 Then there was a bit of hanging around for the prize ceremony. Kudos to my team mates for hanging around, even if one had to disappear for what appeared an inordinately long time sorting out their dodgy guts! As has been pointed out I've received my share of odd prizes recently. This may not quite have topped the slap of stilton, but the frozen turkey is certainly a prize that would be mostly wholly inappropriate at any other time of year – but at this time was most warmly received – Christmas dinner is sorted!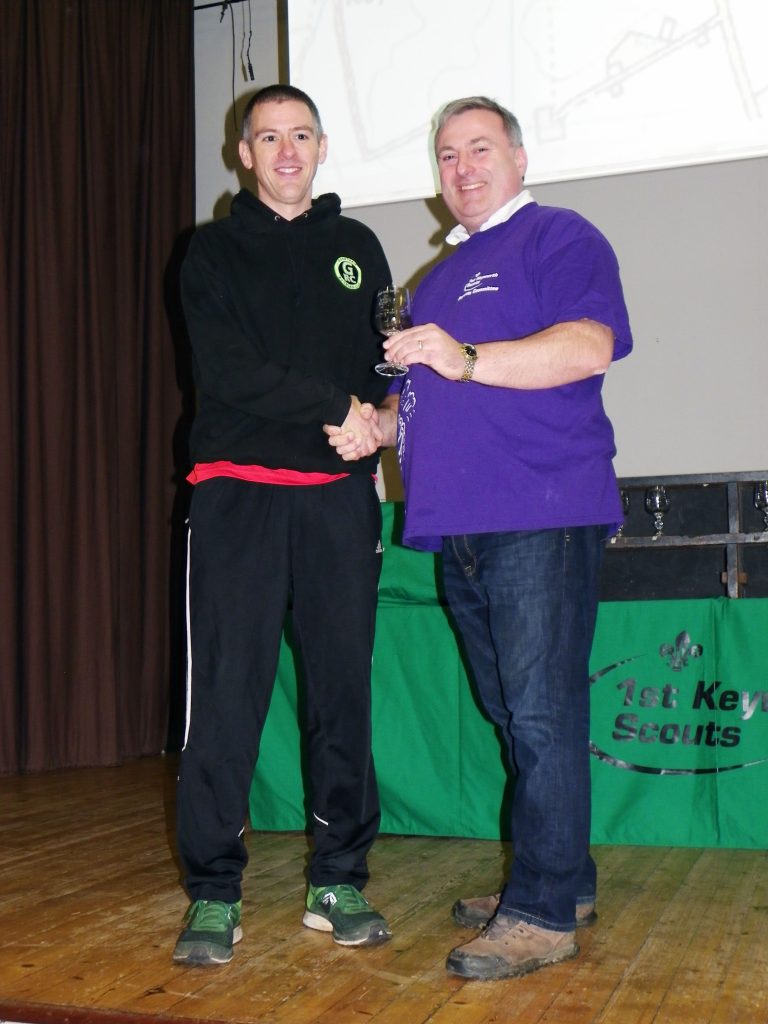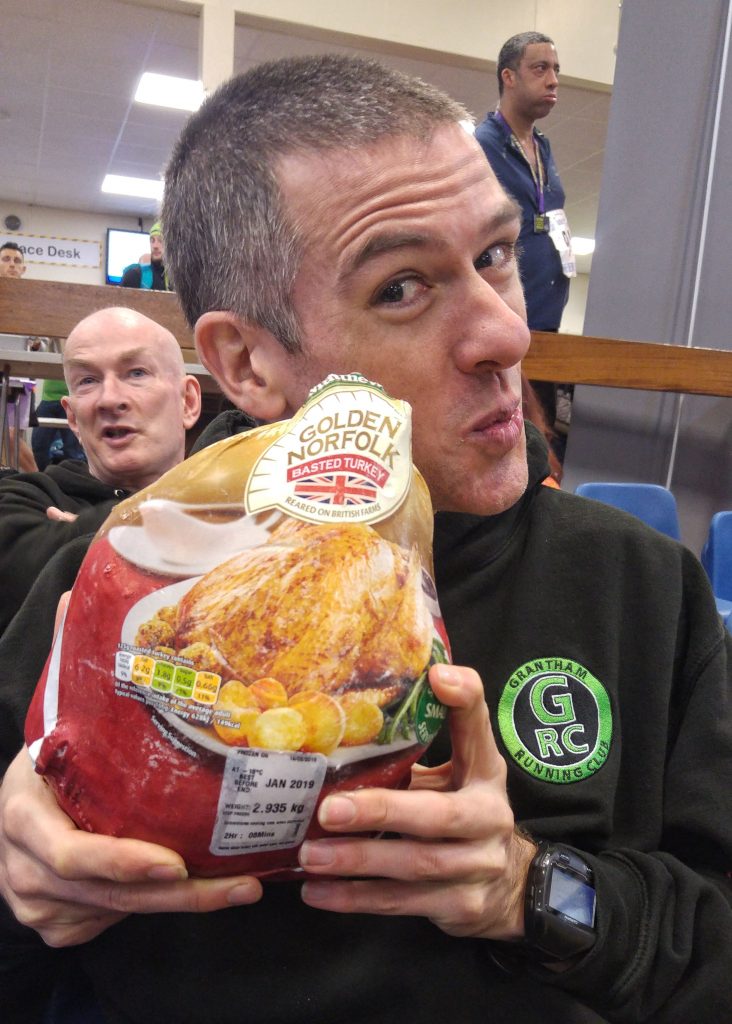 With that the day was done and home we headed. All in all a good day's work. Very pleased to have broken 77 minutes for the half, especially as the average HR was 3-5 beats lower than it usually was. I didn't push full gas, that's for sure, yet managed a respectable time. With Christmas fast approaching it's back to base training preparing for the London Marathon. Next race (Hopefully) the Folksworth 15.