I Hate Cross Country… But For Some Reason I Signed Up To The Nationals…
Many moons ago when I first joined the Kenilworth Runners committee they had a newsletter published every month or so as the idea that everything could be hosted on a website was still a little too radical for a few members. I was on the board as club administrator but actually did no administrating at all. All I did for the first year or so was write a few pieces for the newsletter.
One piece that caught the attention of a few members was a  piece called I Hate Cross Country… But I'm Willing To Give It Another Try. In a radical departure from the every race is awesome and brilliant theme that tends to infiltrate race reports, I dared to illicit my disdain for cross country racing. I hate racing in mud, racing on uneven ground, splashing through puddles and streams in the rain and cold. What's more I am not very good at it. Runners I could beat my minutes on the road over 10k I'd struggle to keep up with as I sank awkwardly in mud, struggled to keep my balance, generally cursing the whole experience.
The only thing that kept me trying it again and again, running the Birmingham League primarily, was that it's a rare opportunity in running to compete as a team, where the performance of each individual is more important for the good of the whole rather than the sole. It was the camaraderie that was appealing, albeit in a why am I doing this exactly? form.
I think the articles ran for three cross country seasons before the joke ran its course and they quietly disappeared. Then a couple of years ago I moved to Grantham. I returned once to take part in one Birmingham League race early in 2014 but took part in none since mostly due to injury then due to a general lack of enthusiasm, despite the amazing performances of the club to finish sixth overall in this year's overall Division One standings. I'm not allowed to compete for Grantham Running Club in the Lincs League as I am second claim for them, as it is I am a little underwhelmed by that league. It is all done and dusted by the first week in December, just as most other leagues are getting started.
I've only once ran in the English National Cross Country Championships – better known as the Nationals, back at Stowe school in 2000, but I barely remember any details of it at all. They were hosted in Nottingham recently but work prevented me from taking part. When I heard they were taking place at Donington Park, an hour or so from home, I took the plunge in a wave of post New Year optimism and signed myself up for the 2016 edition.
I took preparations as seriously as I ever have – I purchased a pair of spikes for the first time in 10 years having preferred the whole shoe grip of my Walshes (But they are pretty knackered now). The days leading up to the race were challenging (Explained in my weekly training diary) as a return of the tight calf blues meant my last run on the Thursday was cut short. But with some painkillers, plenty of stretching and massage, the calf passed an early morning fitness test and just before midday I set off for Donington Park.
Motor racing tracks make for great venues for running races. They are generally designed to hold thousands of spectators so can easily accommodate for a few thousand runners and a couple of hundred hardy fans. Whilst we weren't running on the track itself the organisers had devised an equally undulating course which I doubted would be as smooth and dry as the slick asphalt uses for the racing circuit.
It took a while to find the Kenilworth Runners tent, with well over 130 clubs taking part, all seemingly with tall flags, the purpose of tall flags for identification was a little redundant. With the passing of time the familiar faces at the club become fewer, but it wasn't long before old friends were reacquainted and new faces were introduced.
There wasn't too much time for chat however as the start of the men's race was less than an hour away. I found the portaloos, plentiful in number but lacking in any toilet tissue. Fortunately I had packed for such an instance, thus avoiding an uncomfortable situation. Mindful that the calf was a real liability, the warm up was kept to a mile jog, more to test the ground and to see if the spikes fitted. They did and the calf felt okay.
There was barely time for a pre-race photograph and it was a bit of a shambles as some runners weren't there, some weren't ready or willing, and the one frame that Captain Phil allowed had my eyes closed, people looking in the wrong direction and generally unaware that a photo had been taken….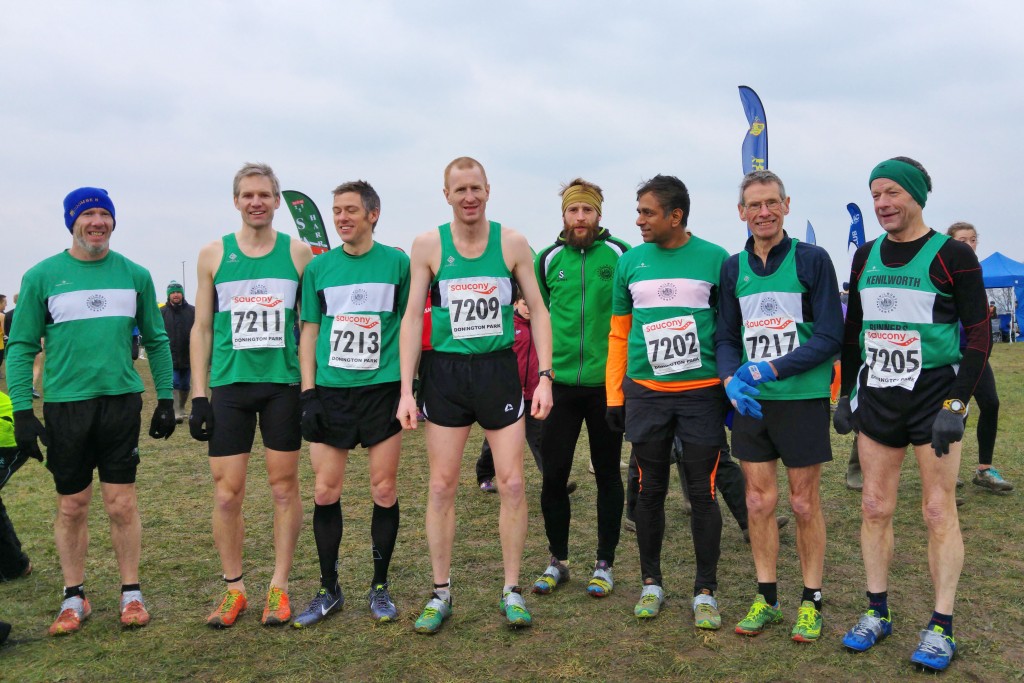 With laces firmly tightened, eschewing the opportunity to gaffer tape them to my feet, all that remained was the short walk to the start. Once through the holding tent we jogged to our pen – there must have been over 300 pens stretched over a field a good 200-300 meters wide. It was an impressive site; the atmosphere was electric as we anticipated the start and the carnage that would undoubtedly ensue.
Bang on three o'clock the starting gun fired and the cavalry of a couple of thousand or so runners stampeded to the first turn. Despite setting off at a relatively rapid rate there were hundreds of runners in front of me, plenty more behind and to both sides. I expected a huge bottle neck as the course narrowed but, credit to the organisers, it wasn't as bad as I feared and we only slowed briefly.
The first few minutes were a nervous affair as I struggled on the rutted terrain running through what I believed was a field of cabbages but was apparently turnips. My biggest fear was stumbling and falling, which would have meant potentially being trampled on by hundreds of unsuspecting runners. Thankfully I stayed on my feet and luckily I heard only one cry of 'runner down' around me in the opening minutes.
Before we had any climbs we had a steep descent and I was frankly rubbish as I nervously made my way down the hill while others dropped like stones past me. There was a moment of respite on an off-camber section before a second drop down and into the first climb. It was here we began to overtake some of the women who were finishing their race. I felt quite sorry that they were being swamped in such a manner. Surely it would have been better to start the men's race a few minutes later to ensure the course was clear?
No one enjoys running uphill but it is part of running where I tend to be quite strong and so it was today. Runners who had past me on the descents I retook on the first climb and then more again on the second. All those runners and more then re-passed me as we hit the main section of the course that was boggy with sticky mud. I was slipping terribly and it was here I remembered just how much I hate cross country.
I was briefly running with fellow club mate Paul Andrew, but just as I was about to give up mentally to the mud, the ground firmed up again as we began the second lap and I pulled clear of him. With the runners a little more spread out than on the first lap I was able to pick my lines a little more carefully so as to try and avoid the worst of the ruts and the mud. This inevitably meant taking a mostly very wide line which added significantly to the final distance. The right calf chose this opportunity to begin to ache. It never really hindered me that much but was sore enough to not make me want to push too much.
So for the remaining two laps I stuck more or less at a half marathon effort in terms of heart rate and ploughed on as best I could. Mentally and physically the last half lap through the boggy mud was terrible and, as we came into a boggy finish straight, I put on perhaps the worst sprint finish I have ever mustered, powerless to stop a fair few runners from coming past me.
Still I survived the race tired, but more or less intact. The final position of 427th doesn't sound that impressive but the quality of field was reasonably high and just a minute or so faster would have seen me a hundred positions better off. I wound up fourth of six counters for Kenilworth Runners, ahead of Paul Andrew, who managed to sprain his ankle and bang his head in the final yards, but behind behind the impressive young Paddy Roddy, mud lark Phil Gould and Kev Hope, who revealed afterwards that cross country is absolutely his favourite discipline.
That's the last thing I'd call cross country and once again I declared at the end of the race that I hate cross country… but, give it a few months to mentally forget the experience, I will probably give it another try.