It's fair to say this race wasn't on the radar a couple of weeks ago when I finished racing at Nottingham. Indeed it was only when I was compiling a list of local races for the forthcoming week for the Grantham Running Club Facebook page seven days before the 16th October that I stumbled upon the Stilton Stumble. I'd not previously heard of it, but It comes in two shapes, the 10K and the 24K. Being local (A village called Cropwell Bishop, around 15 miles from Grantham) and fairly small it looked an ideal low key race to try and flex my competitive muscles. I went to enter the 10K but it was full. The 24K had spaces, but entries closed at 23:59 on the Sunday night, and it was already around 21:00 BST.
Instinctively and without really thinking about the Achilles injury that persists nor the wisdom of taking part in a race that is the best part of a couple of miles longer than a half marathon, I signed up. Part of the lure was the unashamed prospect of perhaps bagging my first ever road race victory at what I believe would be approximately the 147th attempt. I'd looked at the past winners of the previous three editions, and with one exception – my nemesis at the Newton's Fraction Half Marathon – Adam Holland, who ran a frankly untouchable 1:23 in 2015, I reckoned I would have had a good chance of beating the other two winners.
The biggest issue was that, since the Robin Hood Half, I hadn't actually run, planning to take three weeks off in an attempt to rest the sore left Achilles. That had to become two and a half weeks rest as I tested the bugger with a 5k post elliptical trainer and turbo trainer brick run. That was a big success with hardly any discomfort and the fastest time for my fairly oft run 5k loop. I gave it one more test with a Thursday night club run. That was a less happy affair, the Achilles grumbled a bit more as did the left hip and groin.
By Saturday I'd wondered why on earth I'd made the hasty decision to enter, with Achilles grumpy, right calf tight, left hip aching and fighting a cold passed on by the youngest of the bug ridden daughters. Still, I'd paid my money to enter and there was no way I wasn't going to try and race.
It was fairly dry when I arrived at 8:30, Sunday morning, at Cropwell Bishop. I went to the registration desk – being one of the first to arrive, it wasn't busy, so I had the opportunity to scan the entry list. I looked for one name – Holland…. It wasn't there. The helpers on the desk said that he'd turned up on the day last year and won, but there was no entry on the day this year, and he hadn't entered. Without knowing any of the other names I felt my prospects were instantly good. I told the helpers pretty much that. "Maybe we'll see you first back at the finish then?" one of them asked. "Maybe you will." I replied.
Things turned for the worse when the promised rain fell. Steady at first, but progressively harder as the 10 am race start approached. I had managed a fairly miserable warm up where everything ached and nothing wanted to work. Somehow I still reckoned everything would be all right on the night. Back at race HQ and the small hall was full of runners and spectators attempting to shelter from the rain. I managed to find a small alcove outside near the four portaloos, where I could stay relatively dry. Twenty minutes before the off I changed into my race kit. With my space gone I queued inside for the men's toilets. I had no real need to do anything once it was my turn, but I got to spend ten minutes by a warm radiator, which felt lovely.
At 9:50 I headed out into the wet and cold for perhaps the most uncomfortable pre-race briefing ever hold. Chilled to the bone at its conclusion, we were instructed to walk to the start where there was an interminable two or three minute wait for ten am to come. This start was pure old school: roads closed with 30 seconds to spare, race start banner hauled across the line, a brief countdown from 5 to 1 and we were off.
I didn't want to take the lead right from the start but with no-one willing to do so I kind of found myself at the front by default after around ten seconds of running. As we turned the corner and headed south after less than two minutes running I'd found myself ten to fifteen meters clear in the lead without really doing anything other than setting off at what felt a very comfortable pace.
While the pace felt comfortable and the niggles put to the back of the mind, the weather was pretty appalling. The race photographer had taken shelter in his car as the rain lashed down onto roads that were beginning to flood in places. Mercifully it wasn't that cold and I'd taken the precaution of wearing gloves to keep the fingers warm, but my kit was saturated and my shorts beginning to suffer something of a malfunction as the weight of the rainwater caused them to sit somewhat uncomfortably.
I knew the odds of victory were good when I passed the first mile in 6:11 (Worth a 6:00 on Strava GAP), yet had a 10 second or so lead over the second and placed runners. Making a determined attempt to keep the effort steady, the heart rate settled a couple of beats above marathon HR, and a few below half marathon. Ideally I would have preferred it to be a bit less but not only did we have the rain to contend with, the first half or so of the race was into a fairly stiff breeze.
Mile 2 was a 6:03, mile 3 a 6:01. The next three miles were similarly paced and I passed through 10k in 38:03. The sixth and seventh miles were the slowest in the race (6:13 and 6:22) as I climbed steadily uphill, Strava GAP has them at 5:59 and 6:02. As I approached Long Clawson the weather deteriorated, if it were an F1 race it would have been stopped. As it was I was all alone with just the lead car and sometimes a man on his bicycle to keep me company. I glanced back occasionally but saw nothing.
Long Clawson was holding the area's annual Conker Championships. They invited me to stop and play. I politely declined. I passed through halfway in 45:46 and not long after turned direction to head North back to the finish. The wind was at my back and mercifully the rain stopped, even a bit of blue began to reveal itself from what had 20 minutes earlier been the most leaden of skies. I felt I had two choices – either ease off loads and allow others to come into sight before pushing on again or to try and maintain the pace, keeping or extending the gap to allow for any potential late race dramas like a touch of cramp or a ruptured Achilles….
Miles 8, 9 and 10 were the quickest of the race (6:00, 5:59, and 5:57) I was still feeling very comfortable and it was only a tight right calf and a bit of discomfort in the Achilles that concerned me. The next two miles were a touch slower but everything felt in control as I passed through a very flooded Colston Basset and took on some more roads I am now very familiar with on bike rides.
It was here as the roads began to climb a bit that I began to flag. I went through on my watch the half marathon distance in a smidge under 1:20. The right quad began to ache quite a bit, as if it could cramp at any moment and the legs in general just felt a little tired. A mental penalty was that I'd calculated 24K to be 14.3 miles, it transpired at around 13 miles that it was actually pretty much spot on 15 miles. Only an extra 0.7 of a mile to cover, but at the time it felt like a lot.
I should really by now have eased up and slowed to take a comfortable victory but the instinct to always give an honest effort that runners in the lead of races inevitably display kicked in with myself, with the fourteenth mile a 5:59 GAP mile and the fifteenth a real 6:02. It was now I came to the finish to a smattering of applause – many unaware that I was a 24K runner and a straggler from the 10K race which had began 10 minutes after the 24K but had mostly seen all its runners come in. I nearly came a cropper around the final right bend, the tightness of it sending the aching right calf into a cramp like spasm that saw me tread rather gently pass the finish line.
The official time of 1:31:35 was fairly pleasing given the lack of running in previous weeks. On analysing the run back home I was also really pleased with how consistent the splits were, especially when Strava uses its GAP tool – all miles were within 12 seconds of each other. I was soon congratulated by the race organisers and quickly presented with my winners' medal and with my prize – a large slab of the locally produced Stilton. While happy to receive the spoils of victory, I couldn't help but express a little disappointment that Stilton is, in my opinion, utterly inedible. To their credit the lovely hosts of the race offered a raffle prize, but I declined – there are plenty of family members who will enjoy a bit of blue mould at Christmas time.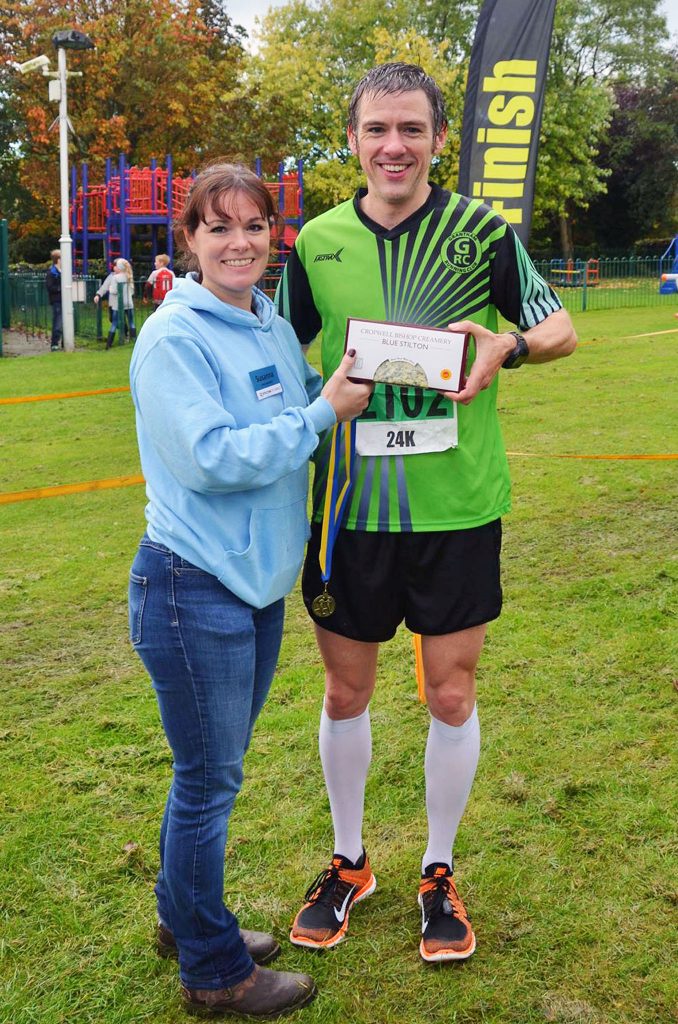 A quick photograph and that was pretty much that. I had to get back to do some World Endurance Championship work, so, I took advantage of finishing first by over four minutes to be one of the first out of a car park that was rapidly looking a lot like a quagmire. I put my race sunglasses on – unworn during the race, put on some loud music and drove home.
It was an odd sensation winning my first road race. It was pleasing but hardly overwhelming, probably because I was never really pushed and, for the most part, it felt very much like a very wet and somewhat lonely hard training run. Still I hope that it won't be the last win, I hope that the Achilles recovers quickly and I hope to be running again soon.