Certainly my biggest frustration of 2016 has been my lack of racing – mostly though lack of opportunities through clashes with work / holidays etc.. I had been targeting an autumn half marathon ever since March. Ideally I wanted a fast flat race but all the tempting ones clashed with Formula One races, and I was basically left with the Robin Hood Half Marathon.
If the race was held on the 2012-14 course, I would have had no qualms over entering. The course was fast and, save for a couple of minor rises, pretty flat too. The issue for the organisers, so they claim, is that the race wasn't pretty enough. Runners, it seemed, weren't enamoured with navigating their way through Boots HQ so, for 2015, the course was changed so, you were led to believe, to bring runners more of the sights of Nottingham.
Apparently those sights were also not that well received, for in 2016 it was announced the course would be changed again. The 2015 course didn't go down too well, from what I heard, because the fast, flat course had been replaced with a slower, hillier one. Ominously the organisers didn't promise a faster, flatter course for 2016, just more sights for the runner to enjoy. A quick scan of the course and it was clear to see that the hills remained – especially in the opening few miles. At the end of the day though, if I wanted to enter an autumn half marathon, this basically had to be it. Plus the race had its benefits: it's close to home; it was awarded the status of being the British Athletics National Half Marathon Championships; and being the fifth time I've entered the race, it is now my second most visited half marathon (only Reading, with six appearances, is more popular).
I trained for this race, but didn't really train in a structured manner for it. I used the three weeks of holiday runs to get some solid mileage in – there was no interval or hill sessions, but there was a fair amount of quicker running and in some parts of the country, certainly some hills to be run up and down. On my return from holiday I shared the running with plenty of cycling, partly out of enjoyment, but also because my left Achilles was beginning to ache during every run. I'm fairly sure it was a legacy of the blistering that occurred during the holidays. I could run through the discomfort, but was aware that it was, in classic Achilles style, just getting a little bit worse with every run.
I had no pre-Robin Hood races to gauge my fitness, but I had the impression I was in pretty good shape. There was a 'Straight outta bed' run on a Saturday morning after a hard spin session the evening before, which was ten and a half miles covered in 65 minutes, with the final six miles run at comfortably under six minutes per mile. There was a club 20 minute distance trial where I ran a part solo 17:17 5k on a canal trail path before getting quicker for the final three minutes, and there was the cycling efforts that showed I was doing well in that discipline. There was though a mediocre parkrun where the Achilles pain was too much to extend the run after, and the unavoidable truth that I had to miss ten days of running after the parkrun in the immediate buildup to the race to rest the Achilles. It was only a late fitness test that made me comfortable that I could race with the Achilles aching, in the knowledge I would have to rest and fix it after.
Another slight issue was a little bit of illness in the three days up to the race. It wasn't enough to see me retire to my sick bed, but enough to fell a little sub-par and reluctant to want to exercise (Which is usually a sign of being ill in my books….) I did consider scratching from the race, but I decided to go along and give it a go, happy in the knowledge I could jog if things felt bad, or even pull out if necessary.
The morning was wet after heavy overnight rain, but by the time I reached Nottingham – over two hours before the start of the race, it was dry, but overcast. With time to kill I had a little walk around the race village, before stretching and heading out on a 1 1/2 mile warm up. Warm ups aren't always the best indicator of how a race is going to go, but this raised a few alarms: the Achilles was pretty good – just a little ache for a minute before disappearing – but the heart rate was high, and the legs felt heavy, especially when I tried to pick up the pace.
With just over an hour to the start, I made a trip to the Portaloo, then found some Grantham Running Club friends, some who were taking part in the half and in the full marathon. We posed for a photo at 8:45 before I got changed into my race kit and headed to another Portaloo queue. Thankfully this trip was just a nice to have visit rather than a dire necessity, because after 20 minutes of queuing it was obvious I wasn't going to make it to the start in time if I hung around much longer.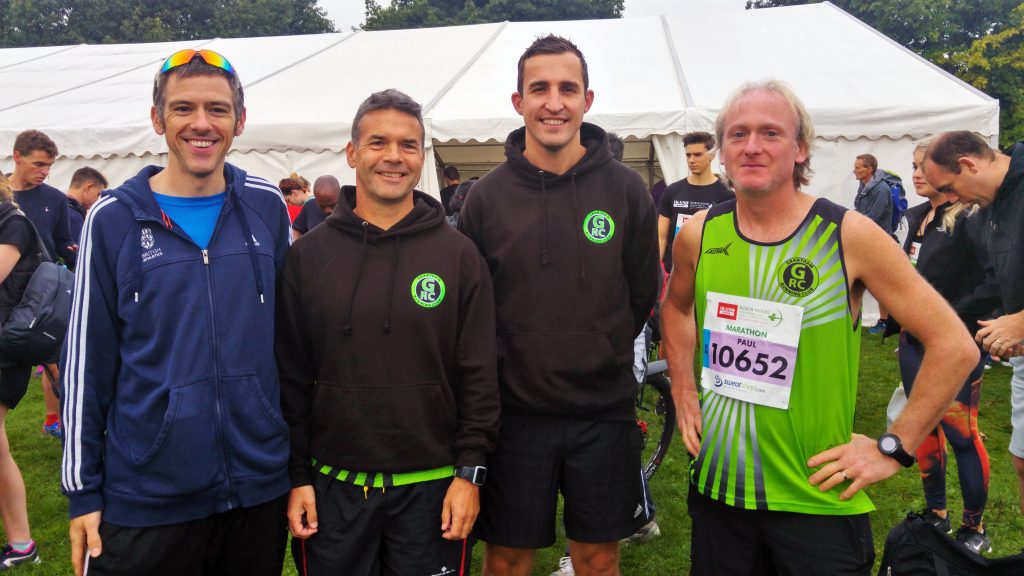 I jogged over to the start – vaulting the barriers somewhere near the start line to be just behind the elite runners. I had no qualms in doing this – the organisers had made the elite field sub 70 minutes (There weren't that many of them) then made the next pen 74 minutes to 1 hour 40 minutes. I knew that if I started at the back of that pen any chances of a good result would be over, especially as positions for the championship race were to be based on gun position, rather than chip.
It was a long eight minute wait before the start but, on time at 9:30, the horn was fired and we were off. Happily it didn't take long to get up to speed and dodge the few runners who had no right to be so close to the front. Sadly after less than a minute I knew that my legs were not going to have the best possible day – they were heavy and felt lifeless. Moreover the heart rate was showing some alarmingly erratic figures, some were very high, but not so high as to assume it was a dodgy reading. In hindsight, I think it was just a case of dry, slightly loose strap, as it gave more assuring figures after a couple of miles, but as I went into the race with concerns over carrying a virus of some sorts, it didn't inspire me with any confidence to want to go out and race hard.
So with less than a mile covered I made the decision I wasn't going to race flat out. I was to race conservatively and see how I felt later in the race as to whether I would push on. The start of the race was familiar to years past as we skirted the city center. Mile 1 was clocked at 5:46. The second mile saw us leave the course of yesteryear and it degenerated rapidly. We endured a hefty climb containing some wet, slippery, cobblestones where, I'm guessing, we were meant to be enjoying the sight of a castle which couldn't be seen. The second mile was clocked at 6:04, although Strava GAP states it was worth a 5:44, so steady effort was maintained.
The third mile was quite possibly one of the strangest I've ever raced in – certainly in a 'big city' race. It was entirely run on residential roads, twisting and turning what felt constantly with no real direction nor purpose. It also did a fair amount of climbing, which dispirited me somewhat, and I know quite a few others too. By now I was past caring what time I was going to run and was just focusing on staying steady and relaxed. The good news was that there was no left Achilles ache at all and the heavy legs were no less or more heavy than when we started. Garmin clicked over through the third mile at a slow 6:12; when Strava adjusts it, it was worth 5:33, so quietly I was working a little harder than I thought.
Mile 4, and at least we were back on wider open roads. We swept mostly downhill in a not particularly pleasing way for someone who was concerned for his Achilles, but still all was good. What wasn't good was the water that was handed out. The organisers have persisted with the pouches rather than tried and tested water bottles. I think they are next to useless. They are really hard to get any water out of and impossible to pour over your head / wrists / legs etc.. They were lucky it wasn't especially hot. If Jonny Brownlee were given these at the recent Mexico triathlon rather than water bottles, I fear he may not be around to tell his tale. At the next stop I squeezed the bottle hard to try and increase the flow – it exploded in my hand! Thankfully the runner I was with offered me his.
Mile 4 was a rapid 5:34 (But only 6:01 on GAP). Mile 5 had us running through a university campus and it became apparent we would be running back down the other side of the road in a few miles time. The course was beginning to smack of attempting to minimise the number of roads closed and to use quieter roads whenever possible. This is fine, but when you are paying a premium price to enter a race and it is declared the National Championships, I kind of hope and expect for something a little better, and more interesting.
What also wasn't good for such a large race was that, had I gone by official splits rather than using my Garmin, I would have covered the fifth mile in a shade under four minutes! When the sixth mile also had us over a third of a mile short, I literally began to question with other runners whether we were taking on a short course. I'd overheard officials before the start stating the course had only just received its measurement certificate and I did wonder with all the twists and turns whether we had been inadvertently sent the wrong way at some point. All this didn't really help with the concentrating on the race at hand. On my Garmin mile 5 was a 5:42 and mile 6 was a 5:58, but this featured a nice little climb through Wollaton park, which really was pleasant as we were lined by cheering spectators all the way up – cycle race style. The lack of crowd support was a feature of the race, which was a shame, because where there were pockets of supporters, they were loud and appreciated greatly.
I had run the past two miles with just one other runner who was happy to sit on my tail for the most part. We had one more distinctive course feature to navigate in the form of some gates on a path in the park which were locked and we were forced to take to the grass to circumnavigate. Coupled with some low tree branches tree routes, these were obstacles we could have done without, but they were safely passed. The seventh mile saw us leave the park and, thankfully, the official mile splits tallied again with the Garmin, clocking a 5:50. Our group of two caught another group of two and then one more runner so we formed a group of five.
Here I went into full race mode rather than chase a time mode so, when the wind was in our faces I slowed and slipped to the back to take shelter, when we had a tailwind I moved to the front to show that I was helping with the work. Mile 8 was a 5:39, but with mile 9 mostly into a headwind and also with a tight U-turn to tackle, the pace slowed to 5:47. It was here my left Achilles began to ache a bit. It wasn't enough to slow me, and at times I felt nothing at all. The massage and stretching I'd done since a fairly painful run on the Thursday had done wonders to see no pain at all for 8 miles.
I sat in with the group, running well within myself, the heart rate suggested I was generally around 4-5 bpm below what I'd try and run a full gas half marathon at. Completing the tenth mile (another 5:47) we had another tight hairpin to negotiate.  It was here we could see runners ahead and behind us. I wasn't surprised to see Adam Holland (Newton's Fraction half winner (among many other achievements, one of which the Hull Marathon a week before Robin Hood) around two minutes ahead of me. I couldn't work out if he was running the half or full marathon – it turned out he was running the full marathon, which he won. I spotted a familiar face a minute or so behind me – it was the runner I pipped to second position at the Newton's Fraction.This actually gave me some encouragement that I wasn't racing too badly.
What also spurred me on was that, as we began to gently climb, I recognised the new course rejoining the old one. With some mental maths and a little guesswork, I figured that the course would remain the same as it used to, albeit with the loop on the Victoria Embankment cut out. This was confirmed when we hit the top of the rise, ran down a little hill to a familiar roundabout and took a right down Castle Boulevard. Although this mile was actually slightly slower than the past two (5:48), it was sufficient to see me edge away slightly from the rest of the group.
As we took a right into Wilford Street we were hit with another little rise and a headwind. I also had two runners ahead who I was catching. Feeling strong I pushed on again, passing them and setting my sights on some more ahead. Thankfully we quickly turned left after the bridge so we lost the headwind. The twelfth mile was a 5:32, the fastest of the race and what I think was an indicator of the kind of pace I may have been able to maintain had I felt 100% and if the course was fast and flat.
The final full mile saw me pass one more runner early in the mile then it went a bit quiet as we headed back towards Victoria Embankment. As we were guided right to not take the full marathon course I closed on one more runner. He looked a little older than me. I passed him and put some distance on him. I closed on one of the lead female athletes as we turned right onto the grass finish. Mile 13 was 5:45. Happy I wasn't going to be passed by any runner behind, I held station as we crossed the finish line. I glanced at my watch – 1:16:33. Not my quickest, but as I felt barely out of breath, especially with those who finished around me, I quickly concluded it was probably my easiest sub 1:18 half marathon to date.
My immediate post race thoughts were that I was content with the performance but frustrated with the hilly, twisty course, and not feeling great – especially in the opening miles. I think had these factors been different, a PB could have been on the cards. As it was I quickly returned to my car to partly change, before heading back to the finish to see home my GRC colleagues in the half marathon.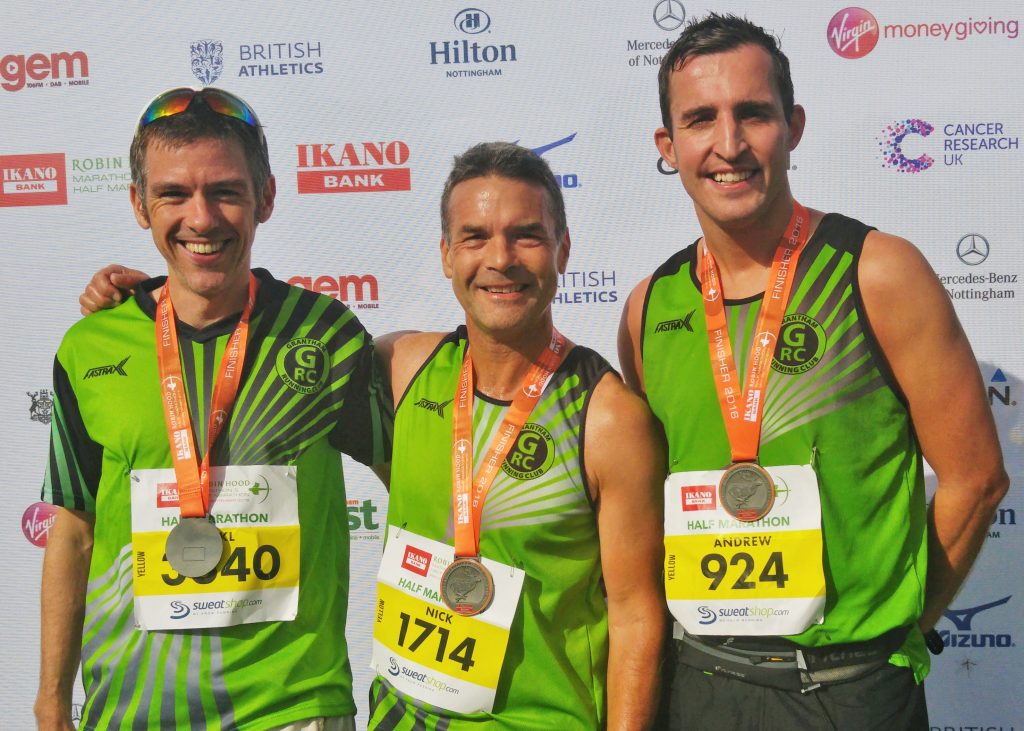 And with that photo taken I headed home, glad to be missing the traffic out of Victoria Embankment. There was no news of any results until later that evening when the Nottingham Post produced some results – I was apparently 32nd. A little lower than in previous years, but to be expected given it was a championship race.
The next morning and I was just preparing a little piece for the club to send to the local paper. I looked at the official website for the provisional results and they were there. Gun position was an improvement – I was now 29th. Age category: third! That was a complete surprise! I checked the full results to confirm it. The first V40 had run 1:09, the second 1:13. The guy I had passed in the final half mile – he was a V45 and would, I think, have taken my place as third V40 had I not passed him. This made the effort of catching him particularly satisfying! The £50 of vouchers should also be satisfying, if and when I get them!
Future plans? A break from running, likely to be three weeks, to let the Achilles sort itself out. I hope to do at least one Duathlon this autumn and then I've entered the Turkey Trot Half Marathon in December. Hopefully I can find one or two other races too, but this is all dependent on fixing the old heel…