After a few years of deliberating Grantham Running Club finally managed to enter a team into the Peterborough Green Wheel Relay – probably the most popular relay race in the region if you don't include the 24 hour races or their ilk.
I was very much looking forward to  it having spent many years running or supporting the Cotswold Hilly 100 Relay Race which Kenilworth Runners made a highlight of their year and had come to dominate when I was a member. A mix of running and logistics means that not necessarily the quickest team will win (although they usually will). The pressures of ensuring everyone is present for their leg and runs the correct course means that surprises can happen.
The build up was not without its controversy. With only one (male) team entered I was keen to have the strongest possible set of runners taking part – I saw little point in giving up one of my infrequent spare weekends over the summer just to make up the numbers. Others within the club disagreed however, requesting it should be on a first come, first served, basis. In the end we put out a pretty strong team, probably as good as it could have been with the runners available and willing to take part.
My weekend wasn't completely free of work, it being the Le Mans 24 Hour weekend. For this reason I requested I'd take the opening leg of seven – one of the longer legs at 8.4 miles. The plan was then for team captain Chris Limmer to drive me back to the start at the athletics track in Peterborough for me to ride out to the start of leg 4 where Chris was due to run and I would support him along the way (It is encouraged that runners have a support cyclist on each leg – but it was compulsory for legs four and six). Because of the cycling I was due to do and the tight timescale logistically I opted to race in my triathlon suit with a GRC vest stuck over the top.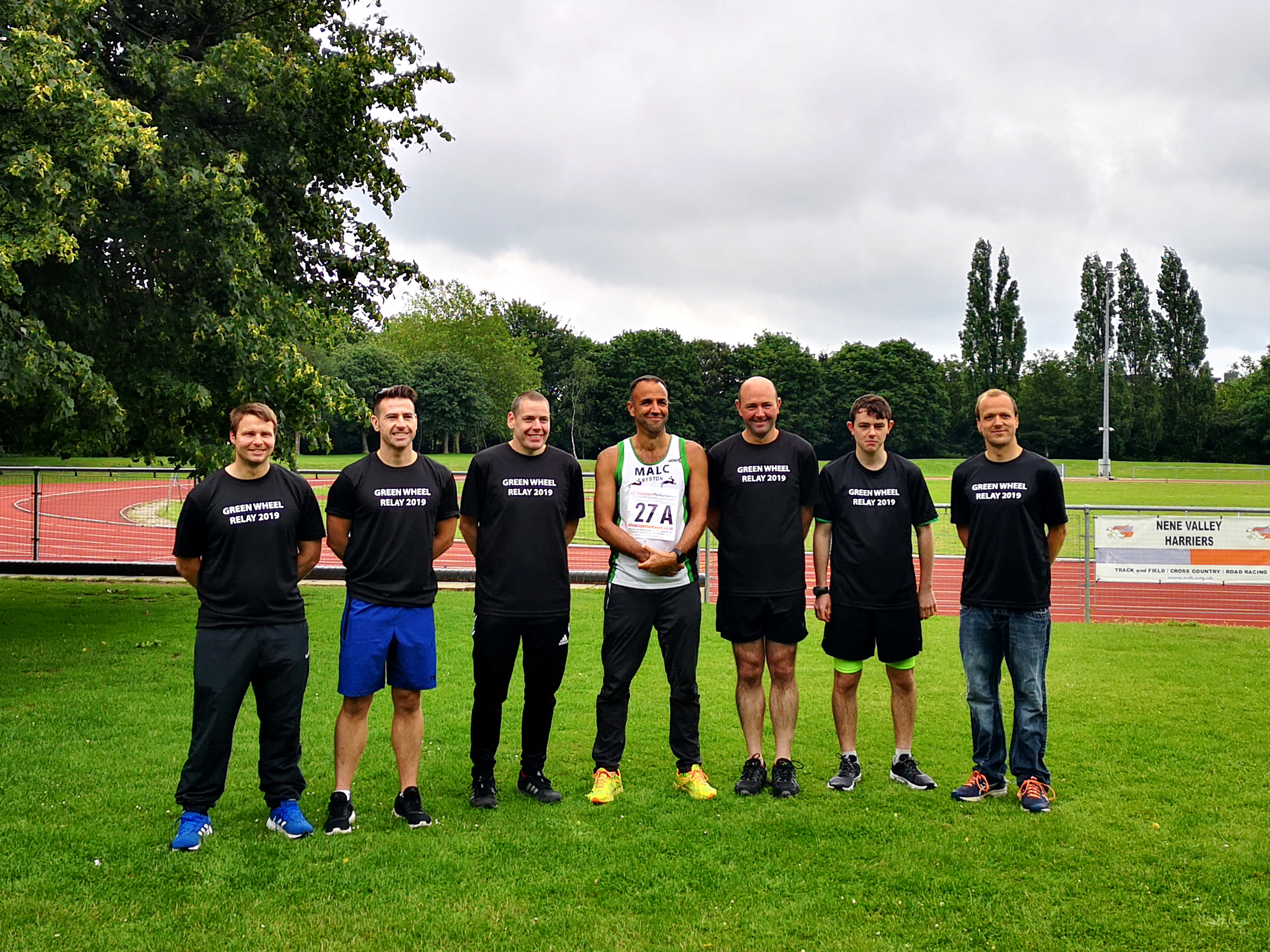 Rather than all teams go off at once, the departure times were staggered based on predicted overall finishing times to try and ensure that teams finished at approximately the same time in the afternoon. I went off at 10:15am with two other teams. I think the first groups had gone off not long after 8am and the last groups (Mostly Helpston Harriers and their crack squad of teams) were due off at 11am. Kicking off with a lap of the track I soon pulled well clear of the other two runners and headed off alone out of the stadium for what was going to be a mostly very lonely 50 minutes or so of running.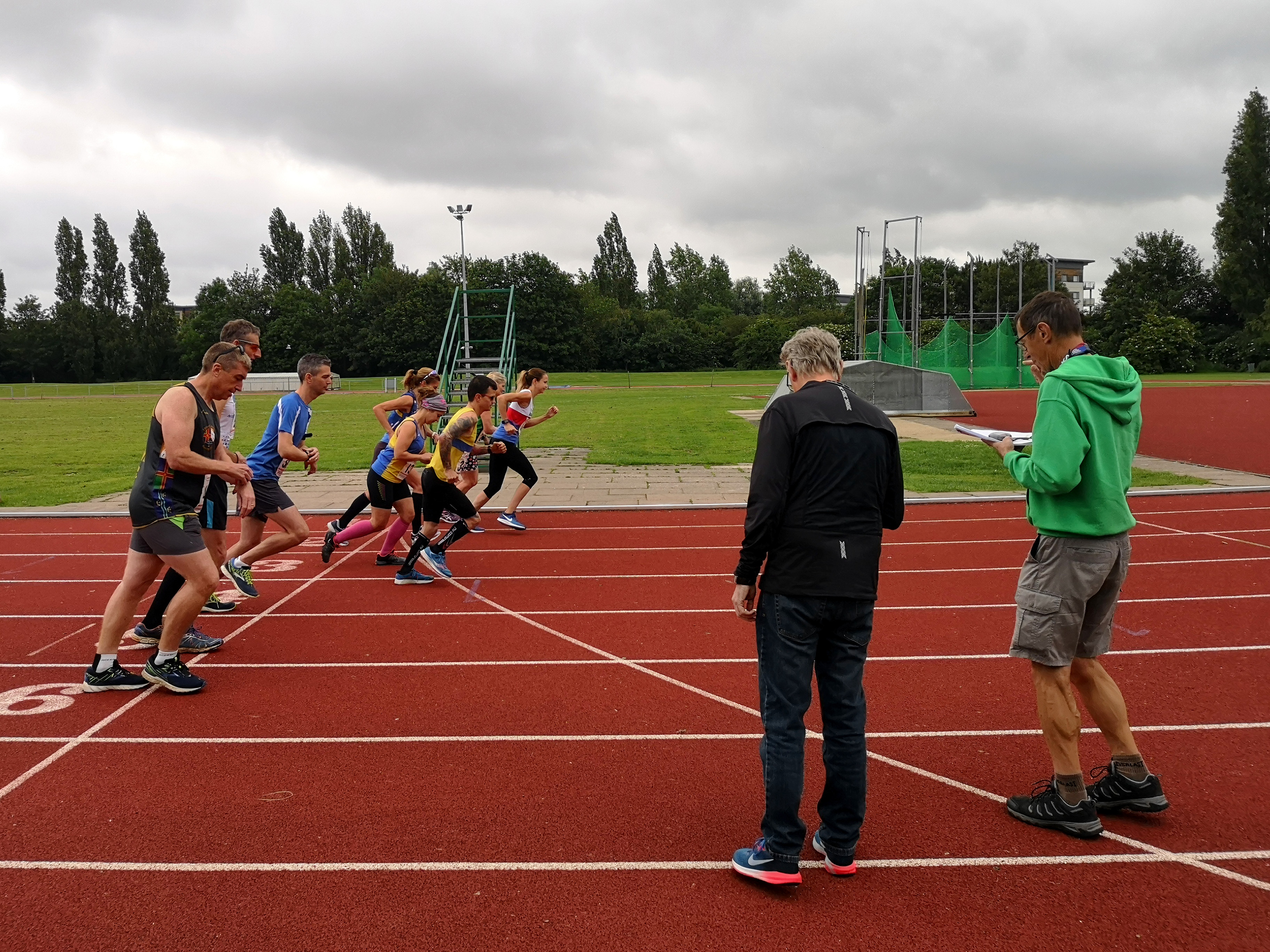 The route was signposted and marked, in places well, in other places not so. I was taking no chances and had mapped out my leg to follow on my Garmin. The benefits of this were apparent when we came to a sharp left turn heading onto the River Nene where I saw a slower group heading straight on having missed the signs. Luckily they were able to hear me shouting 'You're going the wrong way!'
With the wind blowing from the south luckily the two miles along the exposed river were no worse than a crosswind. When we made another sharp left turn off the river I was fortunate to have the wind mostly on my back for the remainder of the run up to Eye. The Garmin navigation was working well, however I'd had it set to auto zoom in and out which was proving problematic. I nearly always have it set zoomed right in to 200ft so as to make when to turn quite obvious. Garmin though had other ideas and would frequently zoom out to 0.5 mile which made such decisions far trickier.
Off the canal path I was briefly on a footpath before a tricky junction and onto a quiet fen land style road, where again I thanked my lucky stars I wasn't faced with a headwind. My map page didn't have HR so I was running to feel, I did know I was running reasonably well, averaging 5:50 or so per mile and feeling fairly comfortable.
Coming off the road onto a grassy footpath surrounded by crops I spotted my first runner since the opening stages of the run in the distance. Unfortunately coming to a ditch and a crucial turn they were a little too far in the distance to see where they had headed. As feared my Garmin map had zoomed out and, seeing no signs whatsoever, I opted to take a left before crossing the ditch. After around 20 seconds and spotting a footpath heading off over the other side of the water I realised I had turned crucially a few yards too early. Unable to cross without turning back I headed around and retraced my steps before taking the correct path. The whole mishap cost probably around 45 seconds.
Back on the correct path it was a case of making up for lost time as I turned right on to the main road into Eye, turning off the high street and handing over to Sam Jepson-Rivers for his less than half the distance of leg 1 leg 2. My time of 49:10 was the fourth fastest of the day, but four minutes slower than the slowest of the Helpston runners.
With barely a chance to catch my breath I jumped into Chris' Mini and he drove us back to my car which was parked up back at the athletics track. He then headed off to the start of leg 4, I unloaded my race bike from the back of my car, took off the vest and replaced it with the compulsory hi-vis bib and headed off by bicycle to leg 4.
As I had mapped everything from my car to the end of leg 4 and back to my car onto my Garmin Edge this was a relatively straight forward affair. Well it was until the looming clouds in the distance became ever more imposing and, with around five miles still remaining to get to leg 4, the heavens opened with a thunderstorm of near biblical proportions. Not particularly well attired for such weather I struggled to stay warm as I cycled as best I could on the increasingly flooded paths and roads, trying to make out the way on my Garmin increasingly hard to read with all the raindrops on the screen.
I made it to the start of leg 4 with what I estimated around 10 minutes to spare. Soaked and cold but present and ready to cycle with Chris leg 4. There was just one issue – no sign of Chris! I did find Sam J-R who had driven on having completed leg 2 to pick up Peter Bonner, who was out on the course running leg 3. He hadn't seen Chris. Between us we put out some distress signals via our Messenger group. After a couple of minutes came the bombshell from Chris that he had somehow got lost and wasn't able to get to the start of leg 4 and would be heading home! Meanwhile we had Peter approaching us with no-one to hand over to!
At the time things were a little vague but it transpired Chris had opted to park up a few miles from the start of leg 4 and run there as a warm up. Somehow with all the rain and thunder he got himself lost and had ended up doing some form of circle back to his car. 
After a 1984 style two minutes of rage and confusion where Sam, Peter, some marshals and I, wondered what on earth was happening and what we could do, it was decided that Peter would continue running as best he could and Sam, having run around half of what Peter had, would take over later on in the leg when he had changed back into his running kit and caught us up in his car (Or maybe Peter's – it had got quite complicated!). We weren't totally convinced this was in the rules. We resigned ourselves to the possibility of being disqualified but reckoned that having made all the effort thus far and with three more runners waiting to complete their legs we should at least try our luck.
So Peter, having given 100% on his leg began again, lamenting the fact he had planned to race a 5K in the midweek and this was doing him no favours. I cycled for the most part just behind him or alongside him offering what encouragement I could.
A couple of miles into the leg and with some good fortune as it was the last opportunity to do so before we headed off on a footpath away from the main road, Sam arrived in the car ready to take over from Peter. The change-over was so swift it could have been rehearsed beforehand!
With Sam running as best he could I again did all I could to encourage, be it with liquid refreshment (It had by now stopped raining and with the sun shining become quite warm) or by sheltering him whenever we had a headwind. Understandably the novice runner tired significantly over the six or so extra miles he ran – the end of the leg never seemed to arrive as we wound ourselves into and through Ferry Meadows Park, but there was never any question of quitting.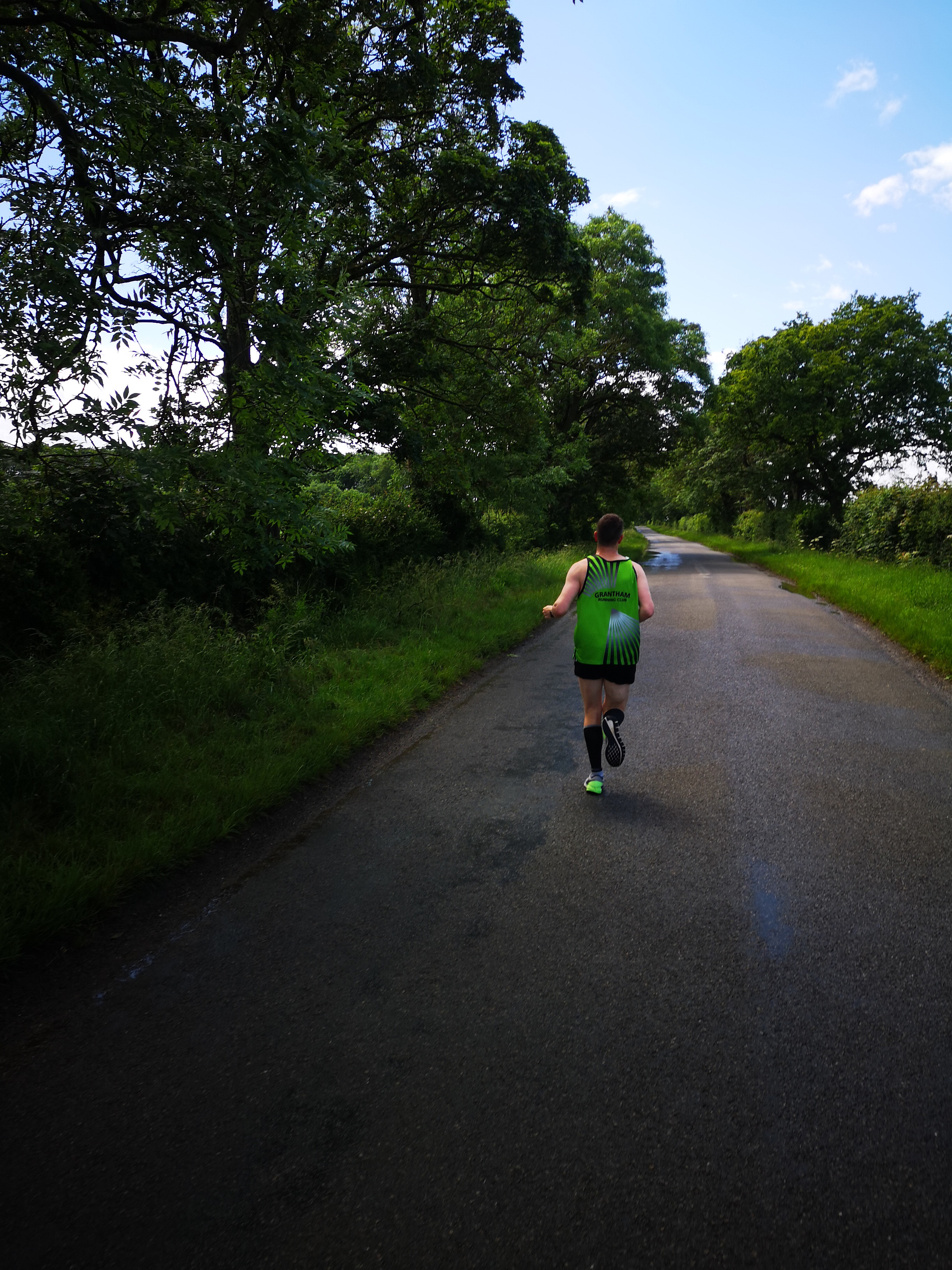 Mercifully with around 200 meters left to run Peter popped out in front of us to let us know there was very little distance left to run. With one final sprint Sam handed over to Ian Williams who set off to make up for time lost in leg 4. Running late and with the Le Mans race about to finish I wasted no time in cycling back to the start practicing my rarely used cyclo-cross skills on the sometimes off-road cycle paths of Peterborough. Back at the car it was job done and the drive back home.
We ended up, despite all the drama, finishing a highly creditable third Men's Senior team and fifth overall when a mixed sex Helpston team (Six men and one woman apparently…) and an 'open' team were taken into account. To date we haven't been disqualified for our possible rule transgressions. Having thoroughly enjoyed the experience, despite everything, I very much hope the club can put forward at least one team in 2021 and beyond and perhaps, one day, target victory!