Nearly a month had passed since the Manchester Marathon but all the indicators in the weeks in between suggested that it was taking a while to fully recover from the exertions in that race. I focused more on cycling than running through April, plenty of time on Zwift and a couple of club rides with Witham Wheelers. This was mostly because the sciatica issue in the left hamstring took around 10 days to fully disappear and then the less severe issue with the aching left hip took the best part of the month to subside to next to nothing. Coupled with a couple of runs where I got the weird quad 'cramps' that I've been afflicted with for years now, I don't think I did any real speed work at all – save for one brick 5K run following a club ride where I bizarrely ran my fastest ever for the oft run loop (Averaging 5:53 per mile), despite having felt thoroughly exhausted for much of the week beforehand.
I went into the Sleaford Half Marathon with the knowledge that I had managed to finish second there in 2018 in very warm conditions in a pretty quick time. With much better conditions forecast and hopeful that I had more or less recovered from Manchester, I was cautiously optimistic that I could run a half decent time. The pre-race build up was wholly unspectacular, a mile and a half around the rugby pitches which were notable only for feeling a lack of zip and a bit of a snotty nose.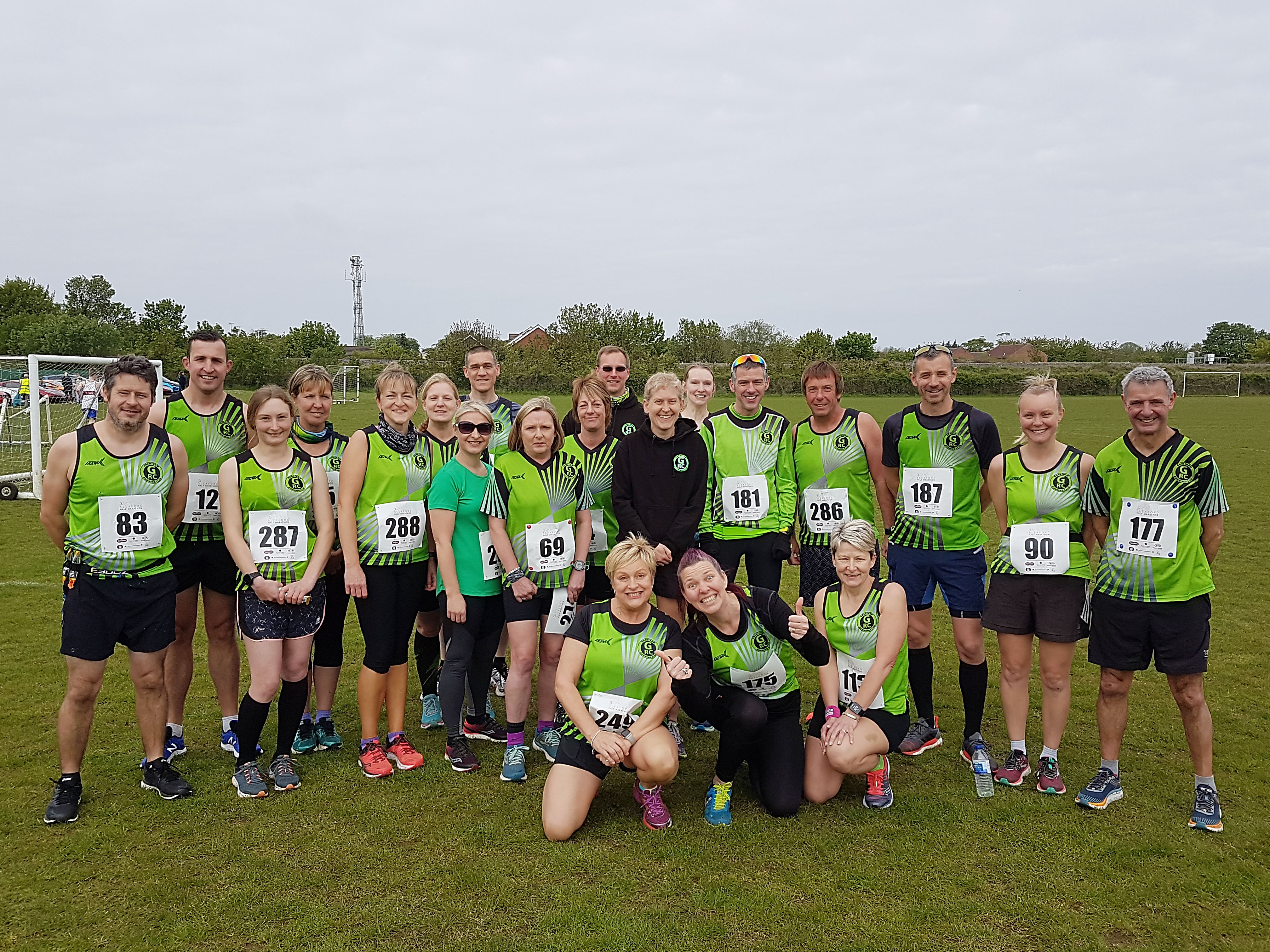 As I lined up for the 9:45 start, there was a bit of nervous chatter on the start line as one runner, who is best described as a novice who perhaps shouldn't have been up on the start line itself, began happily asking everyone around them what time they thought they would run. I said I wouldn't mine running around 1:16 but I was tired from Manchester. This prompted a guy in some form of Nike Vaporflys to state that he too had run Manchester, had gotten a PB of around 2:36 and was looking to run a 1:13 PB today at Sleaford. It turned out that was Wayne Lathwell of Lincoln Wellington AC, who when the starting horn was fired, looked true to his word and set off at a pace that was certainly unattainable, let alone unsustainable for me.
With Wayne off into the distance and indeed heading to a 1:13:11 PB which secured a comfortable victory, within half a mile I found myself in joint second place with a runner I recognised having competed against numerous times before – Stephen Dickens of Rushcliffe AC. I had a quick glance around and found that we already had a sizeable gap over the nearest runners, perhaps as much as twenty seconds. I knew then that, barring disaster, second or third position was on the cards.
The first mile was spot on what I'd hoped for at 5:40. Half a mile or so late, feeling comfortable and, to be honest, a little bored in the race already, I began chatting to Stephen – something I very rarely do in races. I commented on his trainers, recognising them to be the Nike Vaporfly 4%s, and asked how he felt they performed. He explained that he was still getting used to them. He'd run a 5K in them the week before and said they felt quick but odd.
A little while later as later as we climbed the biggest ascent of the race (A bridge heading over the A17) it became clear that Stephen had got used to his Vaporflys as he began to slowly, but inexorably, disappear into the distance. Powerless to go with him, I resigned myself to a long lonely run to the finish. There was no-one behind me as far as the eye could see so all I had to motivate me to keep the effort going was the prospect of a quick time and a good age grade at an event that was a round of the club's Grand Prix Series.
The remainder of the race was, frankly, dull. I ran the opening 5K in 17:45, slowed slightly to 17:56 through the second 5K and slowed a little more to 18:10 for the third 5K. I was struggling a little bit on three counts: 1. I felt still a little jaded from Manchester. 2. The winds, although not strong, were troubling in an area on the edge of the Fens. 3. My stomach was cramping alarmingly, perhaps the result of a short return to to experimenting with taking on beetroot juice before a race (I'd also tried this at Retford).
Happy at 9.5 miles that I wasn't going to be caught by anyone, I opted to dive through a hedgerow and have an emergency pit stop on an edge of a field. I think I only lost 25 seconds or so, returning to the race vowing to never take on beetroot juice before the start of the race again. Feeling more comfortable I ran the final 5K in 18:15 (Sub 18 removing the pit-stop) crossing the finish line third in 1:16:22.
At the time I was pretty disappointed with this – it was around the same time (If you remove time taken by the side of the road) as in 2018 but conditions then were far worse. I think in tip top shape with good weather this is as quick a half marathon course as anywhere in the region and it's a bit of a mystery why so relatively few runners take part in the race. I got to chat to Stephen at the end of the race who had set a new PB of 1:15:30 and he reckoned that the Vaporflys were worth at least a minute over the half marathon. Given that Wayne too had flown (Albeit I don't think he was rocking the all singing and dancing model) and I'd seen also Vince at Manchester and elsewhere, plus Jonny Palmer of Bourne/GRC break 2:40 at London a week earlier, both do wondrous things in these shoes, I pretty much decided then that it was time for me to join the arms race and look to get a pair of carbon shod shoes.
Content that I was the winner of the non-Vaporfly race by two and a half minutes, I hung around for the presentation, a touch disappointed that third place wasn't rewarded quite as well as they had been in 2018. A quick photo with the incredible Tony Johnson, who won his age category with his highest ever age grade a week after going sub-3 at London, and it was time to head home, where bizarrely I opted to totally exhaust myself by doing a 35 minute full gas TT on Zwift, which left me wondering afterwards whether I could have pushed just a bit harder a few hours earlier…