Immediately following the Sleaford Half Marathon, my bruised knee, which had survived the race itself, began to rear its ugly head and forced me to change my training plans. I rode for a couple of days (Including a 10 mile TT) without pain but on a 11 mile social run with Stephen Hobday (which included introducing him to Minnett's Hill) the discomfort in the knee was sufficient for me to decide to take a week off running and try and let the knee heal.
This meant a lot of time on Zwift, with quite a few races where I was finding myself well inside the top 20 which was pleasing. A session on the elliptical trainer caused some discomfort in the knee which made me suspect that a muscle or tendon running to the kneecap may have been causing the discomfort, so I began targeting the likely suspects with some massage and strengthening exercises.
The Zwift sessions appeared to pay off at the Witham Wheelers 12 mile circuit TT, where I finished sixth in a new PB, over a minute quicker than I'd ridden previously – done on a road bike rather than the (Broken) TT bike and with clip on time trial bars rather than a proper TT cockpit, and pleasing considering I averaged 298 watts just a day after a very hard race on Zwift. The improving cycling form didn't seem to cure the knee alas. I went for a brick 5k after a Zwift session on the Thursday morning (eight days after my last run) and the knee soon began aching again, not getting to the point where it was affecting my running (I averaged 6:01 for the 5K effort) but enough to not make running much fun. This discomfort repeated itself a day later with a mile brick run the next day.
Saturday came, three days before the Lincoln 5K, and I was in Bakewell taking part in the Brewin Dolphin Peak Tours Sportive. I may end up writing about this at another time, suffice to say it was 99 miles of hills in glorious sunshine. Enjoying a good ride and enjoying the likes of Winnats Pass, I managed to get a gold standard by just over 10 minutes having spent just over 6 hours in the saddle. With the weather still glorious on the Sunday I rode another 70 miles, this time with Witham Wheelers on one of their Sunday morning socials. I considered a brick run but with the knee still an issue when running I relucantly waited until the Monday morning before heading out early in the morning for a 10K recovery run from the rides over the weekend. While the legs benefited from the shakeout, the right knee continued to grumble, beginning to hurt a mile into the run and seemingly getting a little worse all the while the run continued. Like on the other runs though as soon as I stopped running the pain went away, which made me inclined to believe the pain wasn't critical enough to be that much a cause for concern. This was backed up with an easy hour on Zwift in the evening, where the only issue was tired legs.
Tuesday came and the only exercise of the day prior to the race was the school run in the afternoon, where I stopped by at the chemists for a tube of Voltarol gel. I'm loathed to running with painkillers but I thought in this instance it may be worth the risk as one of the suggested remedies for a bruised kneecap was to use some anti-inflammatory painkillers, which I had, up to now, resisted using. Before I even got home I rubbed some gel into the right knee cap and also into the lower inner thigh, where I suspected any referred pain was coming from. I felt no immediate benefit, but then again I'd not expected to as the pain had not been evident when walking for a couple of weeks.
Once home I was still undecided on whether I was going to race the 5K or take part in the club TT. Like on two other instances I went out for a short half mile run close to home to assess the state of affairs with a late fitness test. To my relief I felt nothing in my knee, Both Achilles though felt quite sore so I swapped the Nike Frees for the Hoka Hoka One Clifton 3s which felt a little more comfortable on another half mile test – and once again there was no pain in the knee. I decided I would take part in the 5K. I knew that on the previous instances I'd passed a late fitness test I went onto enjoy good runs (Second place at the Newton's Fraction and the Sleaford Half) so in a weird way I was enthused by the need to have a late fitness test.
So at 5:45pm I left for the Yarborough Leisure Center in Lincoln, arriving at 6:30pm – an hour before the start of the race. I was fully expecting to not be able to find a space to park, but I got very lucky and found a space recently vacated as I drove past. I went to the small race HQ, filled out an entry form, queued for a few minutes, paid my £5 and went to get changed. Once changed I returned to the car to drop off my bag and then put in a one mile warm up which, at 6:34 pace was a fair bit quicker than my normal relaxed mile or so before a race.
With the warm up out of the way I found a wall to shelter behind and to do some stretches before the race. The weather was not bad for racing – sunny, and at around 19C pleasant enough for a 5K without being overly warm. The issue though was the wind. A steady, bordering on the stiff, breeze meant that around half of the broadly rectangular shaped loop we would run on would be affected by a headwind. Of course what blows into you also blows you along when there is a tailwind, but the consensus is that generally you'd rather have little or no wind at all for the fastest possible conditions.
While stretching I got to ponder the possibilities of the race for a few minutes with club mate Rob McArdle. I was uncertain about whether the knee would hold, but fairly confident that if it did I could clock a good time, given the time at Sleaford in poor conditions. The unknown mitigating factor would be whether I'd fully recovered from the weekend's cycling efforts and whether the paucity of running in the three weeks following the bike crash – only around 25 miles excluding the Sleaford Half – would be detrimental to my running fitness.
Five minutes before the start I lined up and just put in one burst of 50 meters or so at race pace. Rather pleasingly any heaviness that I'd experienced in the warm up had left the legs and they felt pretty race sharp. On the start line I bumped into young Jake Richardson, a runner I first ran against when he was a junior when I had only just moved to Grantham and had recently become more aware of his exploits having followed him on Strava and having run with him in a recent GRC training run. He expressed his hopes of a quick time, ideally sub 15 minutes. I knew that if he managed that he would become the fastest runner I've trained with, indeed he only had to break 15:50 or so to take that prized mantle. (In the end Jake would run 15:30 to finish second – a cracking effort!)
The race began promptly, too promptly in fact for a couple of young lads had failed to understand the starters' instructions that we start with the firing of a horn and not the preceding whistle. With that short amusement out of the way we were off. With this being the third time I'd run a LWAC 5K I was confident of three eventualities:
The majority of the field would go off at a ridiculously fast pace they had no hope of maintaining.
The quality of the field should ensure runners at around my ability to race against.
My Garmin would dramatically overstate the distance of the race, perhaps by as much as a minute on my real time.
The first eventuality came to fruition just as planned, I found myself swamped by a load of runners who, once we turned the first corner around 100 meters after the start, began to inexorably slow. As in previous years I knew that this was not a huge drama as a glance at the Garmin showed we were tootling along at just over 5 minute mile pace. A bit boxed in, it took a little longer that desired to find a gap and escape the slowing runners, but within a minute of running I was on the coattails of a bunch of runners who appeared to be at a pace that suited my one goal in the race – to secure a 5K PB. My fastest two 5K times had come at this LWAC 5K race – 16:55 in 2014 and 16:57 in 2017. I'd somehow managed a 16:36 at Ferry Meadows parkrun in 2015 but I'm in the parkrun is not the same as a 5k race camp so 16:55 was the time I was looking to eclipse.
On the coattails of a bunch of five runners I'd sussed the wind direction out and knew that if I wanted to maximise the opportunity of sheltering from an imminent headwind I had to put in an effort to catch them. This I did on the corner before the finish line, just before the headwind came into full effect. If you believe the pace graph from my Garmin (And I'm more than a touch skeptical) I put my quickest effort of the race in here save the finish sprint which rewarded me with the goal of being on the back of a bunch of five runners, who all seemed willing to take the pace at the front into the headwind and not play tactics and ease up when at the front.
The short lap is just half a mile and we were then off on the first of three larger laps. I had already though seen club mate Penny drop out of the race (it transpired she had a dodgy hamstring which didn't want to play ball on the night) and it made me aware that I couldn't fully trust my knee would hold out. For all the while it was okay though I would make hay. Into the head wind on the first large lap I duly tucked into the group of runners, one of whom I recognised as the Lincoln Wellington runner I passed at around 4 miles in the Sleaford Half. All struggling into the headwind we were relieved when we turned the corner once to face a crosswind and then soon curved around once more so we enjoyed a tailwind. You could feel the difference in pace, confirmed by the data post race which suggests that we were slowing to around 5:30 into the head wind, and running just under 5 minute mile pace with the tailwind.
This of course is all purely subjective, for when my watch alerted me that I'd tackled the first mile in 5:08, I knew from bitter experience not to get too excited by the prospect of a 16 minute 5K. Back in 2014 the same happened and I excitedly saw 15:55 or so on my watch as 3.1 miles clicked over on the Garmin only to realise I still had at least another minute of running, finally clocking 3.3. miles. Half expecting it in 2017 I once again ran something close to 16 minutes for 5K only to find myself with plenty of the race to come. I'd half hoped that changing a setting so that the watch recorded every second would help matters, but I knew when the first mile clicked over that it was going to be a case of ignoring the splits and judging the race more or less by feel. (What makes this all the more frustrating is that it only seems to be my watch that has this inability to measure this course anywhere near accurately – I guess though it's a good think in it's consistency in being wrong!)
At the same time I glanced at my HR. This more reliable (although not infallible) guide to effort was reading 171 BPM at a mile, which was pleasing because this is in my upper limits for a half marathon. With this knowledge at hand and feeling as though I was a bit faster than the group I was with, I considered pushing on and attempting to leave the group, but I felt that the benefit of a shield into the headwind was arguably worth more than a few lost seconds not running at maximum possible pace.
I cannot really remember much of the second lap other than it was more of the same: sheltering and working hard into the wind and recovering while being pushed along by the wind. Mile 2 was 5:10, the HR had crept slowly but consistently up to 175bpm, which is at around 10K limits. Most importantly I was still feeling quite comfortable for the all important last mile – when the comfortable can very quickly become the unbearable as lactate build up peaks and wreaks havoc with the legs.
Things began to change on the final lap. I think we last a couple of runners in our group of five because I can only remember there being a couple in front of me. We passed young Will Tucker of Grantham AC, touted as the quickest distance runner in Grantham, which he undoubtedly will be very soon, but on this evening, I was looking like I would go a little faster. I kept behind the two left in the group for the duration of the headwind section. As soon as this became a tailwind, I let the breeze do its best to propel me on, passing the two in front of me. I knew I had just a couple of minutes left of running and had to empty the tank but this suddenly became a much easier proposition in the mind than in reality as the lactate overflowed with the HR at 178.
Mile 3 clicked over on the Garmin. A quick glance, another 5:10. A quick look at the elapsed time – 15:28. If only I had just another 0.1 mile of running to go! Alas, as in previous years, my Garmin had overstated the distance (3.26 miles to be precise), which meant I had a quarter of a mile, or around 400 meters left to run. With all thoughts of knee pain long forgotten, I pushed on as hard as I could. Thankfully one of the two guys I'd passed recently was now using me to pace themselves to the finish, which meant I had the physical impetus to keep the effort high. Heading around the final bend and with the finish funnel in sight, I put in one last effort, trying to lift the heavy legs as high and as fast and as far as they could.
I crossed the line and stopped the Garmin. I looked at the time: 16:45. I gave a rare shout of Yes! as an irrefutable 5K PB had been clocked. It would take a few days for the official results to confirm the same time. I finished 9th on the night and first V40 runner, which was a pleasant surprise, but not one I was really targeting as this race was all about the time. I had achieved the aim of a new PB and good age grade score (82.72%) for my club's Grand Prix Series, of which this race was a round of.
A little out of breath, I declined the opportunity to collapse on the floor as many around me did, but did put hands on knees for a few moments to regain my composure. Once again this made me think that perhaps I don't try quite as hard as those around me…. The benefit of being quickly recovered was that I was able to head back down the course to cheer each of the 14 other Grantham Running Club finishers home, eleven of whom also claimed Personal Bests on the evening.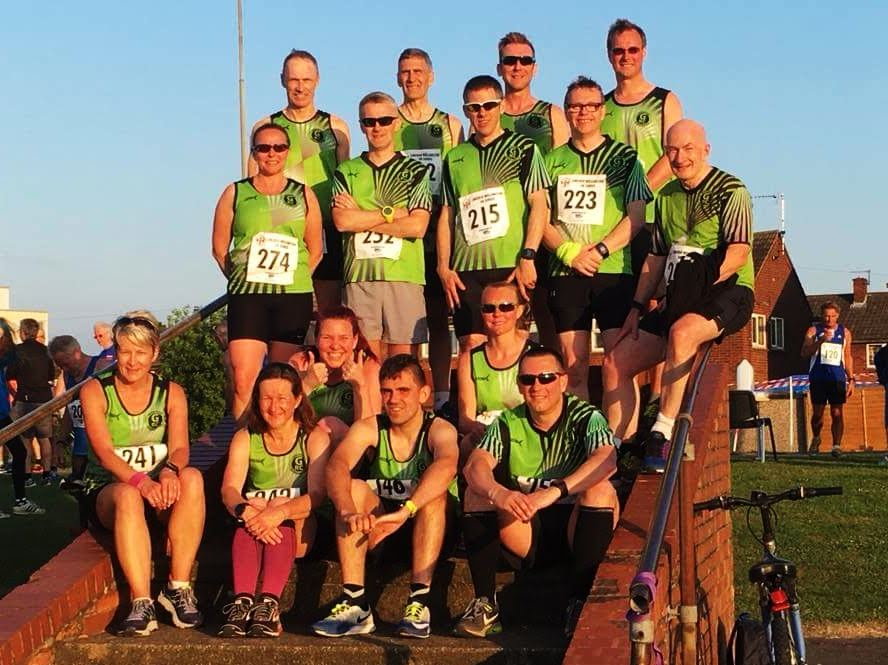 Once all accounted for there was time for a rather pleasant sunset kissed group photo before heading back to the car for the journey home, very pleased with the way things turned out, not only in terms of the time but because the knee injury, which I had feared would be a potential season ending crisis, was perhaps not quite as bad as it could have been. I now had a twelve days to prepare for the next race: The Woodhall Spa 10K.