With the London Marathon done and dusted attention focused on the Sleaford Half Marathon. I had two weeks to try and recover and prepare for what would likely be my first full gas race of the year after the semi-training run effort of the Keyworth Turkey Trot  and the London Marathon – which although an extremely hard race due to the heat, was ultimately less hard on the legs as it could have been if I'd run it at the pace I'd trained to run at.
Mindful of a calf injury sustained not long after the 2017 London Marathon which may well have been exacerbated by resuming running (at pace) too soon after London, I made a concerted effort to take things relatively easy. The day after London saw an easy hour on the elliptical trainer and a few minutes on my new bike smart trainer which I had treated myself to when it went on an offer that was too good to refuse. I rode the Witham Wheelers TT on the Tuesday, a moderate effort, not too hard on the legs, oddly a slight season's best. Wednesday saw my first ride in anger on Zwift using the smart trainer and I've got to say I absolutely loved it. It brought a new sense of realism to the game – 8% climbs now felt like climbs rather than having to try and simulate it through gear selection, conversely, the 8% descents gave you a chance to try and recover – just as in real life.
Back to real life on the Thursday and the first run since London – eleven miles with GRC. I felt really good, averaged 7:12 but could have gone so much faster were there anyone willing to go with the pace. Friday saw more Zwift and my first training session, which brings in the erg mode element to turbo training, which makes things very interesting! Saturday saw Belton House parkrun and a 17:27 clocking (Which I've posted about separately). Loving the smart trainer so much I put in a catch up Tour Of Watopia stage after work in the evening, before putting in another 90 minutes on Zwift on Sunday morning, stopped only by work on the Azerbaijan GP. Monday saw a 10 mile run in the morning, no real effort and 6:37 average but tired quads gave an indication that I hadn't fully recovered from London. My daughter's cancelled swim session in the evening meant I got a bonus hour on Zwift. Everything was going great! Then Tuesday happened.
For reasons unknown I wasn't feeling too fantastic Tuesday afternoon. I considered not heading to the time trial but, after a little rest on the sofa and a leftover slice of the kids' pizza, I felt a bit better and so got myself ready to ride to the event. I can't at the moment print exactly what happened, suffice to say that not long after leaving the house and riding to the cricket club, I was involved in an accident that left me on the floor with my bike significantly worse for wear.
After I picked myself up and went through the procedure of sorting out details for insurance reasons, I headed back home, bike unrideable and in a bit of pain with my left calf (I think I irritated the sciatic nerve with an over extension and felt nothing more after a night's sleep) and a bruised right knee. I was full of adrenaline, so put in an hour or so easy riding on Zwift to try and calm myself down.
A restless night followed however as I mulled over and over the evening's incident. I had planned to run with Stephen Hobday on Wednesday morning. I was able to run but the bruised right knee became progressively more sore as the run progressed, so I cut short a planned 10 mile run to 7.5 miles. Feeling no discomfort on the bike, I rode a Zwift race in the evening, memorable for it being very hilly and significantly longer than advertised, so much so that at the conclusion, nearly 90 minutes after beginning, the body was totally devoid of any energy whatsoever!
Thursday morning saw 55 minutes very easy on Zwift before a planned GRC run in the evening. Young talent Jake was a guest and it wasn't long before he and I were off the front of the group running alone. The right knee, which had been a little sore from the off, became increasingly painful to the point where I called the run short at 9 miles in total. I knew that Sunday's Half Marathon was in real jeopardy so it was a case of two days of nothing but rest and plenty of ice applied to the knee 3 or 4 times a day. This seemed to yield a positive result, by Saturday evening I felt nothing when walking up and down stairs, whereas before it had ached a fair amount. It was though still quite painful to touch.
With the race start at 9:45 am, I was up at 6:30 am to prepare and allow the cereal bar breakfast to digest. In scenes eerily reminiscent of the 2016 Newton's Fraction Half Marathon (where I went in injured, but finished second) I did a short half mile run from home before setting off for nearby Sleaford by means of a fitness test on the crash damaged knee. I could feel a little tenderness but nothing that caused undue concern nor a change in running gait. What was apparent though was the weather. In an almost near mirror image of March's Beast from the East  and it's return a fortnight later, the very warm, sunny weather that compromised performance at the London Marathon had returned with vengeance for the Sleaford Half Marathon weekend, with the weekend in the middle frustratingly near perfect for distance racing.
I made it to Sleaford with over 90 minutes to spare, fearing a nightmare with parking that failed to transpire. Given that Sleaford is the nearest town to Grantham I should know my way around it better, but I had to rely on other runners' knowledge to get me from the town car park to the start venue at the local football club. Pre-race preparation was a fairly standard affair but with the emphasis on trying to keep as cool as possible with temperatures already approaching 20C at 9 am. The warm up was just a mile around the football pitches with one acceleration. The knee felt fine.
I sought shade as much as possible, somewhat reluctantly taking part in the rather impressive GRC group photo, before heading back to join a queue for the indoor toilets which killed some time and was cooler than being outside. I deliberated long and hard about what kit to wear – the club vest was a given, then I opted to wear the cap that served me so well at London. Then, at the last minute, I opted to also wear the club coloured Buff (purchased just the day before for such an eventuality) around the neck to try and keep temperatures down on a course which was largely exposed to the sun with little chance of seeking shade. In the 10-15 minutes before the start of the race, I made a point of keeping the cap and buff soaked with cold water. It was pretty cold at the time but I was confident it would help during the race itself.
The pre-race briefing told us to enjoy the lovely conditions, which I think most took to be a little tongue in cheek given we were already all baking in the sun. I had half planned to take it easy with the hot weather, but I knew from prior experience that I could probably plan to run a fairly standard race with the acceptance that the going would get increasingly tough near the end of the race, more than you'd expect if conditions were fine.
We made the short walk from the club house to the start line. We were warned about the start mat covering the entirety of the road so I placed myself dead bang in the middle of the line of the carpet so as to minimise chances of not being detected by the timing chip. We were told that we would start on the whistle and literally two or three seconds later the whistle blew. Nearly all road races have a countdown of sorts, so at first I hesitated, wondering if the whistle was to bring us to attention but, no, that was the starting whistle, and so we were off on our way.
A flat start with a slight breeze at our backs meant the start was brisk. I found myself somewhere around the top ten, before making up a space or three as we turned into a housing estate and began to run into the breeze. Leaving the estate and returning in the opposite direction back towards the start line I closed slowly on the runner in third position.
Just by following him I liked his smart approach to racing. As the leaders (and many others), shown in the picture above, stuck to the left hand side of the road, the guy in front moved to the right hand side of the road, where there was a patch of around 200 meters which was in the shade. A marginal gain perhaps over the course of 13.1 miles seeking marginally lower temperatures, but I know from experience these little things can and do add up. I went through the first mile in 5:38, which was a couple of seconds up on the A Game plan, although not as fast as my PB HM opening mile, when I ran 5:28.
The second mile took us past the finish area and off on the long loop that would take us to and through Kirkby La Thorpe, Evedon, Ewerby, Boughton, Howell, Ewerby Thorpe, Ewerby (Again), and Kirky la Thorpe (Again) before returning to the finish at the football club. The wide main road running into Sleaford and towards the A17 was closed for the morning. The rest of the roads were open but were very quiet roads – I think I only saw three or four cars and a whole load of bicycles – but more of them later.
By the end of the second mile I had closed on the third placed runner, who I thought I recognised as someone I raced with at the Thoresby 10, but some detective work reveals I didn't. It was only after the race that he came to be known to me as Martin Dawson of North Derbyshire Running Club. Clocking a more palatable 5:46 for the second mile. Martin pulled wide to the right side of the road as he let me through to take the pace. There was a headwind at the time – just noticeable enough to be a little effort to run in and also just enough to provide a bit of welcome cooling. Martin's extravagant pull to the side amused me quite a bit. I kept the pace honest as we passed probably the biggest climb on the course as we climbed up and over the A17.
Any thoughts that Martin was just going to sit on my tail was put to bed as he came past me, clearly willing to help with the pace. Indeed as we went through the first water station, manned by one of my local running rivals Greg Southern of Sleaford/Royal Air Force  at 2.5 miles, he kindly offered me his water bottle. As I had already discarded around 450ml over the top of my head and was feeling suitably refreshed, I declined his kind offer, but knew that this would be someone who would be a help in the race rather than a hindrance.
We went through the third mile together in 5:41 and 5K in 17:42. By now the two at the front of the race who had pulled clear for the opening couple of miles were now slowly, but surely, being reeled in by the slower starting duo of Martin and myself. Lincoln AC man, who had led the race, was now second behind the young man in black, who looked bouncy and strong but who, along with the bigger Lincoln runner, showed signs of beginning to struggle with the heat, which was warm and getting warmer all the time.
Through four miles with 5:43 on the Garmin, it had been was a typical Fens running affair – an unremarkable narrow country lane on flat lands surrounded by fields of crops.  As we approached Everdon there was a rare change in elevation with a slight incline. It was here where Martin and I passed the Lincoln AC runner. The man in black was now just a few seconds up the road and it looked like a matter of when, not if, we would both pass him. This we did shortly after, sharing the lead of the race, continuing to take turns to pace one another. I was keeping an eye on my HR as it crept higher towards the maximum I'd like it to be during a HM. On a cooler day I may have let it past, but I knew with the warmth I couldn't stretch too far into the red.
The road had now turned into a heavily potholed gravel track – a private road used with permission from a farmer. The Sleaford Half Marathon seems to enjoy these excursions into the unusual. At its former home at RAF Cranwell there was a half mile or so through a field which, during February when the race was held, was invariably very muddy and slippery. This pot hole ridden track was less of a hindrance, especially as the ground had been baked dry by days of sun, but it demanded full attention to avoid becoming a cropper in a crater.
Exiting the farmers path at the beginning of the fifth mile, the Garmin clocked 5:41. As we approached halfway at Ewerby and still sharing the lead of the race, I could just sense that the heat was beginning to take its toll. Speaking to others after the race many felt the same way – that is that it was bearable to halfway, then got progressively harder with a low point around ten miles as we came back into Ewerby.
The sixth mile was 5:46 and I went through 10K in 35:32. By now parched, both me and Martin were alarmed at the next water station when they appeared to be handing out cups of water. Spotting a crate of water bottles we both shouted 'Bottles! Bottles!' to the guys manning the water station. To their credit and perhaps hearing the desperation in our voices, bottles were hastily provided just in time. Thoughtfully once again Martin had taken two bottles in case I had been unable to grab one. Once again I declined his offer of a bottle, he handed it to a spectator to hopefully hand out to runners behind us.
Off now on a near four mile loop before returning to Ewerby, my time at the front of the race would come to an end. With the merest of a slow down, mile 7 being 5:48, it seemed Martin capitalised on this and picked up the pace, not by a huge amount, but enough to create a 20 second or so gap by the time we had run eight miles. Really feeling the heat by now as I clocked 5:48 for mile 8, all I could do was hope that Martin had risked it a little too much by increasing the pace when the body would surely be screaming to slow down. I noted that at around 8 miles, Martin took on a gel. I sensed that today that could have been a great move, especially one with added sodium and other electrolytes – the type I normally take. The possible advantage I had over him, I reckoned, was that the still soaking cap and buff around the neck would hopefully keep me cooler in the later stages, when the heat would likely really start to take its toll.
Turning left at the small village of Howell I was warned by marshals of cyclists approaching the junction. There was the King Edward Sportive taking place that day, which we had been warned about as there was a multitude of arrows at the next junction which would be confusing to a heat affected mind. With odds that must be in the 100s to 1, by pure coincidence the group that came past me was a bunch of Witham Wheelers' riders, the same group I would have typically ridden with if I had failed the morning's fitness test and chosen to cycle instead! With plenty of encouragement received I half jokingly instructed them to try and slow down the leader ahead. They did indeed ride up to Martin and perhaps told him to slow down. They didn't though impede him and that was the last I saw of them as they took part in an activity far more enjoyable than running in the conditions.
That brief interlude of excitement out of the way it was back to the increasingly hard graft. Mile 9 was a 5:49 and mile 10 5:50. I remember little of this part of the race other than finding it increasingly hot and difficult to maintain pace.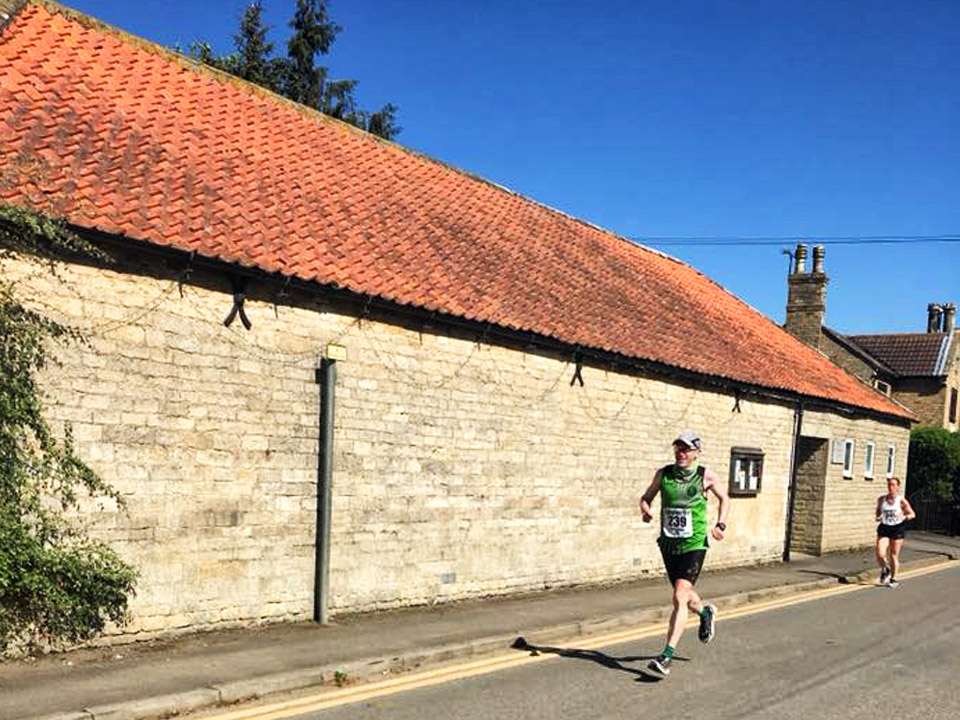 At ten miles we rejoined the course already trodden at Ewerby and I was passing runners who would look to run around two and a bit hours for the marathon. I knew the water station would be ahead and was thankful to take a bottle. Once again I took only a small swig of water, making sure as much of the contents as possible went over the head and neck.
Miles 10 and 11 were the hardest yards of the race. At times I felt like my legs were beginning to buckle. Fearing an attack of the Callum Hawkins I made sure I could run a straight line. Thankfully, despite the suffering, I was not yet out of my mind, although I did question this when we passed a random guitarist and partnering vocalist singing Brown Eyed Girl by the side of the country road. Mile 11, despite being partially downhill, was the slowest of the race at 5:52. That I was suffering and tiring but more or less maintaining pace was pleasing. I just had to keep the concentration up. Not only was Martin in front seemingly slowing slightly (Probably an illusion), I had glanced behind on occasion and was sure a Lincoln Wellington runner was closing on me. Fear of losing second rather than the possibility of winning here drove me on.
Mile 12 saw the final water station, another cheer of encouragement from Greg Southern and the final incline of the race as we went back over the A17 and towards the finish. I was pleased to see I had increased the pace to run 5:47 for mile 12 and with less than eight minutes of running to go I put in as much effort as I could, focusing on the limited number of reference points ahead to break down the mile as much as possible and ignoring as best as possible the heat radiating off the asphalt below.
It was at 12.5 miles I looked at my elapsed time for the first time since halfway. It read under 1:12. For a few moments I thought a PB was possible, but the brain had enough processing power to realise that wasn't possible.  I did though recognise that it could be a pretty decent time and so, despite second place being assured, I put in one final effort to make it to the finish line as quickly as possible.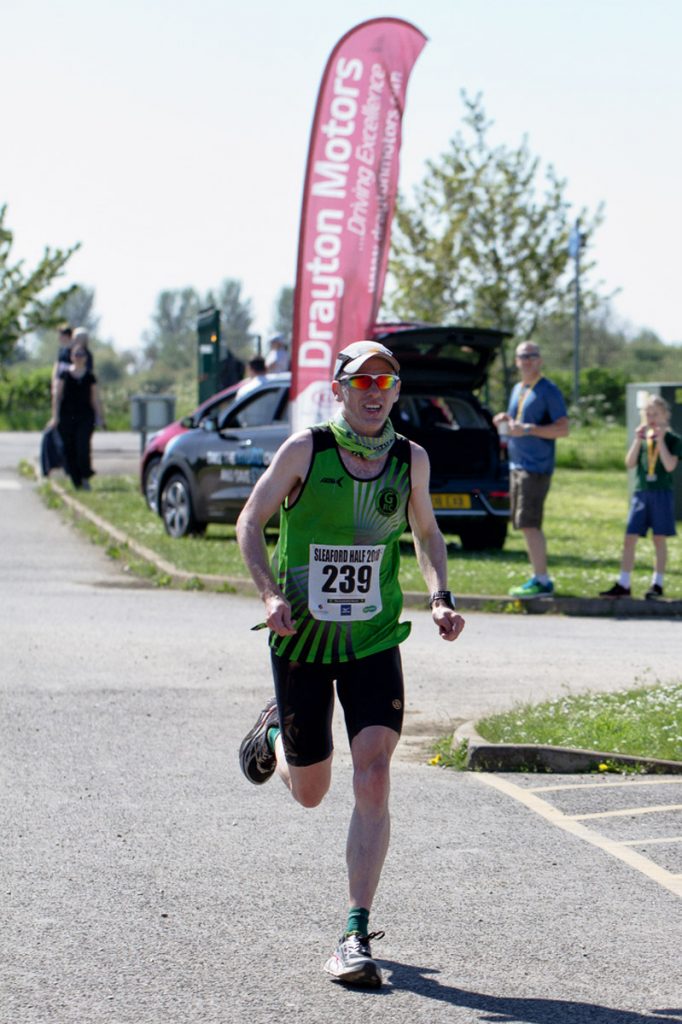 Crossing the line I missed the finishing clock, my Garmin suggested I had run 1:16:04 but I knew it would be officially a few seconds quicker. I forgot all about that however as, once stopped, the inevitable heat soak took over my body and I could think of nothing but to seek shade, which I found next to the Muffin Top cake stall by the baggage collection. I spent a few minutes just sitting calmly, cooling slightly, before being joined by the one-time race leader Rusian who shook hands with me before collapsing in a heap!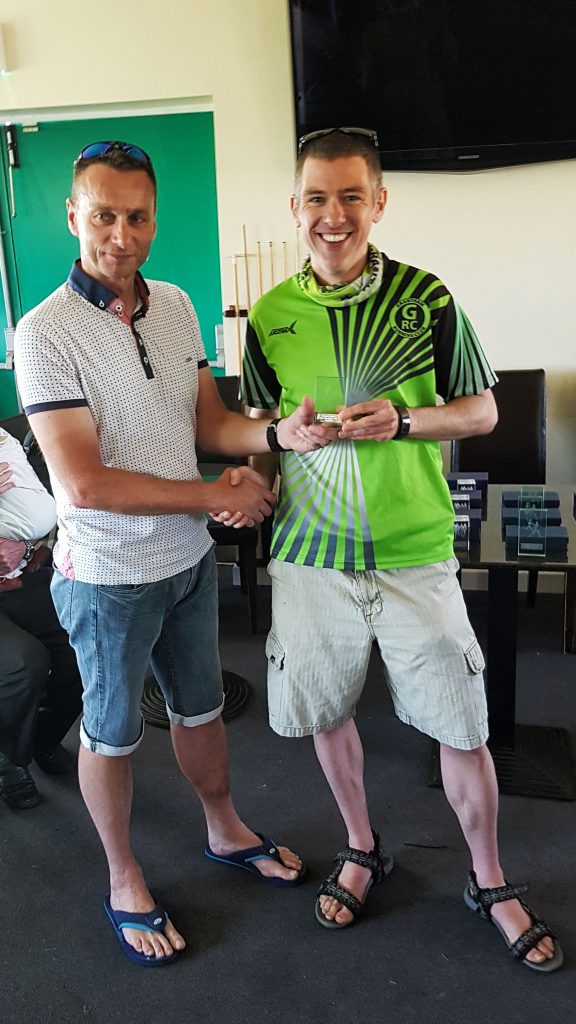 After five minutes or so I felt sufficiently recovered and collected my bag to change into dry clothes. For the next 45 minutes or so I stood with club mates and spectated, cheering home the 35+ Grantham Running Club members who took part in the race. Initially it was believed we had won the Team Prize until Lincoln Wellington found a runner to mean that they took the honours. I did though have the opportunity to receive the second placed trophy and a voucher worth £125 for a pair of Mizuno trainers! This prize was given to the first three finishers, which made me wonder whether the effort of maintaining second had been worth it! I was also given my official chip time of 1:15:59, which cheered me up no end!
I also had the first opportunity to talk to the race winner, who revealed that it was only his second half marathon and a three minute PB, clocking 1:15:11. He admitted that he had taken a bit of a risk in breaking clear at 7 miles and just about held on, but it was touch and go in the final miles. His win was well judged and thoroughly well deserved.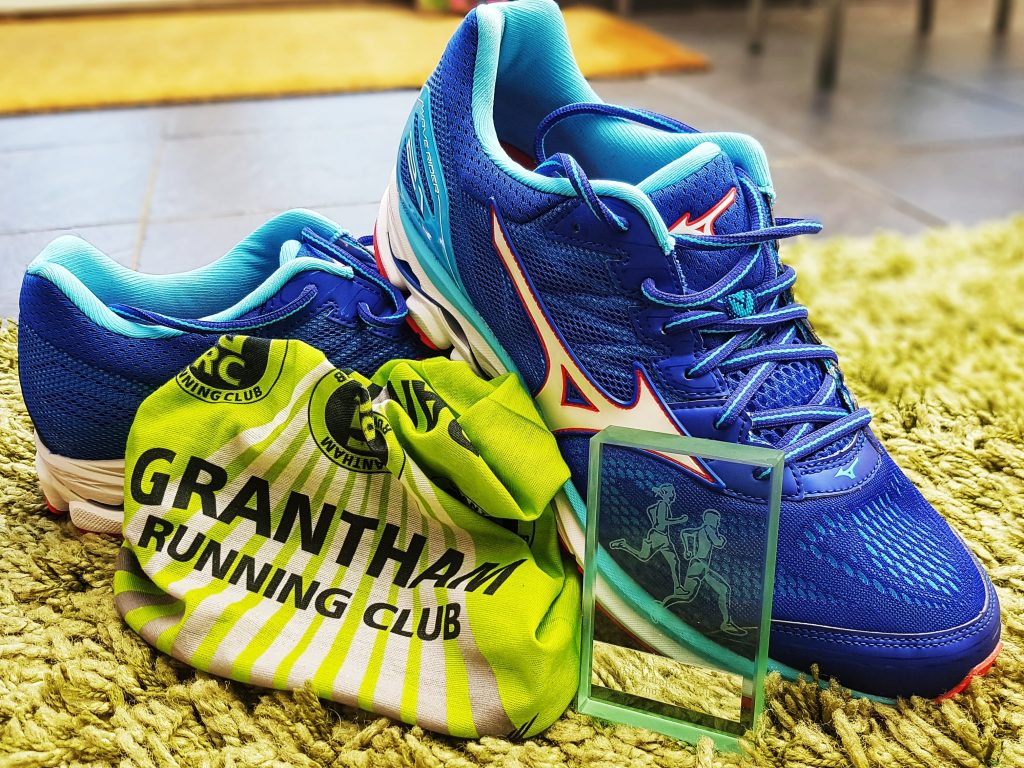 Grabbing a pair of Mizuno Wave Riders from the Lincolnshire Runner stand, I basked in the heat of the day before heading to a rather lovely barbecue at friends, then GRC's Beer & Bling evening, where I could add the Sleaford Half Marathon medal to my London Marathon prize. It was only when I awoke in the morning that I was reminded that I had run 13.1 miles on a bruised knee. Virtually pain free during the race, it felt very similar to how it had been soon after crashing the bike. Indeed a pain blighted run a couple of days later meant I was resigned to taking at least a week off running to let everything hopefully heal. I certainly hope so because I am in good shape and have some races coming up thick and fast!