The previous few years have only seen me run the opening race of the LWAC 5K Series, held at Yarborough Leisure Centre in Lincoln in the final week in May. This year I decided to run as many of the four held over the summer, which turned out to be the first three races as I was just about away on holiday for the final race in August. I've clumped them all together simply because there wasn't too much to say for each race!
Race 1 – Tuesday May 28th
The overriding memory of the first race was the biblical downpour that occurred just as I was arriving at the race venue, rain that fell during one of the supporting junior races and destroyed the paper results! The rain eased and stopped but it was still cold, warming up to only 10C before the race started and the sun attempted to make an appearance. I'd harboured intentions of taking part in the new supporting Memory Mile race but my heart just wasn't in to a full out effort just thirty minutes before the 5K race so I opted to mill around for a bit, heading back and forth to the car deciding what to wear.
Racing in my tried and trusted Hoka Clifton 4s I made a typically cautious start as plenty of others around me went off a bit too fast. I sensed that I perhaps didn't go off quite quick enough. A couple of minutes into the race I had the choice to pick up the pace and attempt to latch onto the group containing club mate Ian Williams or to stick with a smaller group which had at least some big guys I could shelter behind when facing the noticeable head wind. Lacking that killer instinct I went for the easy option and tucked in.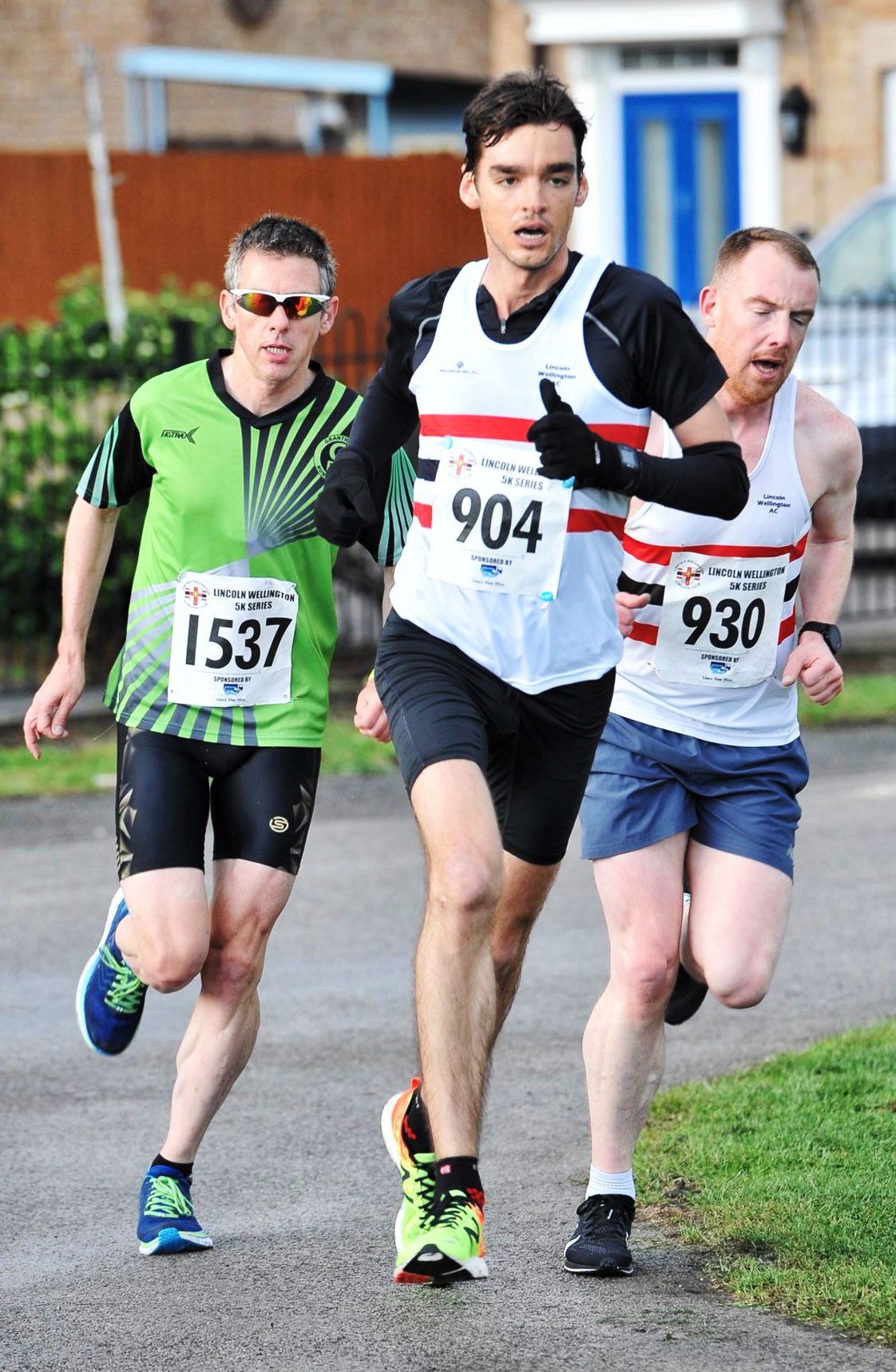 Once that decision was made it was a fairly routine race. I tucked in when there was a head wind and attempted to push the pace when we had a the wind at our backs. On the third and final large lap we began to close down the lead female runner and I targeted her as some kind of motivation to try and pick the pace up / keep it going. I don't have much luck with my GPS watch at Lincoln, just as with my old model it had me down to finish in around 16:40 which I could tell by feel just wasn't the case.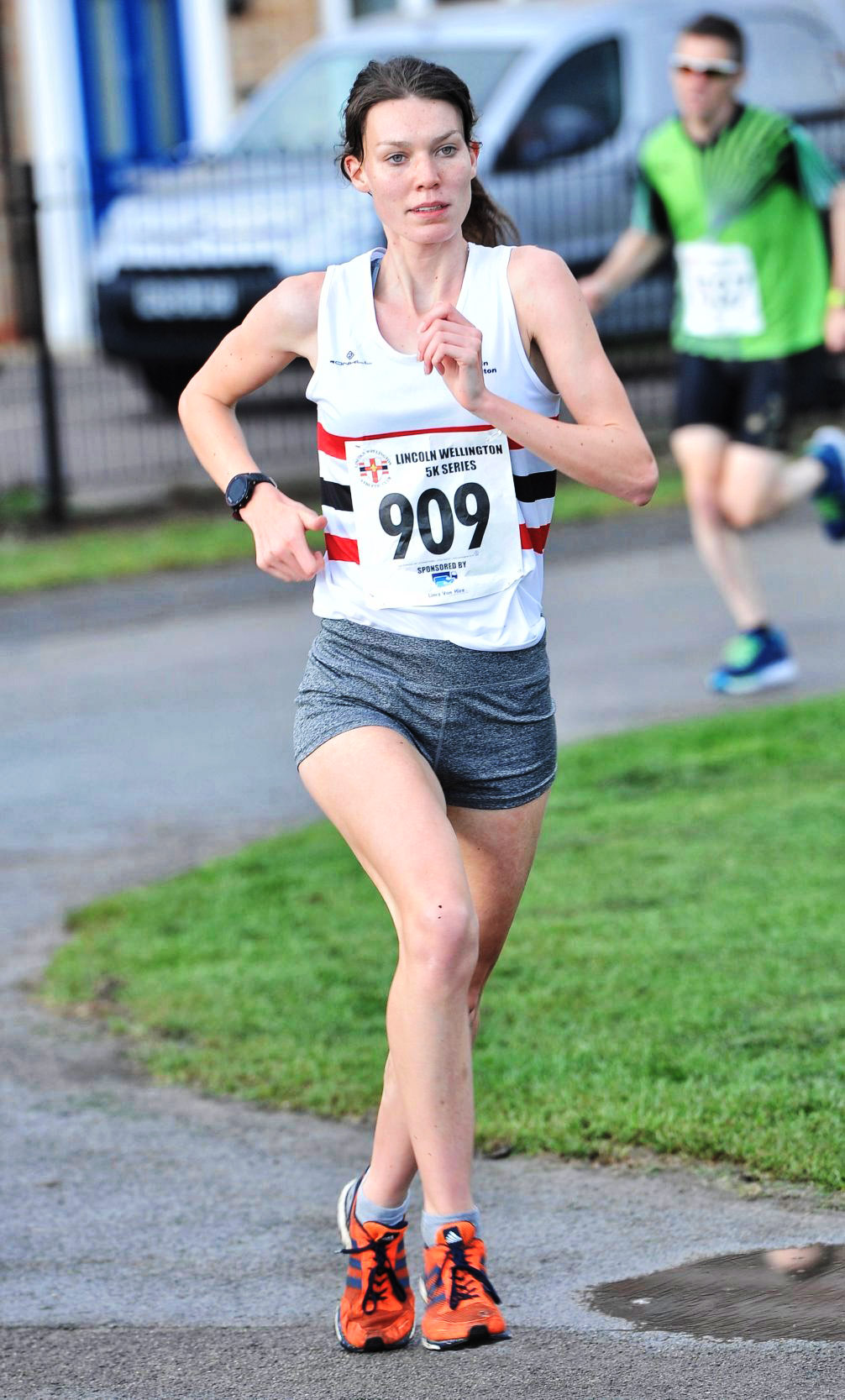 Finally for the final half mile I managed to put in some kind of effort heart rate wise that merited a a 5K race. I pulled clear of the group I had been running with and almost caught the winning woman but not quite doing so. Annoyingly my watch and the official timing clocked me at 17:00. Just one second off the sub 17 I'd wanted.
My mood was a touch downbeat afterwards. I felt I could have tried a bit harder and that for various reasons I was enjoying my cycling more than running. I had also a good spot to watch Ian slowly but surely disappear into the near distance en route to breaking my club 5K record with 16:33. Although I was genuinely happy for him there was the feeling that this was the day when my mantle as fastest runner in the club had been handed over to Ian. Part of me had always wanted this to happen as I have championed for years the need to bring in younger more talented runners than I to the club. The other part just wanted the glory to live just a little longer!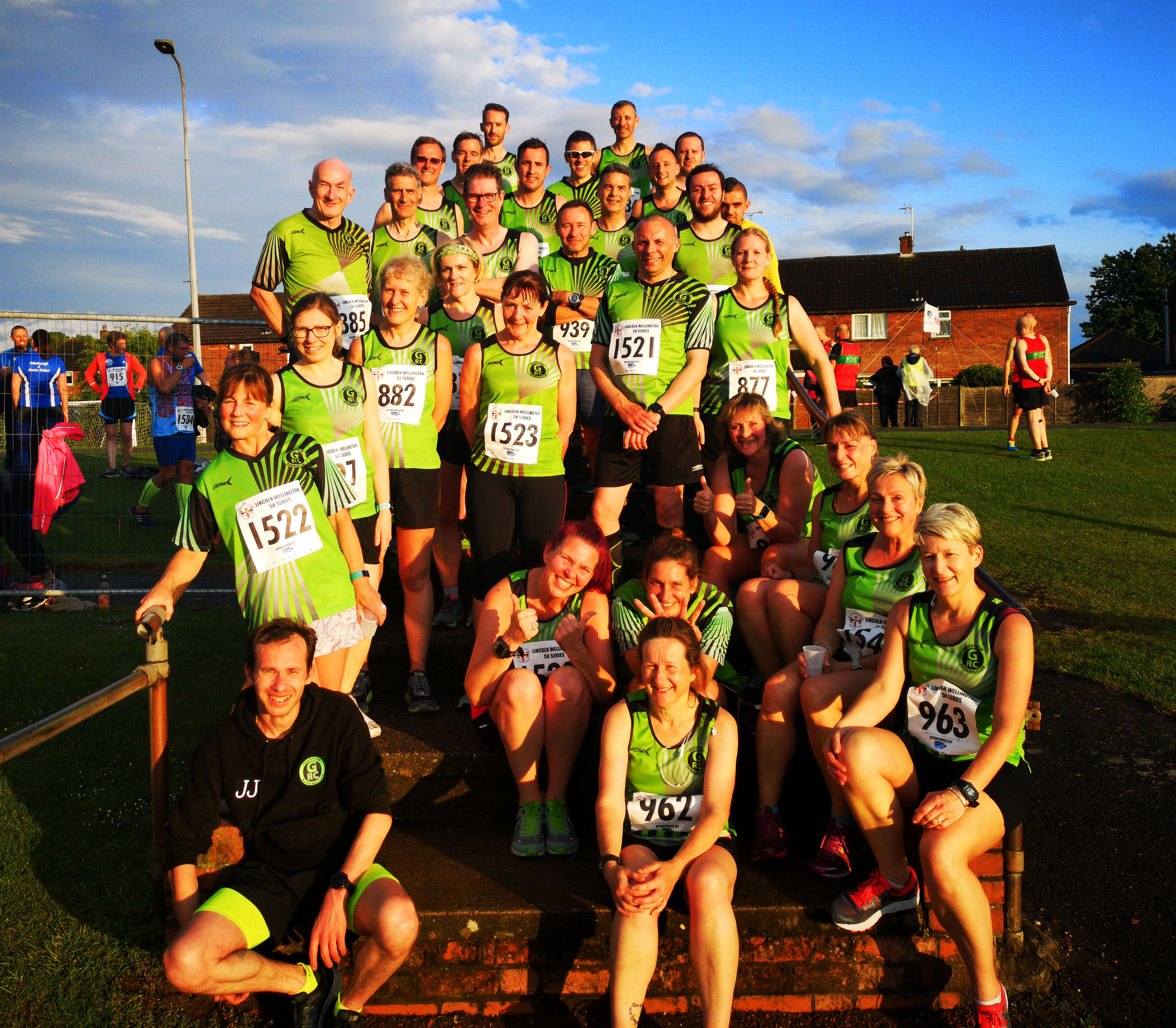 Race 2 – Tuesday June 25th
I'd every intention of taking part in the one mile race as well as the 5K at the second race of the LWAC Series. However the stop/start two mile warm up put pay to that idea. With legs feeling super stiff and the right Achilles aching like mad, I sacked off the shorter race and focused as best I could on the 5K.
Actually this focusing was more a case of relaxing and not particularly having any great ambition for the 5K race which turned out to be a blessing in disguise. Wearing this time the Nike Frees that I've had for years and were coming to the end of their running life (now worn as the cross training shoe) My Achilles ached for the opening minute or so of the race but then, as often happens, ceased to be an issue as I settled into the race.
Starting steadily I soon opted for a game plan that consisted of making sure I was in a group to tuck behind whenever we were running into the significant headwind then push on and attempt to catch the group ahead when we had a tailwind. This worked well. The Garmin, as ever here, was hopeless at measuring the course accurately but did at least show that I ran the race with good progression – mile 1 5:24; mile 2 5:22, and mile 3 5:16. This tallied with how my heart race progressed nicely upwards: just 165 bpm at the end of mile 1 (Marathon HR); 173 at two miles (upper end of half marathon HR); and 180 BPM at the end of mile 3 (upper end of 5K HR).
If the Garmin had been accurate I'd be on for a big 5K PB. As it was I had another fifth of a mile to run, which I put in a bit of a sprint for knowing at least I had the chance of a sub-17 to bag. This I managed with a 16:54 clocking – my second fastest ever 5K and the best I'd felt over that distance save the 16:36 I ran back in 2015 at parkrun.
Although I was very pleased with my performance, it netted a poorer finishing position, coming home eighteenth compared to eleventh in the opening race and third V40 when I finished second in the first race. That was largely irrelevant though – it was the time I was interested in and I was happy with that!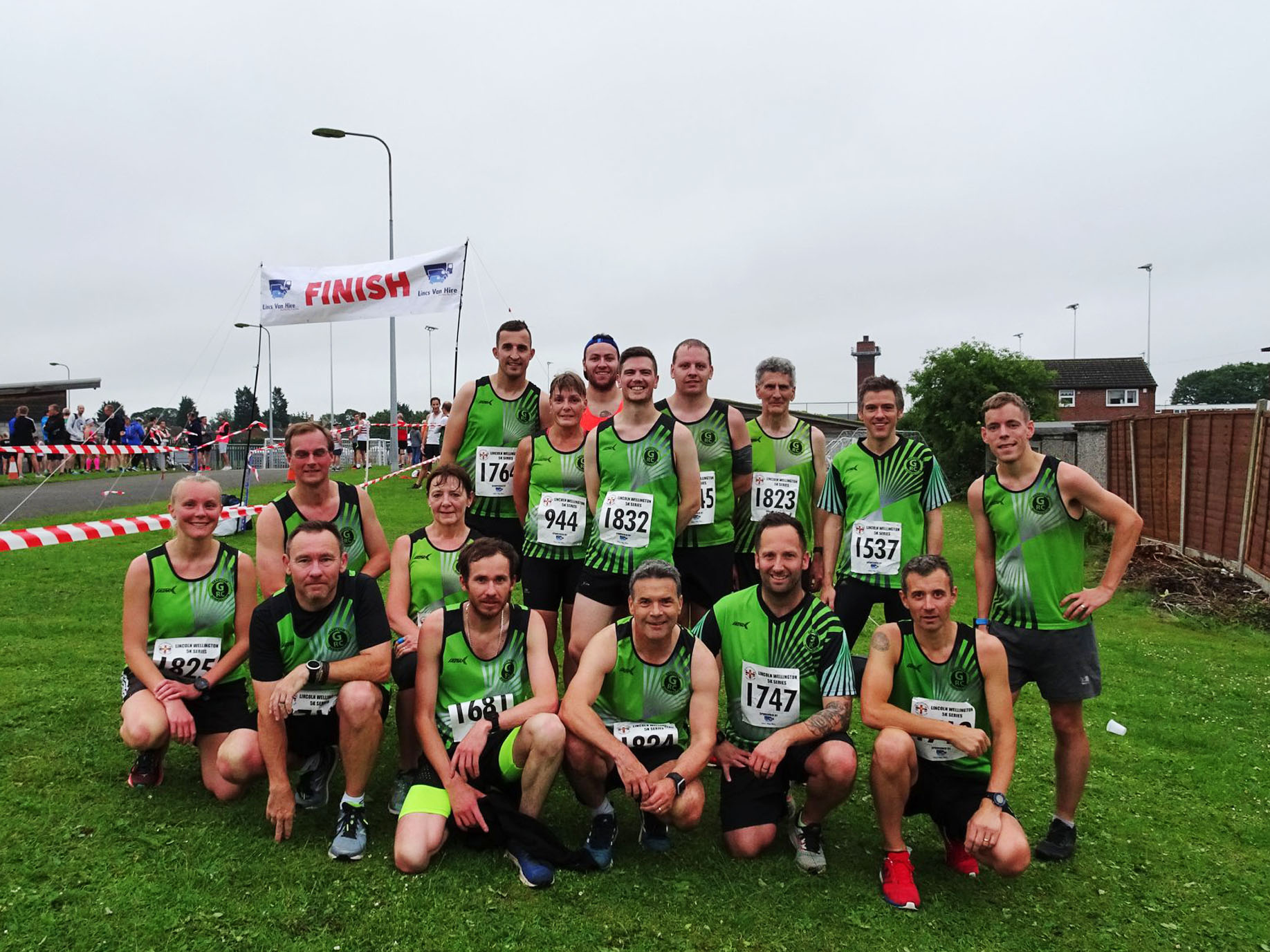 Race 3 – Tuesday July 30th
This race did not go to plan but ended up with a result that I am pleased and proud of. Driving to Lincoln I knew that things weren't quite right – my resting HR was 20 BPM up on what it normally is when I am driving. The warm up confirmed my doubts, feeling lethargic and lacking any zip which meant that, once again, I would not try my hand at the one mile race.
Indeed I felt so fatigued I very nearly didn't race the 5K at all. In the end, sensing that this malaise was merely a repeat of how I felt when time trialing and exactly a year earlier and was most likely a bout of hay fever,  I decided to take to the start line. The special shoes though stayed in their box and instead I raced in the new Nike Frees that I had bought from The Lincolnshire Runner a few weeks earlier.
From the off it was a struggle. Team mate Joaquim Flash Jeronimo shot off into the distance at a pace I should have been able to match but simply couldn't. The first mile my Garmin clocked at 5:33, the second 5:32. All I could muster was to slowly catch Flash up as we began the third and final lap. I knew that he was desperate to break 18 minutes but was beginning to struggle badly after his bold start.
Knowing I had no hopes of a quick time for myself I took it upon myself to help pace my Portuguese club mate as best I could to the finish. This consisted of regular verbal encouragement: "You've got this!" "No I haven't – I'm finished!" was the most memorable communication between the pair of us. I also sheltered him from the wind that was, as usual, blowing across the course, carefully placing myself to the left, or right, or directly ahead when required to offer as much protection as I could.
With the third mile clicked off at 5:34 I told Flash I would start a gradual sprint to the finish and he should try his best to stick as close as possible. Picking up the pace a touch I crossed the line in 17:36, with Joaquim coming home five seconds later and twenty five seconds quicker than he'd ever run 5K before.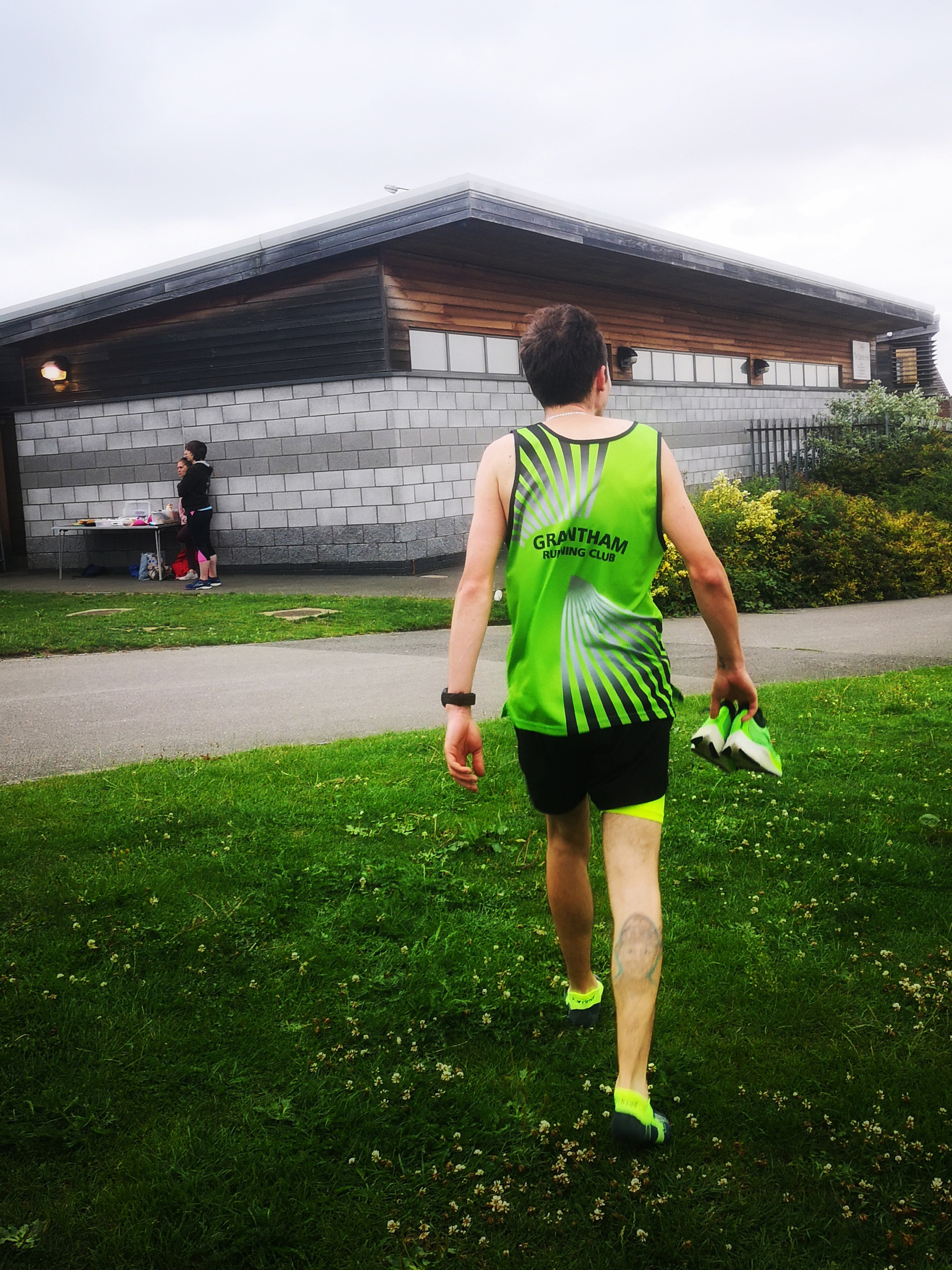 I was delighted for Flash, one of the nicest and most enthusiastic club mates I have ever had, and proud to have been able to turn my off-day into something positive. As it turned out when race positions were considered it wasn't that bad, finishing eighteenth again and second V40 (again).
I had tentative plans to take part in the final race in August, but I decided in the end to maximise my summer holiday away and missed it.
And that, for 5K in 2019, in Lincoln at least, was that!