Note: I am writing this in early March 2019 – nearly five months after the race took place. Recollections are already a little hazy!
The RAF Henlow 10 was a race that came to my radar pretty much having finished the Leeds Abbey Dash 10K, To be honest it wasn't a race that I was that familiar with. A little more digging and I came to recognise that it was a race with plenty of heritage, albeit one with an uncertain future, given that RAF Henlow as a base is due to close at some point in the next few years.
The Henlow 10 was first run in 1952 as a challenge between runners from RAF Cardington and RAF Henlow. In its heyday during the mid 1980s the race took on the mantle of the RAF 10 Mile Championships and a new course was established to cater for the 800+ runners who would take part, including some of the country's very best runners. It was at this race in 1986 where current GRC member Chris Armstrong, representing RAF Lossiemouth, ran 52:37 to finish twelfth, a time that would have seen him comfortably win in 2018. In 2000 the route was changed again to its current form, beginning at the historic Old Warden Aerodrome Shuttleworth and meandering its way along undulating country lanes through a number of small villages to end at the airfield within the RAF Henlow Military Base.
I was assured that, despite its status as the RAC 10 Mile Championships, civilians were welcome and encouraged to take part. Given that I was also offered the opportunity to travel down on the RAF Coningsby coach with GRC club mate Andrew Pask and that I'd been unable to take part in a 10 mile race through 2018, the temptation to race on a Thursday proved too great to resist and I signed up.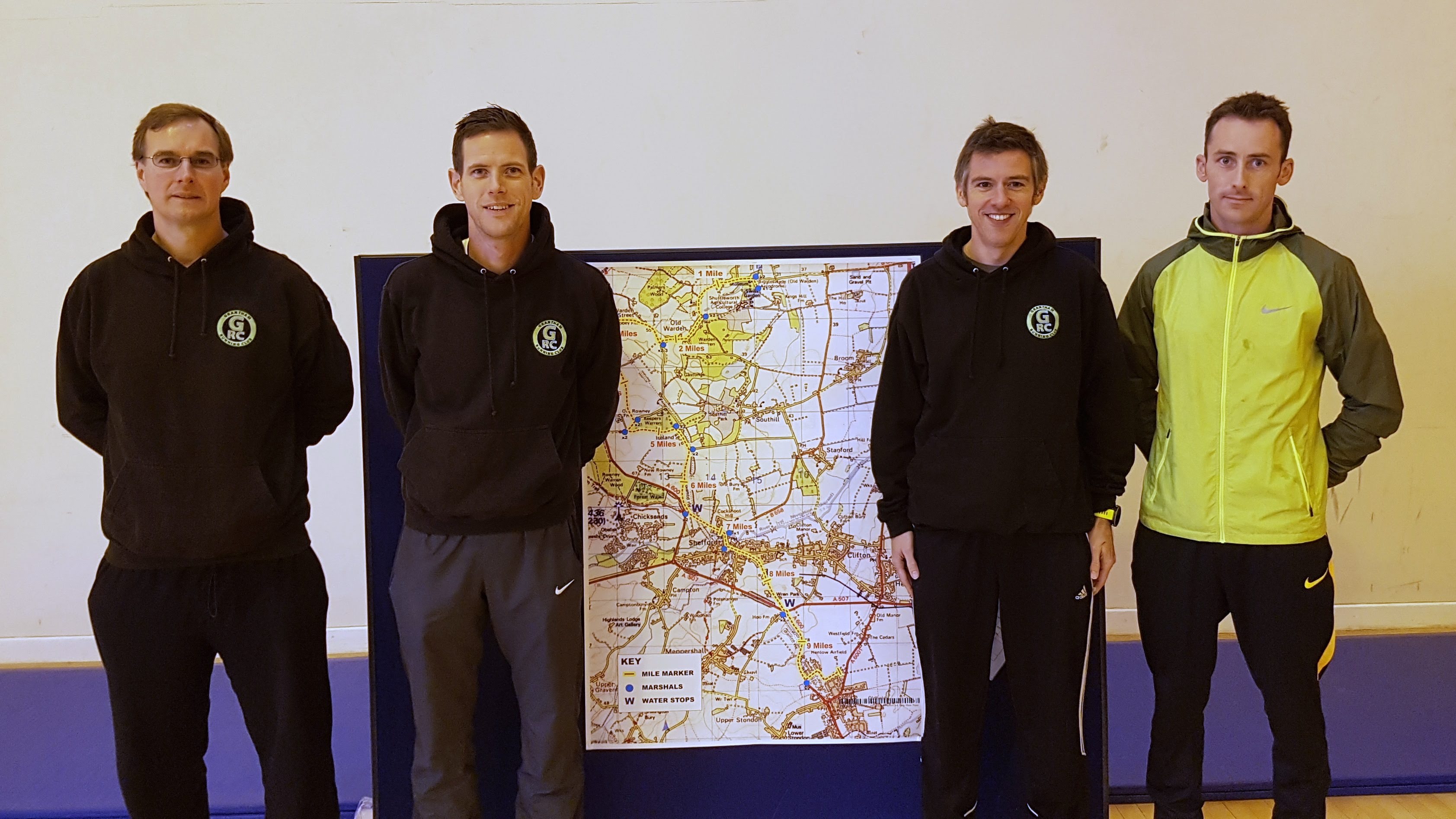 Having arrived at RAF Henlow and gotten hold of my race number I met up with fellow GRC runners Ian Williams (who, like Andrew, was representing RAF Coningsby) and Peter Bonner who, like me, was a civilian competitor.  We hung around in the gymnasium until the briefing took place, at the conclusion of which we were ushered to the coaches that had been laid on to take us to Shuttleworth Aerodrome.  Once there I put in a mile or so of warm up, enjoying the unseasonably mild, sunny conditions, but noticing that there was a stiff breeze that appeared to be a southerly , which was unfortunate given that the point-to-point course ran in a mostly southerly direction.
Having analysed my disappointing Leeds Abbey Dash performance compared to the positive Worksop Half Marathon run out, I'd noted that the big difference in the two was that I went out hard from the gun at Leeds, whereas I eased myself in to the Worksop race and benefited as a result. I decided to opt for the latter tactic here, so wasn't unduly concerned when i found myself somewhat swamped at the start by a swathe of overly exuberant runners pushed on by the very opening section of the race out of the Aerodrome enjoying a tailwind.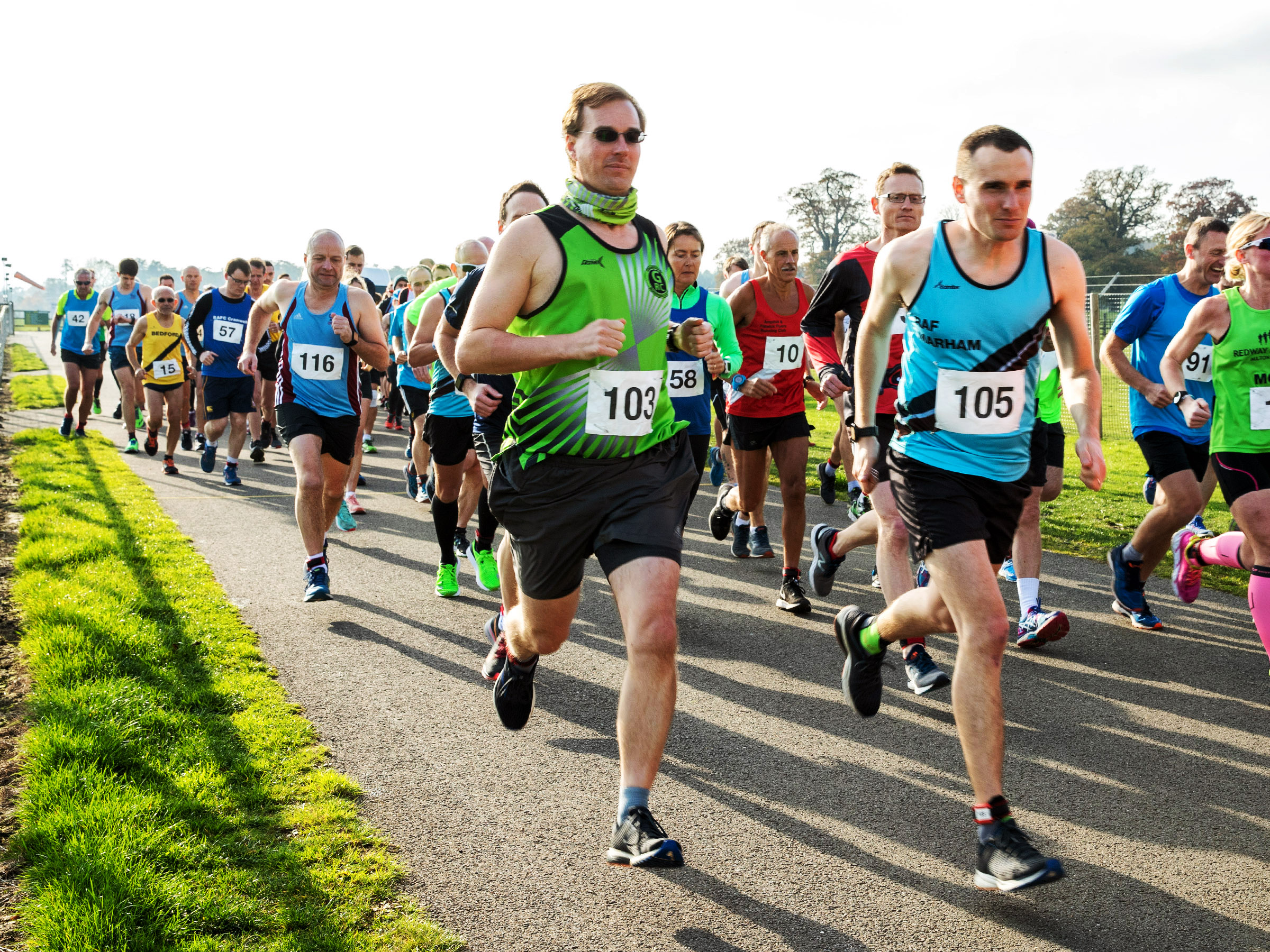 We turned left out of Shuttleworth and up a short climb which soon shuffled the field into something like its natural running order. I  quickly moved up from somewhere near the outer periphery of the top twenty into around seventh place. The opening mile was steady at 5:47, the second mile was mostly flat and was relatively quick at 5:39. I'd moved past a couple more runners to lie fifth and sharing the pace with a big tall runner we were able to close in on a runner who readily became familiar to me, being Iain Bailey, who I battled with at the Woodhall Spa 10K and had finished behind on many occasions at parkrun especially. I'd heard that he had only turned 40 the day before, and was wondering if he'd maybe be suffering the excess of celebrating that milestone of being a Veteran athlete.
We caught Iain at around 5K, a long uphill drag slowing mile 3 to a 5:51. Feeling good and knowing that we would soon turn left and hit a headwind, I wasted no time in taking third place and quite quickly moving clear of Iain and the other runner. With the second placed runner literally just visible in the distance I knew that the best I could do was third (which I was very happy with) and was facing the prospect of a fairly lonely race to the finish. Miles 4 to 6 were 5:49, 5:43, and 5:44 respectively, most enjoyable too on quiet country lanes, some surrounded by woodland in full autumn hue. I was pleased with these miles, especially as the vast majority of the mileage was directly into the headwind. Mile 7 saw quite a big downhill drop in the small town of Shefford, netting me my quickest mile of the race at 5:36.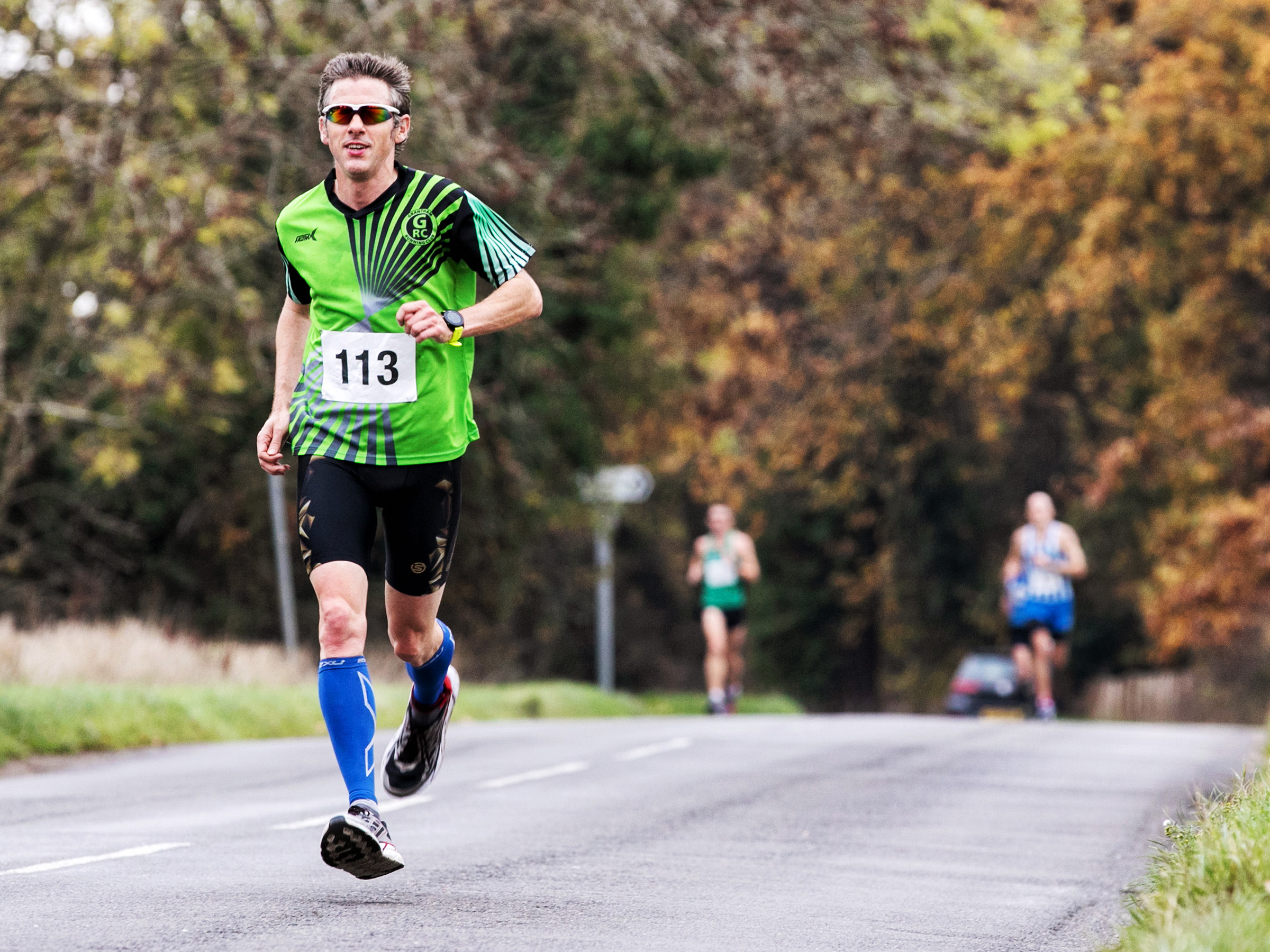 Racing through Shefford was quite surreal. We were running on entirely open roads on a early Thursday afternoon, the residents and vehicle drivers clearly blissfully unaware that there was a race taking place. Given the history of the race I imagined that this kind of scenario harked back to the races of the 1970s and 80s which nearly always took place on open roads with little or no traffic management in place. In someways it was a pleasing throwback; when forced to take my chances at busy roundabouts or junctions.
Mile 8 through Shefford itself was a 5:46. Mile 9 was a tale of two halves, the opening quarter of a mile up a stiff little climb made doubly hard with the ever present headwind. It was then a long gradual drop down back towards RAF Henlow, this allowing the overall mile split to be the equal slowest of the race at 5:51. With around half a mile still to run I turned 90 degrees left into the base. I didn't have a tailwind here, but the lack of a full on headwind felt like I had a 20 mph wind directly on my back! This, alas, was short lived as I turned again into the headwind for the final couple of hundred meters before turning left into a gloriously understated finish, welcomed home by a small splattering of applause from a handful of spectators.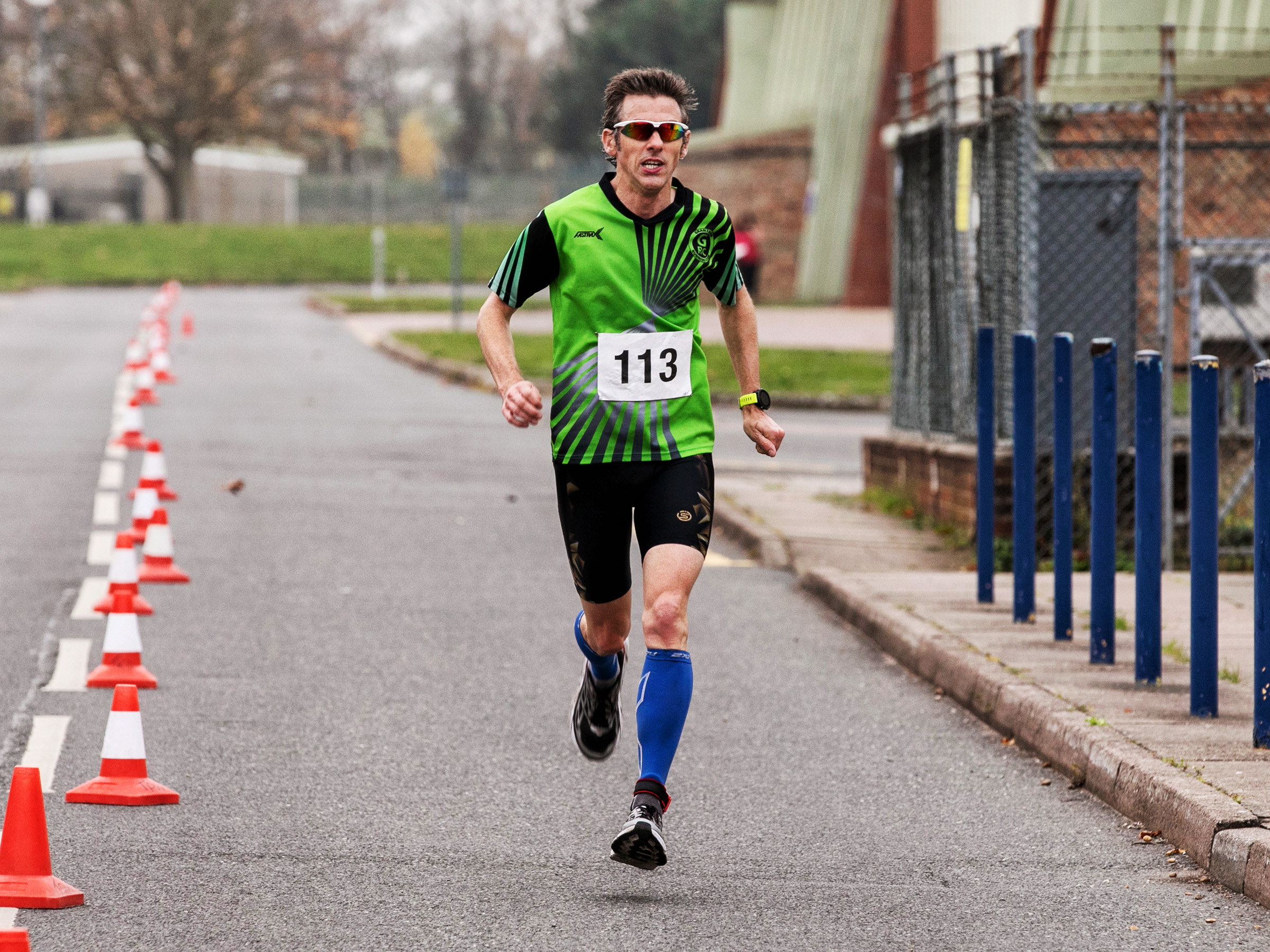 A 5:39 final mile meant I clocked 57:49, finishing third. A little analysis suggests I ran the quickest second half of the race and it was a real pity so much of it was run into a headwind, otherwise I think I could have gone the 30 seconds or so quicker required to claim a PB. I cheered home the other GRC runners and those from RAF Coningsby too. I hung around with them to pick up my trophy for third place overall (And unofficially first civilian) and celebrated their well deserved winning of the RAF Team Competition and the splendid trophy that goes with that honour. My trinket to keep was definitely one worth keeping too – sitting currently with pride of place on my mantelpiece.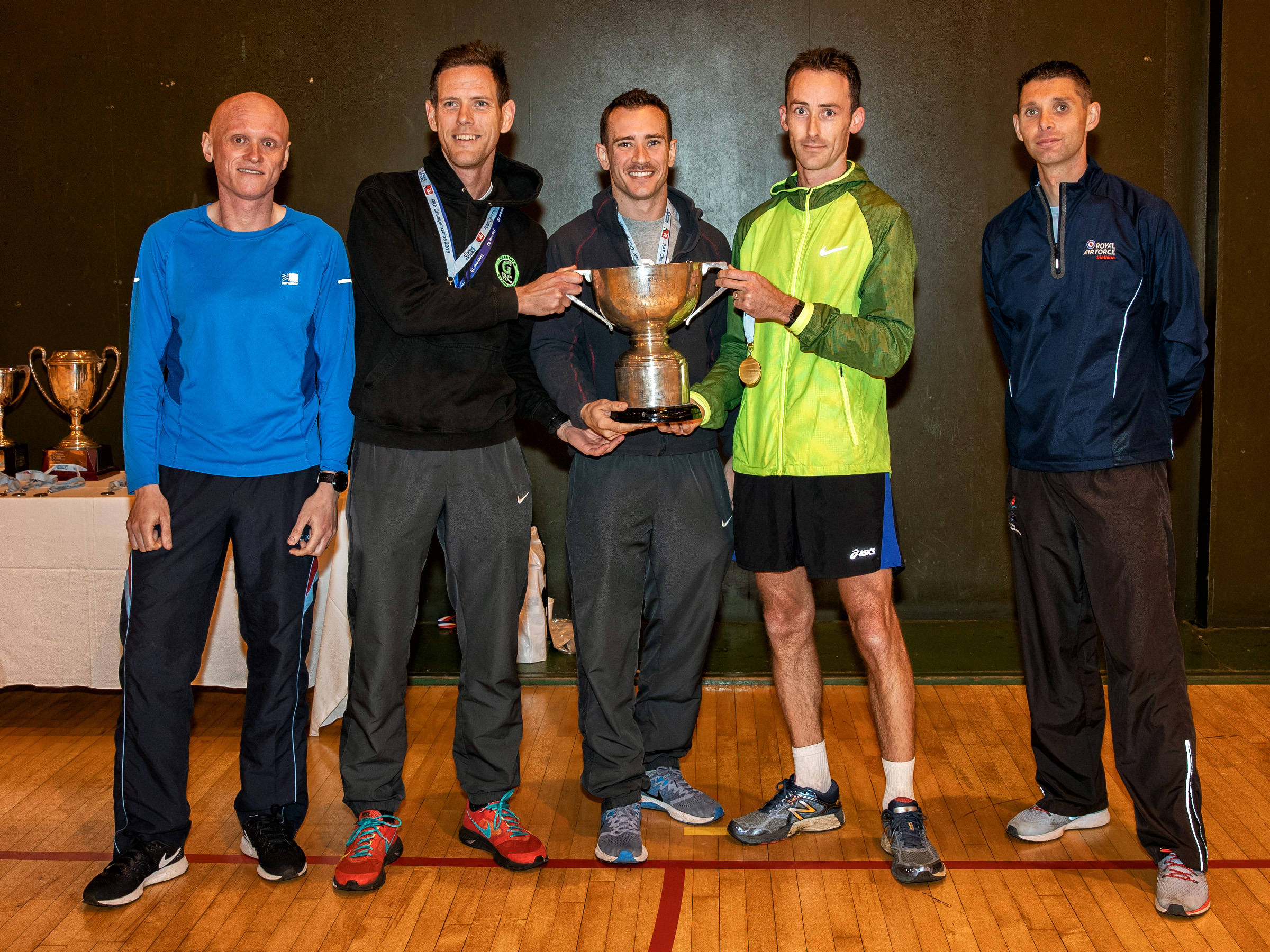 The future of the RAF Henlow 10 is very much uncertain; it is quite possible I took part in its last ever edition in its current guise. That I was able to take part in a race and win a prize at a race with so much history makes me feel a little bit proud of myself! The good race / bad race / good race streak of autumn 2018 continues!