The weeks following the Chester Half Marathon were not an incident free, painless period of post race jubilation and recuperation. The supposed cramp in the right calf was in fact a calf strain that was impossible to run on for two weeks and was only tested, with a brief one mile run three days before the Worksop Half Marathon.
The days were not spent entirely idly however, plenty of hours on the elliptical trainer, a few spinning sessions at the gym where I worked on maximising my watts per kg figure (now up to 3.7 for a 40 minute session), a ride spent in one gear with Witham Wheelers thanks to a cable failure, and a couple of short sessions on a recently acquired Nordic Ski Machine.
The injury woes were compounded a week after Chester by a bizarre late night feinting incident – caused by low blood pressure – saw me fall awkwardly, killing a few more brain cells and wrenching loads of muscles in my neck and shoulders. Although you don't run with your arms, the upper body plays a surprisingly important role in running, and I found on the short runs before the Worksop Half that bio mechanically things felt not quite right and the left hip especially was giving some cause for concern.
The calf, after a four mile effort the day before Worksop came through with an 'okay' rating; the hip would be reviewed in the evening. Working on the United States Grand Prix (or not working as much as planned on Saturday with qualifying washed out) I packed Saturday lunchtime for two eventualities: race at Worksop or cycle with the Witham Wheelers.
I certainly wasn't taking the race as seriously as others, my Saturday diet was distinctly risky compared to my usual fare of Margarita Pizza – a mild curry was the dish of the day. Sunday morning awoke with more non-racing dietary habits, a full bowl of cereal rather than cereal bars. At 7:30 am I was still undecided, but by 7:40 I decided to risk the body and head to the race and, if necessary, treat it not as a race but an easy Sunday morning run.
I arrived in Worksop 90 minutes ahead of the 10 am race start and followed all the others to collect my race number. I queued briefly for the first toilet trip of the morning, then changed in what seemed to be the town hall, before dropping off my bag and heading out for a warm up. My warm ups are rarely a dynamic affair, this one was among the all time greats in lackadaisical efforts. A half mile jog out, a stretch to try and loosen the tight left hip, and a slow half mile jog back straight to the lengthy Portaloo queues.
With nothing better to do for 20 minutes in the queue other than pick out the runners who'd gone to the trouble of dressing up in ghoulish Halloween inspired paraphernalia, I proceeded to quite vigorously massage my right leg and IT band in particular. The reason for such vigour was I felt a tender spot that referred pain right to the point of the calf where I'd continued to get nagging pain. The downside was that when I finished the massage the right leg felt a bit like it had been hit by a truck!
I left the Portaloo with five minutes to the race start, which is a good effort by some recent standards. It did mean though I couldn't actually get into the start pens and had to join a large number of runners hanging around the side of the barriers hoping to jump in when the gun went. It took quite a while for the gun to fire – the chip timers seemed to be fretting a touch and then the mayoress gave a lengthy and largely inaudible speech before giving a five second count down to the start.
We were off and as I eased my way into the mass of runners I quickly got up to a comfortable speed. The first mile at Grunty Fen and Nottingham a year ago was around 5:40, I started off at 6:30 pace and as the first mile and half was so all uphill it remained at that pace. The good news was that the pre-race massage had eased the calf ache significantly. The flip side was that the IT band and thigh in general felt distinctly sub-par for the first few miles.
I'd still no real intention to race hard even when I found myself easing past tens of runners up the steepest section of the opening mile. Indeed I think I would have resigned myself to a gentle training run were it not for an unfortunate incident which had a positive (for me) outcome. At just before two miles I pulled alongside and past a group containing the lead female runner. Running in the middle of the wide road I unintentionally drifted slightly to the left, perhaps as a result of the neck injury mentioned earlier affecting my running stride.
The incident would have gone unnoticed were it not for a rather irate runner muttering something along the lines of 'why did you f***ing stop in front of me for? Incredulous I pointed out in a rather blunt manner that I hadn't stopped nor had I even slowed down. I may have inadvertently chopped his stride in drifting across the road (Something that happens a lot in races) and would have been happy to have apologised had he not decided to call me a c**t.
I replied a little ashamedly in a similar vernacular before the surge of adrenaline from the unwanted encounter saw me quite rapidly leave the potty mouthed runner, with a final retort from myself along the lines of 'come on then, keep up!' (He couldn't and didn't, which left me with a smug sense of victory in a rather regrettable affair). This incendiary encounter certainly stoked the fires within. The first mile was 6:28 . The second mile (Mostly adrenaline free) was 6:06, the third was 5:41. In reality if you believe Strava GAP the third mile was actually slower with hills taken into account than the opening two, but I now felt as though I was racing and not going through the motions.
The reality of this race was that it was barely quicker than my marathon pace for the most part at Chester. It was though, thanks to the injury niggles and fatigue, feeling much harder than most of the Chester Marathon. What tempered the discomfort was the glorious surroundings of Clumber Park in Autumn and the perfect autumnal weather conditions for racing. As is usual I overdressed in long sleeved top and gloves, but it was cool enough to not overheat but not too cold as to see muscles struggle to keep warm.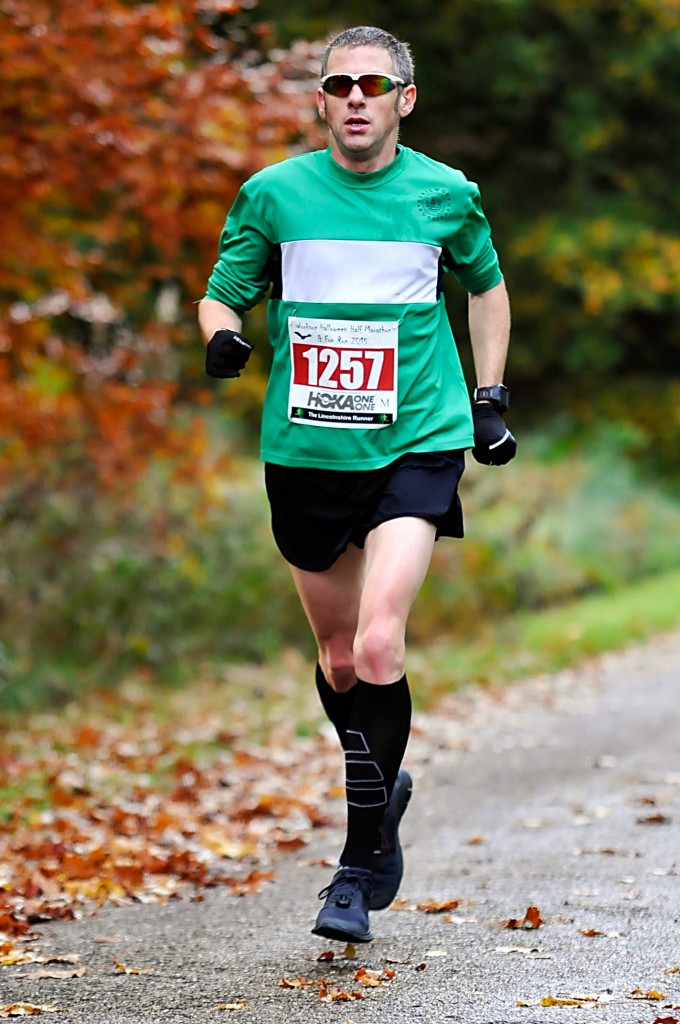 As we hit Clumber Park the runners I passed began to thin out, but was probably still averaging one or two a mile. We passed some fantastically dressed marshals who I couldn't help but thank for their support, and along a long straight road in the ninth mile (Following a near mile long drag uphill) there was the most extravagantly celebrated sponge station I've ever witnessed.
I've posted before the lament I feel for the almost total demise of the sponge station. It is as though the organisers shared my fondness for them. There must have been five signs warning us of the impending station then another 5-10 warning us of the dire consequences of stealing one of the sponges. These were interspersed with around a mile's worth of humorous messages that certainly provided a welcome antidote at what is often a difficult part of a half marathon. Some may say it is ironic that I decided not to take a sponge after singing their praises for many, many years. Part of me thinks the organisers including a sponge station at a race that is more than likely going to be held in cold and / or wet conditions, is a work of irony in istelf.
Miles 4-10 were run at pretty consistent pace given the constant undulations, peppering six minutes per mile. By the eleventh mile at a race I wasn't going to race, then was going to take part in with no consideration of time, was now an effort to break 80 minutes. My basic arithmetic said it was going to be close, but a 6:06 mile didn't help. I doubled the effort to run a 5:55 twelfth mile, which Strava reckons was the fastest of the race if you take the hills into the equation (5:46).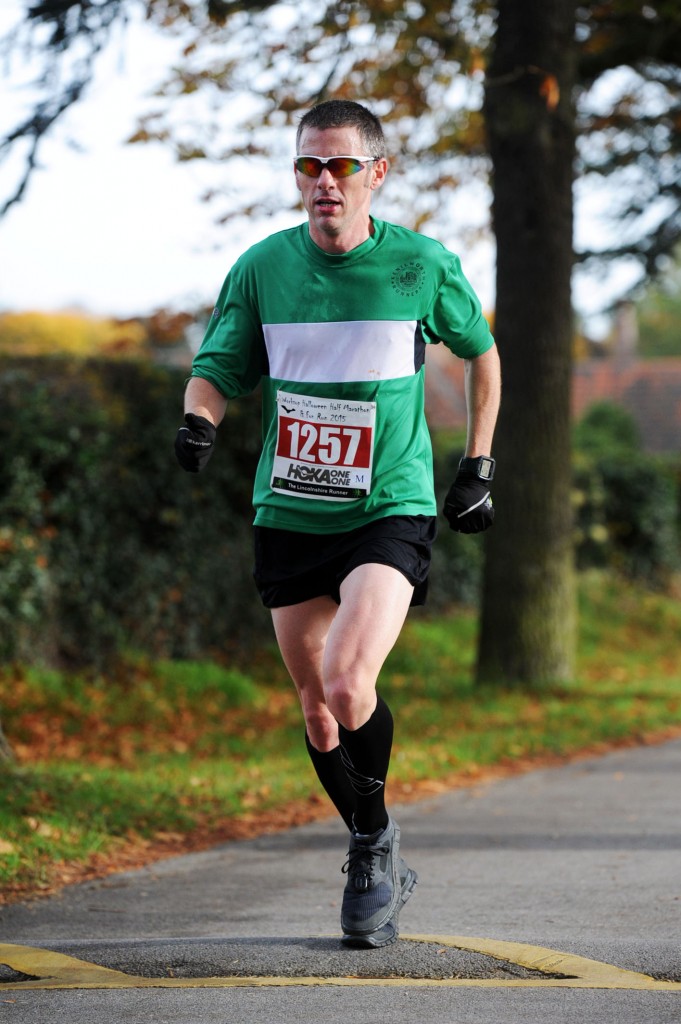 The final mile was a repeat of the opening mile but in the opposite direction, so a long uphill drag became a swift downhill descent to the finish. This would normally be a fantastic way to end a race but my legs are still seemingly susceptible to cramping on such gradients and, sure enough, halfway down the hill the quads and hips began to cramp.
I wasn't going to let a bit of cramp stop me though, especially as I had another runner in my sights just up the road. There is many a race where I would not have chased down a runner for one position. Now at the race I wasn't going to race, then was going to take part in with no consideration of time, which became an effort to break 80 minutes, was now an all out effort to beat a runner for twenty-fifth position.
Ignoring the cramps waving up and down my legs, I surged past the 25th placed runner with 400 meters to run and continued to ramp up the pace before putting in a full sprint for the final 100 meters. The thirteenth mile was the quickest of the race (5:37), the last 0.1 of a mile a shade under five minute mile pace. I was rewarded for my efforts with that cherished 25th position, not only a sub 1:20 clocking but a sub 1:19 (1:18:59 chip) and hips that refused to respond to my requests to walk….
I was also rewarded, as was everyone else who finished, with a rather snazzy Halloween themed technical t-shirt, a medal and a lengthy wait as the well-meaning volunteers at baggage struggled to find my small rucksack (not helped that I described my black and yellow rucksack buried in a sea of similarly small rucksacks as grey and blue…)
With F1 deciding to run qualifying at 9am Austin time I had no time to hang around and watch others finish. Instead it was a walk as fast as the failing legs allowed back to the car, a quick chat with new Strava friend Matt and jumping in the car back to Grantham just in time to witness Lewis eventually crowned World Champion, which meant a marathon slog of a work stint that saw eyes closed finally at 4am. By that time the legs were so stiff the stairs were an effort, but all in all, with seemingly no long lasting damage done, it was a long and relatively successful day.