I Hate Cross Country… But We've Got Ourselves In A New League!
Around 10 years ago, as part of my role as writing the newsletter for my running club Kenilworth Runners, I wrote a series of articles over a couple of years beginning with I Hate Cross Country… But I Am Willing To Give It Another Try. In that humorous series I reported on my less than stellar efforts at representing my club in the Birmingham League Cross Country series. Despite my inability to perform as to the standard I had on the road, I was proud to be part of a team that punched well above their weight, culminating with an overall position well inside the top ten of the First Division before I left Coventry in 2013, taking part in one last Birmingham League XC Race in January 2014 at Coundon Park, where I was seventh counter for the team.
In the next three years ten months I took part in just one Cross Country Race – the National Cross Country Championships at Donington Park in 2016, the penultimate time I wore a Kenilworth Runners vest before becoming a first claim member of Grantham Running Club a couple of months later. Being second claim Grantham Running Club in the intervening years meant I couldn't take part in the Lincolnshire Cross Country League that my current club is a member of. To be honest I wasn't that heartbroken, the league is a pail shadow of the quality you see race in race out in Birmingham League in terms of quantity and quality and, with four races compacted into just over a month (Plus on a Sunday morning), it is over before you really get into your running.
For a couple of years I've pushed my club into considering joining another cross country league and finally for 2017 it was decided we would enter the North Midlands Cross Country League as well as Lincolnshire League. With races on a more traditional Saturday afternoon and with over four times as many people racing as normally found in Lincolnshire races, my appetite was whetted to don the club vest and dig out the old spikes and Walshes (Just in case it was dry) and head to round one at Markeaton Park in Derby.
Arriving with plenty of time to spare, I was able to enjoy the traditional spirit of cross country that keeps it thriving among grass root athletics (The number of clubs joining leagues is increasing apparently, despite the success of rival events such as parkrun). Junior runners were sent on their way, all heading off far too fast; some paying the penalty, the good ones staying strong to the end. I got ready to race, jogging a small part next to the course where I decided that with the very firm conditions underfoot, I would eschew both spikes and my Walsh trail shoes to wear my Hoka Hoka One trail shoes, which are basically road trainers with a slightly more grippy tread. What with the balmy conditions seeing car thermometers nudge 22C, this felt much unlike any wet, cold and miserable cross country race I'd ever take taken part in. Indeed only the Holme Pierrepont 10 Mile race this year was warmer than this one in the races I've taken part in.
I saw our ladies head off at the start then went about my final preparations, lining up 25 minutes or so later for a race that finally went off a few minutes late at 2pm. As usual there was the charge for the first corner, made worse by the number of keen young runners from University teams. For the first time I was taking part in a separate Veterans league, so although I was keeping an eye on my overall standing in the race, I was keen to keep those of a similar age to me behind.
As I prefer to do I made a steady start, probably outside of the top 100 in the first few minutes of the race. Although initially frustrated by the crowding on the course, it wasn't long before the field began to thin out and I proceeded to make by attack from the back and pick off those who went out a little too keenly.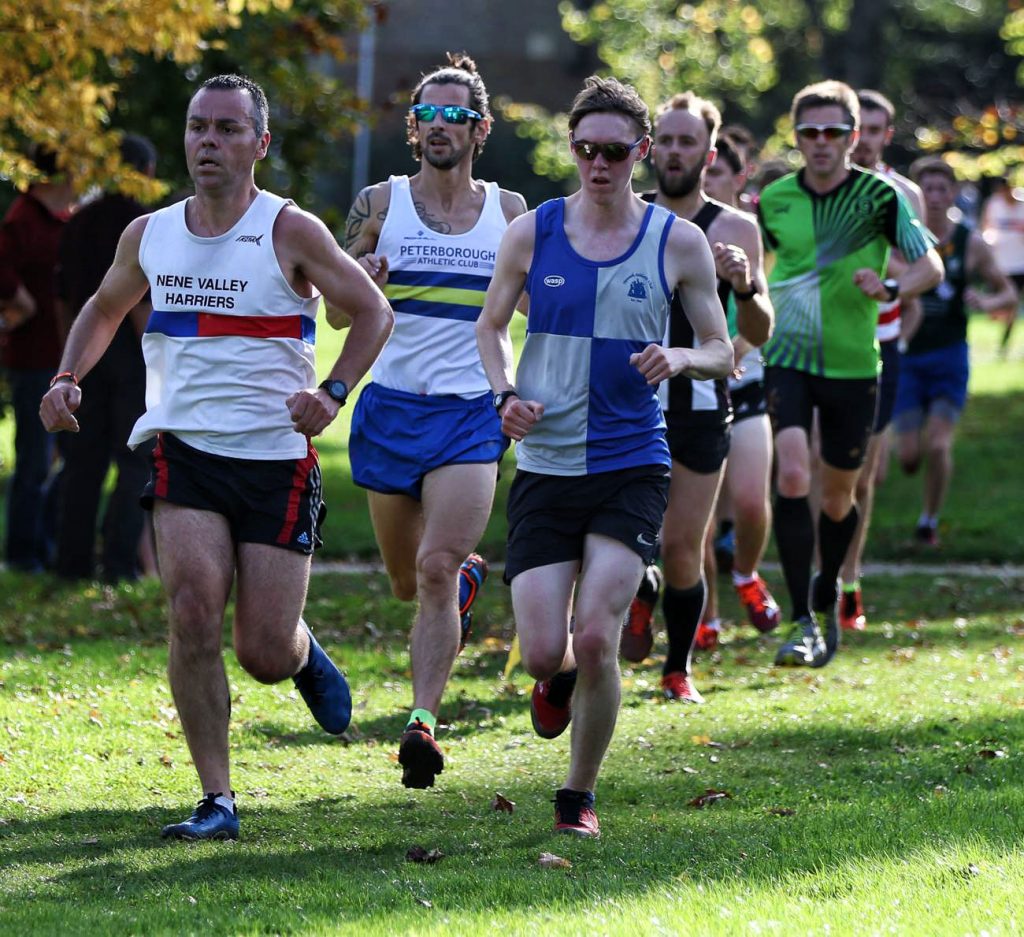 Firm underfoot and mostly flat, there was however one steep climb and one less steep rise immediately after on a switchback on the back of the course before heading back to complete one of three laps in total. This section was the only bit with any real mud, although there was no difficulty in keeping a good footing. Although I hate the hills, I do seem to be fairly strong on them, whether the 7th place of all time on the Switchback Strava Segment is genuine or a quirk of GPS inaccuracy I don't know, but whatever I continued to make up places while not straining myself too much.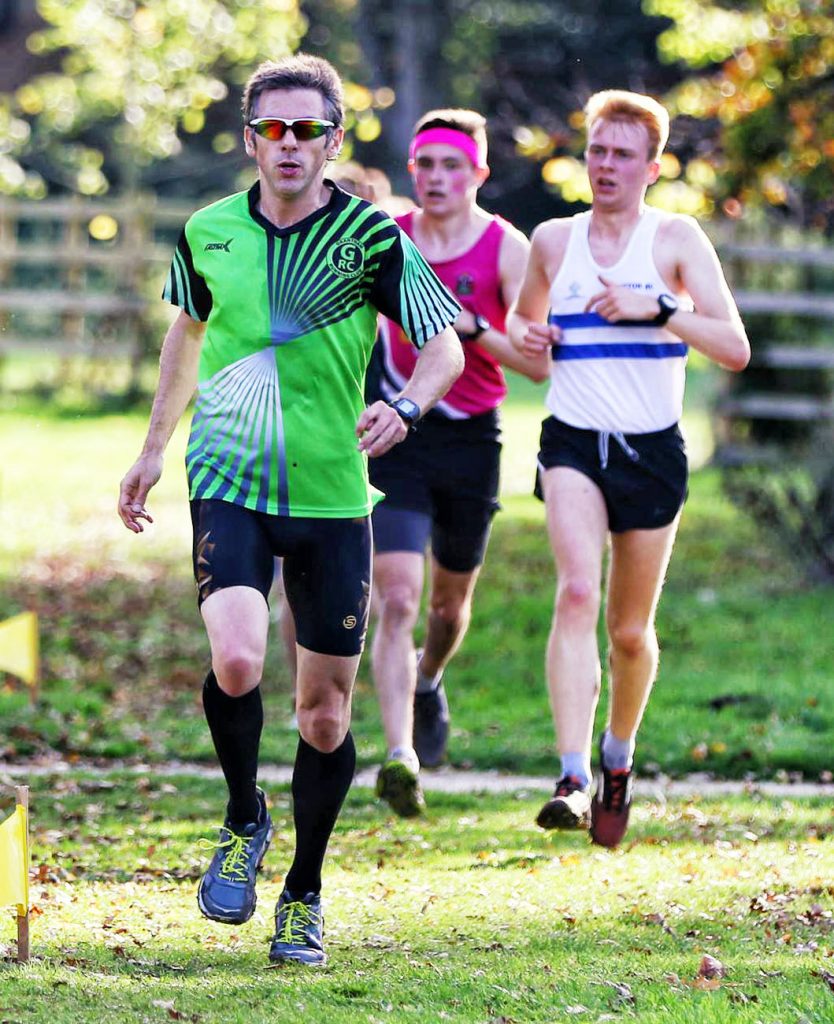 The approximately 10K race continued without incident, nor much of a slowing up in my pace which hovered just under six minute miles for most of the race. I was able to catch and pass everyone I caught up with until the final runner as we entered the closing few hundred meters. He stubbornly stayed just in front of me and when I tested him with a faux sprint finish in the closing meters, he showed he had plenty of gas to spare if I dared to try and force my way past.
So I finished 44th overall and top ten in the Veterans' race, which ranks among my best ever efforts for cross country. A good day out and about as much as I'll ever get to enjoying cross country. I hope and pray it is as dry and warm for my next venture, which should be in December, but somehow I doubt it!