The old adage that tends to run fairly true is that it takes a mile per day to fully recover from a running race. Given that I'd just a week from the Notts 10 Mile Race to the Summer Solstice 10K, the odds were always going to be against me. It could be said I didn't help matters by running an 18 flat parkrun the following morning after the Holme Pierrepont race, followed by a 38 mile tempo bike ride in the heat of a very warm afternoon, a 64 mile bike ride the next day, spinning, elliptical trainer and running two and from the gym on a Monday, a 10 mile TT on the Tuesday (a course PB) and a 14 1/2 mile run on the Wednesday.
I was planning to rest up on the Thursday, especially with work, but I unexpectedly finished early and so had the opportunity to take part in a Witham Wheelers Chaingang ride. Having perhaps misinterpreted a recent article written by Lisa Dobriskey I decided to live for the moment. Chances to ride the chaingang are few and far between – I do enjoy them. Plus the weather for Friday was hardly looking conducive to racing – a strong wind looked set to destroy chances of a quick time.
That wind was very much present on the ride. I'd planned to spend much of the ride somewhere near the back conserving energy, getting a free ride wherever possible. But within minutes I found myself taking turns at the front, pulling 400+ watts, straining every sinew in my body to keep going. It was fun, exhilarating, somewhat exhausting, I sat up as the group exploded on the main climb of the ride, convincing myself that riding at a mere 4 watts per kg for the remainder of the ride was resting.
Thankfully when I awoke on race day morning the legs didn't feel too bad – that's the great thing about cycling, you can push quite hard and the legs generally feel not too bad the next day – certainly better than if you have run. As is typical for me on Solstice day, it would be spent working on a Grand Prix – this time the Azerbaijan GP, and it would be touch and go if I would make it to the start in time. In 2016 I made it with 10 minutes to spare and paid the penalty with stitch at 5k. Luckily this year I was more or less done and dusted by 6:30 pm, and with it being just a 20 minute drive from Grantham to Long Bennington, I had a, comparatively speaking, luxurious 40 minutes to prepare for the race.
I parked up around 1/2 mile from the race village, the warm up would be jogging to collect my race number and chip, returning to the car to dispose take on a final race drink, then jog back to the village to have a final toilet break. On arriving at the village I was greeted by old Kenilworth Runners friends and legends of the sport Pauline and Tom Dable, who are approaching 70 years young and had were taking part in their ninth race in twelve days! I had the time to have a quick chat before I had to make my apologies and prepare for the race. There was a little drama when I lost one of my safety pins for the race number and struggled to source another, but generally I was relatively happy with my preparation. I opted again to go with the Hoka Clifton 2s rather than the Nike Frees with the Achilles feeling a touch sore and with the calf issue at Lincoln still in my mind.
I didn't have time to enjoy the warm up routine given by none other than my spinning instructor, but there appeared to be plenty doing so. With my chairman of Grantham Running Club hat on, I had reason to be very proud of the efforts made by those in our club to make this a pretty outstanding club run race.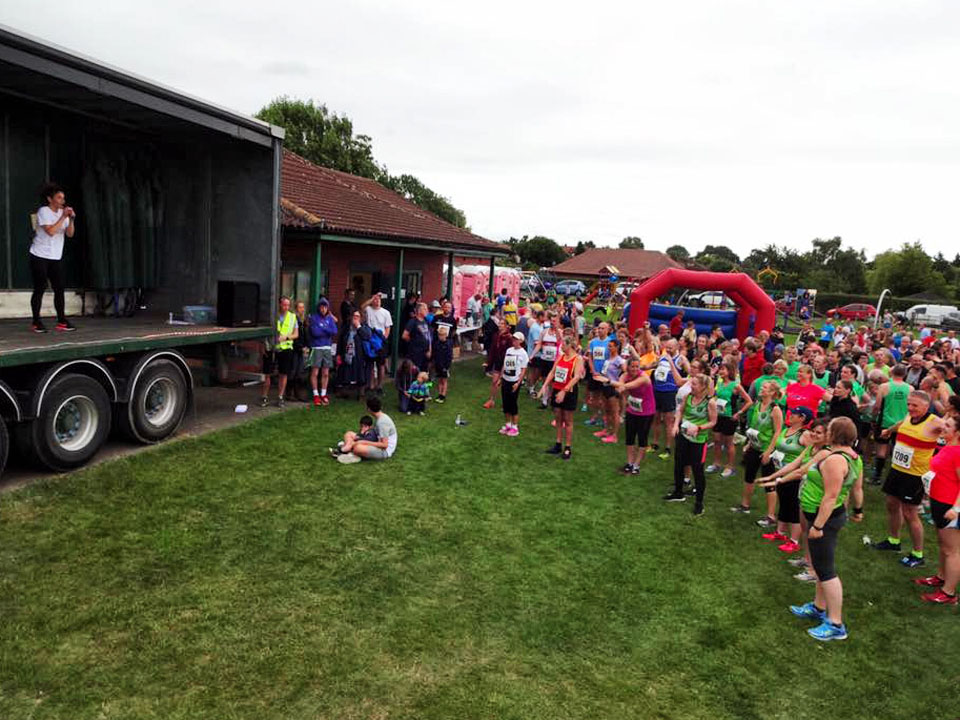 I headed to the start line and made my way towards the front. I had a quick scan for familiar faces – I'd already seen Ben Livesey warming up so I knew the unlikely prospect of victory was out of the question. He though faced stiff competition from another previous winner Shane Robinson, who would indeed go on to win in a swift 31:47. The other familiar face was Greg Southern, a Sleaford based runner who I've had the pleasure of being beaten by at pretty much every parkrun I've taken part in at Belton House this past year or so.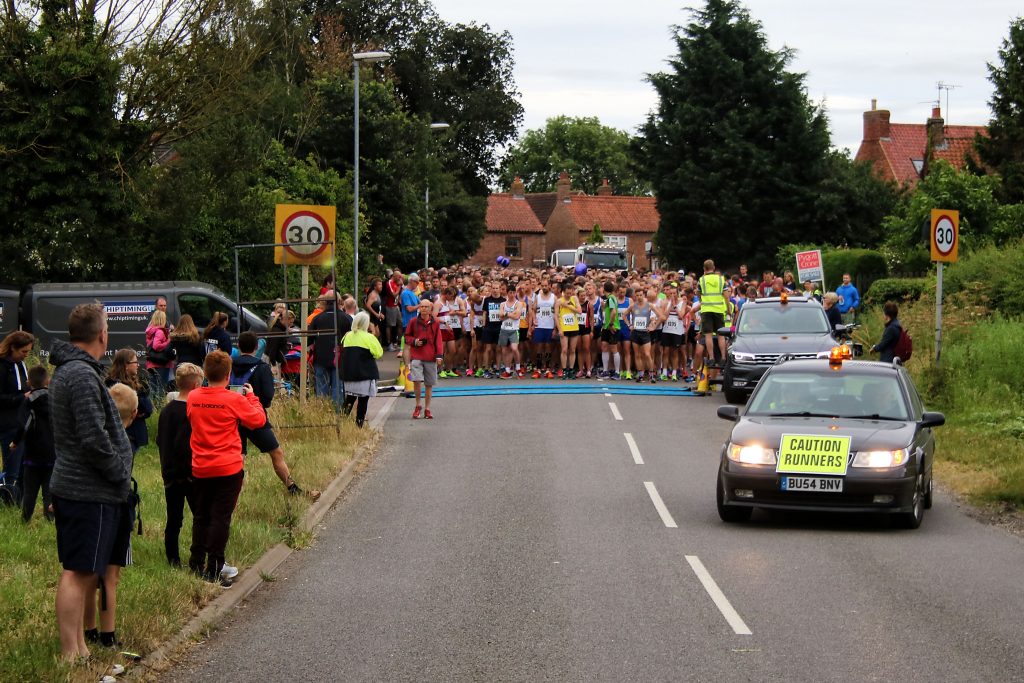 Staring out at the gentle rise on the bridge that takes us over the A1 and on the road out of Long Bennington, the unmistakable breeze on my face confirmed that the wind direction was the same as the night before. This meant it would be a head / cross wind for the first 6 km of the race before becoming a favourable tail wind, especially for the final mile and half. At dead on 7:30 pm the starting horn was blasted by club mate Mark and we were off!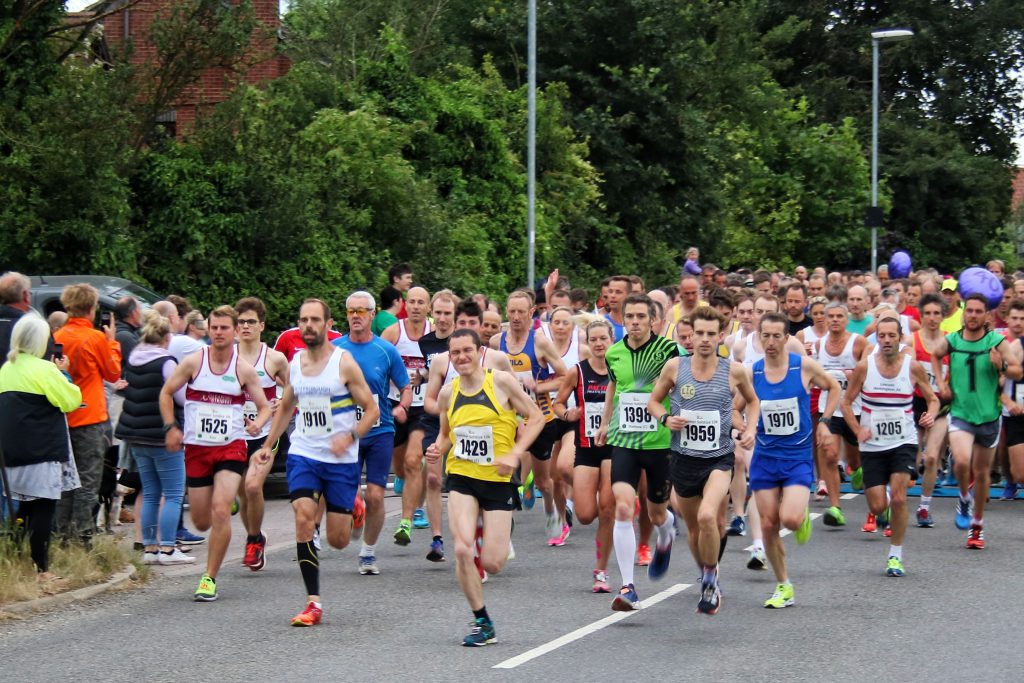 As I've tended to more than other races, perhaps because it is my local race, I went out hard, quickly finding myself a spot in the top ten. A look at the Garmin 30 or so seconds in and the shock discovery that I was knocking out sub 5 minute mile pace, made me try and ease off a touch but I found myself in a small group and I was keen to try and stay on the back of it – particularly as we were running in to the wind and I didn't want to be exposed to it. The legs felt a touch heavy after the cycling the night before but, not too bad. At least I didn't have the hamstring issues that plagued me in the previous two Solstices. Apart from the grumbling right Achilles, I was feeling in fine fettle – the calf issues of a few weeks ago seemingly fixed.
I went through the first mile in 5:28. This was seven seconds slower than in 2016, but the wind was not a factor then. It was at around a mile that Greg Southern pulled out of my slipstream, moved to the front of a now just three strong group, and pushed on the pace. My experience of Greg at Belton House parkrun is that he is a master pacer and follows a strategy I like to employ, start of relatively steady, then gradually build up the pace with the aim of finishing faster than you started. Reckoning that he was on a similar campaign in this race, I made a concerted effort to go with his acceleration. Over the next mile or so he would put in a number of these small accelerations and each time I stuck with him. The second mile was a 5:34, again slower in 2016, but the wind was a real factor as we turned left at the end of the road and headed towards Staunton, facing a full head wind.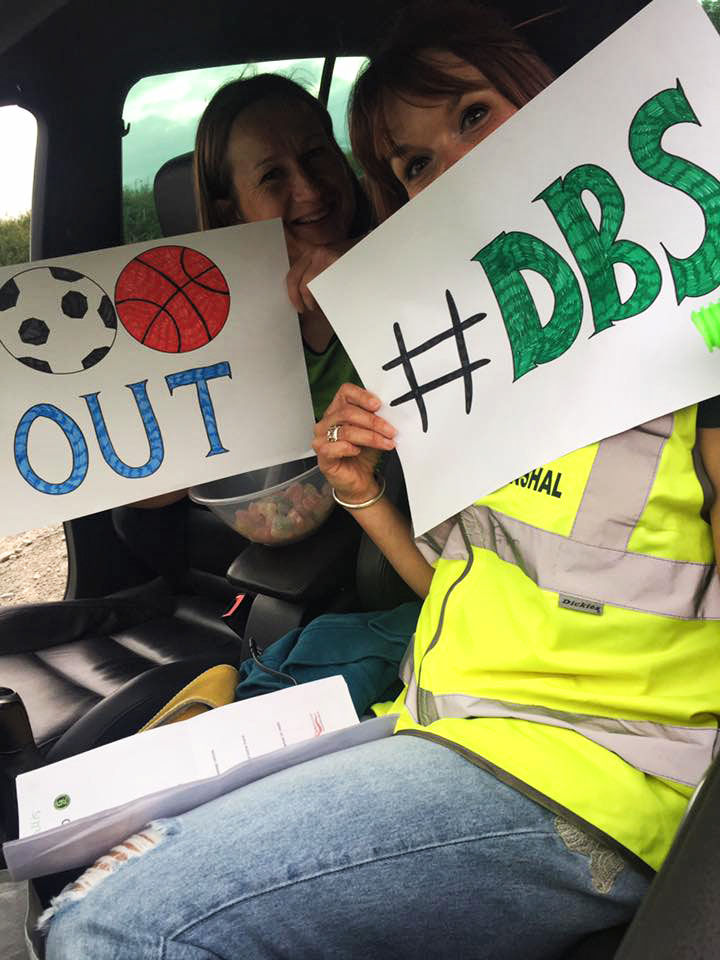 Perhaps inspired by the vociferous local support in the form of two marshals with their handmade placards, (I misread SJ's #DBS (Don't Be S**t! for #DRS – which I took to be a Formula One inspired encouragement to overtake on the straight that followed) , I stuck as best I could onto the coattails of Martin Troop, who had passed Greg, who by now was struggling and quite quickly dropped back by around 10-15 seconds. It transpired that Greg had actually gone for a high risk go out hard and hang on strategy which was now beginning to see him unravel.
I went through the third mile in 5:36 and the official 5K marker in just outside 17 minutes. This was slower than I went though in 2015 and 2016, but this felt by far the hardest effort of the three. I did though breath a sigh of relief as I passed the sport where I abruptly stopped with stitch in 2016, pressing on as best I could as I slowly lost the slipstream of Martin.
The end of the headwind would normally be celebrated, but at this race it means the only real climb of the race at Staunton has to be made. I got up it as best I could, taking a gulp of water on the summit, appreciating the warm smattering of applause from those enjoying a pint at the pub on the top of the hill, wishing I could be there rather than racing at that very moment in time!  The fourth mile was a relatively pedestrian 5:46. I was really struggling now, the legs felt heavy, breathing laboured (Not helped by a bit of hay fever) the will to keep going severely tested. Only Greg evidently slowly closing back on me gave me the inspiration to keep going, the prospect of a rare victory over him spurring something inside me.
The fifth mile was horrible – 5:49, admitted slightly uphill, but with a tail wind supporting us (albeit tempered by tree cover) it really should have been much quicker. The final full mile of the race, taking us back into Long Bennington was just a case of gritting teeth and running as hard as possible. It wasn't pretty, Greg kept closing, I kept wanting to ease up, but didn't. The sixth mile split popped up just as we took the final turn onto the finishing straight, I'd rallied to some extent with a 5:31 – helped greatly this time by the full force of the tail wind.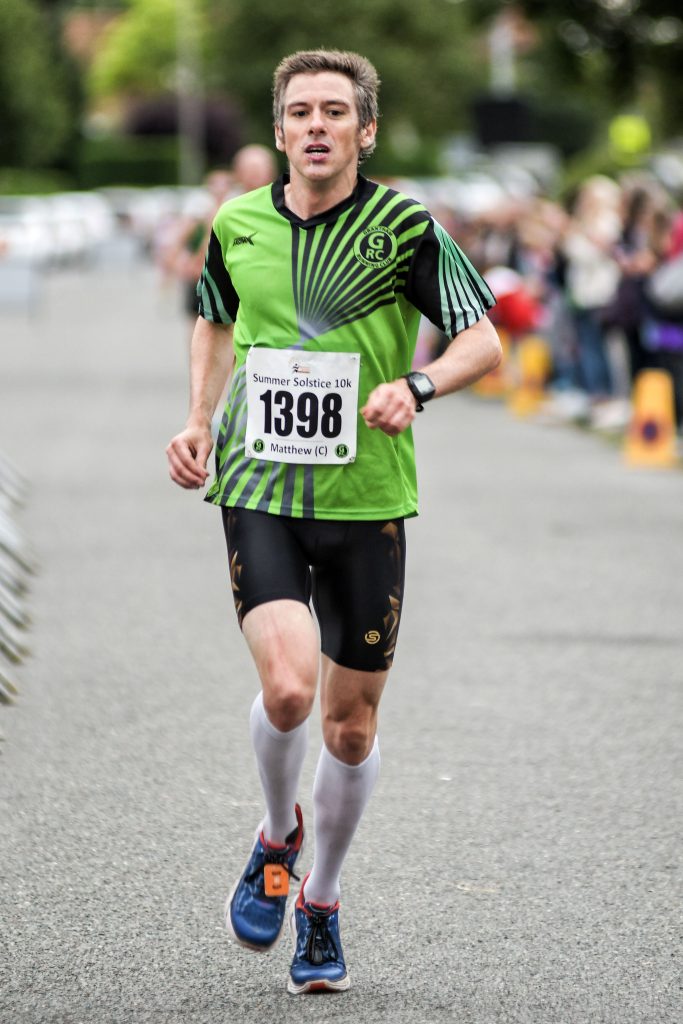 The sprint to the finish was a tortuous affair, wheezing away and legs not wanting to know. I began to feel quite dizzy as I approached the line, crossing it in exactly 35 minutes. I had though managed to stay five seconds clear of Greg, earning myself seventh overall. It took a little longer than usual to recover from my efforts, but a minute or two later I was cheering home the first of my club mates, all of whom had run far better, relatively speaking, than I had.
After a few minutes behind the finish line I went to collect my post race commemorative cider and glass, and went to watch some more runners finish before receiving some post race massage on my Achilles from my man David McKee, catching up again with Pauline and Tom, and taking home a decidedly cold, dejected, pained, Chris Limmer, who had spent far longer on his feet than he should have following surgery.
I came away from the race pretty dissatisfied with my efforts. I felt I'd paced the race badly, going out a bit too hard and paying the consequences in the second half of the race. It's not the way I like to race. It was also pretty obvious that the chaingang ride of the night before probably wasn't the best preparation ever. Within minutes of finishing I'd already decided of activating the back up plan of targeting the Holme Pierrepont 10K in six days time, where I would race the way I like to – attack from the back!