The Leeds Abbey Dash was planned to be the last attempt to peak and have a go at a quick time for 2018. The late decision to enter the Worksop Halloween Half Marathon meant I had just a week to recover from that race and hopefully be in tip top shape for the race. The old running rule that it takes a day per mile raced to fully recover would indicate that this would be a tough ask, but life is short and I wanted to race both – so I did!
The club run the day after Worksop wasn't the best – the F1 championship being decided in Mexico meant a late night's work and so was really tired come the evening and although the pace wasn't quick it felt hard, couple too with some alarming pains in the right Achilles in heel. When a lift home was offered I jumped at the opportunity and Tuesday was a Zwift only day, albeit quite a hard ride on the Tour of New York. Wednesday was the regular town 10 mile run which felt a bit laboured but less painful, the chesty cough still a bit of an issue, but not so bad that I couldn't then put in 50 minutes on a Halloween themed Zwift in the evening!
Thursday saw more of the same on Zwift in the morning followed by a painful, but effective massage, which cured the issues with the Achilles (unsurprisingly, it stemmed from the calf). The club's town run in the evening felt very easy, although a touch sore from the massage. Friday saw a day off, then on Saturday I jogged to Belton House to take part in the third anniversary of the parkrun there. In perhaps not my smartest move I had agreed to pace the a sub 20 minute group. There wasn't many takers and pacing was really hard because of a stiff breeze that made things tricky to judge. I ended up finishing over 20 seconds inside 20 minutes, although I stopped at the line for a few seconds to make the official time seem less bad! I'm not sure whether this parkrun hindered my prospects for Sunday or not. I know many like to do a fairly swift 5k the day before a race to loosen the legs; historically I haven't and I'm not convinced with reason forays into the practice whether it works for me.
Leeds on a Sunday morning is around 80 minutes away from Grantham – a very simple journey mostly up the A1. I drove up with four other members of Grantham Running Club in tow, none of whom had run the Dash before. I had once, back in 2013 when I had just moved from Cov to Grantham. The race was so memorable I made a point of revisiting the race on this blog when I began Project Sub 2:45. Various reasons had prevented my return in the five years subsequent, mostly work related. This weekend though I was free to race and hoped to make the most of it.
By sheer good fortune we arrived at the same car park within a roundabout that I had parked in five years beforehand. I had wanted to get into this car park as I knew that it was only a couple of minutes walk away from the start. The good fortune was that we calmly exited the ring road onto the slip road to the roundabout at 7:59, literally one minute before they closed the slip road and all surrounding roads, making access to the car park impossible. Considering we hadn't the foggiest where other car parks were in Leeds, this was a real stroke of luck!
After five or so minutes finding the only working pay booth for the car park and making the judgement that the large group of travellers in the car park didn't pose that much a risk to life and property, we all walked to the start, taking the slightly long route as the passage of time had seen me forget the convenient side passage that slashed the distance in half. After a few minutes it was agreed we would go off and do our own things regarding preparation – I wanted to use my car as a storage base, the others were happy to use the baggage drop.
Once I'd, changed, visited the portaloos, and dropped my bag in the car there was around an  hour to the start, which meant I could put in a longer than usual warm up of two and a third miles on a simple out and back along the A66 Kirkstall Road the race took us along. The warm up was unmemorable except that it felt unremarkable and any attempts to run at pace felt quite difficult; all I could remember was how good I felt five years earlier when warming up on the same stretch of road.
I used the fact I was close to my car at the end of the warm up to change from long sleeved club top to t-shirt, feeling that it was a bit warmer than planned. I think I even dispensed with the gloves, sunglasses though were kept on even though it was cloudy – the stiffening breeze was wreaking havoc with my tear ducts and I felt that I could do with the protection of lenses to keep eyes dry!
I had feared huge queues for the portaloos, but they weren't too bad this year and, I found myself lining up in the sub 35 pen 15 minutes ahead of the race start at 9:30. I was calm, if anything perhaps a little too calm, although I was beginning to feel the excitement of runners around me as the tension mounted as race start approached.
With military precision we were called forward with around 90 seconds before the start of the race. Then 30 seconds before the start we were marched forward again. There was little in the way of pre race pomp and ceremony – just a short countdown and a firing horn! Five years ago there was a small amount of congestion at the start but this year, certainly where I was running, most of those around me were not too close to the start for their pace ability, and so we were very soon into our running.
The course is not that inspiring, you run along the A66 (which is mostly dual carriageway) on one side, via a detour through a multiplex cinema car park, towards Kirkstall Abbey (which you don't really see) before making a U-turn back towards the start, turning off with around half a mile to go up a slip road and over the other side of a roundabout to finish beside the town hall. Some races sell because they are scenic – the Abbey Dash sells because it is a fast course with some very fast runners which will hopefully see you run a fast time. I hoped to get close to my PB of 34:10 and dreamed of perhaps going sub 34. Certainly the intention was to go out in close to 17 minutes at halfway and see what happened thereafter.
My first mile at 5:29 felt very controlled, helped a bit by the tailwind. The second mile took us through the car park, which saw the runners around me spread to mostly single file. This was something of a surprise for I distinctly remember at this point and, indeed, for much of the race being surrounded by runners for most of the race, sometimes three or four abreast. The seconds mile was spot on pace at 5:27 and I was at this point feeling reasonably strong.
It was here when I heard someone on my shoulder say something to me which I couldn't make out. I said something like 'excuse me' and he said again: are you Project Sub 2:45?' To say this took me by surprise was an understatement. It was the first time anyone even acknowledged to me that they read this, let alone someone I didn't know and in the middle of a race! I somewhat bashfully replied that I was he and was flattered to hear that this website was something of a source of inspiration for his exploits!
With that impromptu conversation out of the way I forged on, beginning to feel the grind a touch on the gentle incline that comes just before the midpoint turnaround. Mile 3 I clocked at 5:33, I was a bit disappointed to see I went through the official halfway point at 17:20, but knew that the second half is generally more downhill so time, in theory, can be made up.
Miles four and five were not particularly great at 5:35 and 5:34. It was noticeable that the breeze was somewhat stiffer than in the warm up and as a headwind it was definitely hindering progress. I felt quite lethargic, even the act of catching Tom Marshall for a third race in a row didn't inspire me to pick up the pace.
Mile six was little short of a disaster. Struggling to stay the coattails of ever diminishing pockets of runners ahead of me I was slowing as the headwind made its presence ever more known. My watch, which at one point had me going close to or just under 34 minutes, had by now estimated me coming home at something just over 35. Just before we hit the climb off the ring road Tom passed me. The climb saw me rally a little bit as I struggled less on the rise than others around me. Mile 6 split came up on my watch as 5:45. This was slower than my half marathon pace and I've finished marathons quicker!
With just the finishing straight to contend with I couldn't sprint on as much as those around me, the legs weren't willing and the stomach wasn't best pleased with my intentions either. Vince came past me with around 150 meters left to run. I crossed the line with the official time of 34:58, which I knew would see me in Athletics Weekly's results but, even with my chip time of 34:52, was really disappointing. It wasn't a PB, not a course PB, not even a season's best. It was just… meh.
I hung around for the rest of GRC to finish – it was a mixed bag – some coming home with big new personal bests, others, like myself, going home a little disappointed with their results. I did though get to chat to Vince again at the finish which brightened my day – the fact he has gone on to run a fantastic 2:37:02 at the Valencia Marathon on December 2 gives me hope and inspiration that I am not far off being in shape to perhaps do something similar next Spring. After all, with a month of hindsight to benefit from, I probably hadn't recovered fully from Worksop and there was definitely some illness fighting going on within the body, courtesy this time of the wife and her ailments.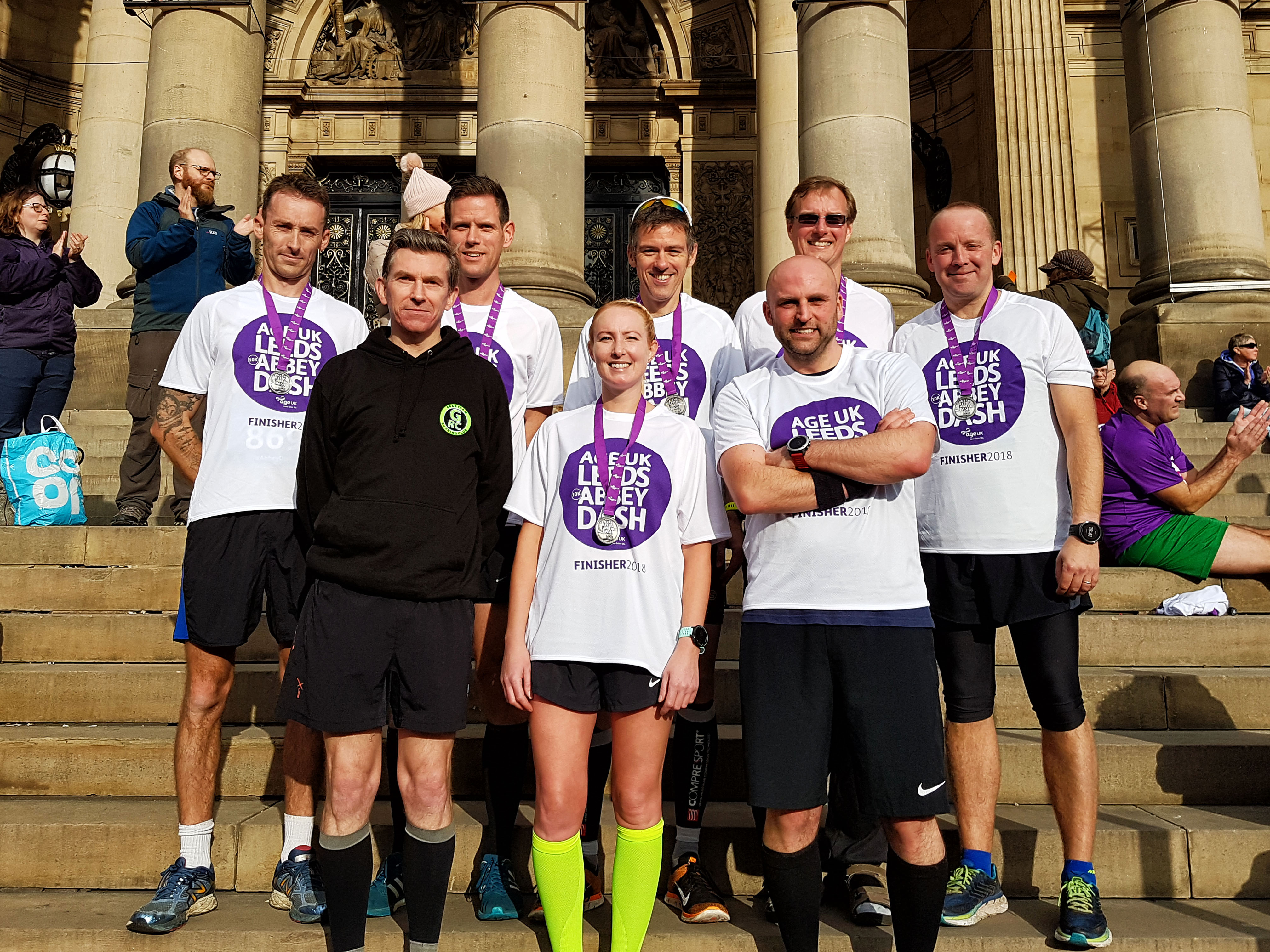 Once we had gotten the obligatory GRC group photo and we had found my car, I went on a two and a half mile plus cool down run back along the road we had not long raced on while the others supped on beer in TGI Friday's. I had a coffee to see me home on the drive back; we were back in no time, still not particularly pleased but a little happier when I found out that at 83.34% in terms of age grade I had apparently just run my second best ever race. The bad races appear to be the ones where I score most highly of late!
Despite my lacklustre race I would still say the Leeds Abbey Dash is still one of my all time favourite races. I just need to go back now and do myself justice!