After what feels like months of wet and windy weather I think the entire country rejoiced this morning when the day dawned bright, sunny, and minus most of the wind which has battered us relentlessly for the past few weeks. It would be a great day for distance training and a great day for road racing.
I woke at seven to prepare for the Stamford 30k, which has a very sociable start time of 11am. I watched some Winter Olympics for a bit before downing my morning coffee and consuming my now regular pre-race breakfast of three cheap and cheerful cereal muesli bars. I showered and changed and then changed again at the last minute based on a weather forecast posted on Facebook which suggested the wind during the race would not make things quite as warm as I'd first dressed for.
It's a short journey down the A1 from Grantham to Stamford – I arrived just as GRC runners Andrew and Scott arrived; my Kenilworth Runners team mate Stuart Hopkins was already there and waiting in the hall. We'd raced here together last year – Stuart beating me to the tune of ten minutes as I clocked 2:04 on a difficult day made tougher by Sciatica and the dreaded tummy trouble.
After collecting my number and generally pfaffing around trying to change into my race kit, I headed out for a mile's warm up with Stuart. We passed the group containing Folksworth 15 winner Aaron Scott, who I pointed out to Stuart as being the likely winner of today's race. One slightly interesting point to note is that whilst Aaron likely ran an extra half mile or so in warm up, it was at a pace more sedate than our leisurely stroll. There is no point doing drills or strides in a long distance race it seems.
Back at base I queued at the paltry two Portaloos. After ten minutes or so of standing impatiently it was apparent the queue had barely diminished, so I jumped ship to find alternate facilities. Thankfully there was a set of toilets which also had a number of people waiting, but at least they were slowly moving. I made it out of the toilet with just five minutes to the start – cutting it a bit fine but ultimately near perfect timing.
I made my way to the front of the field and met up with Stuart. We'd agreed to start together but not commit to running the whole race together. Stuart was full of cold and had plenty of miles in his legs following some heavy weeks of racing. I, thanks to my injury in the last couple of weeks, was relatively fresh – effectively tapered for this training race. After a brief pre race instructional briefing – which amounted to look out for traffic – we were off.
I'd said to Stuart I'd planned to run the first mile in around 6:30. I'd set the virtual partner on the Garmin to run 6:17 (Sub 2:45) pace, but in reality I was looking at something around 6:07. At the very least I wanted the race to be run at marathon heart rate. I think I said to Stuart we're going too fast seven or eight times in the first mile as the pace read significantly under six minute miling. We clocked that first mile in 5:53 and thereafter I stopped worrying about going too fast. The heart rate was fine and the legs felt fairly good, so I decided to go with the flow.
We ran the second mile in 5:50 and passed through 5k in around 18:20. It wasn't too many kilometres after that, on one of the infinite drags on the course, that I eased passed Stuart and pulled clear. No words were said but it was clear Stuart was not having a great time. I thought briefly about easing up and waiting for him but decided to push on. Despite the undulations the pace was good, breaking 37 minutes for 10k.
Heading into the eighth mile there was a wake up call as we turned sharp left at Careby into a long drag and a fairly stiff breeze. It transpired that much of the opening miles of the race had been wind assisted. The long uphill drag seemed to last forever. My morale wasn't helped much on the following descent when I was caught by a rapid runner. We chatted for a while and even traded places to around 10 miles before he eased ahead. I went through ten miles in just over 60 minutes and went through the hardest part of the race with what seemed like hill after hill after hill.
I took my second of three Powergels and by twelve miles began to feel more comfortable again. I worked on being relaxed and it seemed to work, bringing the splits back down closer to 6 minutes. It helped too passing the 20km marker, knowing that there was just 10km to go. I went through 13.1 miles in c. 1:19:00, which even with my exercise addled brain worked out at 2:38 pace for the marathon. This was way ahead of expectation and that spurred me on further.
A runner caught me at around 14 miles when I took my final gel. At 15 miles, when we turned right to retrace the route we took from the start in the opening kilometers, I caught a runner ahead of me. After tackling the hardest part of the race along  a narrow partially flooded road with a stiff climb which totally destroyed me last year, the runner I'd just passed caught me back and we ran together for a while, discussing marathon plans and the number of hills remaining in this race.
Until now the legs had felt great – the memories of the injuries of the past weeks just those. At 16 miles the right groin just began to ache a touch and the legs felt really tired and almost numb. It was then I looked at my legs and my arms and realised they were covered in goose bumps. They weren't so much tired as really cold.
This realisation seemed to spur me on. It had looked as though the guy I was running with had the better of me up the penultimate drag but I seemed to up my level on the final rise and as we turned left into the housing estate – which was just about a mile from the finish – I seemed to find another gear from nowhere. I began to close on the runner who had passed me at 14 miles. I wasn't to catch him but closed a gap that was around 30 seconds at one point down to something much less. The final whole mile all but matched the fastest mile of the race and I increased the tempo all the way to the finish.
The final bit of the Stamford race is a real killer. Once into the school they send you on a lap of the playing fields. Mercifully dry despite all the rain, it was nonetheless heavily rutted and a real trial to run on. I hadn't looked at my overall running time since I past the Half Marathon stage. As I crossed the line I glanced at the finish clock and saw 1:52:38! This was a couple of minutes quicker than Stuart ran last year and 12 minutes faster than I ran twelve months ago. Moreover, aside from a couple of difficult patches it felt pretty comfortable – plus Rotterdam is going to be infinitely flatter than the course I raced on today.
Stuart came home five minutes later, complaining of persistent stitch and hacking his lungs up with a violent cough. The first Grantham runner – Andrew – came in at 2:13:51 and was followed not long after by Abi who put in a storming run to finish in 2:17. I  watched the rest of the Grantham runners come home, but made a reasonably swift exit – the cold breeze beginning to wreak havoc with the back.
All in all with the injuries of the previous weeks, the Stamford 30k went better than I could have hoped for and bodes well for Rotterdam. I just need to stay injury and illness free!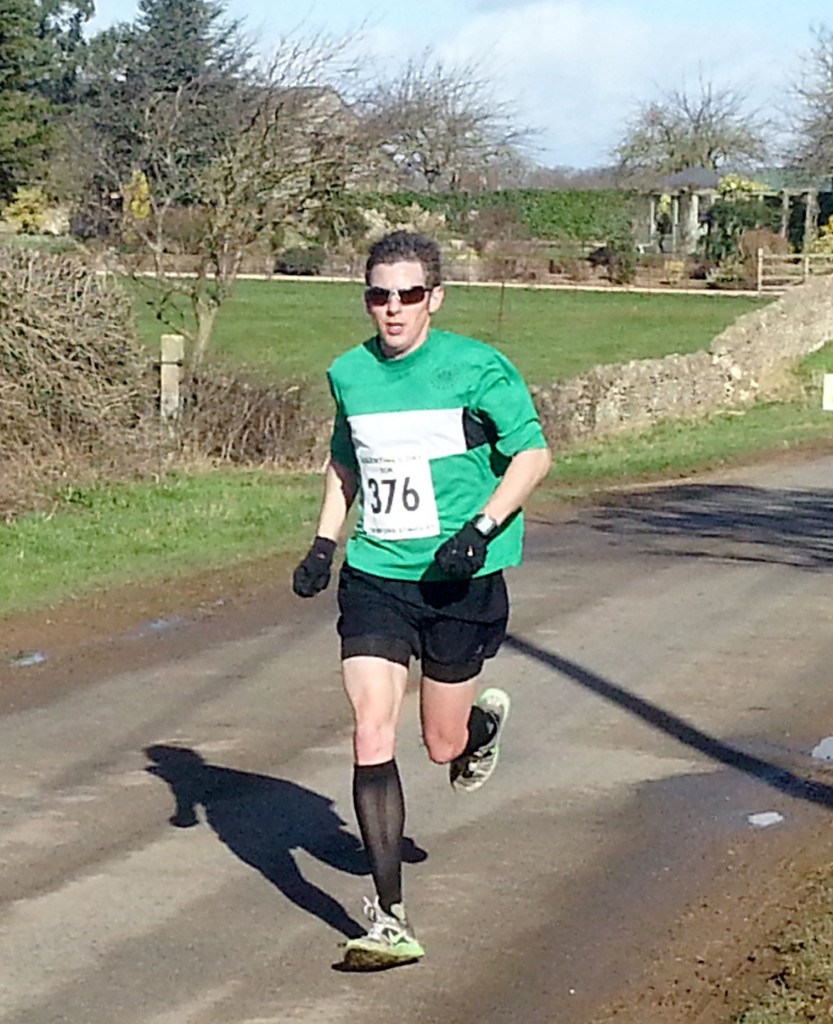 Splits
===
1) 1m – 5:53(5:53/m) 154/162bpm 88cal
2) 1m – 5:50(5:50/m) 159/165bpm 92cal
3) 1m – 5:59(5:59/m) 161/169bpm 95cal
4) 1m – 5:50(5:50/m) 165/171bpm 95cal
5) 1m – 6:03(6:03/m) 166/175bpm 99cal
6) 1m – 6:03(6:03/m) 166/173bpm 99cal
7) 1m – 6:00(6:00/m) 163/168bpm 96cal
8) 1m – 6:29(6:29/m) 166/171bpm 105cal
9) 1m – 5:59(5:59/m) 162/169bpm 92cal
10) 1m – 6:12(6:12/m) 165/168bpm 100cal
11) 1m – 6:07(6:07/m) 165/169bpm 98cal
12) 1m – 6:04(6:04/m) 161/169bpm 86cal
13) 1m – 5:59(5:59/m) 161/168bpm 85cal
14) 1m – 6:02(6:02/m) 160/167bpm 84cal
15) 1m – 6:01(6:01/m) 163/167bpm 89cal
16) 1m – 5:59(5:59/m) 163/170bpm 88cal
17) 1m – 6:15(6:15/m) 166/170bpm 98cal
18) 1m – 5:50(5:50/m) 168/177bpm 89cal
19) 0.73m – 4:05(5:36/m) 169/175bpm 66cal