Berwick-upon-Tweed is the northernmost town in England, so close to the border with Scotland that it has changed country allegiance on more than one occasion (The football team plays in the Scottish Second Division) and has been fortified to protect itself from attack over the generations.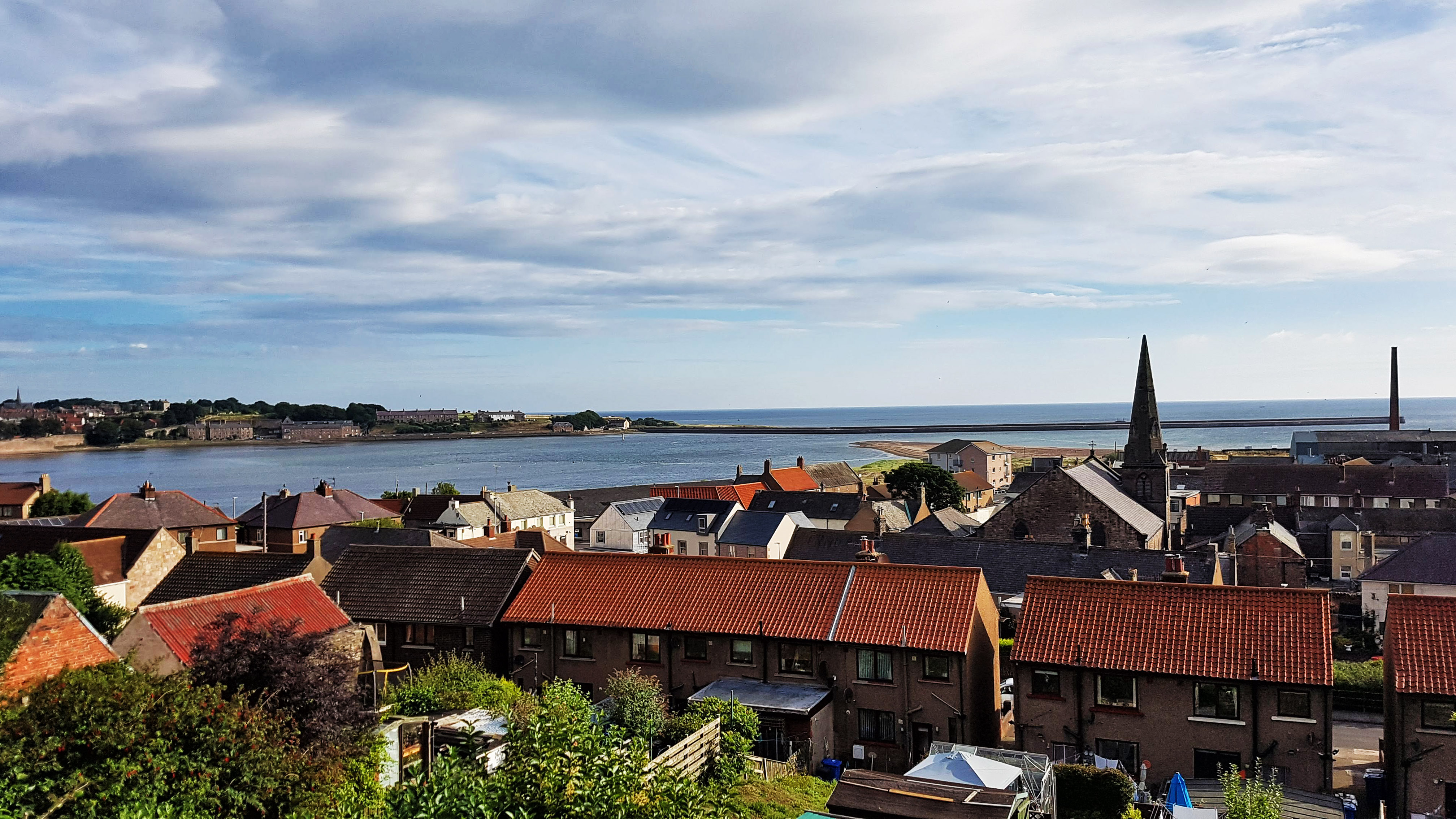 Famous for its castle, its walls and its impressive railway bridge, we didn't actually spend any time in Berwick itself, staying at the Caravan Site in the town of Spittal (across the Tweed from Berwick).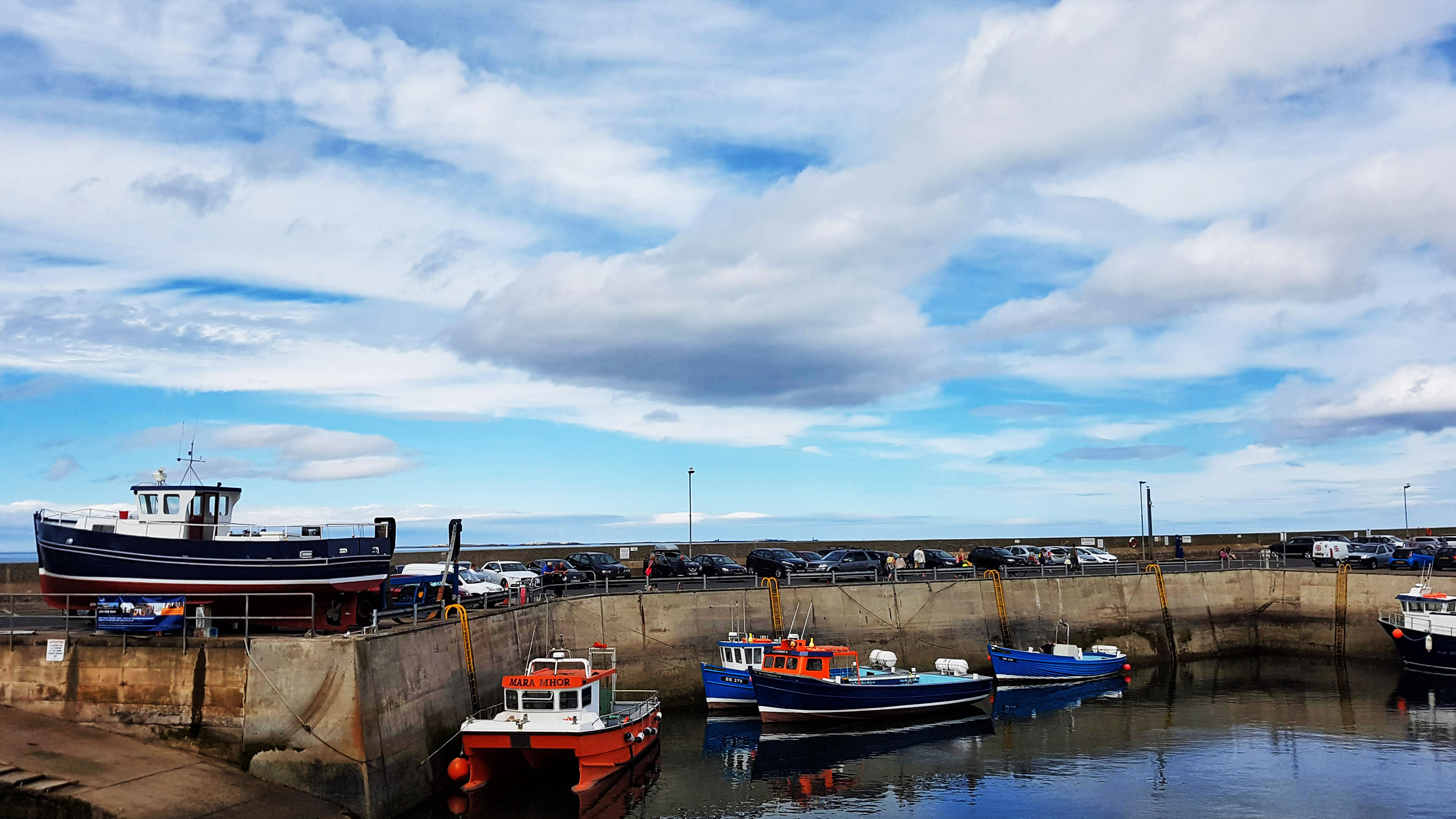 We spent our leisure time south of Berwick itself, enjoying the famous Barter Book Shop in Alnwick, the beach at Seahouses and the Holy Island of Lindisfarne.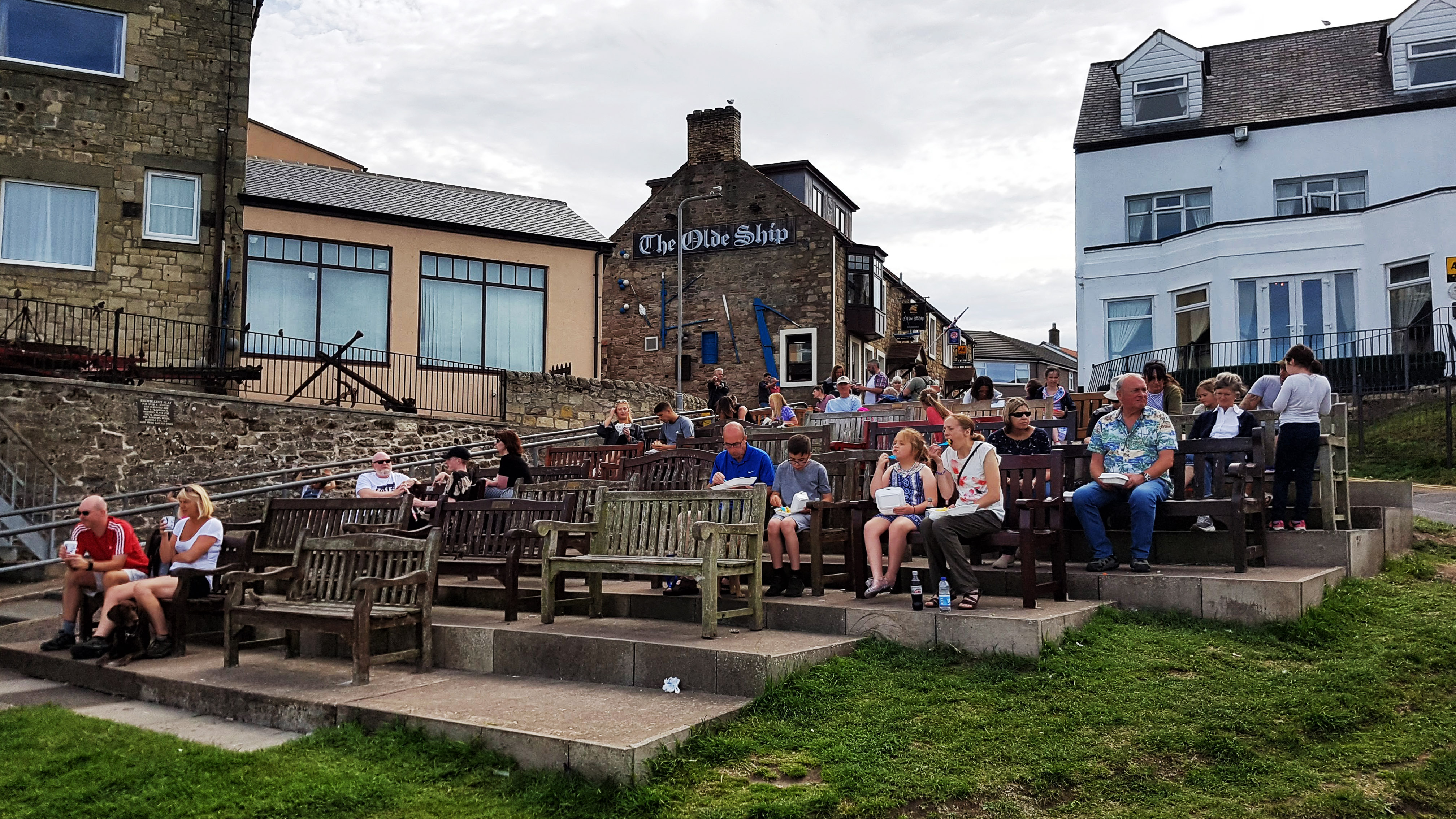 Having stayed near Alnwick on our previous visit we passed on the opportunity to revisit the impressive Alnwick and Bamburgh Castles.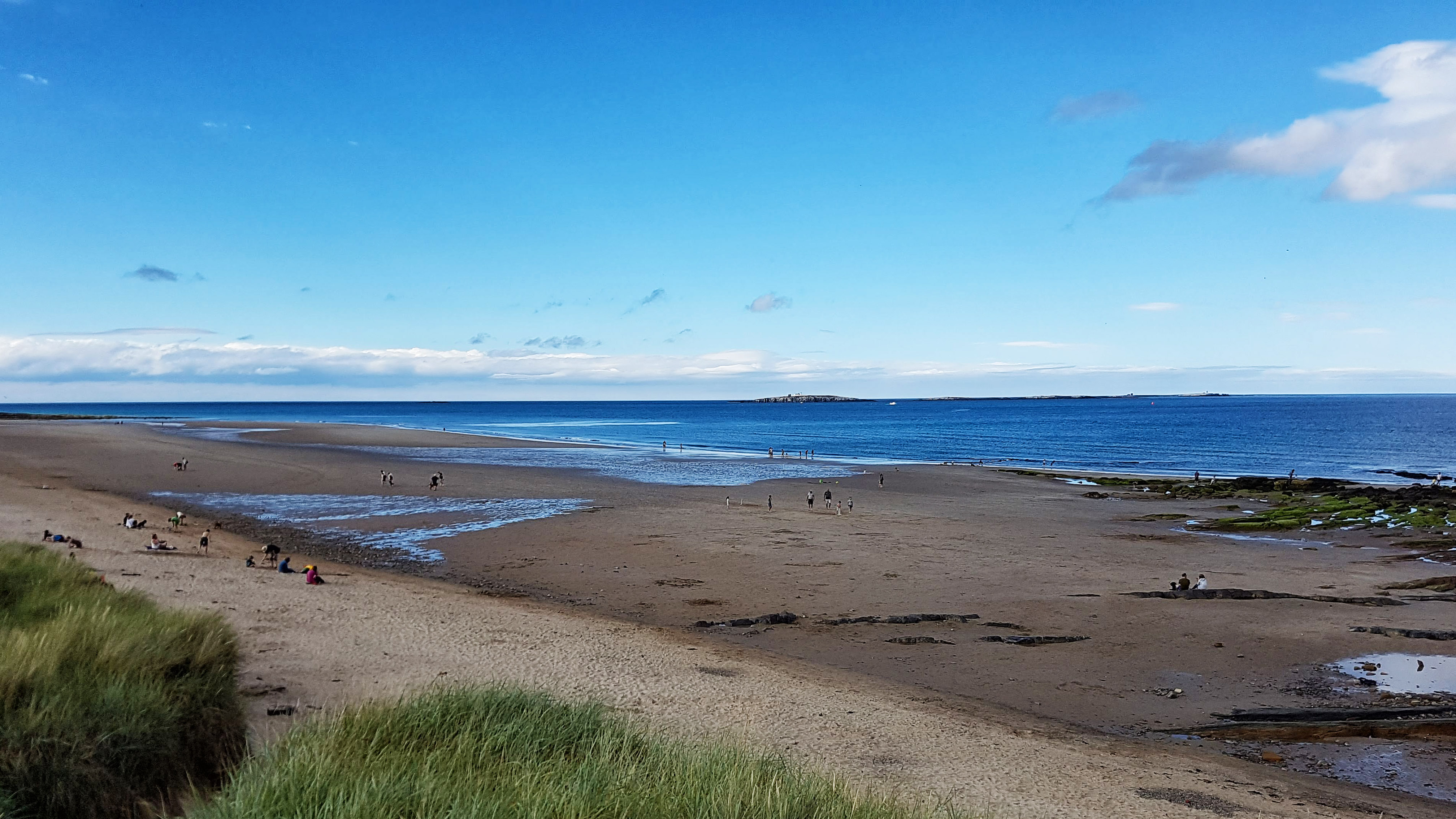 Day 4 – Sunday 5th August 2018 – Exploring Berwick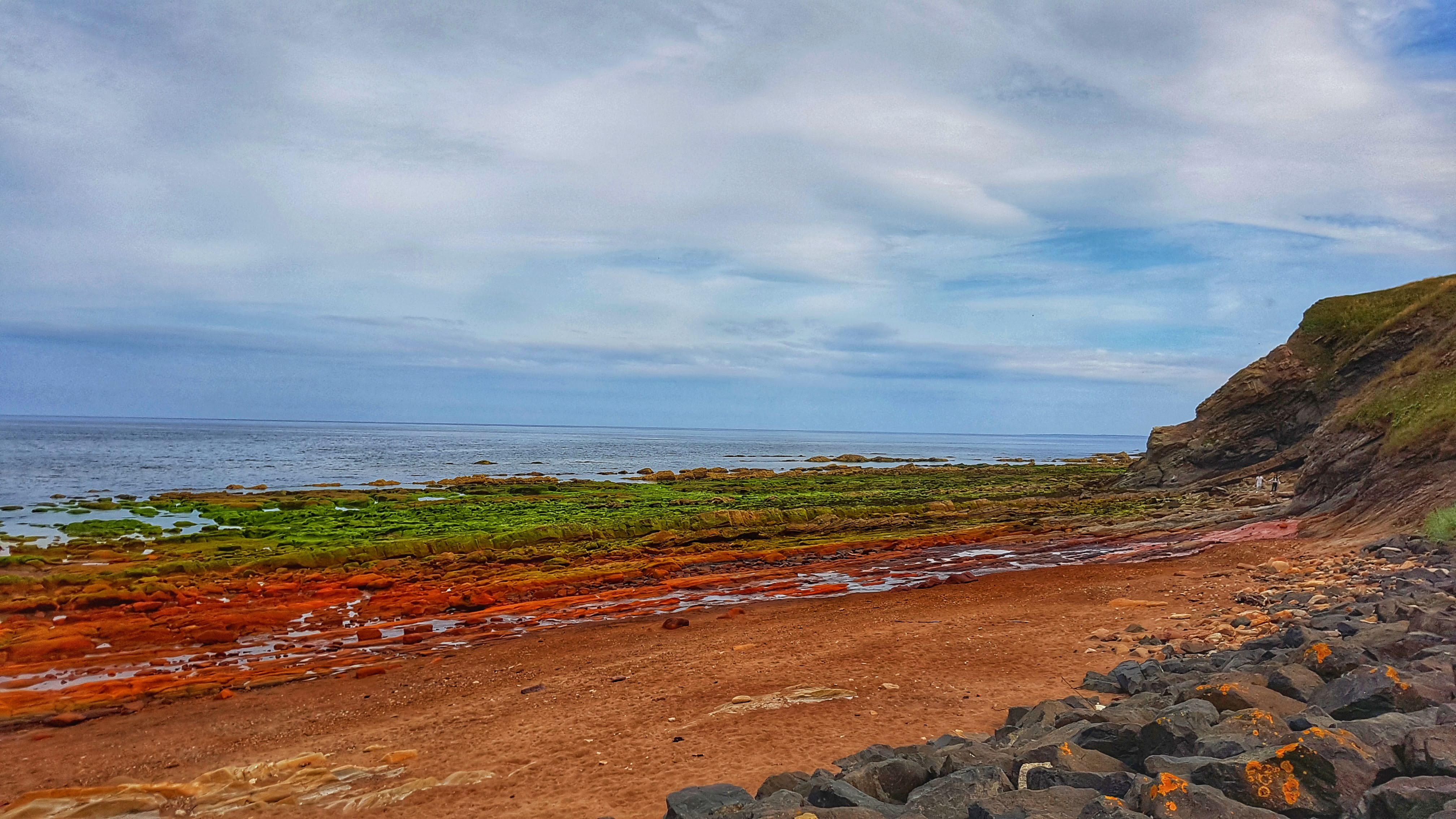 Sunday morning saw us travel north along the A1 to Berwick-upon-Tweed, which is just about as far north as you can get in England before entering Scotland. I expected a tough run on tired legs but, surprisingly, I felt pretty fresh and blissfully free of Achilles pain after a calf stretch on some railings early in the run at Spittal promenade.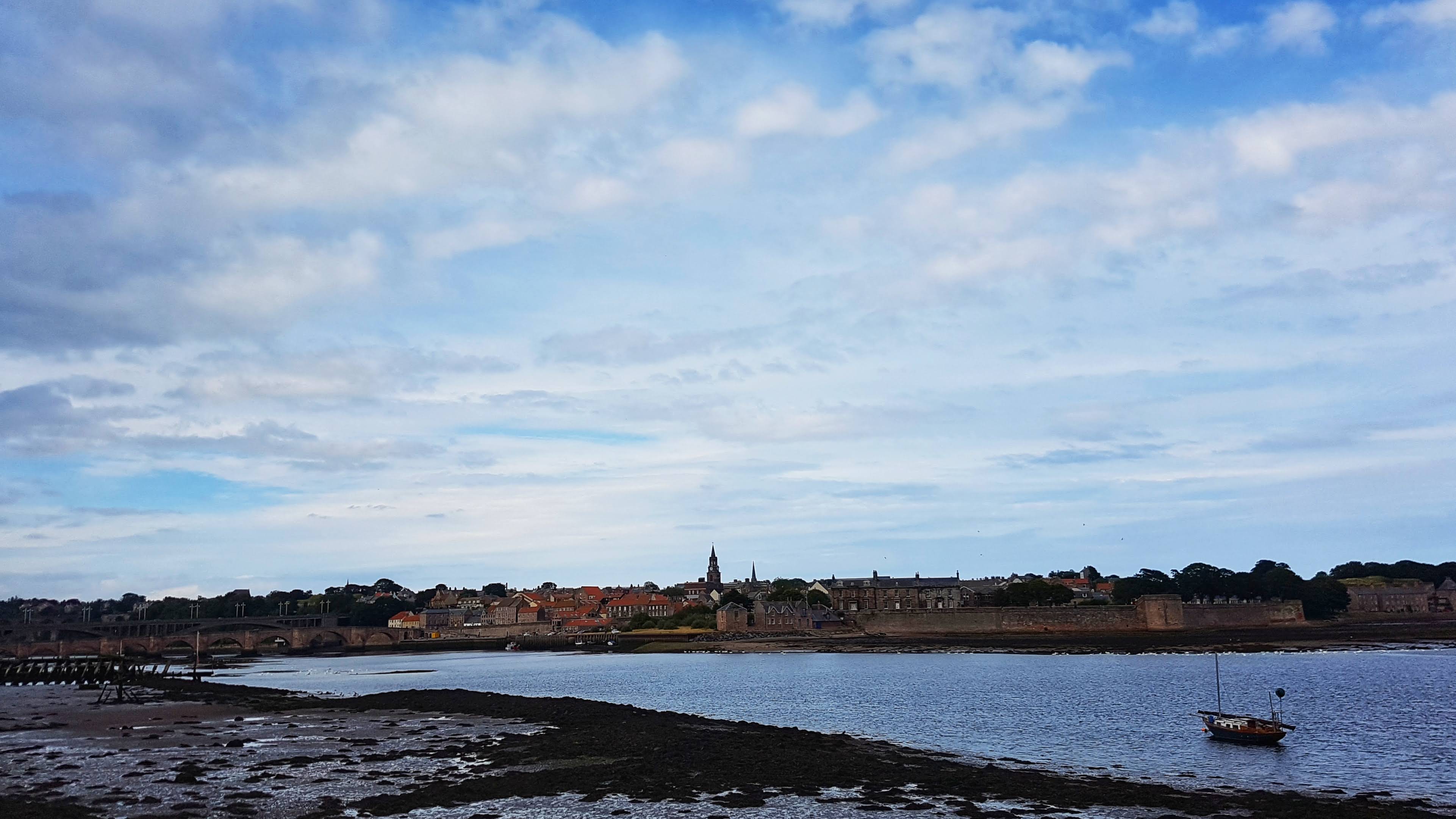 I headed to the historic town of Berwick, stopping frequently to take photos, some of which inspired (poorly) by the work of Lowry, who apparently loved the place and painted numerous scenes around the town.
I found the viewpoint for the spectacular River Border Bridge, which carries the same trains that run through Grantham, albeit more grandly than the all too low bridges that are the curse of Grantham lorry drivers. From there I found a shared cycle path (Route 1 if I remember correctly – a favourite from my 2016 holiday, which runs from Dover to Shetland) and headed along the riverside for a mile or so before heading on more dedicated cycle lanes which brought me tantalisingly close to, but not quite at, the Scottish border.
At the top of the main climb for the day I checked Google Maps in the hope of  making a loop of the run rather than an out and back. There were a couple of options but as they included running alongside the A1 I decided to play it safe and returned the way I came to Berwick. Feeling good I picked up the pace quite a bit back along the river path where I felt sure there would be a Strava segment to contest. To my disappointment there wasn't, but I made a mental note that this would be one of many segments that I would have to create when I returned home and had access to a computer (And some decent internet). Alas I was only 4th.
From there it was a continued tempo effort back to the Spittal promenade and along that for a segment attempt (This did have an existing segment – only 9th best for me) before returning back to the caravan site – 10.6 miles bagged.
Split Summary
===
1) 1m – 7:35(7:35/m) 119/136bpm 78cal 7.91/8.97mph
2) 1m – 7:16(7:16/m) 133/146bpm 92cal 8.25/8.93mph
3) 1m – 7:40(7:40/m) 131/155bpm 84cal 7.83/10.08mph
4) 1m – 7:12(7:12/m) 144/156bpm 99cal 8.33/10.29mph
5) 1m – 7:03(7:03/m) 144/163bpm 90cal 8.52/9.37mph
6) 1m – 6:41(6:41/m) 137/159bpm 73cal 8.99/10.42mph
7) 1m – 6:12(6:12/m) 143/156bpm 74cal 9.67/12.33mph
8) 1m – 6:12(6:12/m) 152/165bpm 88cal 9.68/10.9mph
9) 1m – 6:31(6:31/m) 151/158bpm 93cal 9.2/9.81mph
10) 1m – 6:33(6:33/m) 146/154bpm 79cal 9.15/9.54mph
11) 0.59m – 3:59(6:48/m) 146/158bpm 49cal 8.83/9.23mph
Best Strava Segment Performance:  Just a Climb – 1st/7*
* A segment I created.
Day 5 – Monday 6 August 2018 – Cows and Cliffs
I'd spotted on Sunday's run that  Cycle Path Route 1 continued its way past Spittal promenade and along the coast southwards. On Monday morning I decided to run along this path on a straightforward out and back – making it just past the small village of Cheswick before turning around and returning.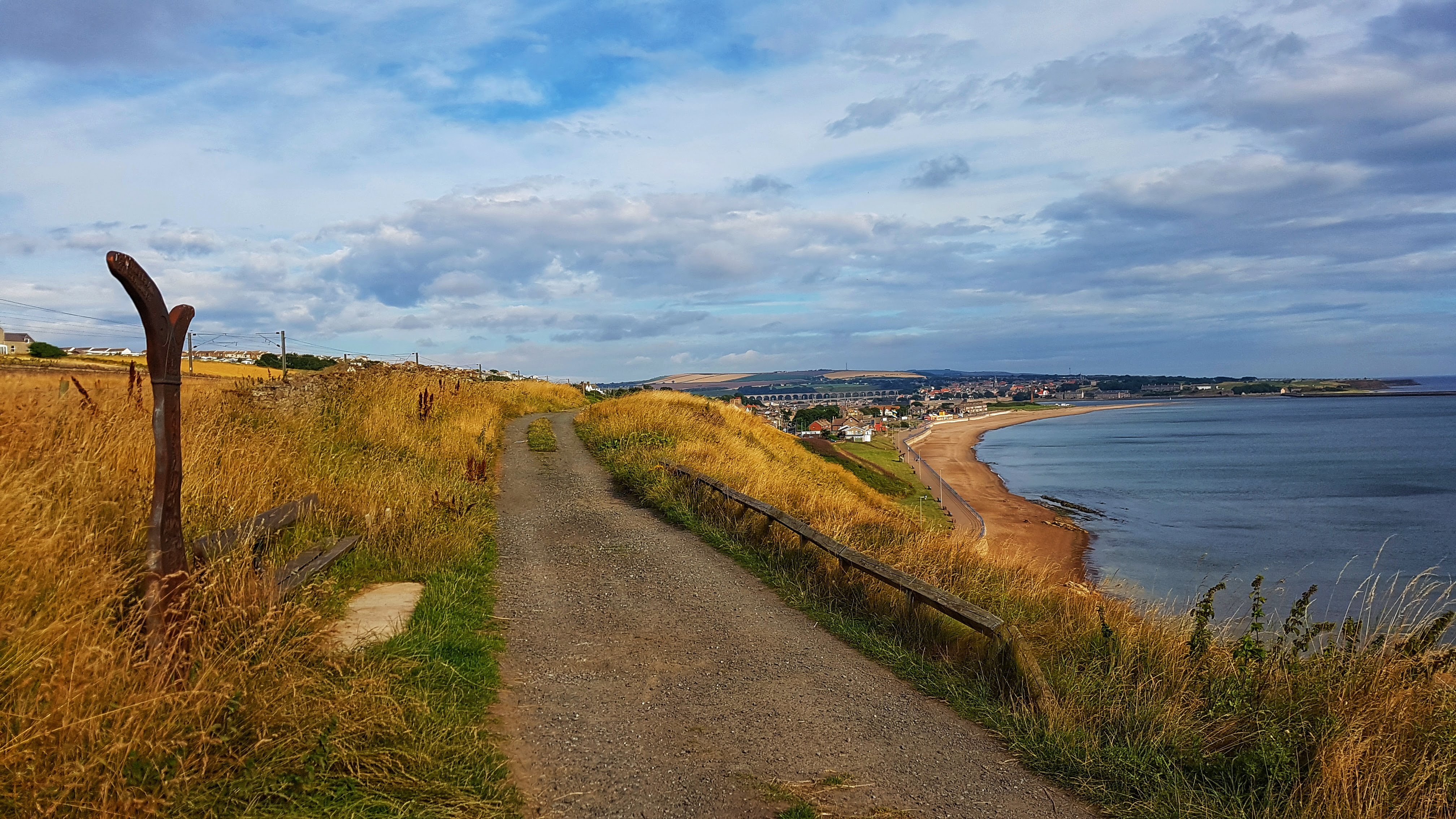 As it was a cycle path – off road in parts, the terrain was never particularly demanding and not at all technical, which made for a pleasant, mostly trouble free run, where the emphasis was on recovering from the hard efforts of the previous two days. The coast line was at times stunning, other times obscured by the grass in the dunes of Cheswick Sands. I thankfully had a side wind for the entirety of the run – when I met it briefly head on near the turnaround point, it certainly did its best to stop me in its tracks!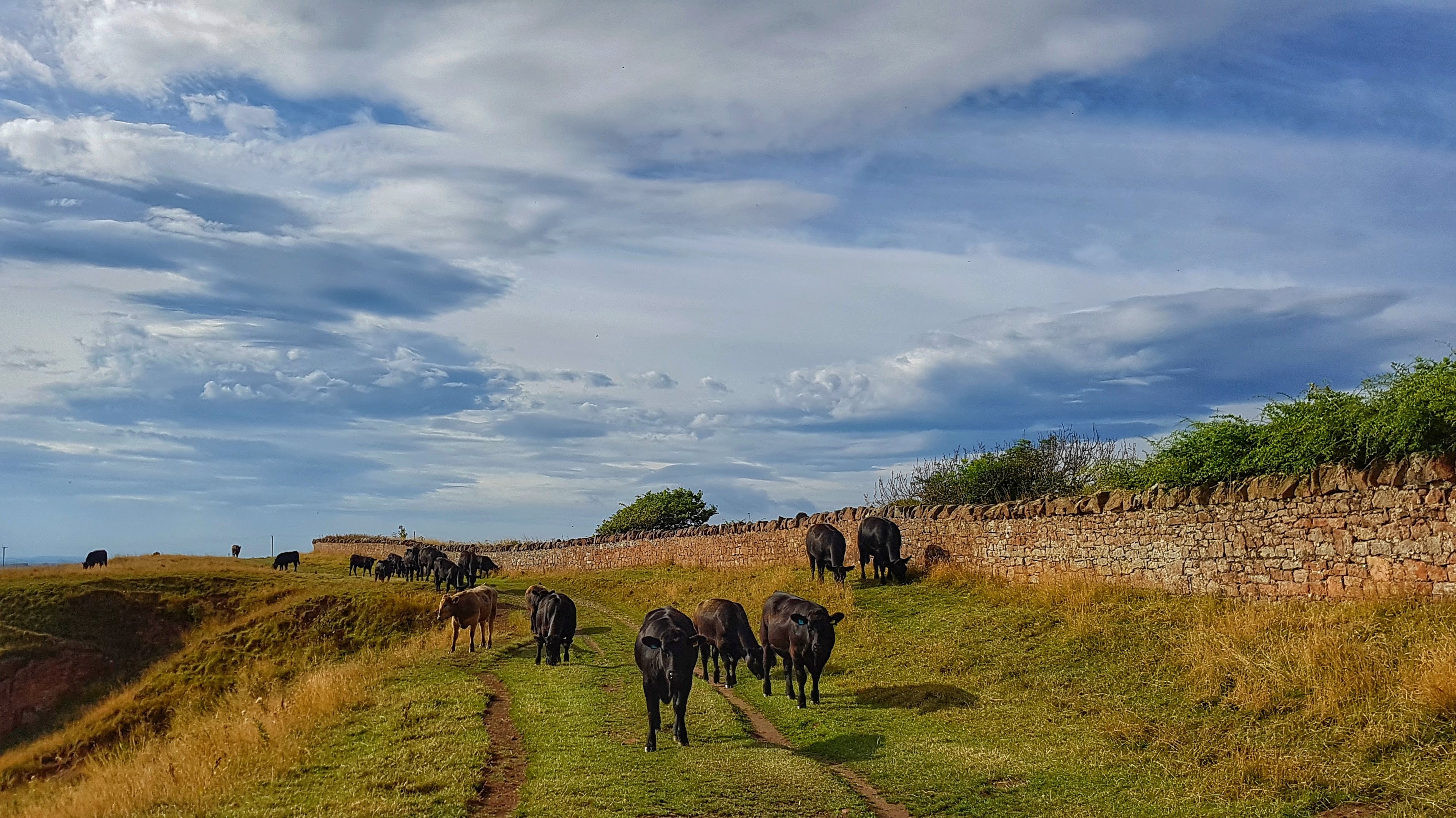 The only drama of the run came in the form of a fairly large herd of cows who had made themselves comfortable by the cliff's edge on the cycle path fairly early on in the run and later on when I returned. I'm not a huge fan of cows and not at my best by the edge of cliffs – so the two combined made for rather interesting moments as I briefly stopped the Garmin and walked through the herd as unobtrusively as possible. Thankfully the cows seemed largely disinterested in me and more concerned with gorging themselves on the grass, and I was able to continue on my run, which ended just as the Garmin accumulated 10 miles entering the Caravan Park. I was disappointed to see there were no meaningful Strava Segments created so, once again, a note was made to, at a later point, create some of my own.
Split Summary
===
1) 1m – 7:46(7:46/m) 119/133bpm 81cal 7.73/8.35mph
2) 1m – 7:42(7:42/m) 132/147bpm 93cal 7.8/9.85mph
3) 1m – 6:58(6:58/m) 133/146bpm 84cal 8.62/9.16mph
4) 1m – 7:08(7:08/m) 138/145bpm 91cal 8.41/9.18mph
5) 1m – 7:25(7:25/m) 143/153bpm 99cal 8.1/9.02mph
6) 1m – 6:54(6:54/m) 138/149bpm 80cal 8.69/9.27mph
7) 1m – 6:57(6:57/m) 141/146bpm 85cal 8.64/9.2mph
8) 1m – 6:54(6:54/m) 145/154bpm 92cal 8.69/9.08mph
9) 1m – 7:09(7:09/m) 143/150bpm 89cal 8.38/9.16mph
10) 1m – 7:00(7:00/m) 141/147bpm 80cal 8.58/9.25mph
11) 0.08m – 39(8:05/m) 150/154bpm 9cal 7.42/8.5mph
Best Strava Segment Performance:  Quiet beaches to be found* – 4th/87
* A segment I created.
Day 6 – Tuesday 7 August 2018 – A Bit of Everything in Berwick-upon-Tweed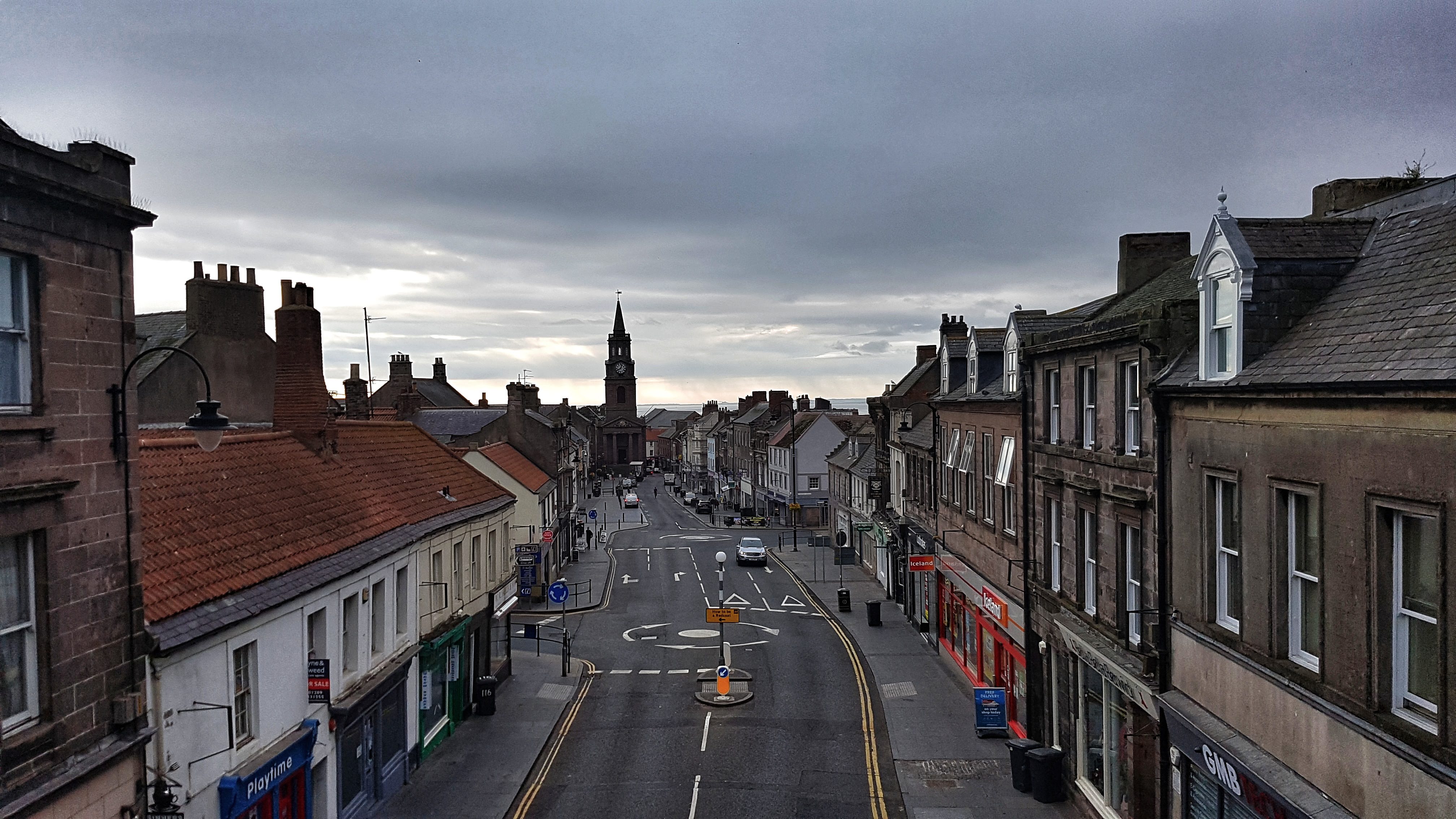 On a very overcast morning for the last run in Berwick, I was in the mood for exploring! Back it was into Berwick, running along the castle wall and ramparts; mimicking the work of Lowry and generally trying to see as much of the town as possible.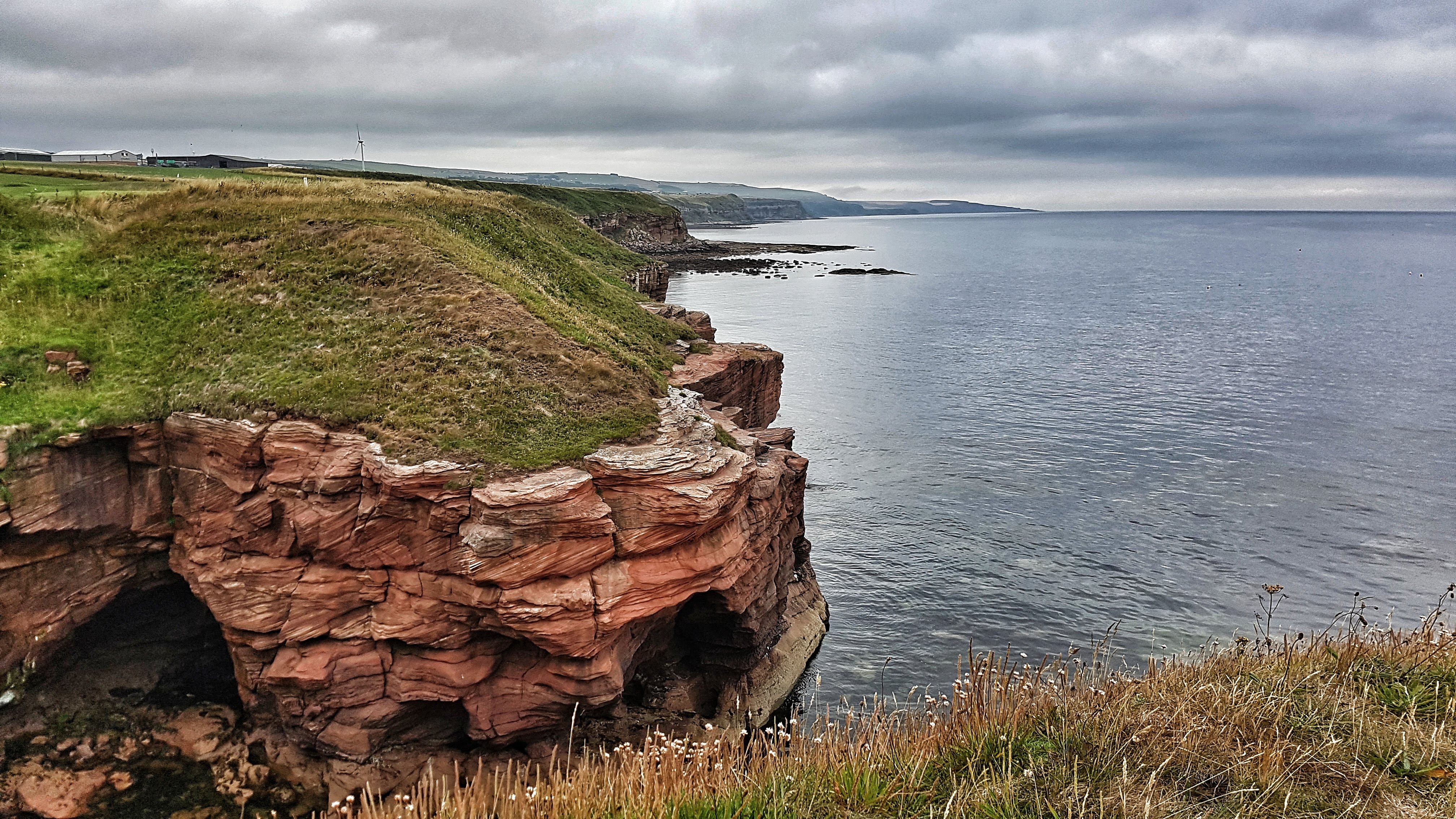 This exploration took me on a path around the back of the golf course and a holiday path. This was all well and good and I opted at a footpath junction to try and head to Marshall Meadows Bay. The path became increasingly technical, increasingly narrow and increasingly closer to the cliff's edge. This was the explanation behind the slowest mile of the holiday at 10:09! – It wasn't long before I abandoned this increasingly perilous idea and returned to the safety of the A1167 and the less scenic, but more comforting sights of a McDonalds drive thru and a Morrisions. This slow mile and the stop-start affair of the opening miles meant that this would be the slowest run, on average, of the Tour at 7:41 per mile.
Returning to Spittal it was clear I had to make up some miles to get to and beyond 10. So it was then a climb up the old A1, down Cow Road, over a Level Crossing, back through Spittal and a lap and an extension of the Caravan Park to bring it home in a smidge over 10 miles.
Split Summary
===
1) 1m – 7:45(7:45/m) 122/133bpm 88cal 7.75/9mph
2) 1m – 7:56(7:56/m) 129/143bpm 93cal 7.56/10.02mph
3) 1m – 8:22(8:22/m) 122/139bpm 81cal 7.17/9.87mph
4) 1m – 7:35(7:35/m) 132/145bpm 86cal 7.91/8.93mph
5) 1m – 10:09(10:09/m) 127/143bpm 94cal 5.91/8.06mph
6) 1m – 7:07(7:07/m) 134/144bpm 81cal 8.44/9.1mph
7) 1m – 6:55(6:55/m) 129/138bpm 66cal 8.68/9.5mph
8) 1m – 7:11(7:11/m) 141/154bpm 90cal 8.35/9.02mph
9) 1m – 6:58(6:58/m) 141/154bpm 84cal 8.6/9.35mph
10) 1m – 6:59(6:59/m) 135/153bpm 72cal 8.6/9.81mph
11) 0.03m – 11(6:42/m) 136/137bpm 1cal 8.95/8.18mph
Best Strava Segment Performance:  Old A1 Climb* 3rd/78
* A segment I created.
Leg 2 Summary
Distance Run: 30.7 miles. Average Pace: 7:15 per mile. Accumulated Time: 3:42:35. Average HR: 136. Total Ascent: 495 meters.