All year I've been struggling to find a non Grand Prix weekend where I could take part in, what I believe would be, my fiftieth half marathon. It looked as though I was going to have to wait until December, but when that planned race became a casualty to, off all things, a party, I bit the bullet and two weeks or so before the event, entered the 25th Grunty Fen Half Marathon. 
The race with a funny name was a bit of a risk and a compromise too. The compromise was twofold in that I really wanted to do a big name city style glitz and glamour half marathon to celebrate my fiftieth. Plus the race is run under the jurisdiction of the ARC (Association of Running Clubs) rather than UKA (UK Athletics). The politics behind this small, but significant point is worthy of an article elsewhere (Or a Google search), the crucial thing is that my race time will appear on neither the Power of 10 nor Run Britain websites, which these days is all anyone cares about when validating one's running prowess.
The risk was that, as the title of the race suggests, it is run in the Cambridgeshire fens. The advantage of a race in the fens is that you are guaranteed an all but pancake flat race (Having said that, the Grunty Fen managed to pack in a moderate climb which had to be tackled twice). The big disadvantage of a fens race is that wind speed is seemingly multiplied twofold or even more and it is often windy. Many a Grunty Fen has seen times decimated by a stiff wind from which there is no escape.
Very, very luckily, considering the weather forecast of two days earlier, Sunday morning was all but wind free, even in the fens of Witchford. Moreover considering September races can be blisteringly hot affairs, conditions were near perfect, with light cloud mostly covering the sun and temperatures only reaching 17C by the finish.
My luck though had run out to an extent on Friday evening  when I began to feel the ominous sniffles, the throat beginning to feel a little sore, the ears beginning to ache, the sinuses starting to tingle.
Saturday and I felt pretty lousy all day, a bout of catarrh leaving me in discomfort and weary. That evening I went to bed stating if I felt like I did then in the morning I wouldn't be racing. Thankfully on Sunday morning I felt quite a bit better but still not 100%: the sinuses were still painful and the legs a touch achy – not helped by a full week of training and not the hint of a taper other than a rest day on the Saturday.
After arriving an hour before the start and collecting my race number and chip, I went for a fifteen minute warm up which did little to boost my confidence – I wasn't running badly but there was no zing. The catarrh had stripped that from me. I made my final pre-race trip to the toilets and headed to the start.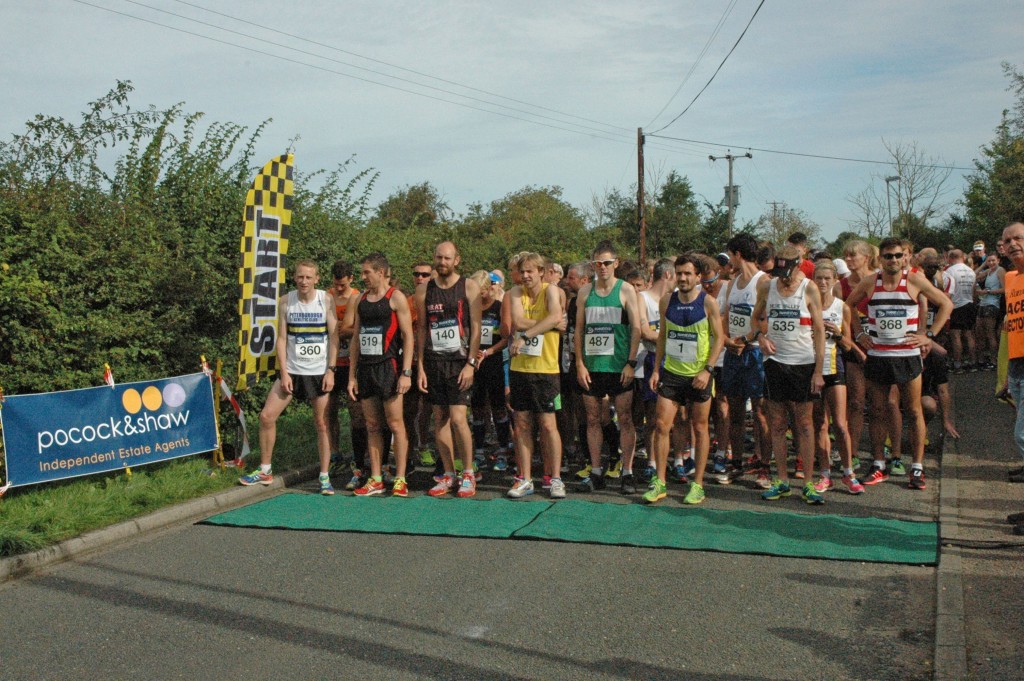 I lined up on the start line next to the race winner Aaron Scott. He has a talent for turning up at every race I turn up at and winning. He is a very good runner. I was tempted to congratulate him on his win before the start but resisted; I saved it until the finish once he had won (and in a new course record: 1:08:04). As you can tell by the picture above I felt strangely subdued. It was the best chance ever of breaking 1:15 for the half marathon and I was struggling to get myself pumped up.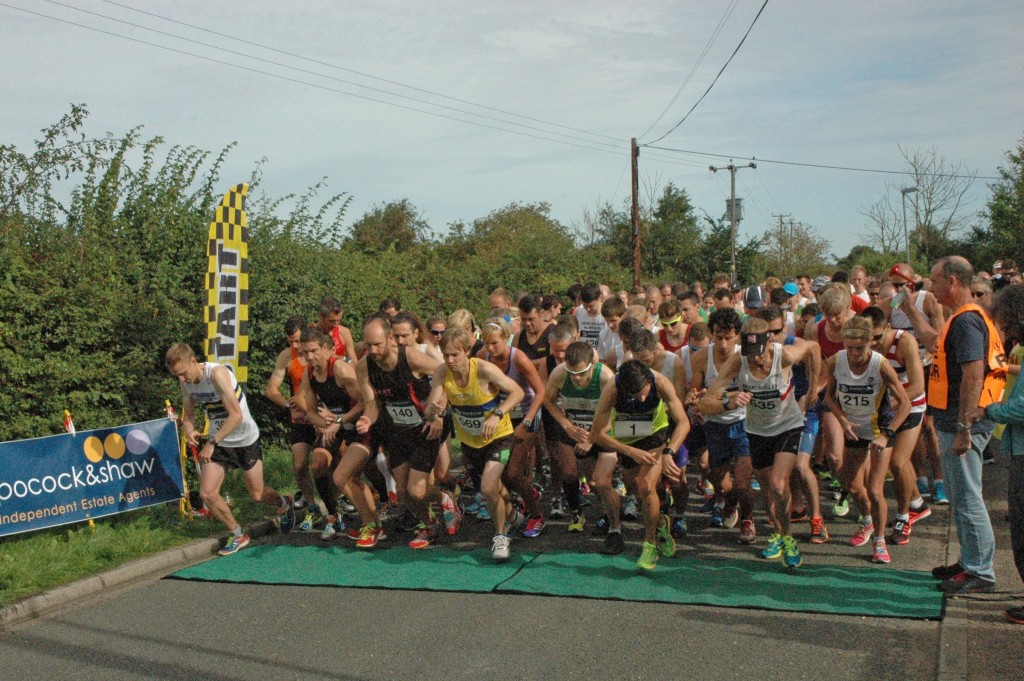 As the picture above shows, I made a tardy start. Aaron was already into the distance by the time we'd crossed the green timing mat. The opening 400 meters were brisk. The race may have lacked the 55000 fun runners taking part a couple of hundred miles north on the same day in Teeside, but the quality was pretty high for a race with less than 500 finishers. From the off I felt a heaviness in the legs which I sensed was never going to fully go away. The first mile was quick: 5:29, but the heart rate was really low. Whether it was the heavy training or the catarrh, I'm not sure, but for the first mile and pretty much the remainder of the race I found it impossible to get the heart rate and therefore effort up to the same level I managed at the Robin Hood Half Marathon in 2014.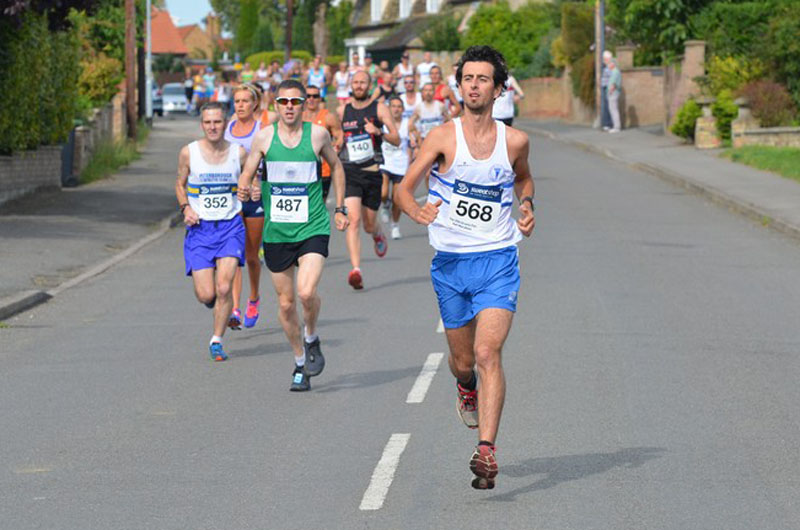 By the end of the first mile where a short uphill drag soon thinned out the field, I found myself in around 9th position. I saw Aaron Scott as a small dot in the distance with a group of four or five runners chasing, then a couple of solo runners ahead of me. I settled into my running and having accepted that the heart rate wasn't going to reach the heights I wanted, went about the task of running as fast as I could within the limits of the day.
The next eleven miles were hugely uneventful and as undramatic as the fen course, which had us running on a succession of dead straight and dead long roads with just one hill of note to break the montony. I passed a runner just before 5k, which I went through in 17:32, then another shortly after on the aforementioned hill. Thereafter, aside from a couple of support bikes who were supporting the lone wheelchair competitor, who I passed at ten miles, I didn't come within shouting distance of another runner – although I could see another runner in the distance occasionally on the long straight roads.
I took a Powergel at just after five miles, where I nearly took a wrong turn thanks to a misunderstanding with a marshal. Soon after the ingesting of goo, I put in my strongest feeling miles of the race. Good stuff in that Powergel. I wish I'd taken another but I was feeling tight and only carried one.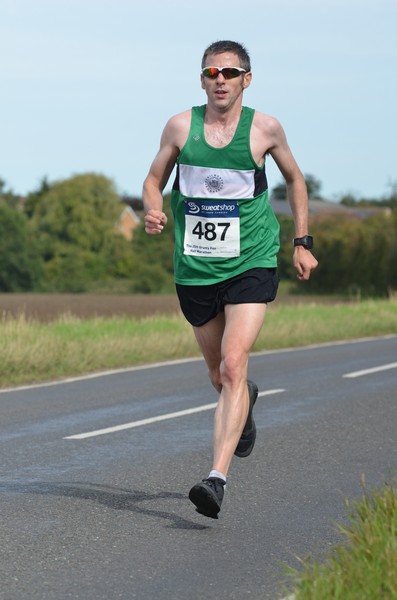 I went through ten k on my watch in 35:10 and more importantly the official halfway in 37:10. This didn't take a degree in maths to to work out that if I maintained pace, sub 1:15 was a real possibility. A maths degree, nor any other for that matter, doesn't run those last six and a half miles for you though and there was still plenty to be done. Thankfully I was able to maintain pace miles 7-12 (Including the hill in the twelfth mile) were 5:46; 5:41; 5:40; 5:41; 5:44; 5:43; and another 5:43.
I went through ten miles in an unofficial PB of 57:09, and knew that once the hill in the twelfth mile had been tackled I could put my head down and give it everything in the final mile and a bit. For the first time in the race I was able to get my heart rate up to the sort of levels I'd been hoping for and, as I tackled the closing twists and turns through a housing estate it showed with a thirteenth mile covered in 5:31.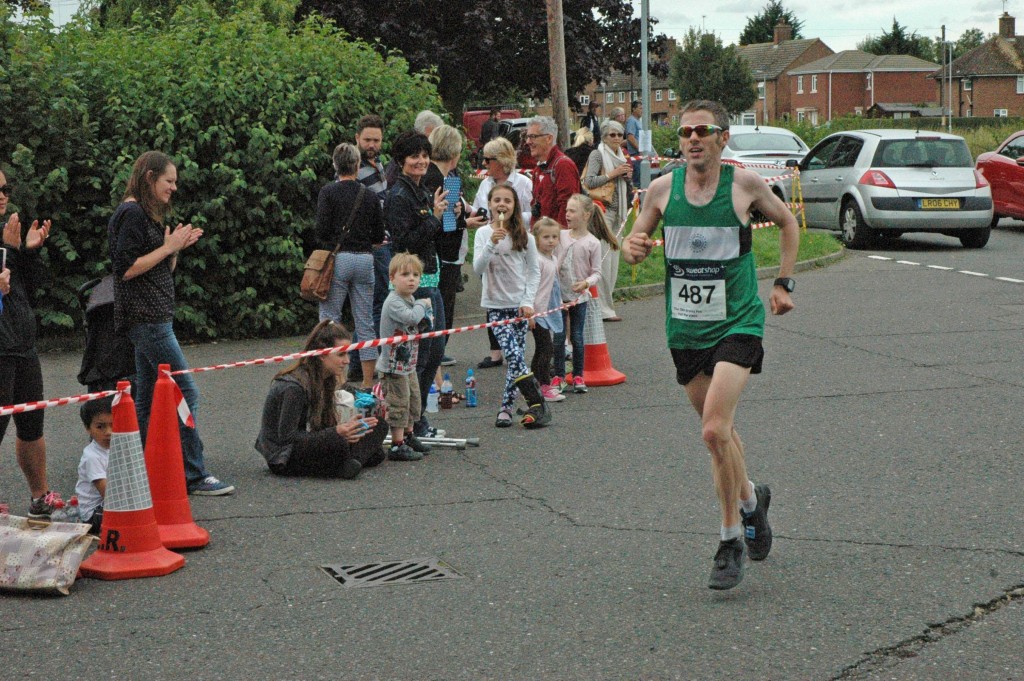 In the final half mile I glanced at the time in my watch and realised that whilst breaking the PB of 1:15:29 was a formality, breaking the 1:15 barrier was not such a given. For the final 400 meters I gave it full gas, chasing nothing other than a good time. I finished, clocking 1:14;46. Fourteen seconds inside my target time! Finishing seventh was irrelevant, I'd hoped to break 1:15 and this I managed, despite not feeling on top of the world.
This sense prevailed in the following minutes and hours. The euphoria of the half marathon at Nottingham, clocking 1:15 was not present. Normally I'd chide myself at such a response – a PB is a PB and one should celebrate them wholeheartedly. However today, I was pleased, but aware that there was more in the tank potentially and that this race is just a warm up for what is the bigger picture – the hopeful culmination of Project Sub 2:45.