Bunree lies just north of Onich on the eastern shore of Loch Linhe and consists of little more than a few houses and a Caravan Site. With the A82 nearby however it is only a few miles from Glencoe and Fort William – which is the main town in this part of the Scottish Highlands and just a few miles from Ben Nevis.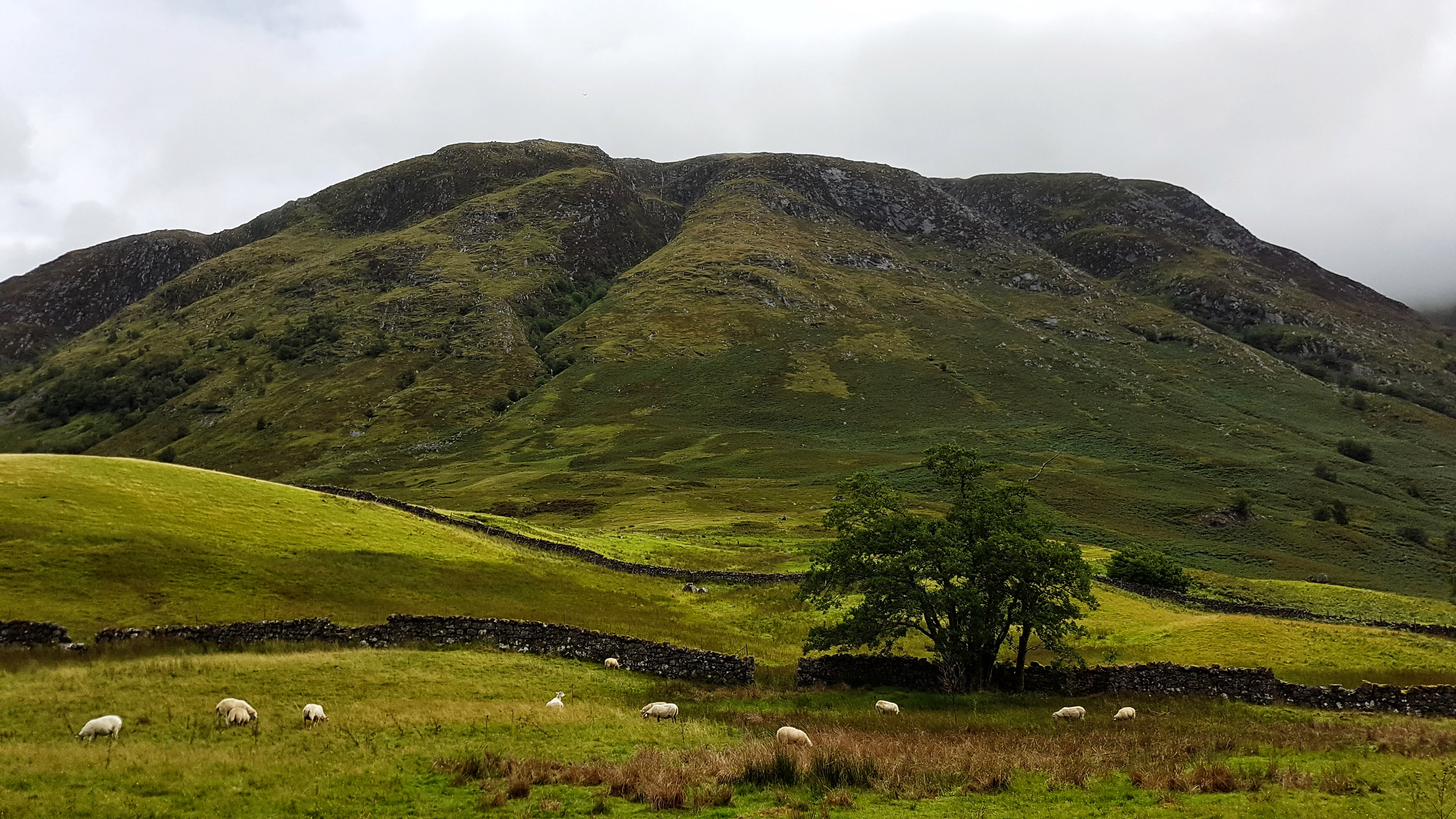 While the views are undoubtedly spectacular, poor weather for the majority of out three day stay meant our tourist exploits were limited to an afternoon in Fort William, a very wet walk in Glen Nevis, and an enjoyable short walk up to Inchree Falls – just a mile or so away from where we were staying – where we were also able to spot some red squirrels!
Day 13 – Tuesday 14th August 2018 – Lost the woodland trail so played it safe on the A82…

Not long after arriving at the spectacular Bunree Caravan Site I was reading the welcome brochure over lunch and it soon became clear that the place to head to for my first run was the nearby Glen Righ Forest, which promised miles of paths and tracks – ideal for walking and mountain biking. They didn't specify running per se but I knew that this could be a runner's playground!
It was a wet and wild afternoon in the Highlands so I was a little delayed heading out as the caravan's awning was doing it's best impression of being a sail as we struggled to attach it to the caravan and peg it down before it blew away.  Finally at 3:40 pm I was on my way – thankfully the rain had stopped and the wind began to die down, the sun even threatened to make an appearance!
Half a mile of single track road later and I was on the busy A82, but it was just a case of crossing it and heading onto a small road that took me through the small village of Inchree and on to the Glen Righ Forest car park. There was an information board which offered up two circular walks – one was to the Inchree Falls, the other called Wades Road Walk, named after the Military Road.
I wanted to save the waterfalls experience as a family one so I opted for the Wades Road Walk, which was advertised as 3.8 km long. I set off along a trail which was narrow but very well maintained and not that technical as it made it's way rapidly deep into the heart of the forest.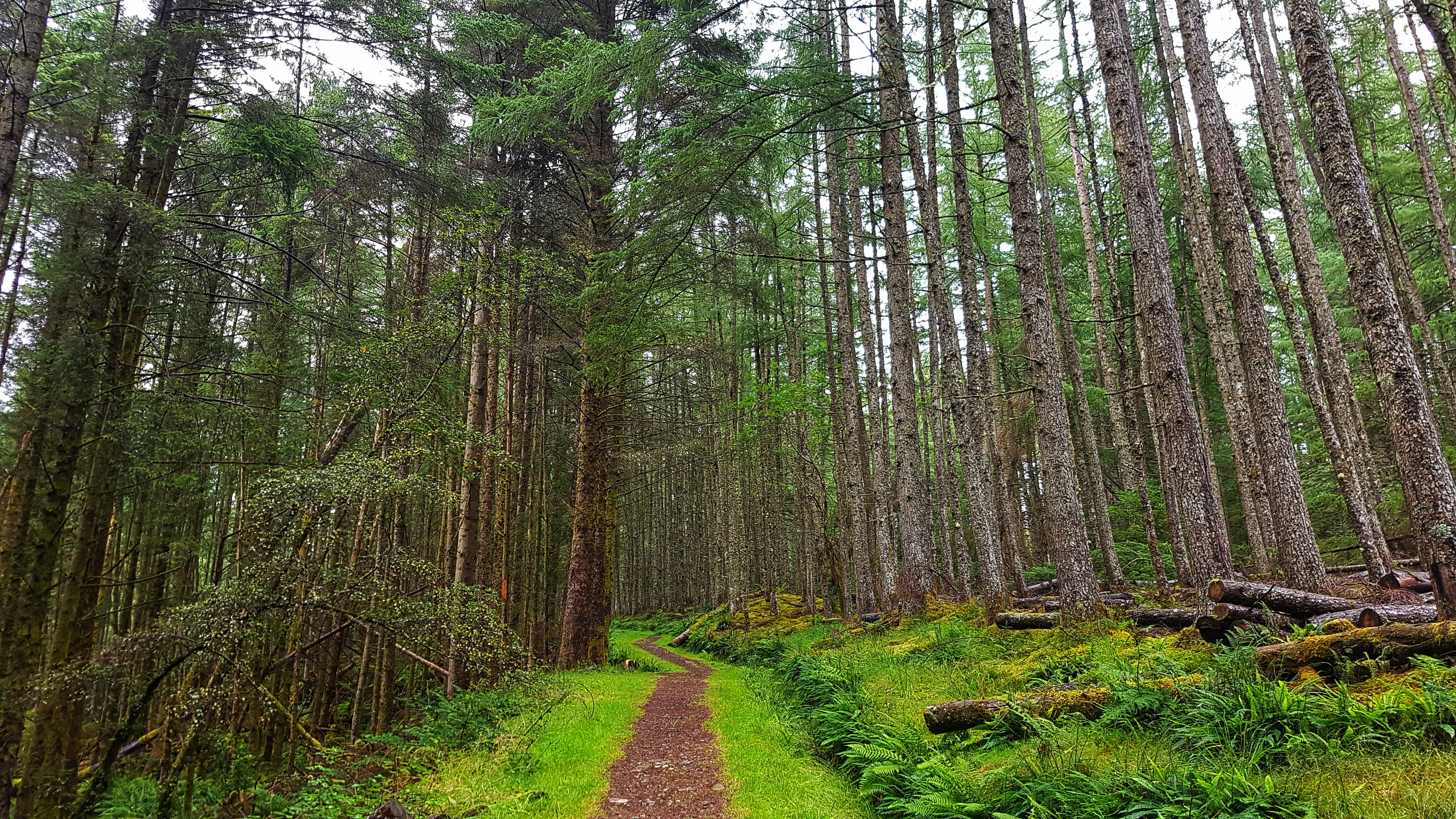 The trail may not have been technical, but boy was it steep! My first mile, that took me to the car park, was a 7:34, my second mile 9:01, but Strava GAP rates it as a 6:12, having climbed 440 feet in just over 3/4s mile at an average of 9%, with a savage section of just 0.13 mile which averages 17% on the Strava Segment. I'm not sure the steepest bit of it is 72.7% as Strava claims, but I reckon it was around 33% for around 20 seconds of running. Given that I did this section at 10:47 per mile pace, yet sit third in the Strava segment gives an idea of its severity. The amusingly spoonerised segment for the entire climb Hairway to Steven has me second, a minute off the leader, which would have been less had I not stopped to take the photo above!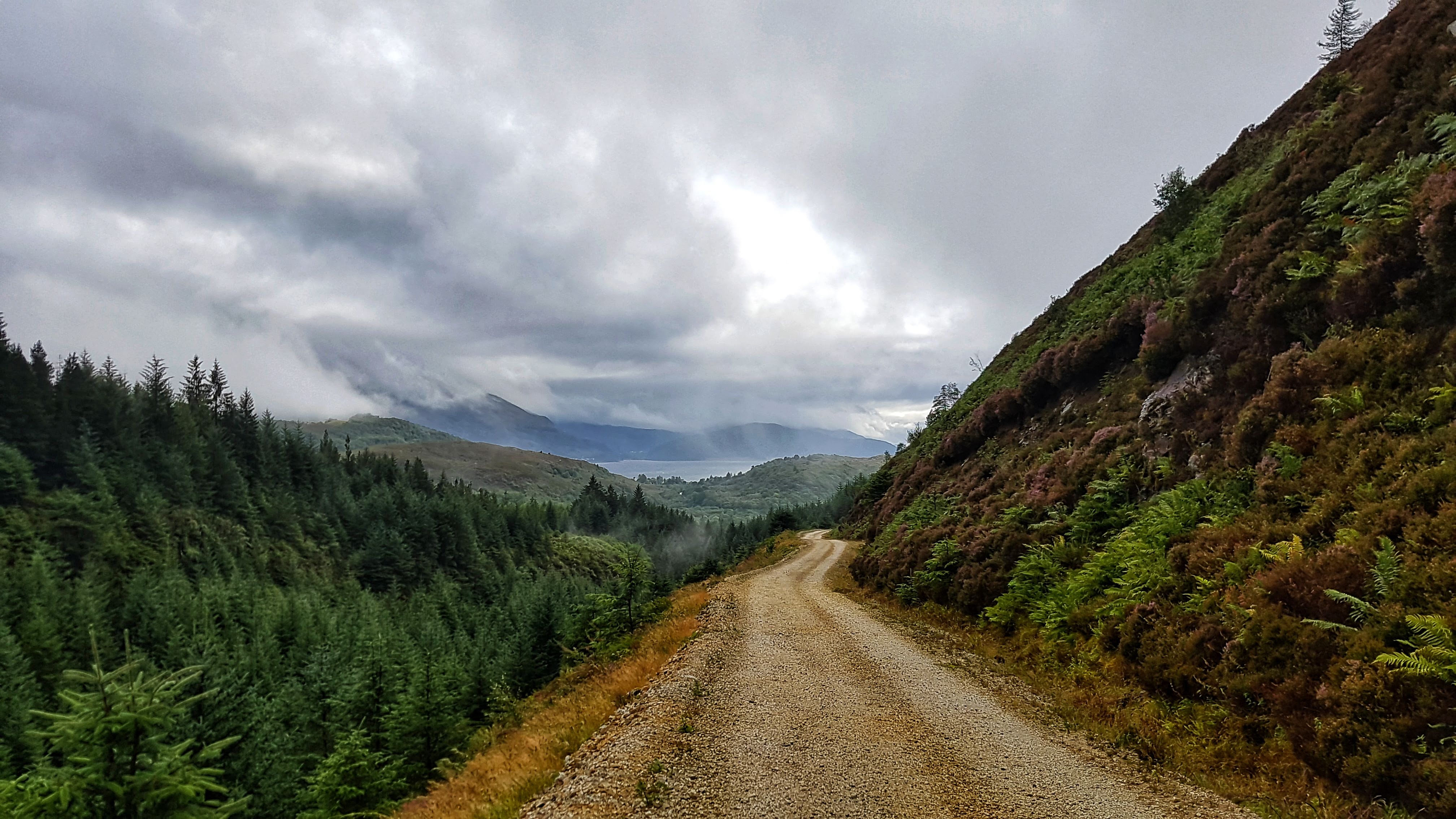 Just as I felt like my legs would give up completely, thankfully the climb fizzled out as I presumably joined the Old Military Road. Following the coloured post I took a left turn or two and began to drop back down the hill I had just risen. It was probably a combination of the adrenaline still coursing through me after the hill as I began to hurtle downhill, the sun just attempting to break through after four days of thick cloud cover and the stunning scenery, with views of the forest, the mountains and the Loch below, but this half mile of running (as shown in the photo above) was perhaps the most enjoyable and scenic of the entire Tour.
Alas the views were not to last forever as the descent got steeper and steeper and dropped back into the forest, round some pretty tight alpine style hairpin bends. I think I missed the turning back to the car park for I continued to drop, quite quickly (a 6:22 third mile) past some holiday lodges and suddenly onto the A82. I had to rely on Google Maps to advise me that I had popped out around a third of a mile north from where I had last seen the popular A road.
Luckily for me, although the overwhelming majority of the A82 has no pavement and is wholly unsuitable for running on, this section did in the form of a shared cycle path. Even more fortunate was the presence of an information board just a little way along the road which explained that this cycle path ran from North Ballachulish to Fort William, using the Corran Ferry and the continuation of the path on the A861 to offer cyclists especially an alternative route to Fort William, avoiding the busy A82.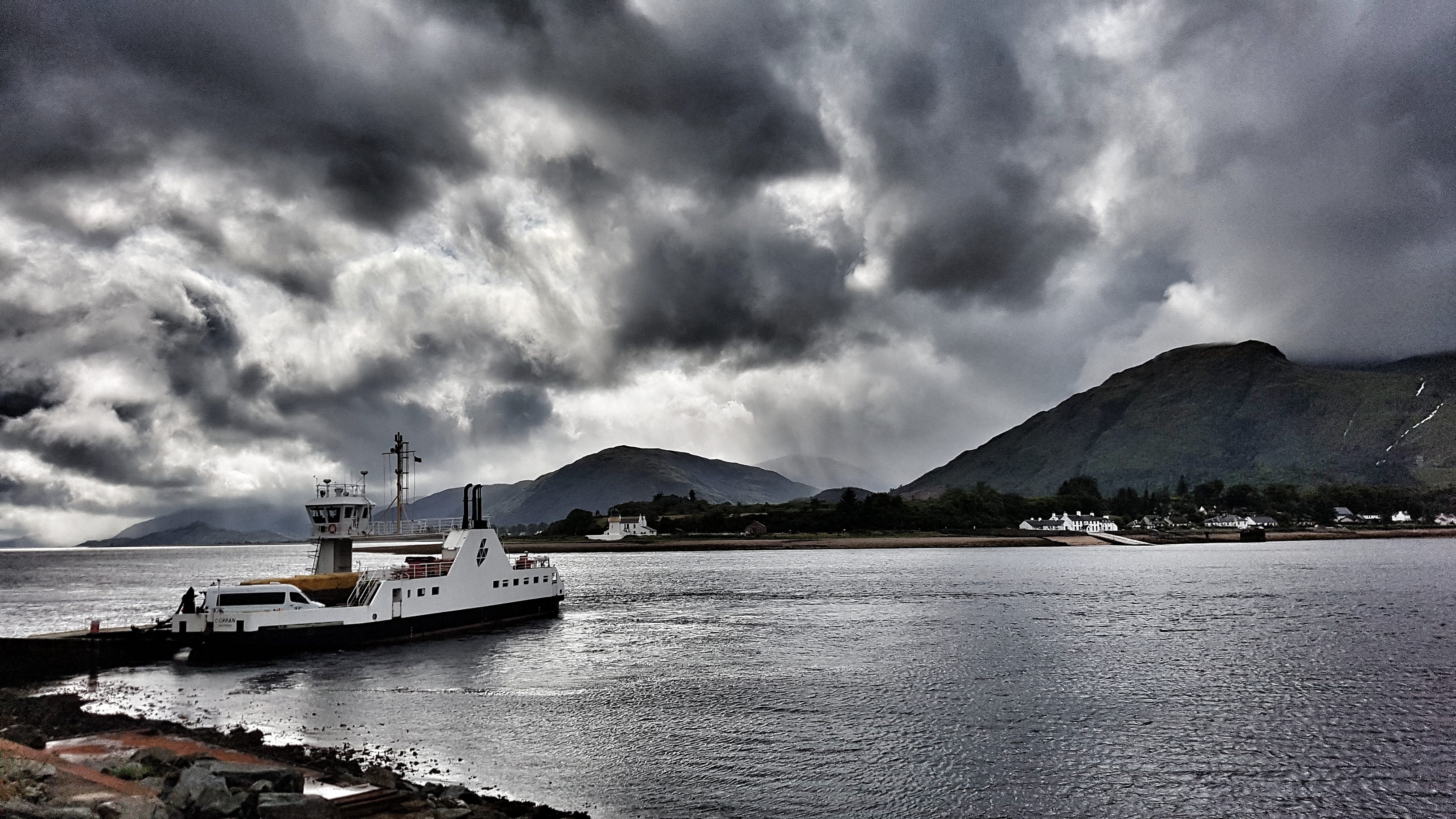 With less than four miles covered I knew that I would have to do plenty of exploring to make up the ten miles. I had wanted to spend longer on the forest tracks, but didn't really fancy another long climb up. Instead I first turned right onto the A82 and headed down to the Corran Ferry crossing, which had a boat just about to depart. Free to foot passengers, I briefly considered taking the short journey across the water but, thought the better of it given that my stomach was giving a few distress signals.
I decided I would instead head back initially to the caravan site to use the toilet facilities before using the cycle path on the A82 towards North Ballachulish to make up the distance. Relieved of stomach cramps I was soon back on the main A82, enjoying a cycle path that was, at that time, used by no-one other than myself.
There was around a mile of running to take me from Bunree to the more populated village of Onich, which sits mostly on the A82 and features a large number of B&Bs, which offer splendid views of, and easy access to the shores of Loch Linhee, which when I dived briefly off the road to take a photo, felt and smelled far more like a sea beach than the side of a lake.
I ran along a bit further, the cycle path looking a lot more like a pavement and barely suitable as a means of taking bikes along. I got to within 3/4s mile or so of Ballachulish Bridge – fortunately for me as someone who really does not like crossing bridges, it was time to turn around and head back to keep the run at 10 miles. The pace had picked up by itself almost without effort, the final three miles 6:21, 6:22, and 6:11 as I enjoyed the relatively flat terrain and good surface underneath me.
All that was required once returning to the Caravan Park was a quick lap of the site to ensure the run came in at over 10 miles, taking in the fine views around us and making it over to the laundry room to deposit my well worn running clothing!
Split Summary
===
1) 1m – 7:35(7:35/m) 121/139bpm 81cal 7.92/8.75mph
2) 1m – 9:01(9:01/m) 149/162bpm 134cal 6.65/8.87mph
3) 1m – 6:22(6:22/m) 131/144bpm 68cal 9.43/9.87mph
4) 1m – 6:56(6:56/m) 126/147bpm 63cal 8.66/9.29mph
5) 1m – 6:51(6:51/m) 135/143bpm 81cal 8.76/9.54mph
6) 1m – 6:37(6:37/m) 144/147bpm 92cal 9.07/9.48mph
7) 1m – 6:31(6:31/m) 140/147bpm 81cal 9.2/9.73mph
8) 1m – 6:20(6:20/m) 148/155bpm 90cal 9.47/10.21mph
9) 1m – 6:23(6:23/m) 153/159bpm 96cal 9.41/11mph
10) 1m – 6:10(6:10/m) 153/158bpm 92cal 9.72/10.4mph
11) 0.18m – 1:09(6:29/m) 132/153bpm 9cal 9.26/9.89mph
Best Strava Segment Performances: Hairway to Steven – 2nd/90; Onich to Keppanach – 2nd/51.
Day 14 – Wednesday 15th August 2018 – More time in Glen Righ Forest

With road based options limited, unless I wanted to catch a ferry, the nearby Glen Righ Forest with the promise of miles and miles of forest tracks and footpaths was bound to be the spot at which I would spend the vast majority of my time at Bunree running. After a wet and wild night that made sleep difficult in the caravan, it was a fairly tardy 8:40 am before I set off for the Day 14 in the 21 day run challenge.
I decided I would head initially on the forest track I exited the forest from the afternoon before and carry on running to see where it would take me. This route up to the quarry was not as severe as how I made my way up to the same place the day before, but it was still a mile and a half or so of climbing at an average of 6% which, with legs that had not fully woken up, was something of a challenge. It was surprising to see on my return that I had bagged the existing Strava segment for the climb as I didn't think I was running particularly fluidly and had clocked a 8:15 mile after an initial 8:13 mile. The devil was in the detail though as I had climbed nearly 600 feet.
Following a brief plateau there was a choice of paths to take. I consulted Google Maps and took the one that appeared to go on for the longest distance.  On I climbed for another mile and a half or so, still heading uphill, but not quite so slowly now the gradient had eased to a more manageable 4% average.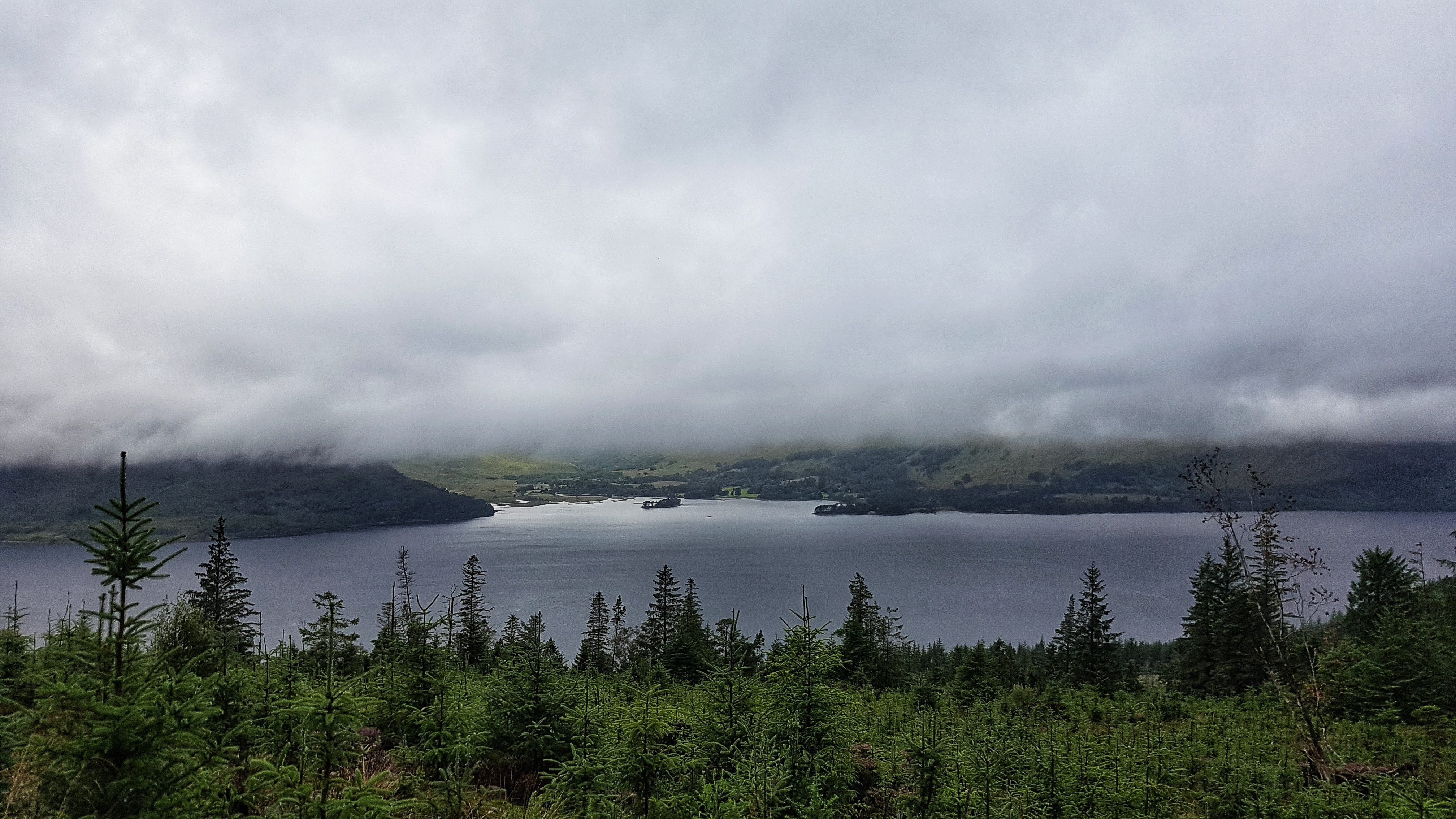 Once again the views were quite spectacular and I couldn't help but stop two or three times to take some pictures and just take in the splendour, which would have been even greater were it not for the low cloud that continued to plague our stay in the Highlands.
As I climbed the views were typical to those above – scenic Loch to the left of me, forest and numerous small waterfalls to the right. I didn't want it to end but when the Garmin clicked to around 3.5 miles there was the tell tail signs that this track was not going to last for ever. The road levelled out for a little while followed by what I presume is a large turning circle for quarry vehicles cut into the rock face. Then the gravel track gradually faded to grass, not long after coming to a halt as forest untouched by humans stopped me in my path.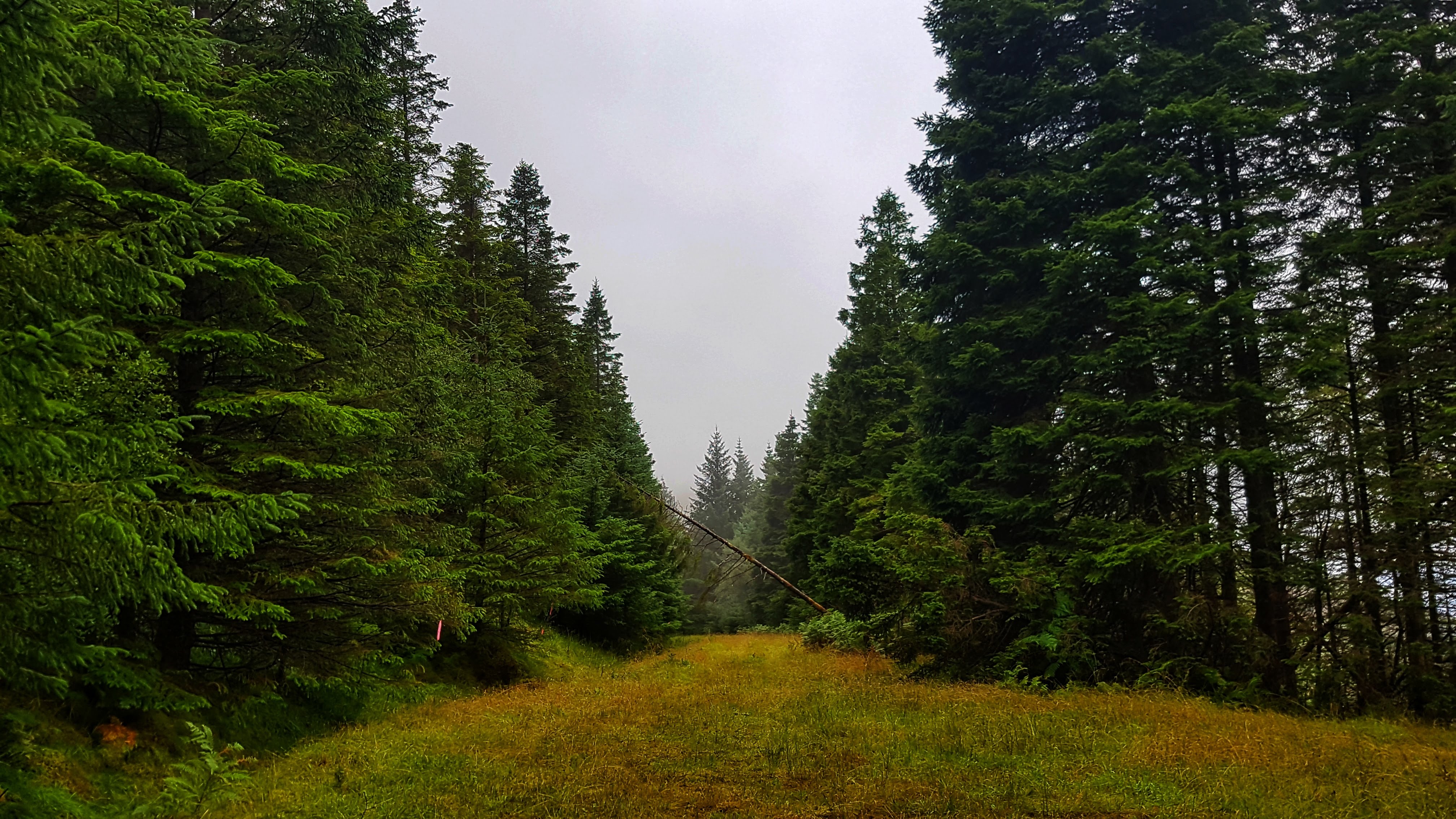 With no alternative but to turn around and head back, it was a more or less a case of relaxing and let gravity do its stuff as I began a long three mile plus descent back down to the A82:  6:26 for mile 5, then 5:49 and 5:38 for miles 6 and 7. As the gradient was not too severe it was an enjoyable descent as I took in the glorious scenery one final time – for I knew that tomorrow I would explore a different part of the forest.
Back on the A82 and with three miles left to fill I decided to do a bit of research for the next day's run trying to find the forest path on Google Maps that went on much further than any of the other paths. First I headed back to the forest car park where I'd headed to the previous day and began to run towards the Inchree Falls before noting that the map didn't think this was the right path. Going back on myself it then appeared to show the path cutting through a set of private holiday chalets which most definitely did not have a large track running through it.
Fortunately all this ultimately pointless exploring meant that once I'd returned to the caravan site and done a lap, or maybe two, the ten miles was covered – barely – just 0.03 miles over the required amount. A slightly frustrating end to a run that had begun so beautifully, but I knew there was always tomorrow and hopefully a run along the elusive path deep into the forest!
Split Summary
===
1) 1m – 8:14(8:14/m) 125/146bpm 94cal 7.29/8.41mph
2) 1m – 8:15(8:15/m) 149/155bpm 125cal 7.27/8.01mph
3) 1m – 7:41(7:41/m) 143/157bpm 103cal 7.82/8.66mph
4) 1m – 7:14(7:14/m) 139/156bpm 88cal 8.3/8.58mph
5) 1m – 6:26(6:26/m) 133/142bpm 66cal 9.33/10.29mph
6) 1m – 5:49(5:49/m) 143/150bpm 77cal 10.32/11.37mph
7) 1m – 5:38(5:38/m) 142/149bpm 72cal 10.64/12.06mph
8) 1m – 6:45(6:45/m) 143/152bpm 84cal 8.89/10.48mph
9) 1m – 6:48(6:48/m) 134/148bpm 60cal 8.83/10.14mph
10) 1m – 6:19(6:19/m) 140/150bpm 72cal 9.5/10.08mph
11) 0.04m – 15(6:18/m) 140/140bpm 2cal 9.52/9.58mph
Best Strava Segment Performances: Gate to Quarry – 1st/21; To the end – 1st/11; From top to bottom – 1st/1(!); From A82 to Inchree Carpark – 1st/77.
Day 15 – Thursday 16th August 2018 – As far as I could go without a hard hat.

Our last day in the Highlands brought a slight change to the now conventional timetable where I would run in the morning before heading off somewhere with the family on my return. Because of the poor weather forecast we decided to head off early for our planned walk at Glen Nevis before returning in the afternoon for a run while the kids would be entertained with a film or two we promised they could watch as a reward for their walking efforts.
This plan backfired somewhat when the weather, as we drove to the Ben Nevis Visitor Centre, deteriorated rapidly with a heavy storm only abating 20 minutes or so after we had parked. We managed to enjoy a family walk where we only got quite wet. That was until the last mile or so when the heavens, once again, opened in quite spectacular fashion, leaving us all soaked to the bone and me heading off back to the car to rescue the others huddling under an inadequate tree!
After returning back to the caravan for lunch and a chance to dry off, I set off on my run at just after 4pm. Unlike the past two runs I knew exactly where I was heading. The previous afternoon we had enjoyed a short walk to the Inchree Falls back in Glen Righ Forest. On that circular walk I noted that at a junction in the forest tracks there was a road to the right that matched the long track on Google Maps I had failed to find on my run earlier that morning.
Heading once again to the Inchree car park and setting off on the relatively steep but not too technical path up to the Inchree Falls I had planned to carry on past them as I'd taken the liberty of photographing them the previous day to include on my Strava photos for the run. However, on reaching them with the skies partly cloudy but definitely with some sunshine, the waterfalls were far more photogenic than the day before, so there was an unplanned brief stop to capture their splendour once again.
The path from the waterfalls climbed a little further before reaching the junction, where I turned right and headed along the track to who knew where.  From the walk the previous day I knew that it must lead to something for we were passed by a car or two heading from somewhere. The forest track, although unpaved was in good condition to be driven on and a cattle grid gave more clues that this was not exactly a relic from the past.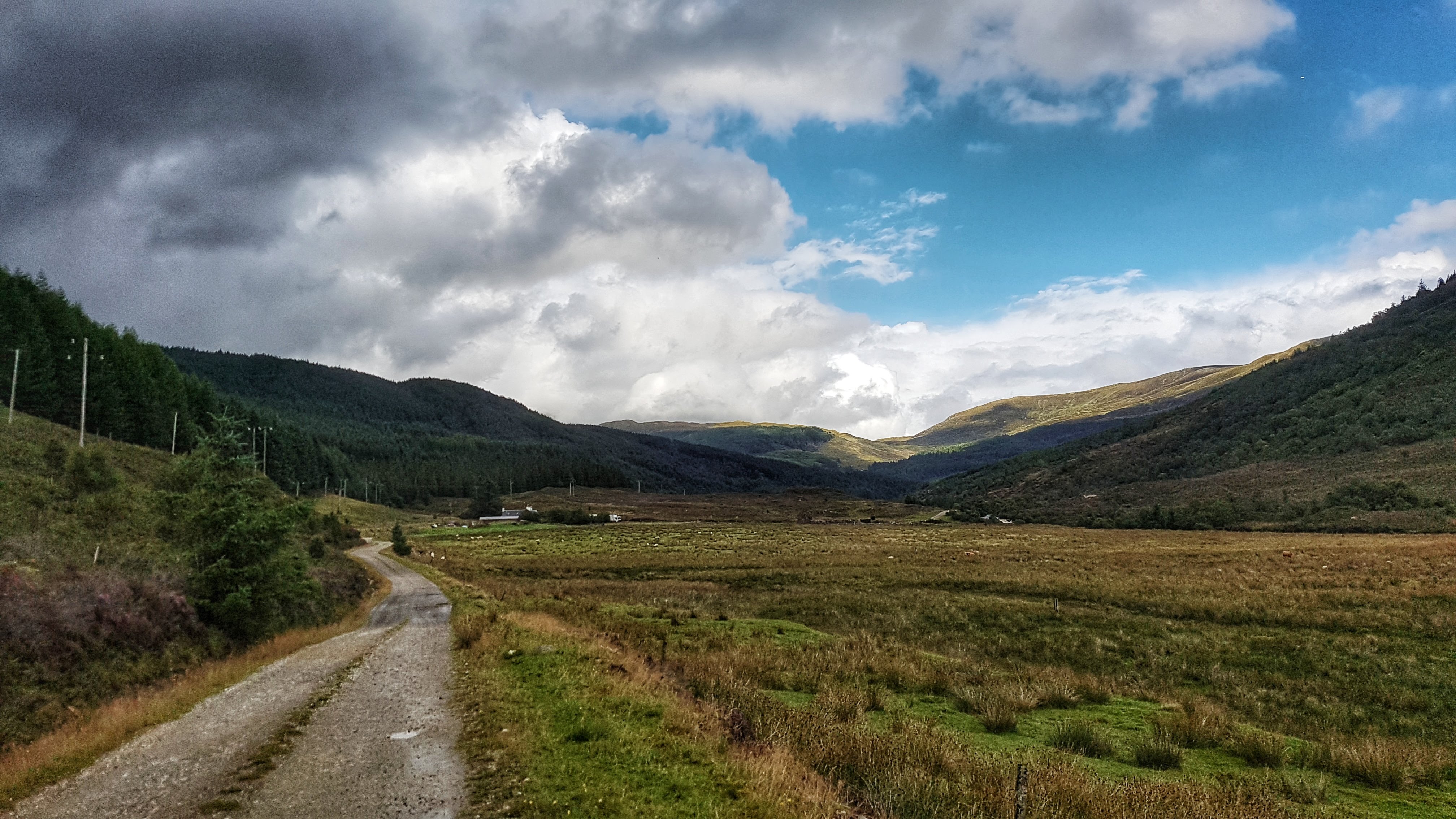 Heading to where? In Glen Righ Forest.
As I climbed as far as the road wanted to go I was presented with the view above – the hills and mountains mostly clear to see for the first time since arriving in the Highlands. To the right of me were wild Highland cattle enjoying the pastures. In the distance on the bend I could see a building or two which looked like it served an industrial purpose. As I passed this an LPG lorry squeezed past me. It was quite strange to experience traffic on a road which appeared to be heading deep into nowhere.
I continued running for another couple of miles, the pace very comfortable at around 6:40 a mile, the road twisting and turning gently, a parked car where a moderately sized river (presumably heading to Inchree Falls) hugged the track, a house or two – one long since derelict, the other clearly currently lived in. Then some noise of construction – off the track and in the forest covered hills a small hut and machinery seemingly clearing the trees from the hill and smoothing the ground on the hill itself.
The path took me away from this work for another mile or so when I approached a small bridge and a warning sign telling me in no uncertain terms that entry was forbidden by law unless you were wearing a hard hat. Quite what was beyond the bridge and sign I wasn't totally sure, but I wasn't going to risk life and limb to find out, especially as the Garmin had very conveniently just clicked over the five mile mark, making it very conveniently a ten mile out and back run in total if I retraced my steps to the letter.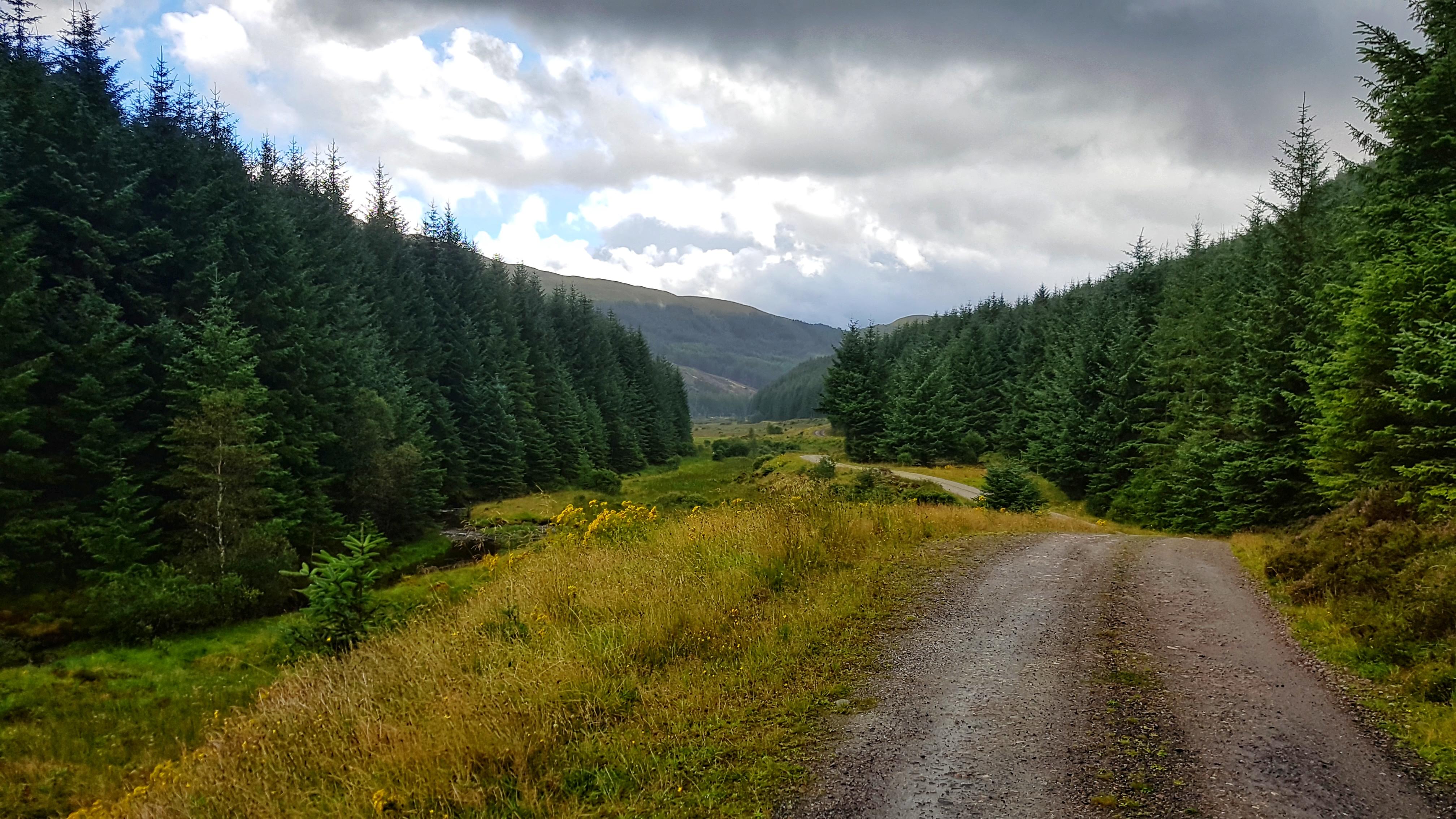 Just as the photo above was taken the heavens opened once again that day and I was soon pretty wet, but with the legs feeling really good – perhaps the best they'd felt all holiday, and the scenery continuing to delight with every twist and turn, I didn't mind the rain at all. The return miles back to the A82 were a 6:34, 6:24, 6:13, 6:21 and 6:02 – speeding up as the road began to head downhill for the final mile where I missed the waterfall path and continued on the main track back to the car park. It wasn't all running however as it  included a brief spell of enforced walking. The ten or so Highland cattle who were on the pastures had settled on the road and although the signs said they were fairly tolerant with humans, I didn't want to stress them or have them testing their sizeable horns by running towards them in a speedy manner!
Crossing the A82 it was just a case of returning to the Caravan Park. Feeling great still the pace effortless gravitated towards 6 minute miles, but felt as if I was almost jogging. This run may have just have edged it as the most enjoyable on my Tour of Britain: very nearly road and traffic free but on a surface that was easy to run on; some stunning views with a the waterfalls, mountains and forests all looking amazing when the sun peeked through the clouds for the first time in days; an out and back run that forced a turnaround at just at the right moment; and legs that felt as if they were coming into some kind of good form rather than feeling exhausted like they should have been.
With the run done it was time to say goodbye to the Highlands and prepare for the long journey back into England!
Split Summary
===
1) 1m – 7:15(7:15/m) 127/141bpm 86cal 8.27/9.6mph
2) 1m – 7:57(7:57/m) 143/159bpm 110cal 7.55/9.77mph
3) 1m – 6:39(6:39/m) 138/150bpm 84cal 9.03/9.71mph
4) 1m – 6:43(6:43/m) 141/147bpm 89cal 8.94/9.33mph
5) 1m – 6:36(6:36/m) 144/149bpm 91cal 9.08/9.52mph
6) 1m – 6:33(6:33/m) 137/149bpm 74cal 9.15/10.6mph
7) 1m – 6:24(6:24/m) 144/147bpm 85cal 9.37/9.77mph
8) 1m – 6:13(6:13/m) 145/150bpm 81cal 9.65/10.12mph
9) 1m – 6:20(6:20/m) 145/156bpm 79cal 9.47/10.35mph
10) 1m – 6:02(6:02/m) 141/154bpm 67cal 9.93/10.73mph
11) 0.45m – 2:47(6:13/m) 147/152bpm 36cal 9.64/10.5mph
Best Strava Segment Performances (all created by me post run – there were no segments at the time of running):  From A82 to Inchree Carpark – 1st/77; To the Waterfall 1st/1 (bit surprised by this); Random Segment #1 – 1st/29; Back from the warning sign back – 1st/14; Drop back to the car park – 1st/49.
Leg Five Summary
Distance Run: 30.7 miles. Average Pace: 6:48 per mile. Accumulated Time: 3:28:47. Average HR: 140; Total Ascent: 727 meters.