Knaresborough, a couple of miles from where we stayed for our final destination on our three week holiday, is a market town of around 15,000 people,  four miles east of the larger Harrogate, in North Yorkshire. Lying on the River Nidd, the town has the popular tourist destinations Mother Shipton's Caves and Knaresborough Castle.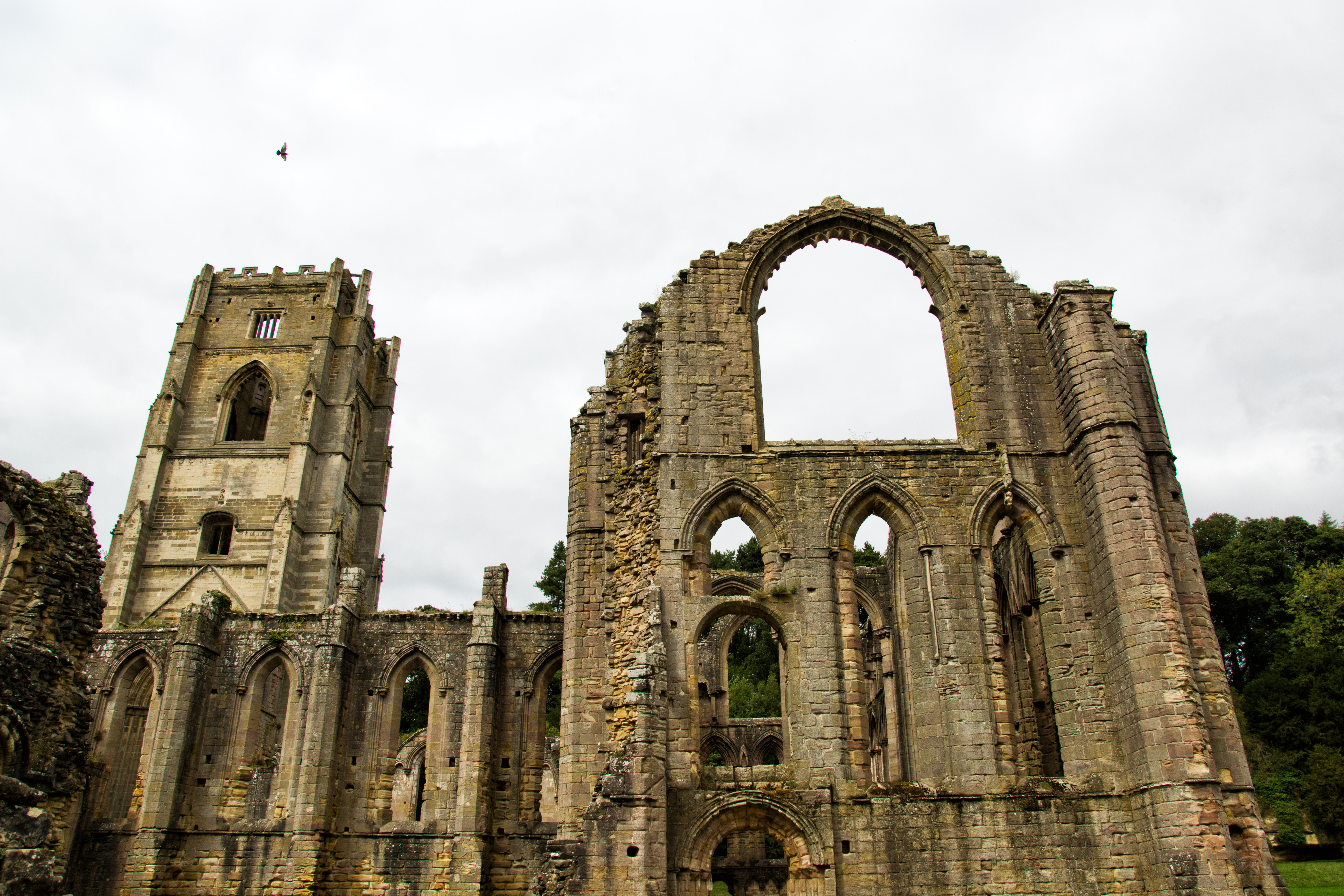 We had just one full day to spend in Knaresborough. With many potential places to visit, we headed to the nearby Fountains Abbey. This popular National Trust  is a World Heritage Site and has one of the most impressive ruins of a building I've seen (I'm not usually that moved by them). It's also a venue of what must be an awesome parkrun. One to remember for future trips!
Day 19 – Monday 20th August 2018 – Knaresborough exploration and likewise in Nidd Gorge.

The relatively straightforward drive from Carlisle to Knaresborough – M6, A66 to Scotch Corner, then A1 South – was made more stressful by the anti friction pads on the caravan dying on us, which made for horrendous sounding noises whenever the caravan turned or hit a bump! Fortunately we made it one piece and after a quick lunch and set up I was on my way at 3:30pm for my nineteenth run in a row.
The caravan site leaflet recommended Nidd Gorge as an great place to go for a walk. Where there's a great walk there's usually somewhere good to run, plus it had the great benefit of nearly literally being just over the main road right next to where we were staying. Once I arrived in Nidd Gorge car park, I was able to peruse a map, which showed numerous footpaths in the Woodland Trust owned forest. One of them headed in the direction of Knaresborough which was my target destination for the run.
I dropped down a wide gravel path, around a nice alpine style hairpin, and was offered the option of crossing the wooden bridge above. Over I went and I had headed left which I figured would take me to Knaresborough. The terrain quickly became more technical and more uphill – the opening miles of 8:02 and 7:21 not bad considering the terrain.
The speeding up of pace was partly thanks to popping out onto the Beryl Burton Cycleway after a mile and a half of running. This recently constructed route (Made partly by making Bilton Lane a no-through road for vehicles) takes cyclists and pedestrians from Knaresborough to Bilton and then on to Harrogate or Ripley thanks to the Nidderdale Greenway. I was much enthused to be in another part of the country with an abundance of seemingly well maintained and useful cycle paths.
I headed to Knaresborough, which was little more than a mile away, it wasn't long before the Beryl Burton Cycleway ended, marked by a tribute to a cyclist who, were she born to a more recent generation, would surely have been one of Britain's most famous sportswomen, but who is probably now unknown to most and better known to cycling fans now than she was when competing.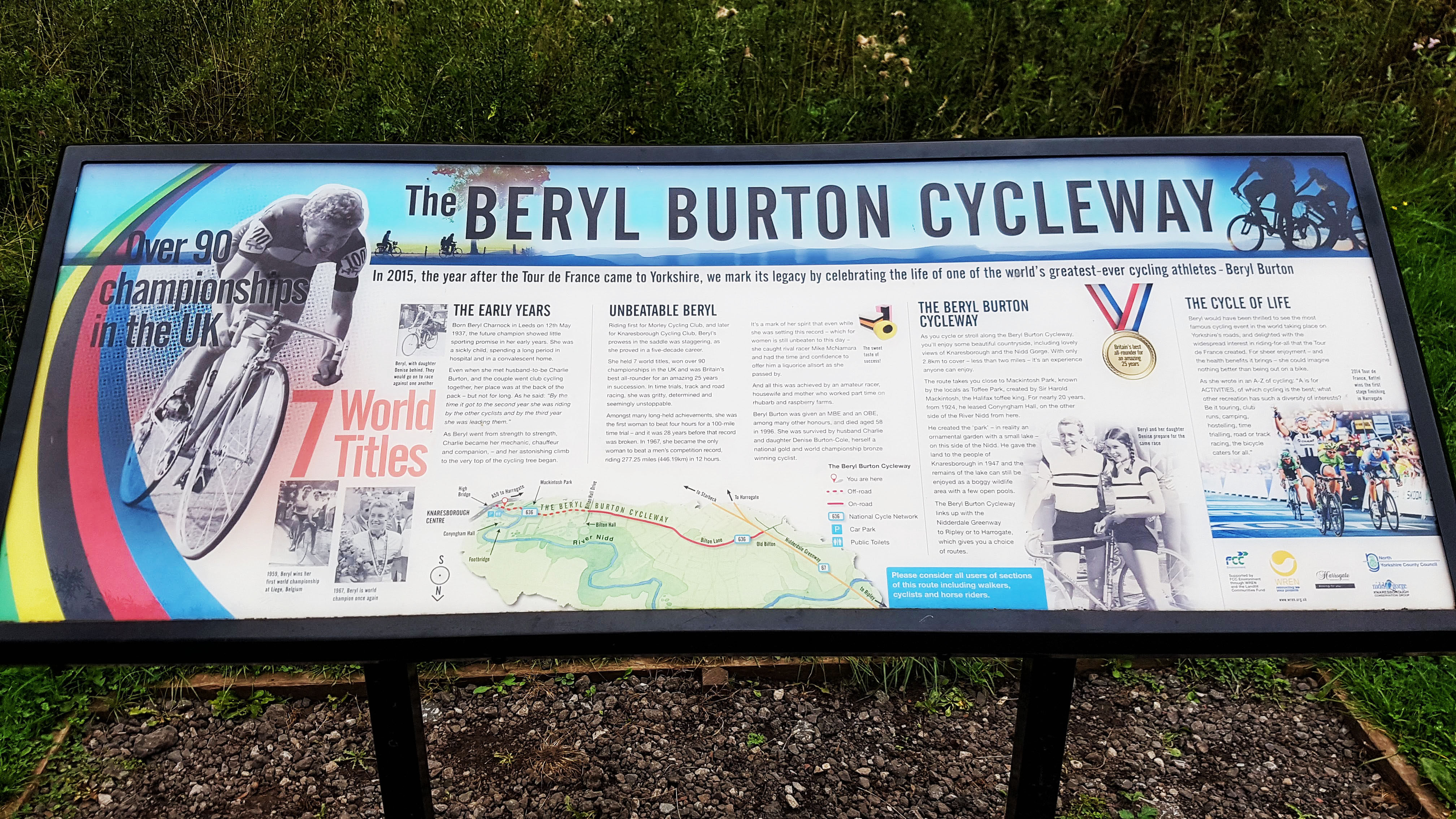 Having read all about Beryl I ran a few yards further on, popping out on the main road that takes cars the short journey from Knaresborough to Harrogate.
On a bridge next to the entrance to Mother Shipton's Cave I spotted the great vista as shown above. Rowing boats, cottages, bridges, the River Nidd – idyllic!
Running uphill I spotted another, more direct homage to the 2014 Tour de France, which passed through during Stage Two.
Although a good example of a Yorkshire Town, this was about as good as it got as I spent the next couple of miles or so running a largely fruitless figure of eight of the town, with an ultimately pointless detour down a cul de sac, which Google Maps suggested could link me to a small road by the river, but didn't (I was on the wrong road).  I also managed to only just but completely miss the castle and its grounds as I searched for interesting places to discover.
Popping back out on the same main road I was on a couple of miles earlier and with less than five miles covered there had to be some more exploring to make up the remaining five miles. I went into the grounds of Conyngham Hall  which provided me a mile or so where I lost track of where I was before popping out of Foolish Wood and recognising the familiar surrounds of the Beryl Burton Cycleway.
I decided to head back the way I came, back along Beryl into the Nidd Gorge and crossing the bridge. After studying long and hard the map in the car park which I'd photographed on my phone, with over two miles left to run I opted to turn right rather than left which would take me – hopefully – to an alternative exit.
Some of the terrain on this route was even more technical and a little bit ridiculous – The Basterd as its known on the 0.04 mile Strava section has a entirely believable average gradient on Strava of 25%. My very slow time was due to stopping at top and bottom to work out where on earth I should be heading. Somehow I managed to pop out back onto the main road, before opting to head back into Nidd Gorge briefly again to exit at yet another exit (this time into a small housing estate).
With another mile still to kill I crossed the main road and ran a small loop near Scotton, the small village where the caravan site was. By the time I was back at the caravan park I'd finally clocked up ten miles, winding up at 10.35. I averaged a leisurely 7:35, but given that mile eight alone took 9:05, being little other than walkable at times, and with plenty of other technical sections, the pace wasn't too bad. Besides, I was deliberately taking it very easy after a tough weekend of running and with two more runs remaining. I didn't want to blow a gasket now, being so close to achieving my goal!
Split Summary
===
1) 1m – 8:03(8:03/m) 125/148bpm 92cal 7.45/8.89mph
2) 1m – 7:21(7:21/m) 143/156bpm 104cal 8.16/9.12mph
3) 1m – 7:08(7:08/m) 134/152bpm 82cal 8.4/9.87mph
4) 1m – 7:08(7:08/m) 135/146bpm 82cal 8.41/9.02mph
5) 1m – 6:55(6:55/m) 135/145bpm 77cal 8.68/10.06mph
6) 1m – 7:32(7:32/m) 139/156bpm 89cal 7.97/9.33mph
7) 1m – 7:08(7:08/m) 139/155bpm 82cal 8.41/9.04mph
8) 1m – 9:04(9:04/m) 128/149bpm 74cal 6.61/9.93mph
9) 1m – 8:02(8:02/m) 136/158bpm 85cal 7.47/9.12mph
10) 1m – 7:20(7:20/m) 140/154bpm 85cal 8.17/9.29mph
11) 0.35m – 2:22(6:44/m) 147/151bpm 33cal 8.92/9.89mph
Best Strava Segment Performance:  Scotton carpark drop – 2nd / 191
Day 20 – Tuesday 21st August 2018 – A bit of everything around Harrogate.

Having interrogated more  closely the map of Nidd Gorge that I Had photographed at the beginning of the previous day's run, I noted that if, I had turned right instead of left when I crossed the wooden bridge, there was a fairly long path which would hopefully bring me out somewhere north of Harrogate.
I left the Caravan Park at 8:25am and set off for the penultimate run of my Tour of Britain. The legs felt fairly reasonable although, as always, the first mile saw the Achilles especially take a little while just to warm up and ache a little less. Into Nidd Gorge and turning right over the bridge the terrain quickly became very technical. There were fair chunks that had wooden sleepers covering the boggy ground underneath. Generally the going underfoot was good; I imagine in the winter time or when there has been heavy rain, the ground beneath your feet would be treacherous and requiring cross country spikes!
The opening mile took 9:34 despite dropping over 100 feet in elevation and spending the opening half mile on good solid ground. Things were even tougher for the second mile, literally finding myself reduced to walking for short periods as the abundance of tree roots especially made planting your feet with any degree of security a perilously difficult task .
The second mile was 9:37. Despite concentrating very hard on the ground below me I was able to spot the ladybird in the picture above. The stone had been painted and carefully placed on a fallen tree. It was one of scores of such painted stones that we encountered on our holiday – apparently it has been something of a craze amongst the youth.  The natural scenery was pretty good too, I imagine the river would have been more impressive with some decent rainfall.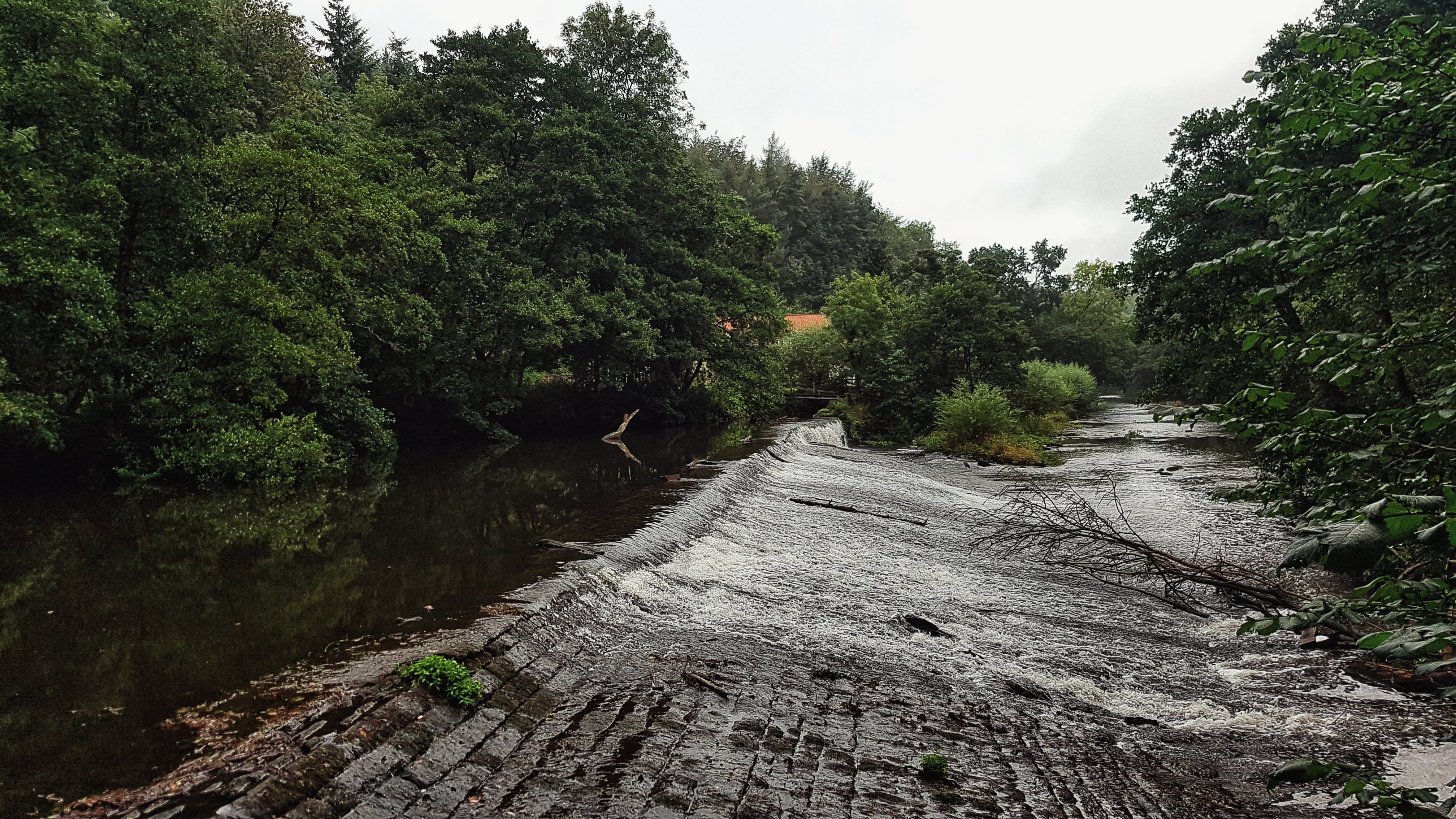 The third mile was a touch faster at 8:46 as the terrain difficulty eased a touch and I was able to increase the pace. Shortly before leaving the Gorge an impressive viaduct stood out amongst the trees and water. Once carrying a railway I wondered what it was used for now.
The next day I would find out, but for now I turned sharp left and uphill, scrambling out to exit the Gorge and through a park (Knox Country Park, to be precise) and a footpath behind some allotments before being spat out on a fairly unremarkable housing estate. By now I was loosely following signs for a Harrogate circular walking loop, which I followed for a mile or so before it attempted to take me over a field where someone who presumably resented the field being a footpath advised there were bulls in the field and you entered at your own risk!
On this quiet road which took me to a small village called Knox, I came across the only runner I got to follow except for when I was doing parkruns in my Tour thus far. I briefly considered following him when he turned right on the busy A61, but I opted to go with the road signs pointing me to Harrogate and bid him a silent farewell.
Running on solid, albeit undulating terrain, the pace picked up to a more familiar low seven minutes per mile.  Heading left onto the A59 which would see me avoid central Harrogate itself, I was very aware of how polluted the roads were with petrol and diesel fumes having been largely spoilt by mostly traffic free running for the past 20 days or so.
Not particularly enjoying this polluted road, I chanced upon a cycle route sign that went off on a quieter road. Having consulted the Google Maps and gained its approval that this would be a potentially more pleasing alternative to the main road, I headed down Grove Park Terrace which soon enough offered a cycle path over the bridge of the main railway line and onto a dedicated, immaculate cycle path.
I ran along this for a mile, the pace coming down to 6:30 for mile seven. It brought me out at a cycle path junction – the Nidderdale Greenway continued straight on, the Beryl Burton Cycleway was a right hand turn. Familiar with Beryl and where she would take me I turned right, initially up a bit of a drag of a climb before it levelled off on Bilton Lane.
There was around half a mile of virgin territory for me before I recognised the path as that which I had run on the day before.  A 6:38 mile was followed by a 6:08 mile as the confidence of familiar surrounds saw the central governor free up some energy reserves to the legs. They would be needed when I hit Knaresborough and took on the main B Road back to the Caravan Park, for there was a cheeky little climb or three to tackle before getting back to the comfort of my caravan.
With mile 10 covered in 6:31 and mile 11 in 6:27, the 11 mile run, which was looking set to be the slowest of the Tour turned out to merely be one of the slowest at an average of 7:25. It certainly though won the award for the most variety with woodland, rivers, tough technical terrain, housing estates, footpaths, busy A roads, choked busy town centres, glorious cycle paths with gentle ex-railway gradients and more traditional Yorkshire ascents.
Run 20 down – just one more run to go!
Split Summary
===
1) 1m – 9:35(9:35/m) 117/141bpm 92cal 6.26/8.31mph
2) 1m – 9:38(9:38/m) 128/143bpm 105cal 6.23/7.39mph
3) 1m – 8:45(8:45/m) 126/145bpm 87cal 6.86/10.42mph
4) 1m – 7:19(7:19/m) 133/152bpm 81cal 8.21/9.46mph
5) 1m – 7:06(7:06/m) 145/159bpm 96cal 8.45/9.58mph
6) 1m – 7:02(7:02/m) 131/143bpm 67cal 8.54/10.35mph
7) 1m – 6:30(6:30/m) 136/146bpm 74cal 9.23/9.73mph
8) 1m – 6:34(6:34/m) 147/153bpm 93cal 9.14/9.96mph
9) 1m – 6:08(6:08/m) 144/153bpm 79cal 9.79/10.52mph
10) 1m – 6:31(6:31/m) 154/160bpm 98cal 9.22/9.83mph
11) 1m – 6:28(6:28/m) 151/160bpm 91cal 9.29/10.23mph
12) 0.03m – 15(7:19/m) 146/148bpm 3cal 8.2/9.14mph
Best Strava Segment Performance:  The Bond End Climb – 2nd / 218
Day 21 – Wednesday 22nd August 2018 –To Ripley Castle on the Nidderdale Greenway

So this was it – my last day of running on the final morning of our near three week holiday. This day was always planned as no more than a travel day, so it was a case of running, finishing the packing and loading and then off to home we go.
If you'd have asked me some weeks earlier how I would be feeling having completed twenty consecutive runs of a minimum of ten miles, then I'd imagine by this last day I would have been exhausted, probably injured, and ready to do the bare minimum required to achieve the rather pointless goal.
To my surprise though, although the starts of runs were often a laborious, shuffling affair as I waited to the Achilles to stretch out and stop aching, the running had generally improved over the weeks, particularly in the past seven days, and I was feeling good enough to attempt something a bit longer for the final run. I'd seen a few signs for the Nidderdale Greenway and was keen to run more of it than I had done the previous day. If I had carried along it when I'd left Harrogate the previous day rather than head onto the Beryl Burton Cycleway it would apparently take me to Ripley and its castle.
Rather than take the Greenway from its starting point in Harrogate, I figured the quickest way to get to it would be to, once again, head through Nidd Gorge to pick up the Beryl Burton Cycleway which, if I turned right, would take me to the Greenway after a mile or so of running. The opening mile was predictably slow through the technical Gorge at 8:59. Once through the worst of it the pace soon picked up, 7:13 for the second mile as I ran along Beryl Burton and then a 6:32 as I turned right at a cycle path crossroads onto the Nidderdale Greenway.
Officially opened in 2013, the Nidderdale Greenway follows the route of the Leeds to Northallerton railway, which closed in 1969. Being an ex-railway line meant this section was pretty straight and the gradient was gentle and gently downhill for the two and a half miles or so to Ripley.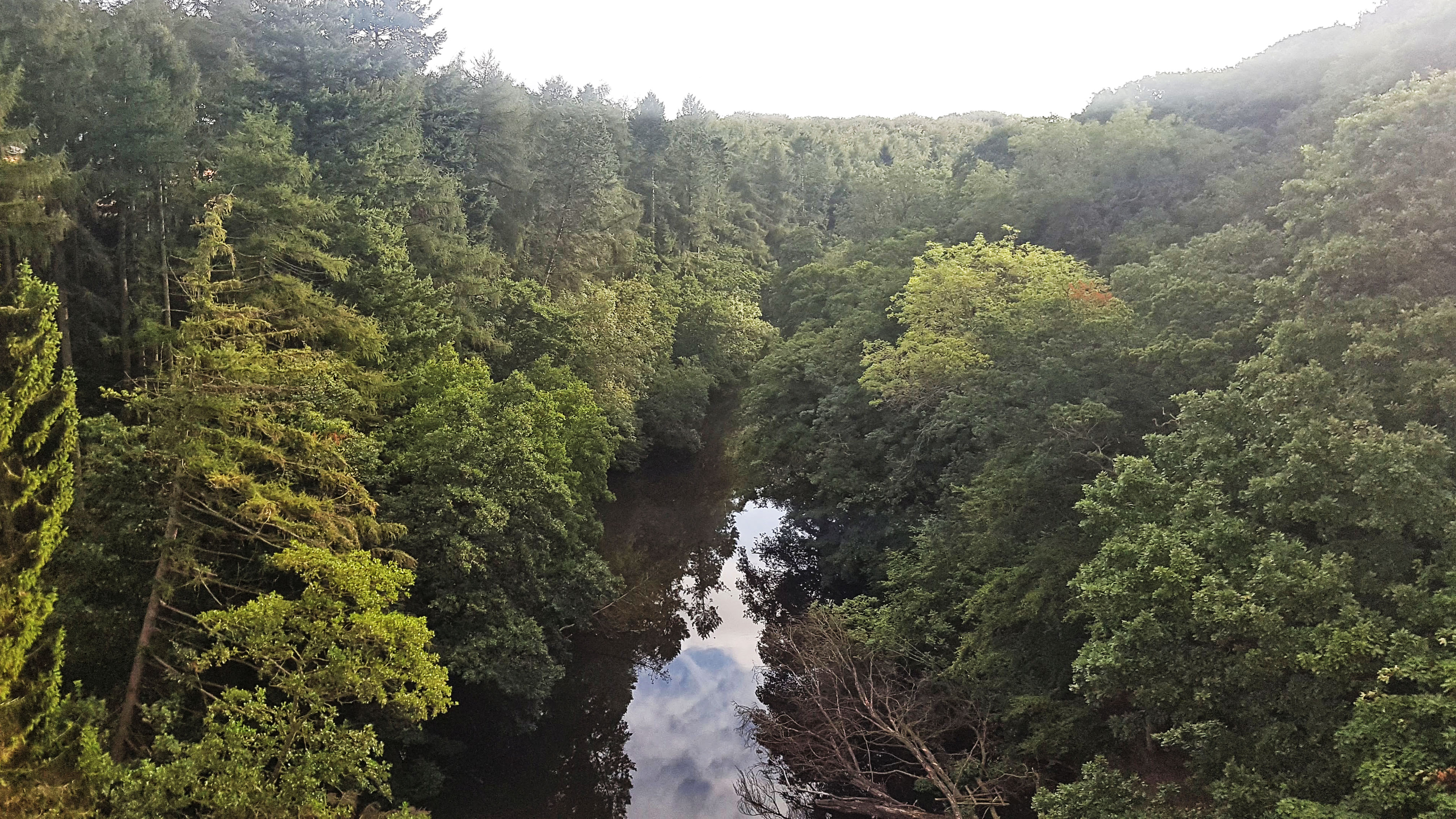 Feeling fairly sprightly I continued at a fair old lick, only stopping briefly to take the picture from the former railway viaduct that I had spotted on my run the day before. Apparently I was not the only one struck by its grandeur, it is apparently a Grade II listed structure. Once the bridge had been crossed I decided I would not stop running until I had to, thinking there could be some Strava segments en route to have a go at. This meant I even attempted a once only attempt at taking a photo while running. Actually the result wasn't too bad – as shown below, but it did fail to make the cut for Strava.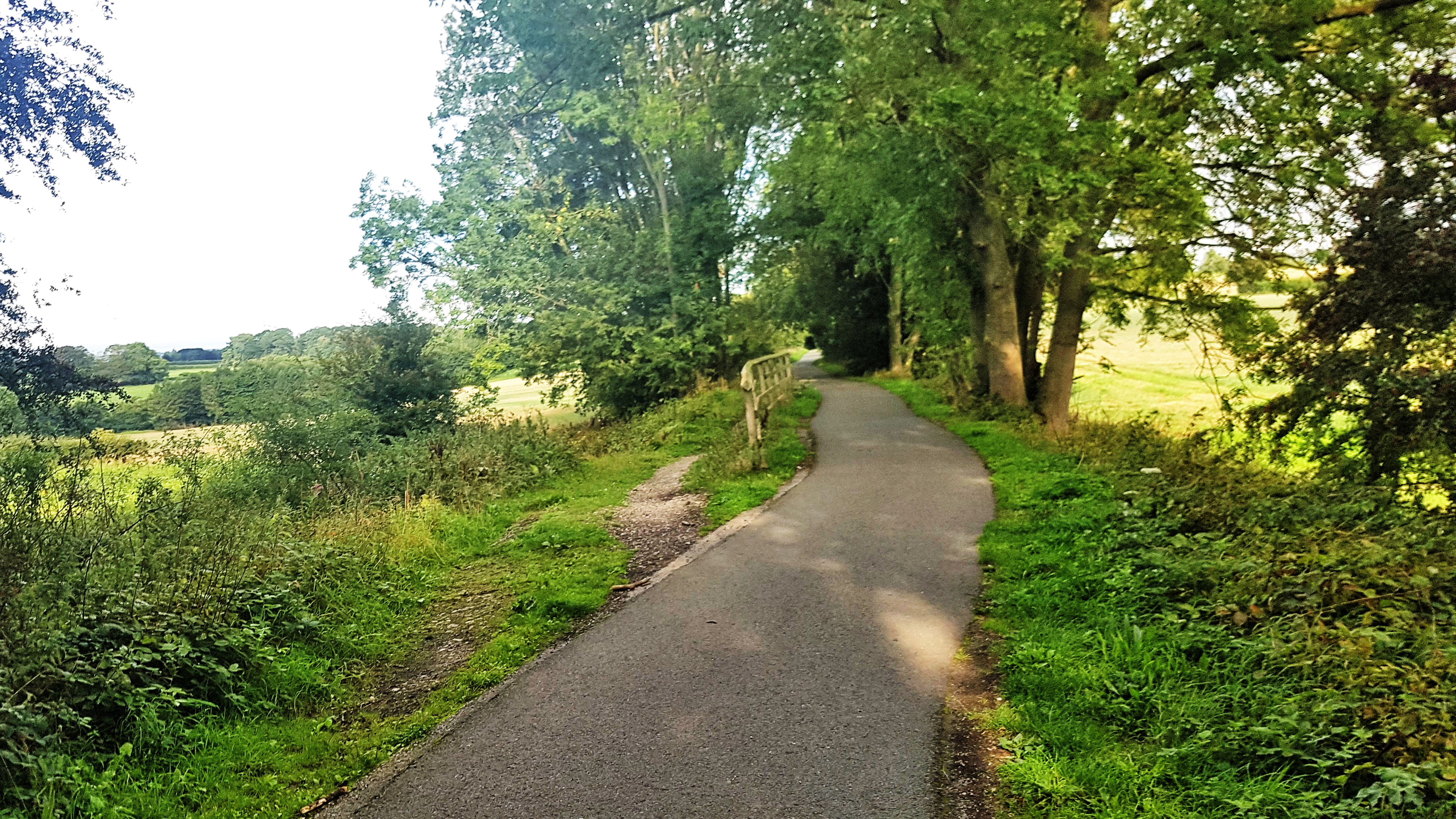 Mile 4 was 6:25 and mile 5 was 6:32 – involving as it did a little bit of climbing, road crossing and another stop to take a picture of another tribute to the 2014 Tour de France.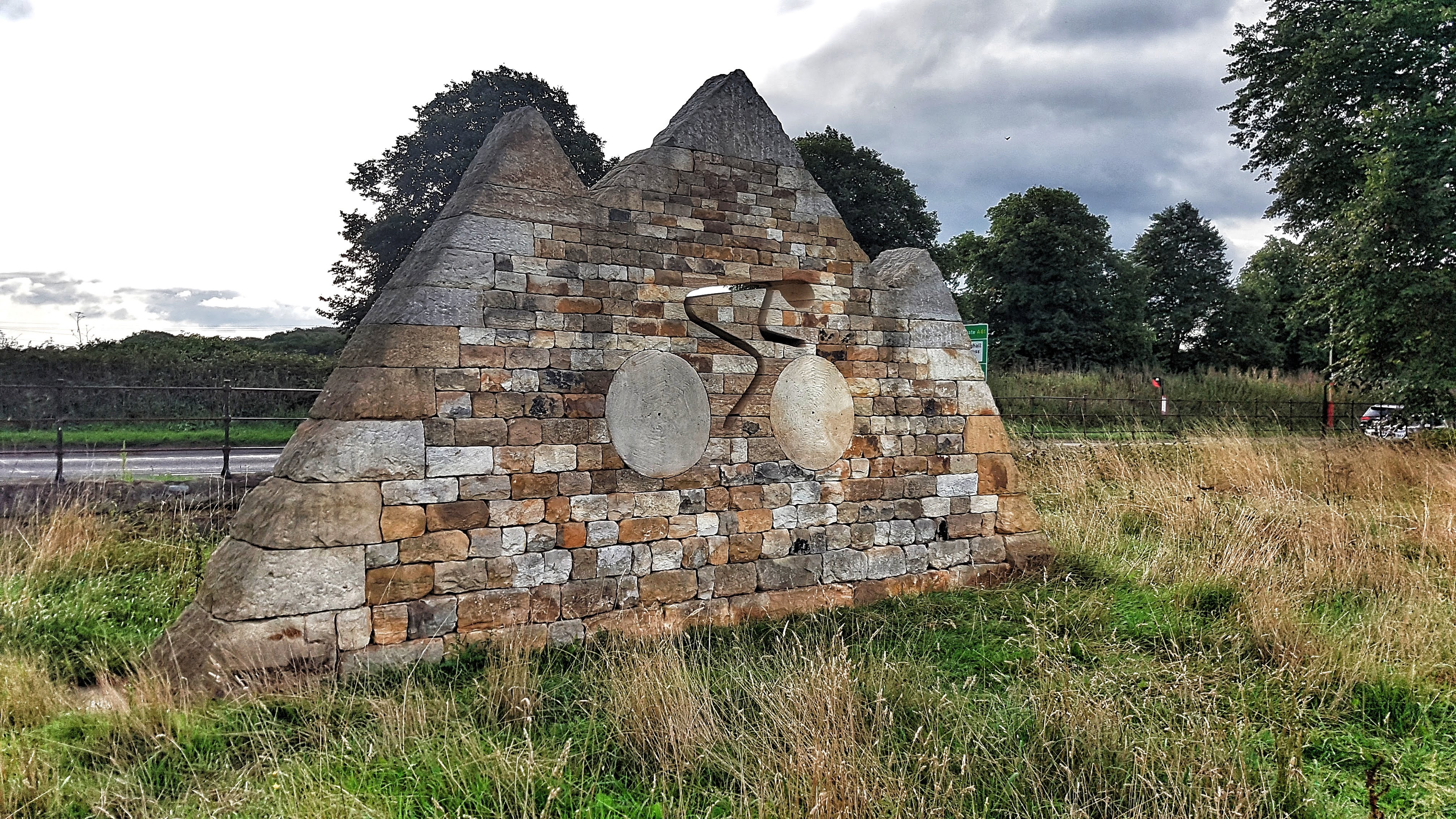 I ran along the cycle path for another half mile or so before I reached the entrance to Ripley Castle. There was just time to take a quick photo of the castle and of the picturesque road it sat on before turning around and heading back.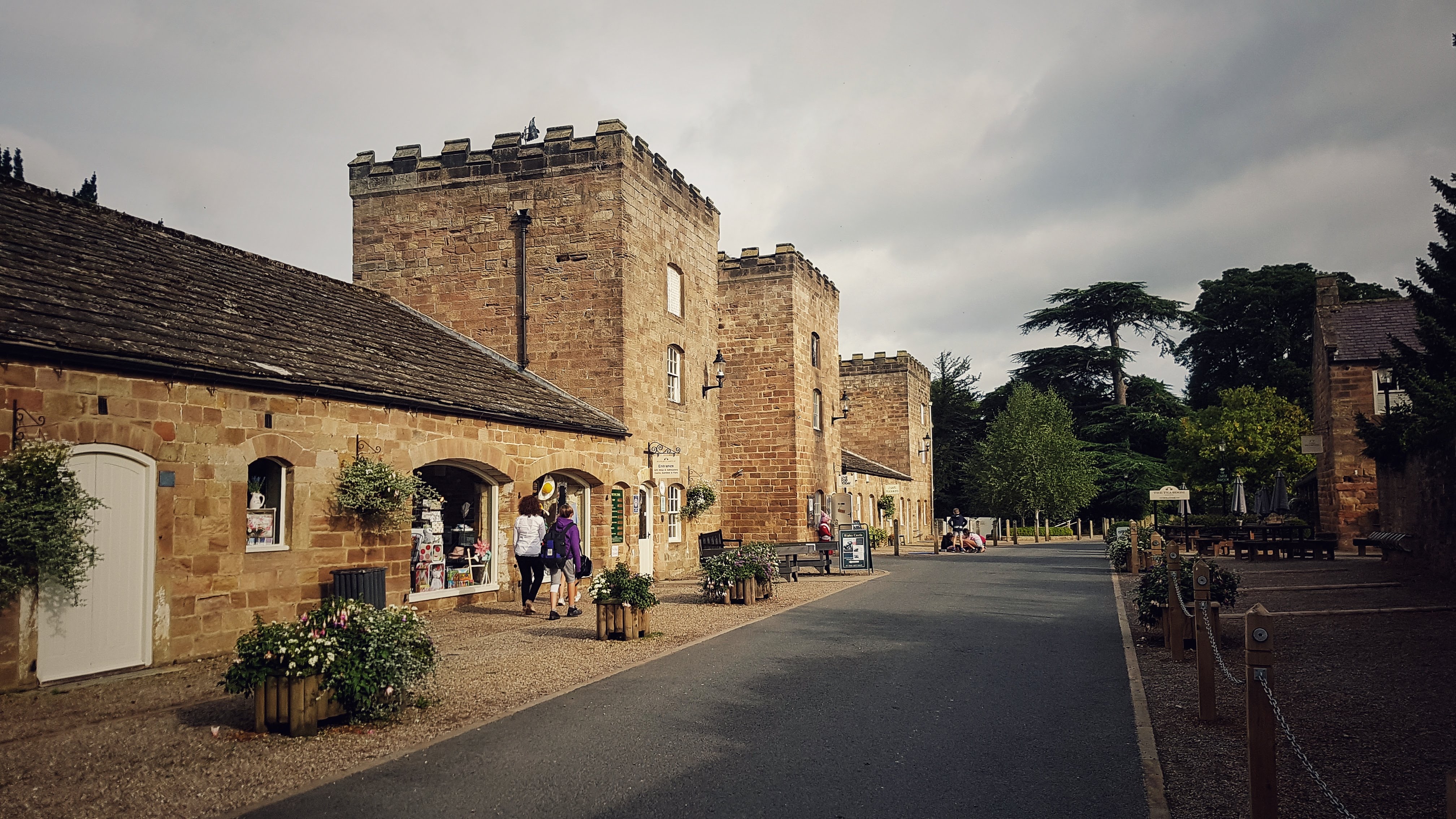 The return from Ripley was a little tougher than the way out as it was now gently uphill. Despite this the pace was pretty good really, I had stopped worrying about taking photos and was instead concentrating on maintaining good pace. Mile 6 slowed to 6:43, but then miles 7, 8 and 9 were 6:26, 6:20 and 6:31 as I opted to not turn left on Beryl Burton, instead carrying on the Greenway into Harrogate.
Mile 10 slowed a touch to 6:41, labouring a touch briefly, while I left the cycle path, spitting me out on the busy main road in Harrogate I had turned off the day before. Having subsequently driven on this road I knew I could get back to Knaresborough and the caravan site by taking the next main road left, which I duly did. Feeling rejuvenated, presumably by the knowledge of being only a few miles away from finishing, miles 11 and 12 sped up to 6:15 and 6:14 as I ran mostly gently downhill, before slowing to 6:30 for mile 13, which involved a fair bit of climbing and negotiating stationary traffic.
The final mile of my Tour of Britain was most pleasingly a 5:58, helped by having another stab at taking the Strava segment on the B road the caravan club site sat off. I didn't quite get a KOM, but did bag second spot. It did though mean that the final run of the three weeks away was the longest at 14.18 miles and at an average pace of 6:39 per mile the equal quickest too with two other runs on the trip.
On finishing back at the caravan, there was no fanfare, no medal, no t-shirt, no real acknowledgement of the achievement at all. But that was never the point of this. The goal was to see if I could run 10 miles every day of the holiday and, more importantly, to enjoy and fully appreciate the varied landscapes, terrain, topography, and even the weather that a three week holiday in northern Britain would bring. And to that end it was very much mission accomplished!
Split Summary
===
1) 1m – 9:00(9:00/m) 126/152bpm 102cal 6.67/7.83mph
2) 1m – 7:13(7:13/m) 142/152bpm 100cal 8.31/9.52mph
3) 1m – 6:32(6:32/m) 144/150bpm 92cal 9.19/9.75mph
4) 1m – 6:25(6:25/m) 144/153bpm 87cal 9.34/9.85mph
5) 1m – 6:33(6:33/m) 145/153bpm 87cal 9.16/9.93mph
6) 1m – 6:41(6:41/m) 135/148bpm 71cal 8.98/9.91mph
7) 1m – 6:25(6:25/m) 149/153bpm 91cal 9.34/10mph
8) 1m – 6:20(6:20/m) 152/155bpm 91cal 9.49/9.91mph
9) 1m – 6:32(6:32/m) 153/156bpm 95cal 9.2/9.77mph
10) 1m – 6:41(6:41/m) 152/158bpm 95cal 8.99/9.54mph
11) 1m – 6:15(6:15/m) 146/151bpm 77cal 9.61/10.42mph
12) 1m – 6:14(6:14/m) 148/155bpm 80cal 9.64/10.56mph
13) 1m – 6:30(6:30/m) 153/161bpm 87cal 9.24/10.54mph
14) 1m – 5:57(5:57/m) 161/168bpm 94cal 10.07/11.48mph
15) 0.19m – 1:11(6:16/m) 157/160bpm 17cal 9.57/10.48mph
Best Strava Segment Performance:  The Bond End Climb – 2nd / 218 (again – I was second the day before too!)
Leg Seven Summary
Distance Run: 35.6 miles. Average Pace: 7:09 per mile. Accumulated Time: 4:14:18. Average HR: 139; Total Ascent: 681 meters.
Overall Tour Summary
Distance Run: 227.6 miles. Average Pace: 7:00 per mile. Accumulated Time: 26:32:39. Average HR: 139; Total Ascent: 4034 meters.