For our penultimate stop on our grand tour of northern Britain we headed 200 miles south from the Highlands via the mostly beautiful, at times challenging, A82, and the less scenic but undeniably easier to drive M74, which magically became the M6 as we returned to England and stayed at Dalston Hall Caravan Site, where a misjudgement over the height of the barrier very nearly wrote off our caravan!
Dalston is a large village around 4 miles southwest of Carlisle. Home of a Nestle factory 'which has been on the outskirts of the village since 1952, processing 65 million litres of milk each year, and almost one billion sachets of Nescafe Cafe Menu products' there was also a very nice fish and chip shop which we visited on the Saturday night!
Lying north of the Lake District, there was no shortage of places to visit on our short stay. We enjoyed Wordsworth's house in Cockermouth, which happened to have a festival on that day (Our third on our trip!).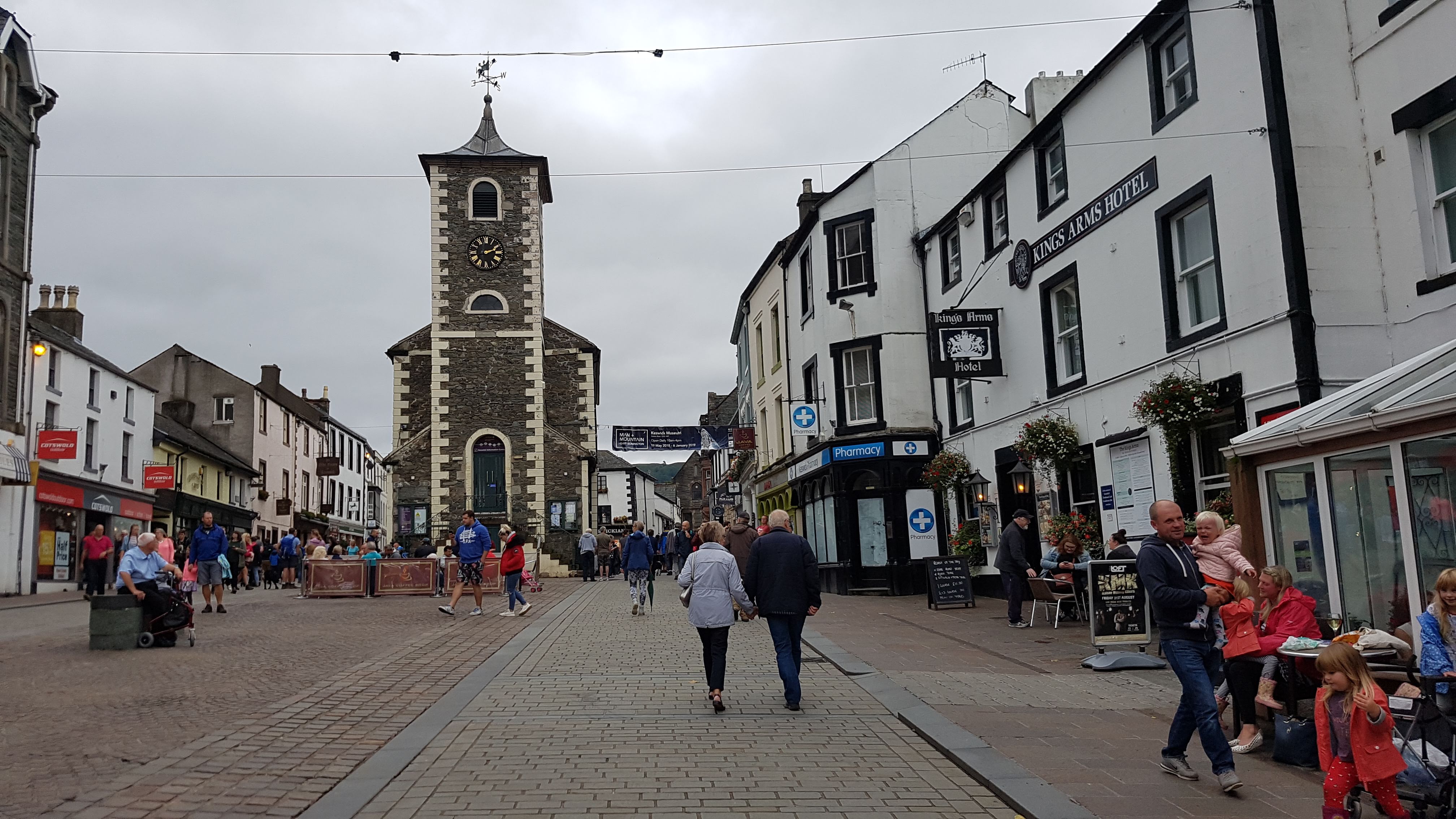 We visited Keswick for perhaps the fifth time – we really enjoyed the Puzzling Place – a museum crammed with mind bending illusions and puzzles.
From there we headed to Moss Force and Knott Rigg on Newlands Pass near Buttermere for some enjoyable Lake District hill scrambling and challenging driving. Carlisle provided a welcome playground for the kids who were beginning to tire of daily walks and we left Carlisle thinking that we definitely need to return to the Lake District again for a longer than three night stay.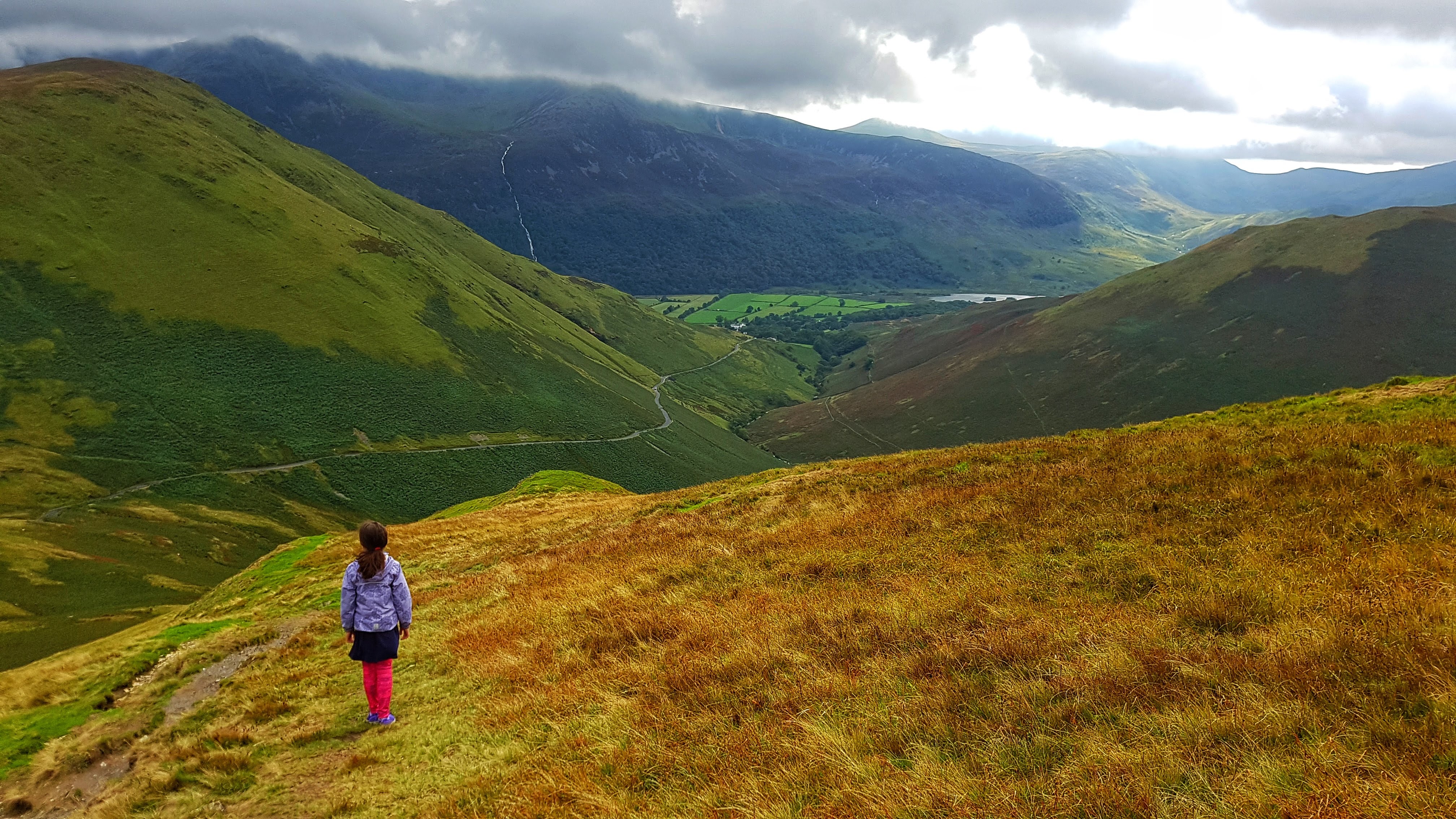 Day 16 – Friday 17th August 2018 – Into Carlisle and Out Again
After the long drive south back into England I wanted little more than a simple, uncomplicated afternoon ten mile run with perhaps the odd sight or two to enjoy. The first issue was that the road on which the Caravan Park lay,  was a fairly busy, fast B-Road, with plenty of traffic heading out of Carlisle towards somewhere. I wanted to head to Carlisle itself but didn't fancy running on the road. Thankfully the owner of the caravan park told me there was a footpath that ran to a cycle path that ran all the way to Carlisle and beyond.
Cycle paths are great for uncomplicated running I thought, so at a few minutes before 4 pm I headed off, under fairly leaden skies but, for the time being, dry. The route to the cycle path was quite a fun affair – across a golf course, down through some woodlands, along a well manicured grass path in a field, through another section of woodland before popping out on the main B Road just before Dalston, but right next to a private road which, if you headed along, through the self operated level crossing (a first for me!) headed to the long awaited cycle path. This sounds simple but required a fair amount of stopping and Google Map checking to assure myself that I was going in the right direction.
All this twisting and turning meant, at 8:02, the first mile was pretty slow, but once on the cycle path the pace naturally lowered to or just under 7 minute miles. I was though, having discovered that day there was a parkrun in Carlisle taking place on Saturday morning, taking it deliberately easy.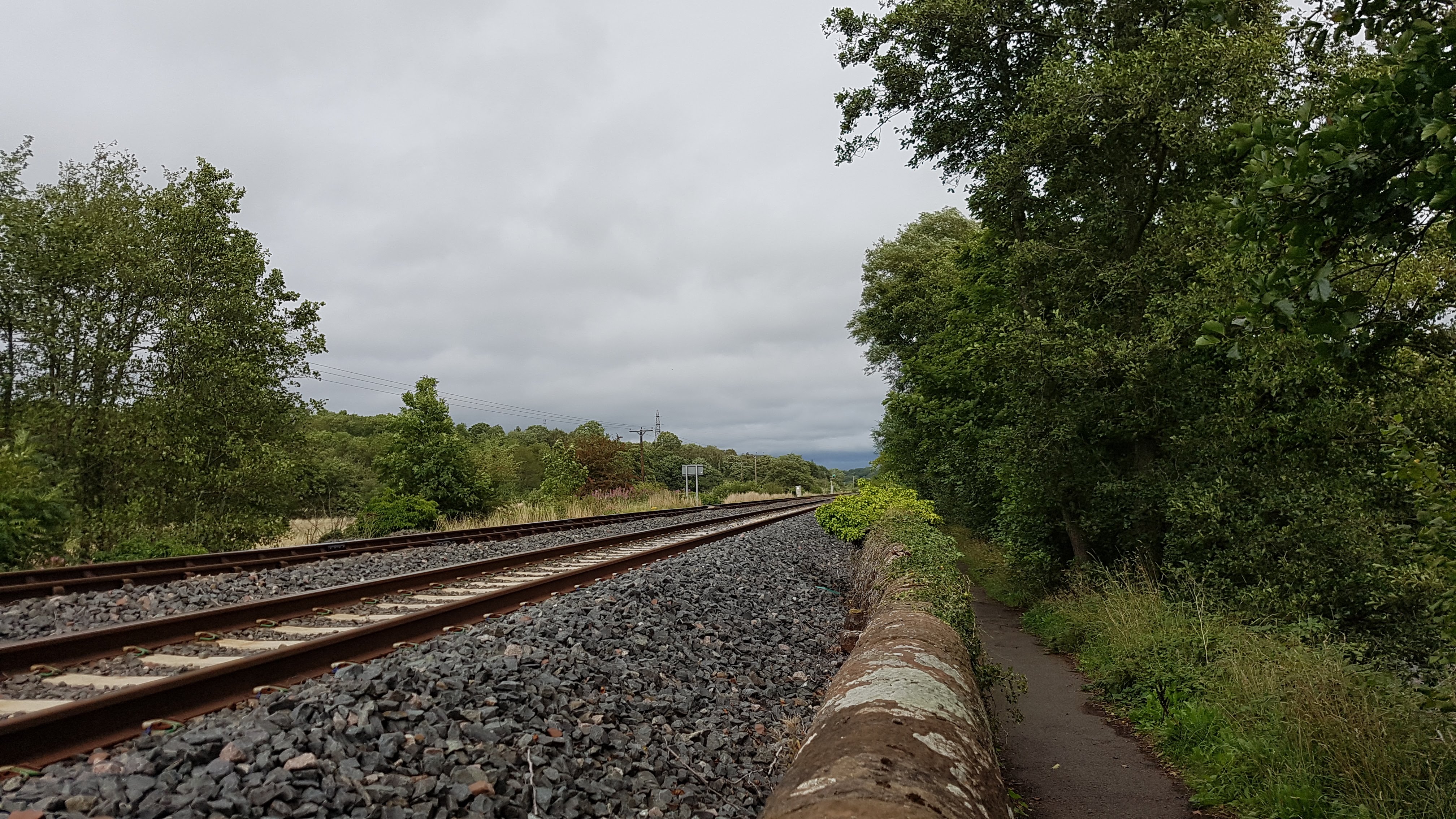 The path ran alongside a fairly quiet railway, at times it got very close to the railway – close enough to almost be able to touch a passing train if you were to be so stupid. I wasn't so I carried on running.  Arriving at the small village of Cummersdale I was briefly running on road before joining another path that was a little more undulating having left the path of the railway and instead copying the path of the River Caldew.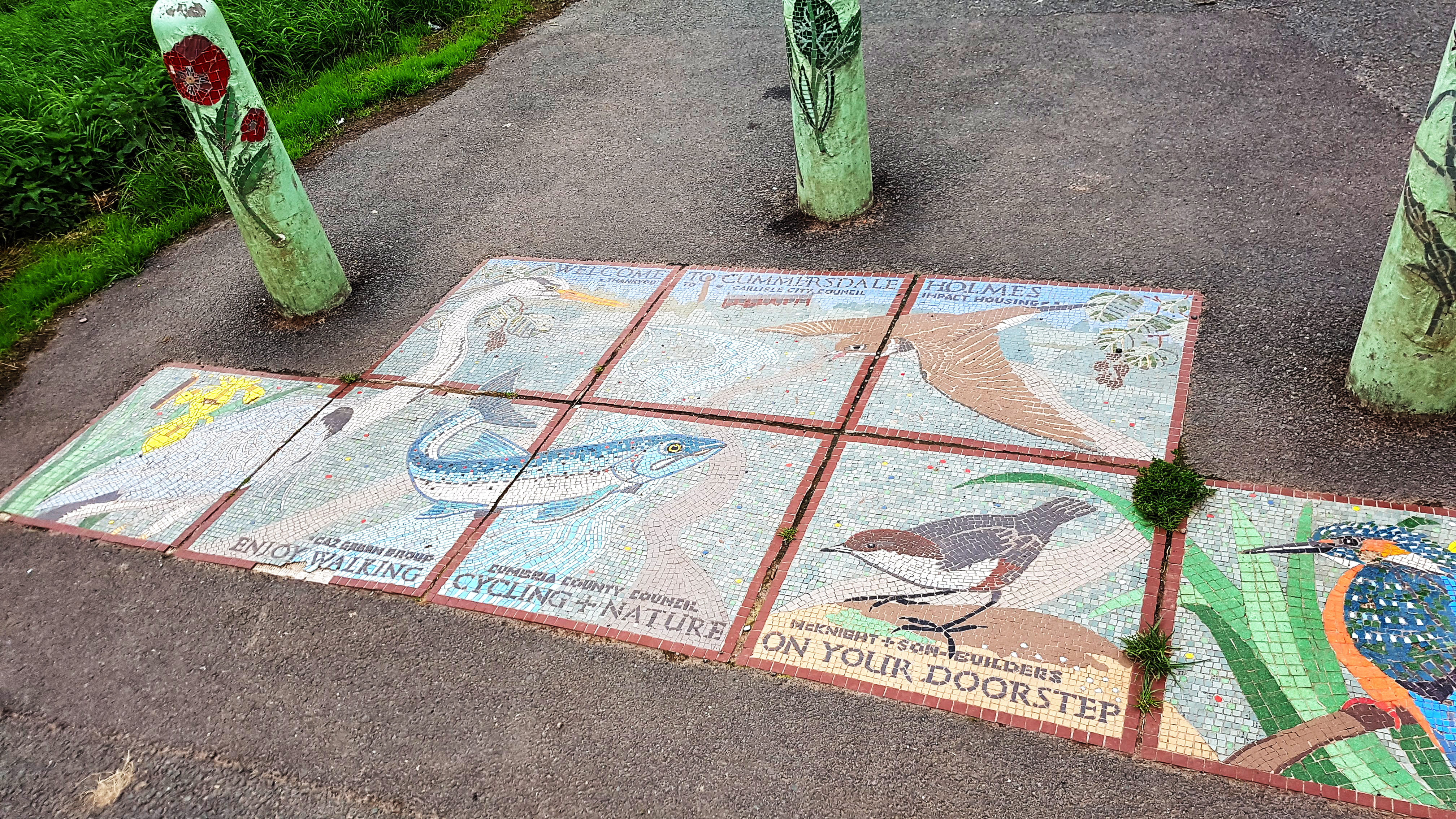 After five miles of running I was beginning to wonder if I'd ever reach Carlisle, but the welcoming sight of a signpost for Carlisle Castle assured me that I was indeed in the heart of the city.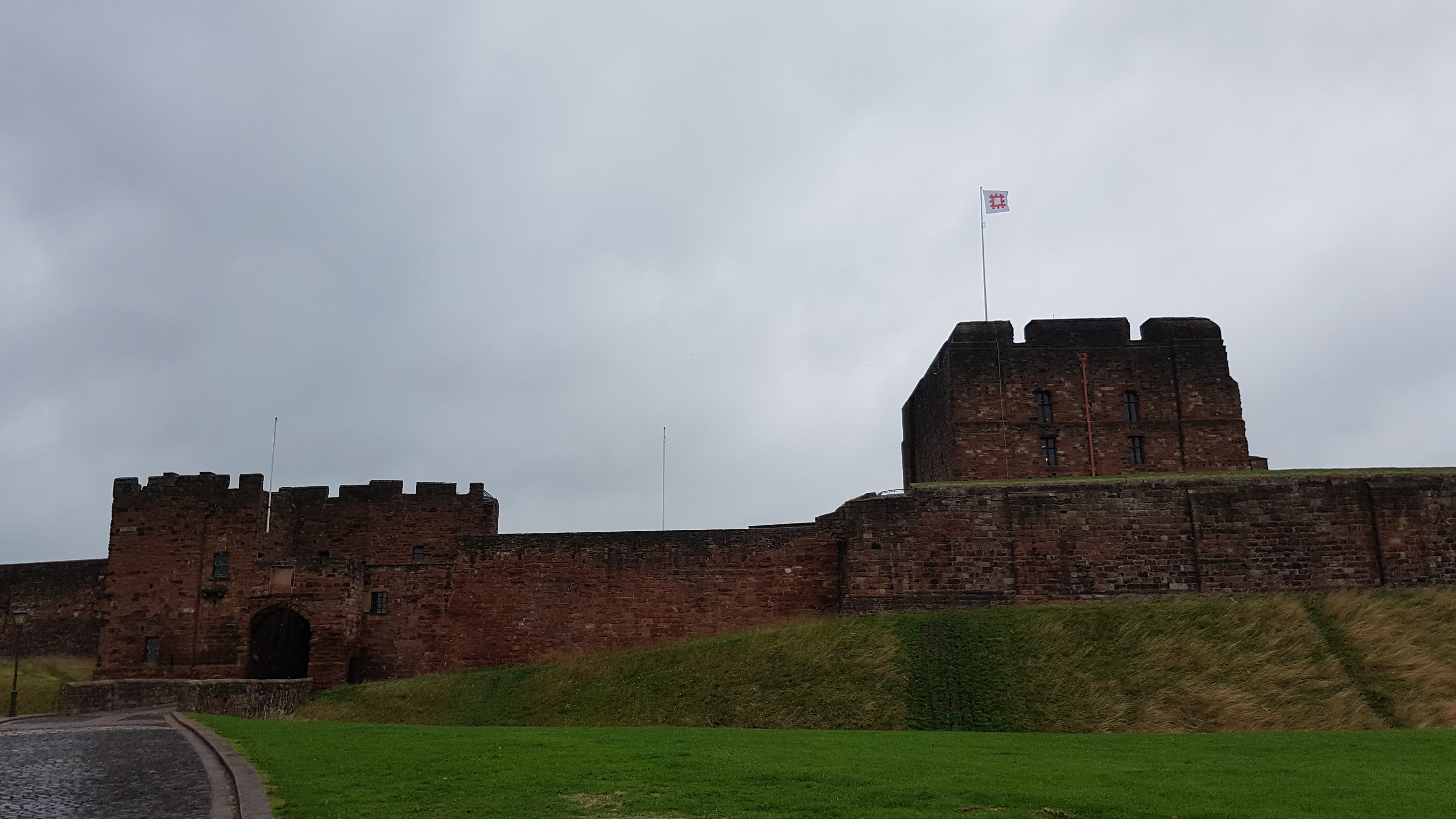 Crossing a pedestrian bridge I stopped briefly to take a photo of the outside of the castle. Behind me was a the busy A595 which didn't look to fun to run along so with some more Google mapping I cut into the heart of Carlisle, passing the Cathedral and through the pedestrianised shopping centre.
I then got a little lost trying to get myself on the Dalston Road which I figured may just take me back to Dalston where I was staying. Things weren't helped by a squally shower making things decidedly unpleasant for a while before things calmed down, but didn't exactly brighten up.
I ran along Dalston Road for a couple of miles, where in total I managed to notch up a trio of 7:11 miles. At a set of roadworks I noted that I could take a quiet road back to the small village of Cummersdale where I reckoned I could rejoin the cycle path back to the Caravan Park rather than face running on the busy main road back during the heart of a Friday evening rush hour.
Once I'd worked out that I could follow the road down to the main cycle path and ignore the foot paths across muddy fields, it was with some relief that I was back on the cycle path, where I knocked out a couple of easy six fifty something miles to bring me back to to the Caravan Park via the twists and turns of the unofficial footpath of the golf course. A ten and a third mile done with the minimum of energy expenditure followed by the plushest showers I've ever used at a Caravan Park! Happy Days!
Split Summary
===
1) 1m – 8:02(8:02/m) 113/133bpm 74cal 7.47/8.72mph
2) 1m – 6:57(6:57/m) 127/141bpm 80cal 8.64/9.08mph
3) 1m – 6:50(6:50/m) 136/144bpm 90cal 8.78/9.27mph
4) 1m – 6:52(6:52/m) 135/148bpm 84cal 8.75/9.33mph
5) 1m – 7:11(7:11/m) 131/145bpm 75cal 8.35/9.29mph
6) 1m – 7:10(7:10/m) 130/145bpm 73cal 8.36/10.27mph
7) 1m – 7:11(7:11/m) 142/148bpm 97cal 8.35/9.1mph
8) 1m – 6:54(6:55/m) 131/147bpm 64cal 8.69/9.89mph
9) 1m – 6:51(6:51/m) 143/148bpm 91cal 8.76/9.33mph
10) 1m – 7:01(7:01/m) 143/148bpm 91cal 8.54/9.73mph
11) 0.33m – 2:39(7:58/m) 148/154bpm 37cal 7.53/8.95mph
Best Strava Segment Performance:  Richie to pirelli lane – 36th/490
Day 17 – Saturday 18th August 2018 – Five miles then Carlisle parkrun (1st, 17:59), five miles to end it.

Unlike the Tees Barrage parkrun in Stockton that I was aware of in advance of us setting off on holiday, I genuinely wasn't aware that there was a parkrun in Carlisle until a day or so before arriving at Dalston. I really don't know why I didn't think there would be a parkrun in a city, but it never crossed my mind.
Once I knew there was, there was the logistics of trying to get to it by running and not driving. Fortunately it was only three and a half miles away – as long as I ran on the busy B road from Dalston into Carlisle, a mile or so would have me running on the road. I reckoned that, at just after 8 am,  the traffic would not be so bad and thankfully I was proved correct, with less than a handful of cars passing me, all able to give me plenty of space as they passed.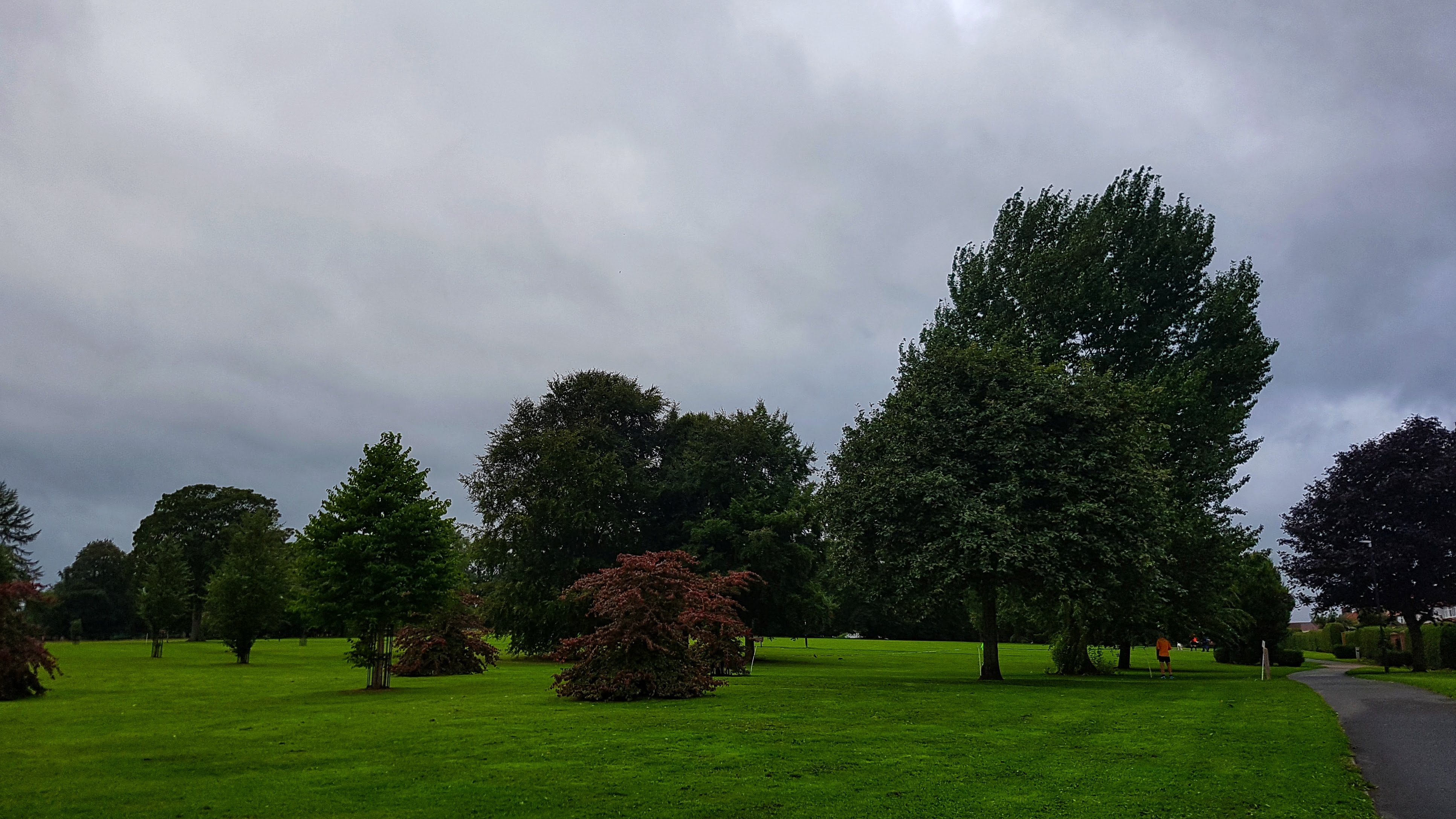 Considering I had to run through some back streets to make it to the park, I got to Chance's Park, venue of Carlisle parkrun, relatively smoothly. I did double check with a pair in high-vis bibs that I was in the right place, they assured me I was and I relaxed somewhat. I chatted briefly to another pair of parkrun tourists, our paths would cross later, before heading off for a couple more miles or so working my way around the park, using the toilet facilities, and generally trying to kill half an hour or so before the 5K run began. The pre-parkrun miles were all run at a relaxed pace, the slowest 7:40, the quickest a 7 flat as I ended with a few strides to try and wake the legs.
The pre-run brief for first timers to Carlisle was far briefer than the one I enjoyed at Stockton. There was no map, no real information on where the course went other than it was three laps and we were shown where it began and finished. I had a fair idea of where we went, but I thought it would be prudent, whatever the pace, to not attempt to lead (if such a thing was possible) until the end of the opening lap. There was an intriguing aside from the marshal who pointed out that a lot of the Strava uploads from the parkrun showed the course to be 3.2 miles (5K is 3.1 miles), but was confident that the course was indeed exactly 5K. (I also overheard a couple of regulars who said the course was definitely long as it had been changed slightly from what it was originally).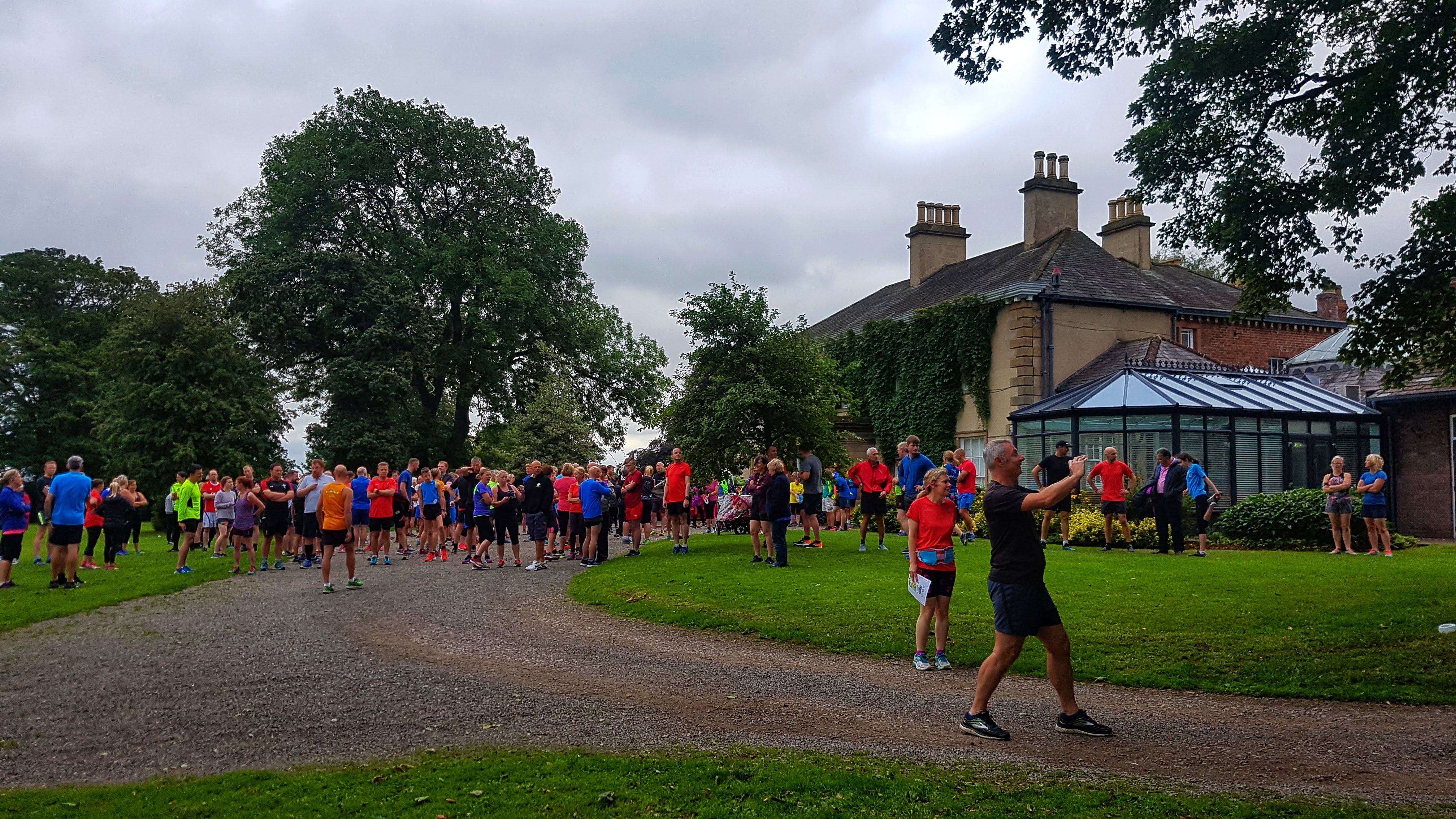 At a few minutes past nine I lined up at the front of the 260 odd strong field and waited for the next pre-run biref to commence and finish. Finally at around 9:05 we were on our way. There was the usual surge of runners to the front, I was probably only just in the top ten after 300 meters, but slowly worked my way through to sit fourth at the back of a group of four.
The three lap parkrun was a twisty affair, partly run on grass, partly on footpaths, fairly constantly undulating and for today, pretty windy. It was reminiscent of a cross country course minus mud and spikes and with more tarmac – for which I was grateful. It was a good example of a parkrun in a regular kind of park. After all the definition of what constitutes a park has been stretched somewhat over the years to allow a parkrun to take place.
I stayed fourth until we reached the bottom of the park and made a hairpin bend that took us climbing back up a longish drag. I was confident I knew where the course went from here and felt the pace slow a touch so I pushed on and took the lead near the top of the hill, enjoying the immediate gradual downhill run following a hairpin which meant the pace naturally picked up. I went through a mile in 5:43, which I was pleased with given the undulating twisty nature of the course.
As I turned again sharp left to begin the second lap I tried my best to relax and enjoy the run. Halfway around the second lap before tackling the main climb again, I reckon I only had a few seconds on the second placed runner, by the time I reached the top it had pushed out to 15 or so and I knew that, barring disaster, first place was assured. The second mile was 5:35 and my legs felt great, bounding with confidence and purpose.
The final lap was much the same as the second, I was strongest of the field on the climb and extended my lead further. By now the biggest issue was back markers, of which there were many on a three lap course and on narrow pavements were tough to navigate at times. The third mile was a 5:36 and it was a very long 0.1 of a mile (as it was 0.2) of slightly uncomfortable slightly uphill running to the finish line. I finished first in 17:59, 38 seconds clear of the second placed runner. Given my splits I expected a bit quicker time but, I do believe the course was indeed a touch long.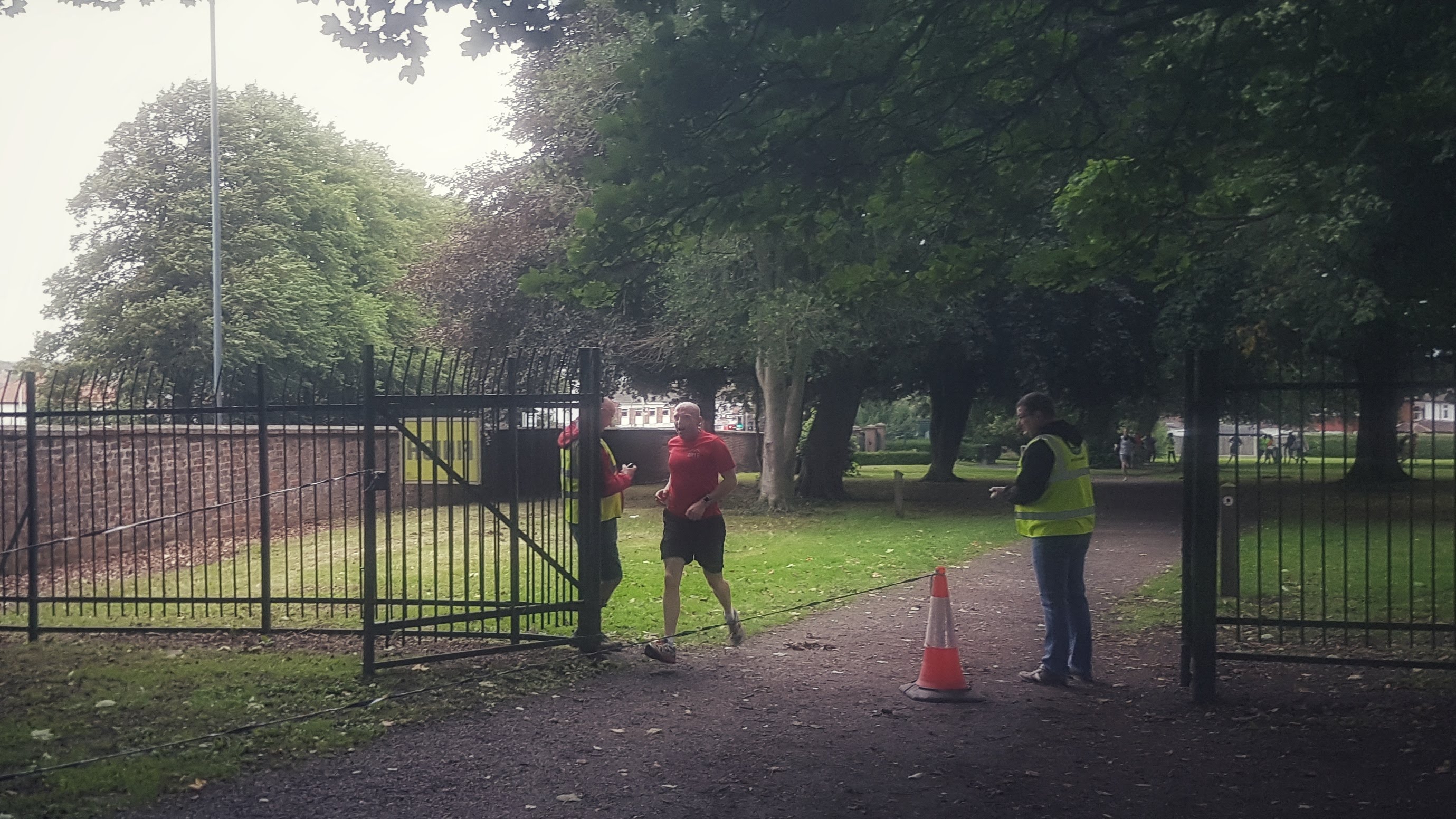 I hung around a few minutes to clap some of the runners behind me home. The tourists I met earlier in the morning came home in a low 20 minutes, which for the girl as a 15-17 junior was very impressive – especially on her first parkrun attempt. She did however feel she was robbed of a position by another runner and I decided to leave before the argument got potentially heated.
Returning to a comfortable pace I made my way back to the Caravan Site. I reckoned the busy B road was indeed looking quite busy so I opted, as I had the day before, to take the left hand turn down to Cummersdale and the bicycle path back to Dalston. This meant that the run was as near as it can be half marathon distance by the time I'd run a lap or two of the caravan park. The average was a pleasing 6:49 and all was good, even if the legs felt pretty tired by the end. It was my third first place at parkrun in a row and I knew that, although the times suggested otherwise, there was some pleasing form arriving in the legs.
Split Summary
===
1) 1m – 7:41(7:41/m) 126/137bpm 93cal 7.81/8.7mph
2) 1m – 7:08(7:08/m) 132/142bpm 92cal 8.42/9.1mph
3) 1m – 7:20(7:20/m) 128/146bpm 80cal 8.19/9.33mph
4) 1m – 7:15(7:15/m) 137/151bpm 90cal 8.27/9.62mph
5) 1m – 7:00(7:00/m) 143/155bpm 94cal 8.57/10.23mph
6) 1m – 5:43(5:43/m) 159/169bpm 90cal 10.48/11.98mph
7) 1m – 5:35(5:35/m) 172/175bpm 98cal 10.76/11.61mph
8) 1m – 5:36(5:36/m) 174/178bpm 100cal 10.71/11.54mph
9) 1m – 6:53(6:53/m) 144/178bpm 79cal 8.72/11.15mph
10) 1m – 7:05(7:05/m) 146/152bpm 93cal 8.47/10.73mph
11) 1m – 6:49(6:49/m) 140/147bpm 71cal 8.81/9.68mph
12) 1m – 6:57(6:57/m) 145/149bpm 87cal 8.62/10.04mph
13) 1m – 7:31(7:31/m) 143/151bpm 80cal 7.98/9.64mph
14) 0.13m – 59(7:21/m) 139/140bpm 7cal 8.16/8.72mph
Best Strava Segment Performance:  Carlisle Parkrun – 17th/1216
Day 18 – Sunday 19th August 2018 – Wet Dalston Loop

For the final run in Dalston I decided to head into Dalston itself, pick a road and see where it would take me, hopefully making a loop out of the run rather than an out and back. As it was 8:30 am on a Sunday morning I reckoned I could safely make the 200 meters or so of road without pavement before making it into Dalston. This I managed to do, running for a mile or so through the large village waiting patiently for the legs to wake up, stopping a the church to take a photo which kind of matched the vintage ones in the nearby fish and chip shop the evening before.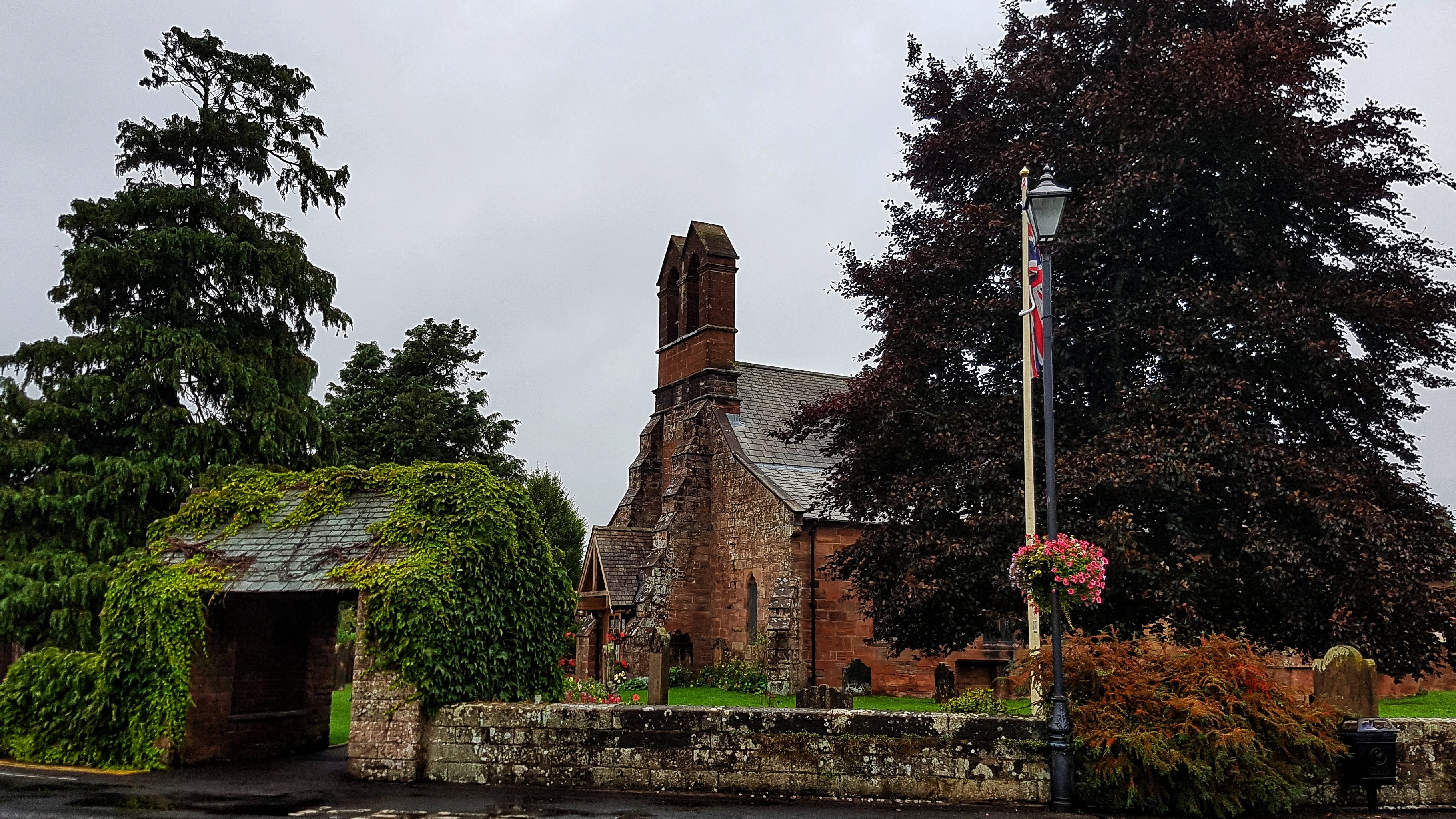 You may spot the pavement is wet and indeed it was raining, lightly at first and gradually intensifying during the run with heavy bursts of precipitation that eased and then returned for the entirety of the run. Fortunately it wasn't cold, indeed the rain had apparently been blown in by the back end of a tropical storm, so it was actually almost as pleasant as running in the rain can be.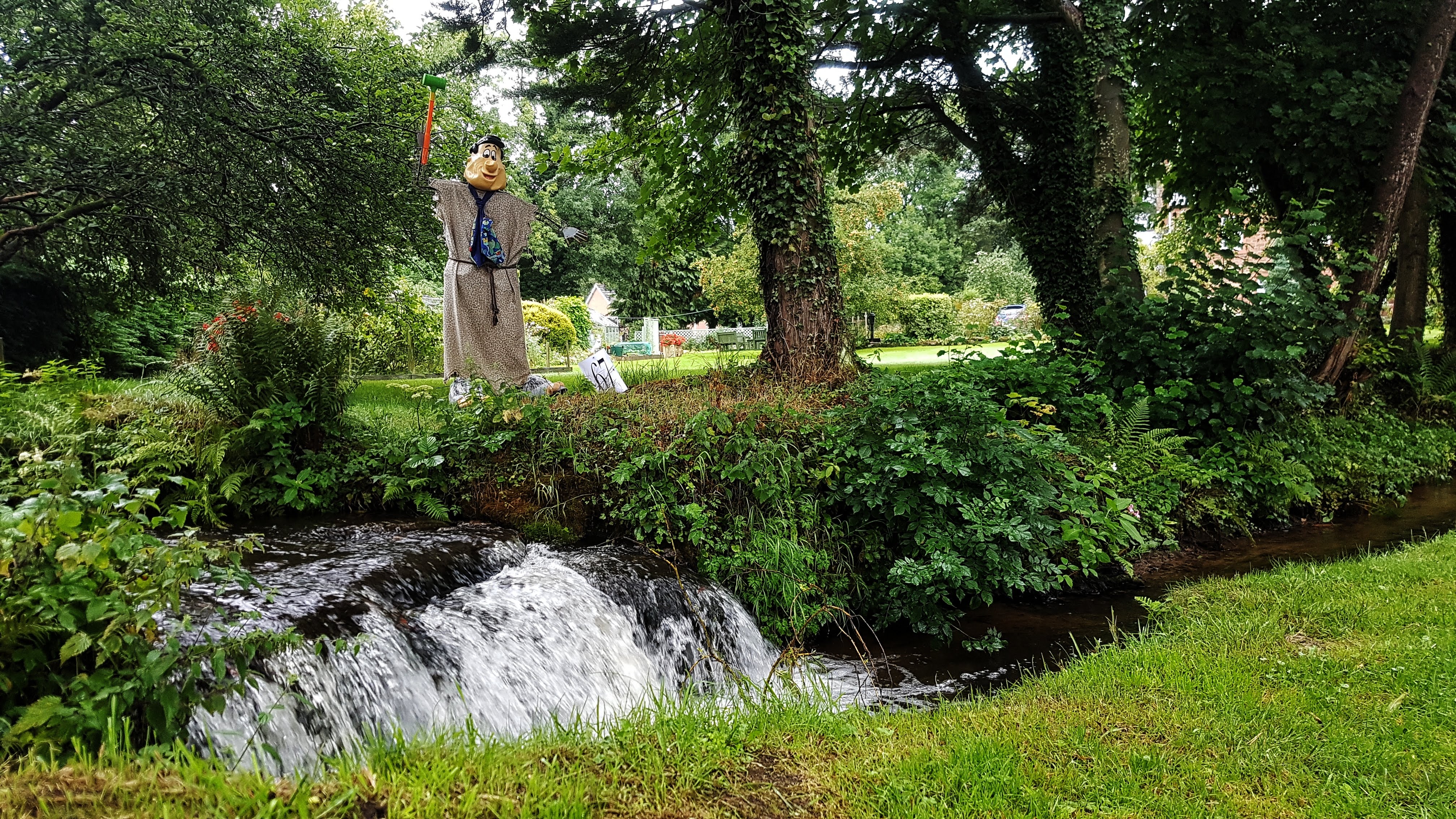 Through Dalston I spotted a sign for a footpath and cycle path so I took that, which went briefly went through park before leading to a bridge and  a private road containing an old factory and then some very pleasant looking houses alongside a stream, one of which was guarded by Fred Flintstone!
I found myself popped out at the other end of Dalston. A quick look at Google Maps showed that if I went up a short hill and turned right, there was a quiet country lane that could lead to more country lanes and the possibility of a loop. I ran along this road for a couple of miles, occasionally stopping to see when this road or roads that would allow me to loop around would appear.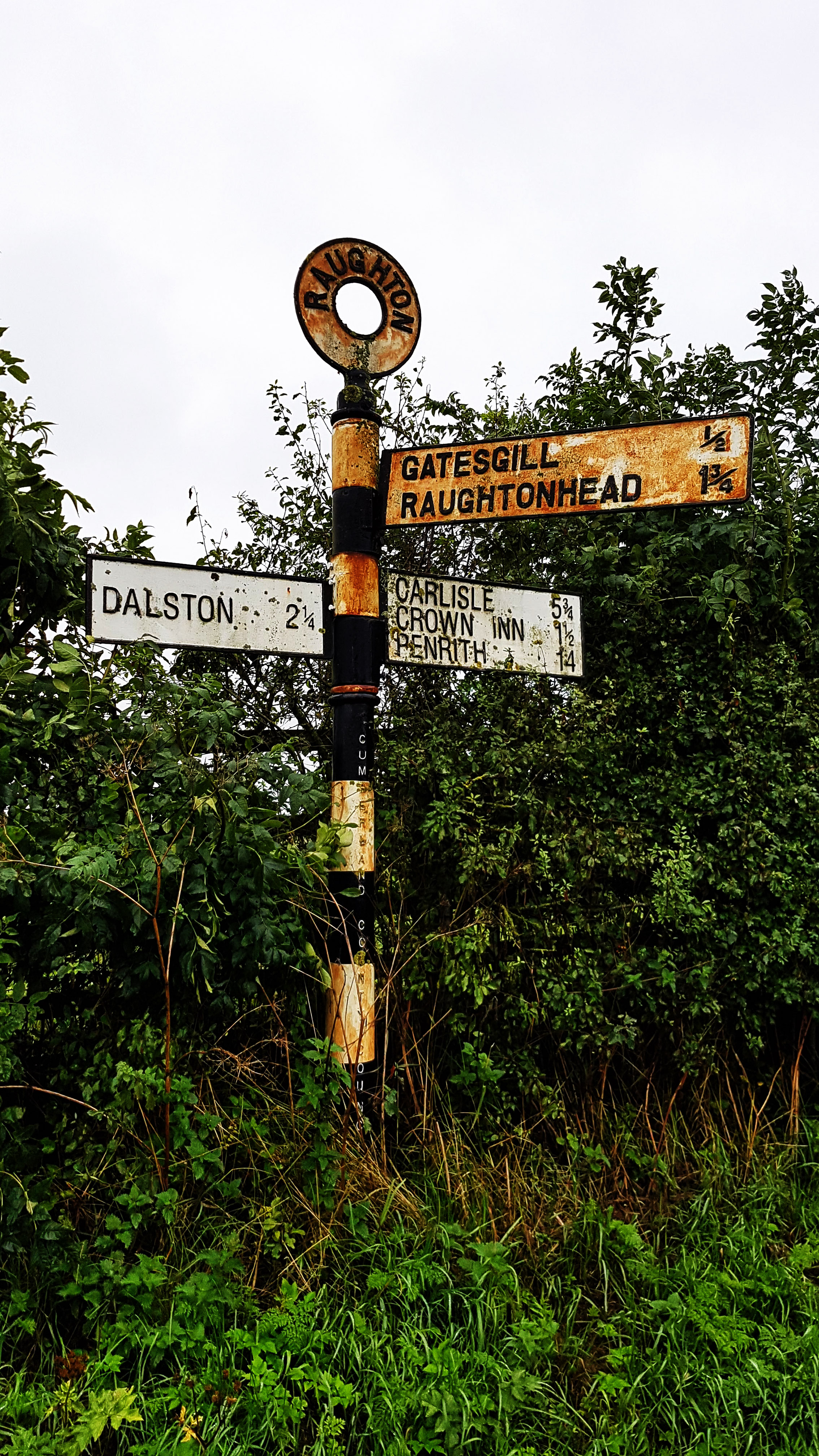 I stopped at some houses with a very old looking sign post that included the familiar names of Dalston, Carlisle, Penrith, and Crown Inn. How odd I thought to myself that a pub would be advertised on a road sign post. I know there are examples of this – the road known as the Cat and Fiddle is the pub on top of hill upon which it sits upon is one that springs to mind, but still, I can't think of many other instances where a pub is so ingrained in the landscape it merits a place on a road sign. I did though wonder, with the sign being so old, whether it still existed.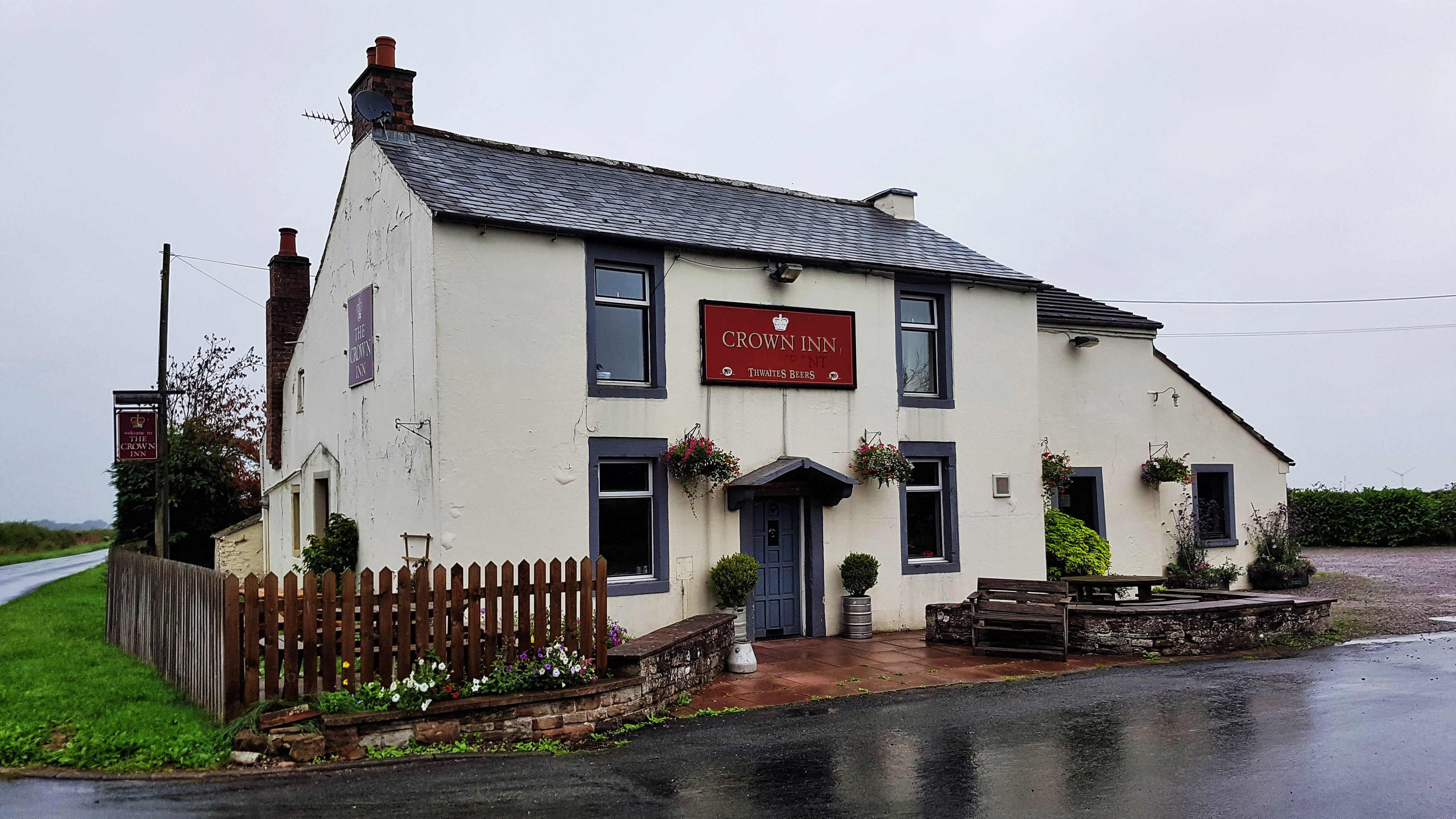 So I continued along the road for another mile and a half which took me to a set of cross roads with just one solitary building, which was The Crown Inn. It was not the most spectacular pub, looking a little tired – although most would with the weather I was running in.  After a brief stop I turned left and headed towards Durdar. The pace picked up, having struggled to break 7 minute miles I was not running 6:30 and quicker. It was only when I got back and checked the elevation profile did I realise that I had been climbing ever so gently 300 feet for the opening five miles of the run, and was now doing the same but going downhill.
What struck me about this road to Durdar, although it was almost totally devoid of road traffic and had no road markings, it had the hallmarks of a road that was once much busier. Wide enough to almost be an A road with junctions here and there that suggested that this road was once much busier. Indeed around half a mile further along the road was another pub, which had clearly closed some years ago and was in a state of some disrepair. I haven't been able to confirm it but I can only assume that, pre-M6, this road may have been a far busier, more important road taking drivers north or south – hence the sign posted pub on a crossroads in the middle of nowhere with another not far along the road, both convenient stopping points for the long distance driver. I guess once the M6 arrived this road ceased to have any vital purpose other than taking drivers from one village to the next and, perhaps, taking some slack if there is ever a drama on the nearby M6.
I made it to Durdar with eight miles on the clock and turned left at the cross roads. This road back to Dalston was just as wide as the one I was on, but was still a busy popular road judging by the volume of traffic on it. I can't say it was the most pleasant experience running on this busy road for three miles or so, in the rain, constantly changing from one side of the road to the other to keep myself visible to traffic on the bends and hills.
It was a relief at 11 miles when I returned to the house guarded by Fred Flinstone and the footpath I'd left some miles earlier. I could relax and head back to the caravan site. I opted at the end of the run to take the unofficial footpath through the golf course once again to my caravan, to make the run a second consecutive half marathon effort. Rather eerily I clocked 13.13 miles (exactly the same as the day before) in 1:29:35, just four seconds slower than the day before. A sub 3 marathon clocked over the 24 hours!
With that run done it was farewell to Carlisle and on to the final destination of the holiday – Yorkshire!
Split Summary
===
1) 1m – 7:43(7:43/m) 124/134bpm 89cal 7.77/8.89mph
2) 1m – 7:29(7:29/m) 128/135bpm 86cal 8.02/9.1mph
3) 1m – 7:07(7:07/m) 137/146bpm 93cal 8.44/8.81mph
4) 1m – 7:04(7:04/m) 134/148bpm 81cal 8.49/9.48mph
5) 1m – 6:58(6:58/m) 137/150bpm 84cal 8.62/9.33mph
6) 1m – 6:31(6:31/m) 133/143bpm 72cal 9.21/9.66mph
7) 1m – 6:30(6:30/m) 138/147bpm 81cal 9.23/9.83mph
8) 1m – 6:22(6:22/m) 140/148bpm 79cal 9.42/9.79mph
9) 1m – 6:29(6:29/m) 144/152bpm 86cal 9.27/9.91mph
10) 1m – 6:29(6:29/m) 147/155bpm 89cal 9.26/10mph
11) 1m – 6:19(6:19/m) 142/150bpm 75cal 9.51/9.93mph
12) 1m – 6:27(6:27/m) 144/152bpm 82cal 9.29/9.71mph
13) 1m – 7:14(7:14/m) 145/155bpm 92cal 8.3/10.62mph
14) 0.14m – 55(6:38/m) 145/146bpm 11cal 9.06/10.06mph
Best Strava Segment Performance:  Through and Out of Dalston – 3rd/68
Leg Six Summary
Distance Run: 36.6 miles. Average Pace: 6:54 per mile. Accumulated Time: 4:12:44. Average HR: 139; Total Ascent: 461 meters.