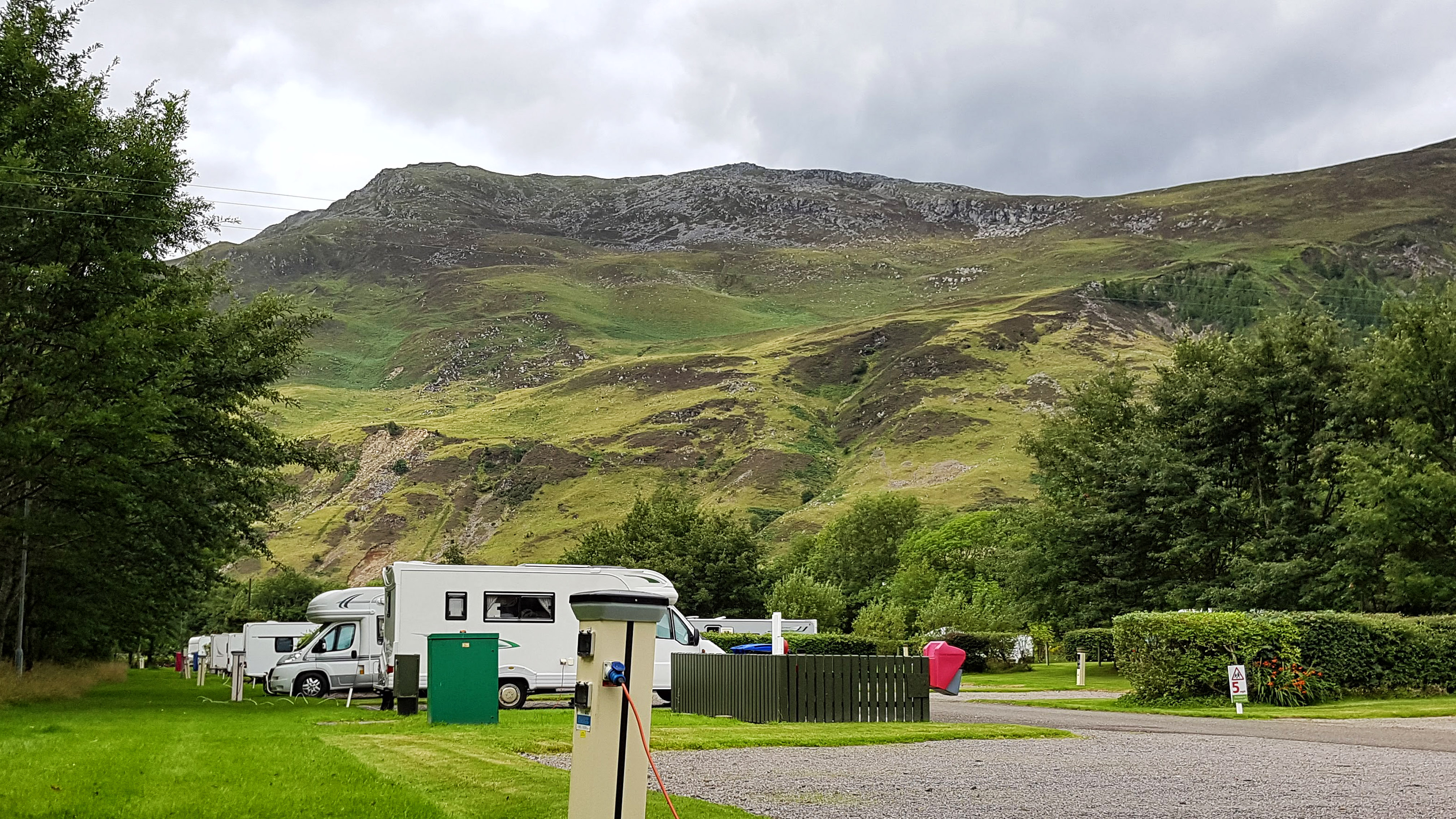 Morvich is a very small highland settlement within land owned by the Scottish National Trust consisting of no more than a few houses, a youth hostel or two, a mountain rescue centre and a Caravan Park in the Highlands of Scotland on the southern edge of Loch Duich.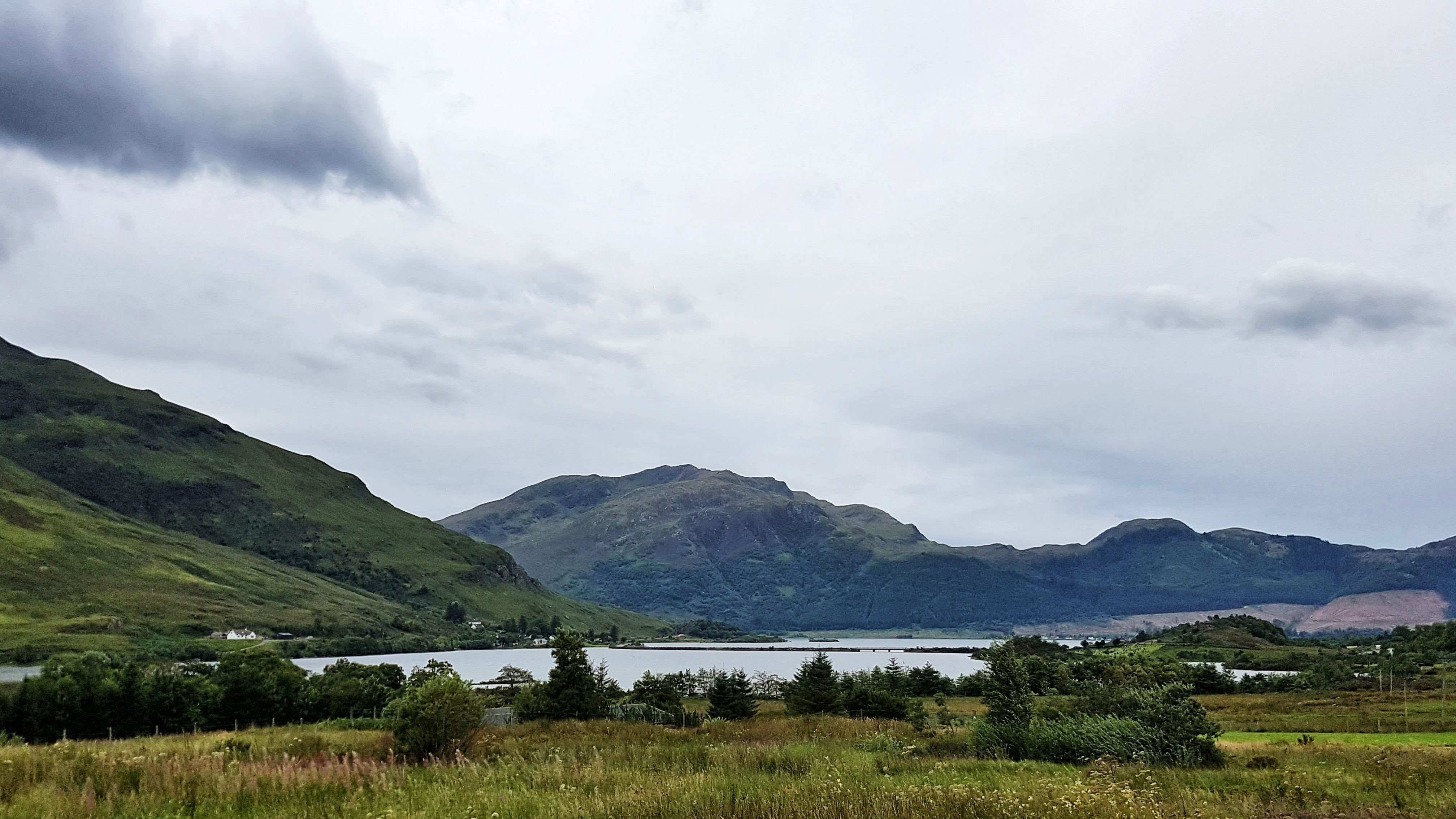 Morvich is very close to the A87 which heads north to the Isle of Skye and other popular tourist destinations. it is also a popular base for hiking.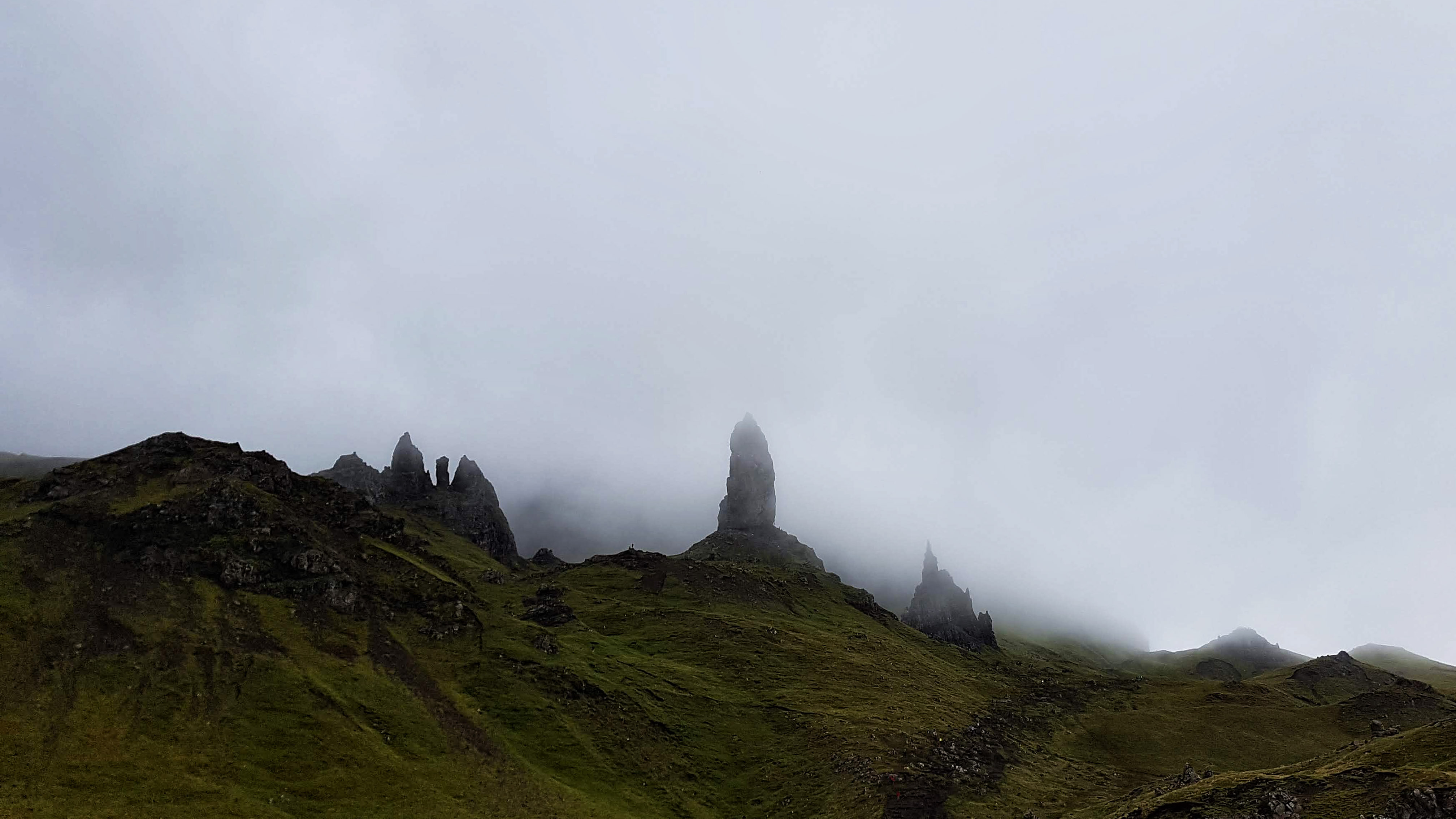 The Highlands is renowned for its climate that helps keep the grass lush and green and the lochs full of water. While it was noticeable how scorched much of the grass looked and how low the lochs appeared, the weather was mostly cloudy and sometimes wet on our visit – which is what we half expected, but was a touch disappointed nonetheless.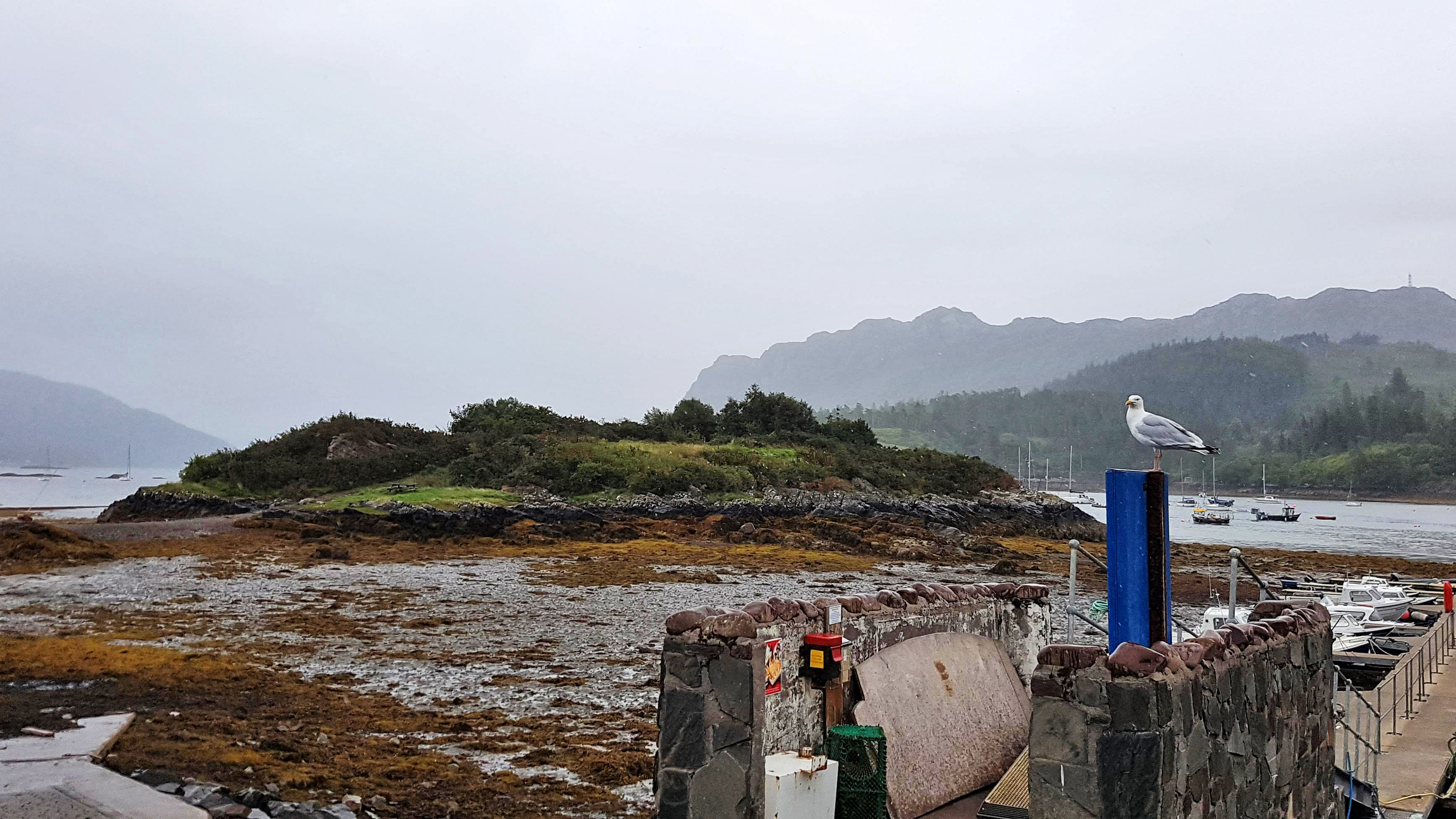 Day 10 – Saturday 11th August 2018 – Almost Solitude 👌

This was a run I was fearing and looking forward to in equal measure. The opportunity to run in the spectacular surrounds of the Highlands was a thrilling prospect. The thought of having to get my body up and active after a 180 mile drive towing a caravan on some of the more demanding A roads on these isles was less than attractive. Having done the drive, set up the caravan and had lunch I was ready to collapse. But there was a run to be done and so I changed into my kit and off I headed.
I'd already decided for my first run in the Highlands I was going to do an out and back on a track that appeared to run for several miles to nowhere in particular except for a building that was marked on Google Maps. Fearing some really tired legs I was pleasantly surprised that the opening mile was a not too slow 7:35. I was a touch disappointed to see the road turn into a gravel track (as I predicted) and then stop at a cul-de-sac of two houses. A quick inspection on the Google Maps showed that the track I wanted I'd missed (It was a gated bridle path I'd ignored a little while earlier). Heading back I felt my guts churn in a not pleasant way so I opted to head back to the Caravan Park to use the facilities and begin the run afresh.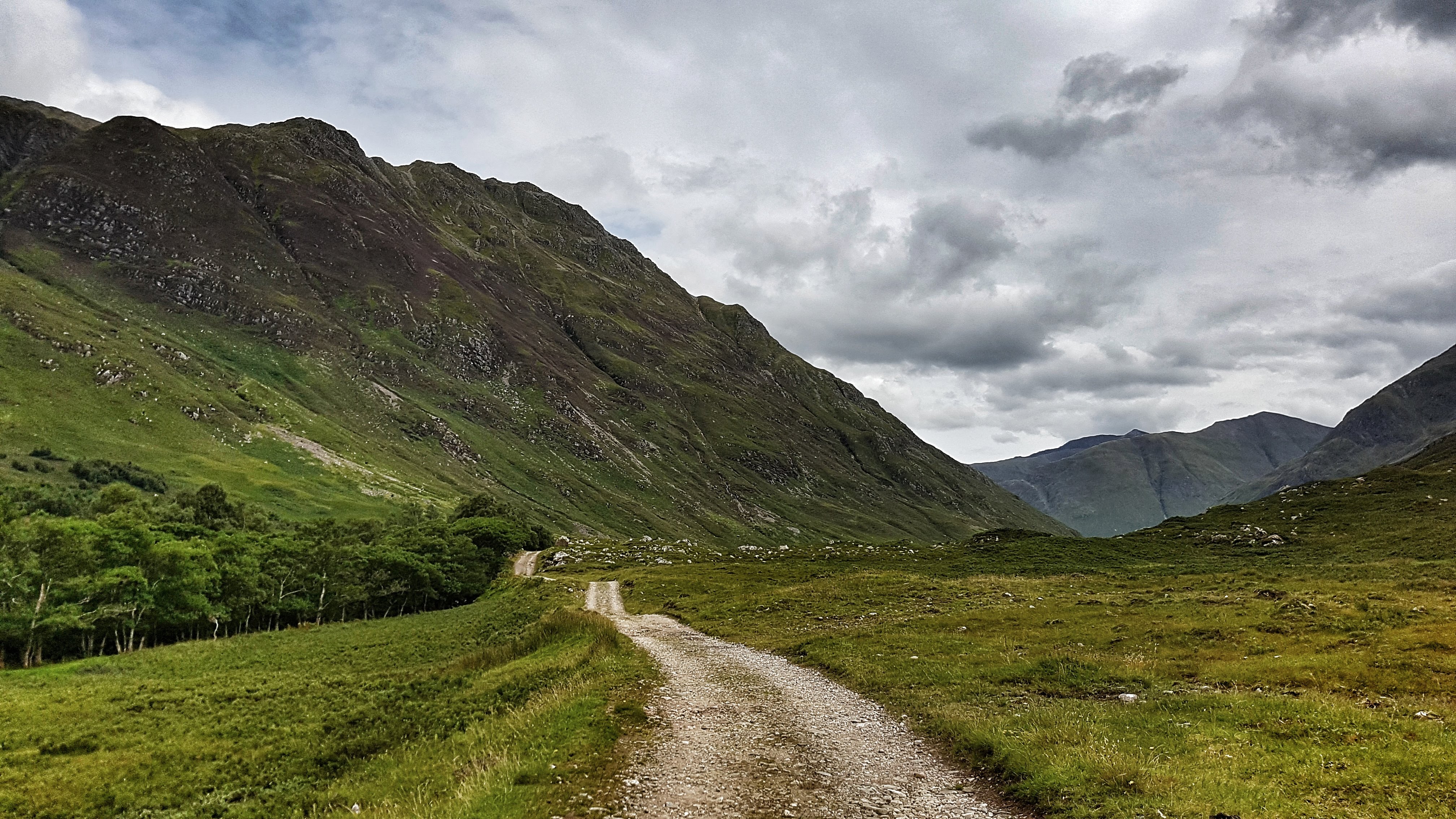 Feeling much better and a little lighter I resumed the run. Mile two was a 6:39 which was really quite unexpected. Finding the correct bridle path this time I set off on what turned out to be three and a half miles of almost pure solitude and pure bliss.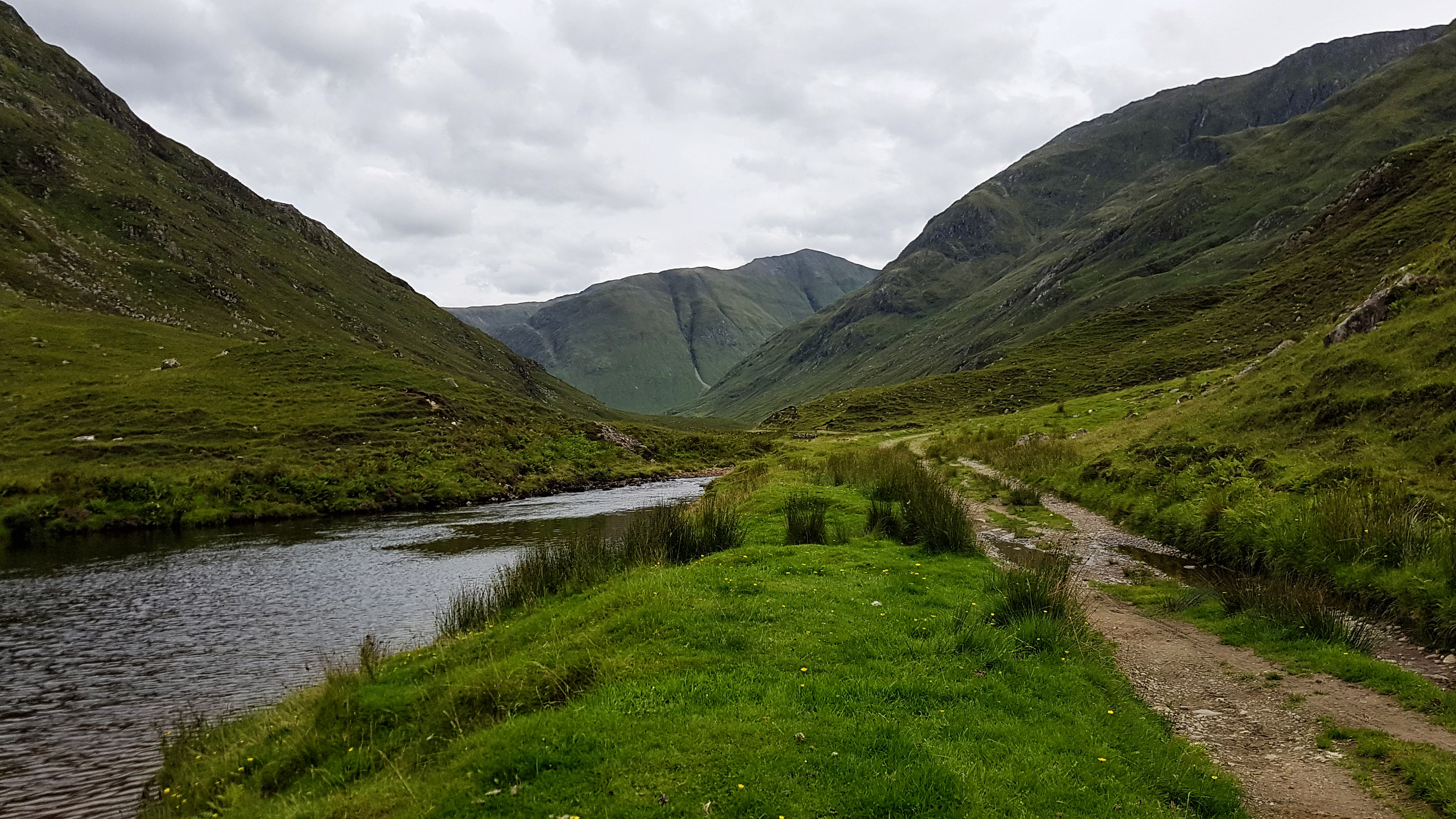 Hugging the River Croe the path offered constantly changing views of the multitude of surrounding hills and mountains knwn as the Five Sisters of Kintail. The run out was a start / stop affair as I spent almost as much time admiring the scenery and taking photos as I did running.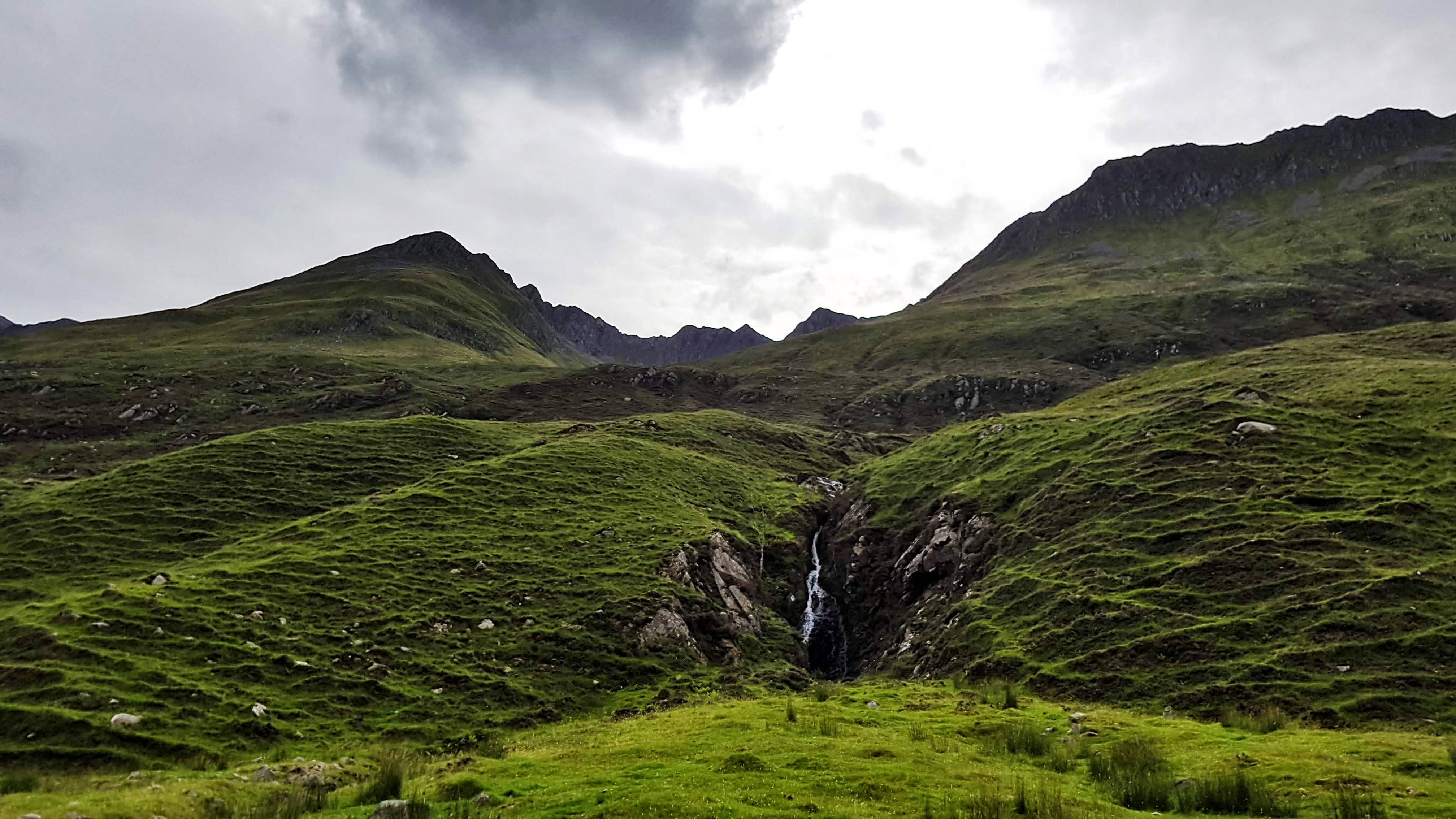 The path was easy to run on at first but as the minutes passed the gravel began to get bigger and more of the path took on the form of small rocks, which were tricky to run on and required a good deal of concentration to avoid trips and potential ankle sprains.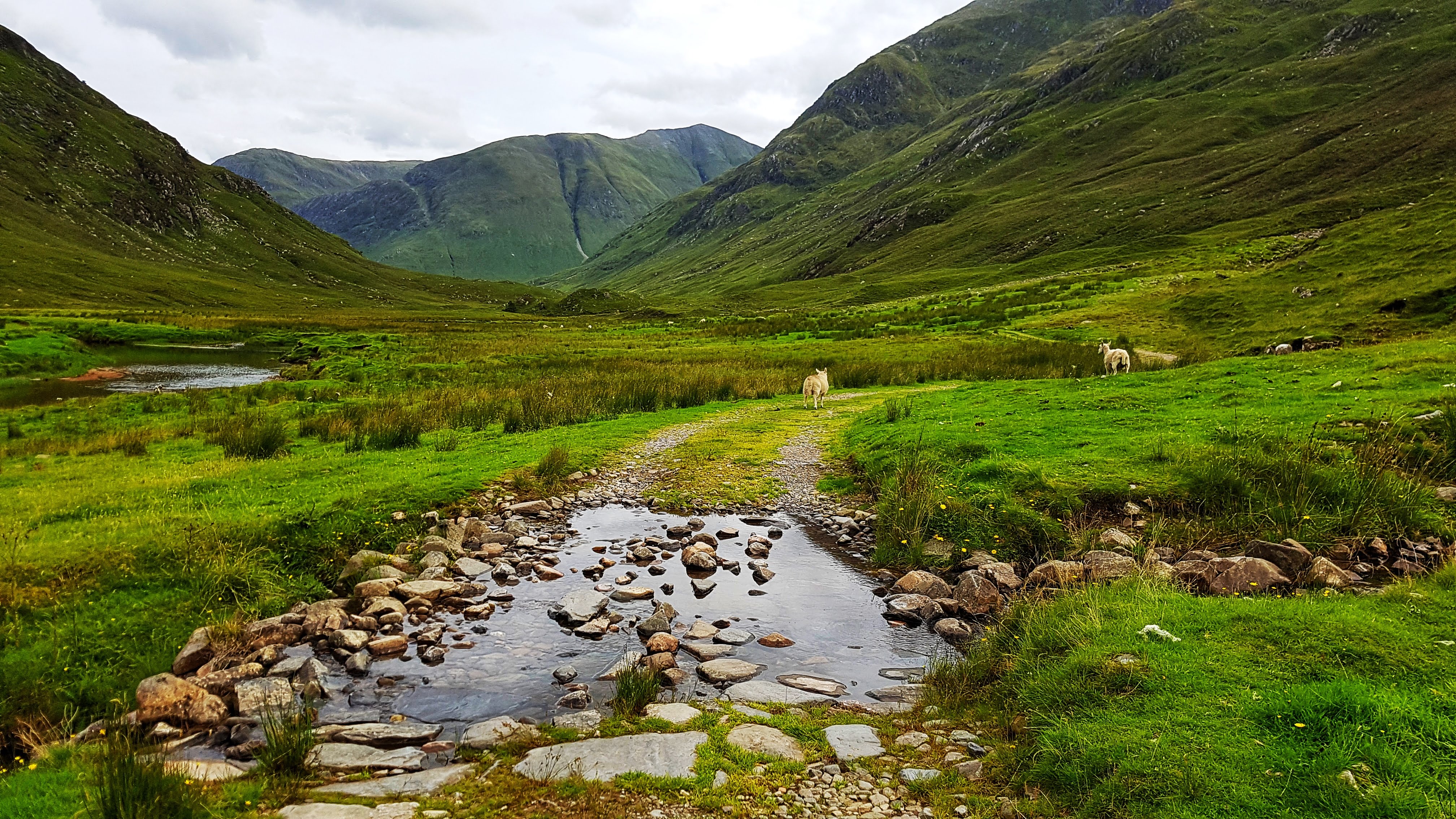 Despite the lack of recent rain there were also quite a few small streams to cross, most of which had rocks handily placed to tip toe across. I imagine in wetter times this run would have been far more challenging. It was at such a stream I encountered pretty much my only company for the day – a flock of sheep. The solitude was further broken a little while later when I passed a small group of young trekkers who looked distinctly weary. I passed them on the way back and rather creepily perhaps (for them) twice more on future runs as they were staying in the same caravan park.
Having run a couple of miles before hitting the path I knew it would be around six miles before I hopefully spotted the lone building. Sure enough I crested a small rise and spotted it in the distance. As I passed it I had to stop and wonder how it must feel to live in a house as secluded as this and what fate befell the owners of a very derelict house next to it.
Just a short way past the house was a bridge which I crossed and continued running for just a short way before I sensed it was going to get very technical very quickly as it narrowed and steepened. I turned back around and headed to the bridge – stopping for a minute or two to enjoy the tranquillity.
With the sightseeing over it was a case of running the next four and a bit miles back to base. There was no stopping now as I enjoyed the moderately technical nature of the path which was by now really working the muscles in the feet and legs far more used to running on roads and fairly level terrain.
I wasn't particularly interested in the pace of the run but was pleased to have covered the 10.6 miles in 7:04, especially given how tired I was after the long journey into the Highlands.
Once I'd uploaded my run, I noted there was a Strava segment that looked like it was for a race that takes place in the area. I had no chance of claiming that as I had stopped many times to take pictures. On my return home I did though create a similar segment for the return back to Morvinch which I was pleased to have claimed top spot! This though was not a run about segments but about soaking in the stunning scenery that this part of the world has to offer.
Split Summary
===
1) 1m – 7:35(7:35/m) 121/138bpm 82cal 7.91/9mph
2) 1m – 6:40(6:40/m) 132/146bpm 82cal 9/10.52mph
3) 1m – 6:59(6:59/m) 141/150bpm 97cal 8.59/9.41mph
4) 1m – 7:03(7:03/m) 141/151bpm 95cal 8.51/9.46mph
5) 1m – 7:10(7:10/m) 148/152bpm 106cal 8.38/9.18mph
6) 1m – 7:44(7:44/m) 139/158bpm 87cal 7.77/9.43mph
7) 1m – 7:45(7:45/m) 138/152bpm 87cal 7.74/9.41mph
8) 1m – 6:48(6:48/m) 144/151bpm 89cal 8.83/10.75mph
9) 1m – 6:45(6:45/m) 147/154bpm 93cal 8.9/9.52mph
10) 1m – 6:40(6:40/m) 150/156bpm 96cal 9/9.75mph
11) 0.61m – 3:51(6:15/m) 146/150bpm 47cal 9.59/11.81mph
Best Strava Segment Performance: Back to Morvich – 1st/79
Day 11 – Sunday 12th August 2018 – Mam Ratagan and Back

The second run in Morvich and I decided to attempt to take to the only road I could relatively safely tackle in the area. The A87 has a section with a pavement as it heads to Inverinate but much beyond that and it is no place for a runner to be, especially in the month of August with the multitude of caravans and motorhomes flying along the twisting road.
The road I had to play with was the Old Military Road, which runs on the opposite side of Loch Duich and is signposted as a tourist route alternative to the A87 and the Isle of Skye via a ferry. While it was unlikely to be traffic free I was confident that the A87 would take the vast majority of the through traffic and it would be no more risky than many other country roads I have run on.
Heading off at 8:30am the run was immediately compromised by a landslide (which had occurred some time before we had arrived) on the most direct route out of Morvich to the A87. I had no alternative but to take the diversion onto the A87 and over the causeway and bridge that was built to bypass the A87 away from Morvich itself. This added around a mile each way to the run, but thankfully at least there was a pavement to run on.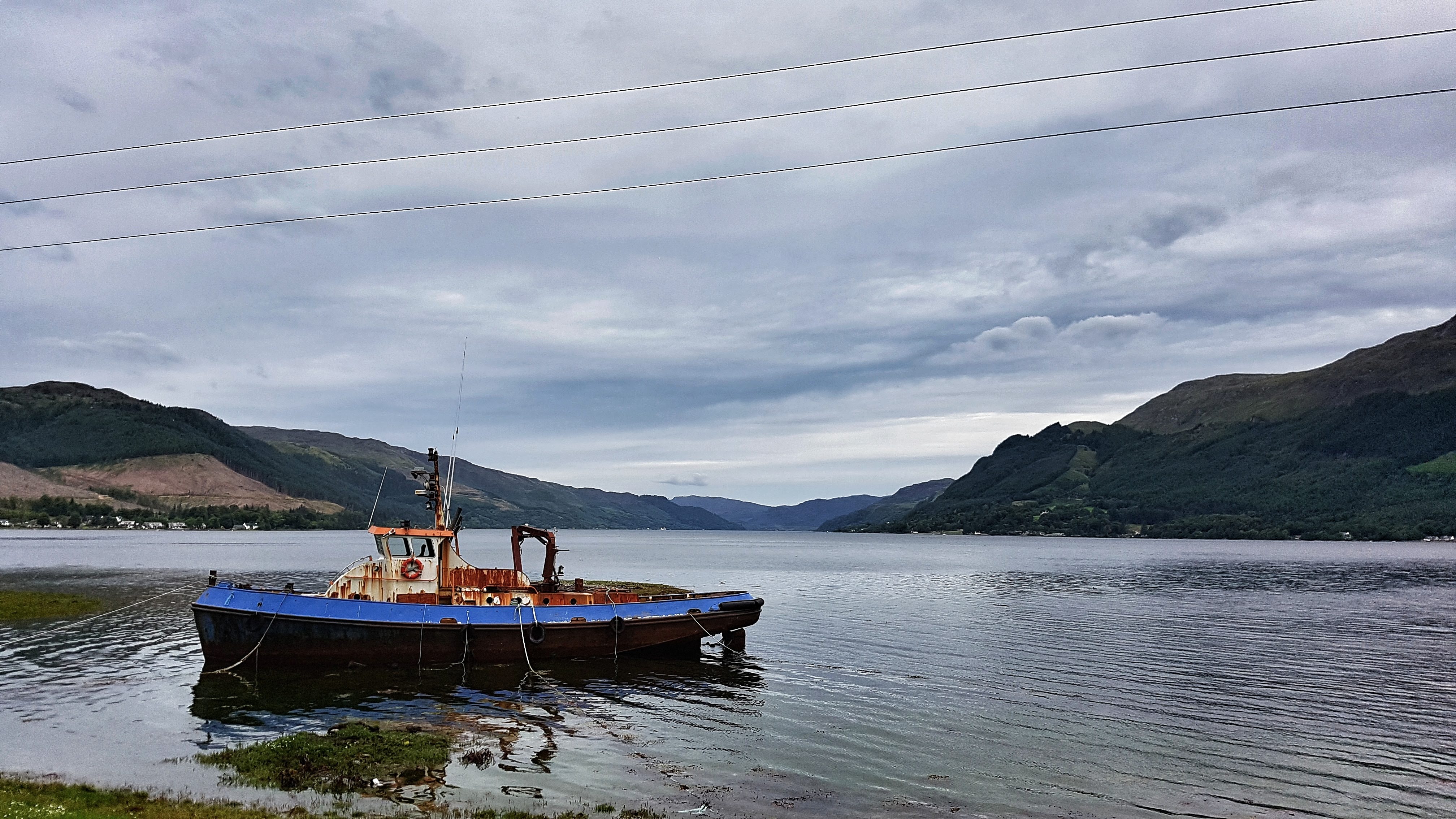 Once over the bridge the pavement left the main road briefly to a quiet footpath before rejoining the A87 at Shiel Bridge. Just as the pavement ran out I could take the right turn over Shiel Bridge and onto the Old Military Road. This road was originally built in the 1750s before being rebuilt in the 1820s taking a route from Fort Augustus to Bernera. Having perused the road on Google Maps I fancied a run up to the Mam Ratagan viewpoint a few miles literally up the road.
My legs were not too bad after the day before – after the customary steady opening mile (7:34) I slipped into a comfortable pace of around 6:50 for miles 2 to 4. I then began the near two mile long climb which only averaged 5% but held some surprises along the way. Part of the Highlands experience has to be running some proper hills, so I was, in a perverse way, looking forward to the challenge.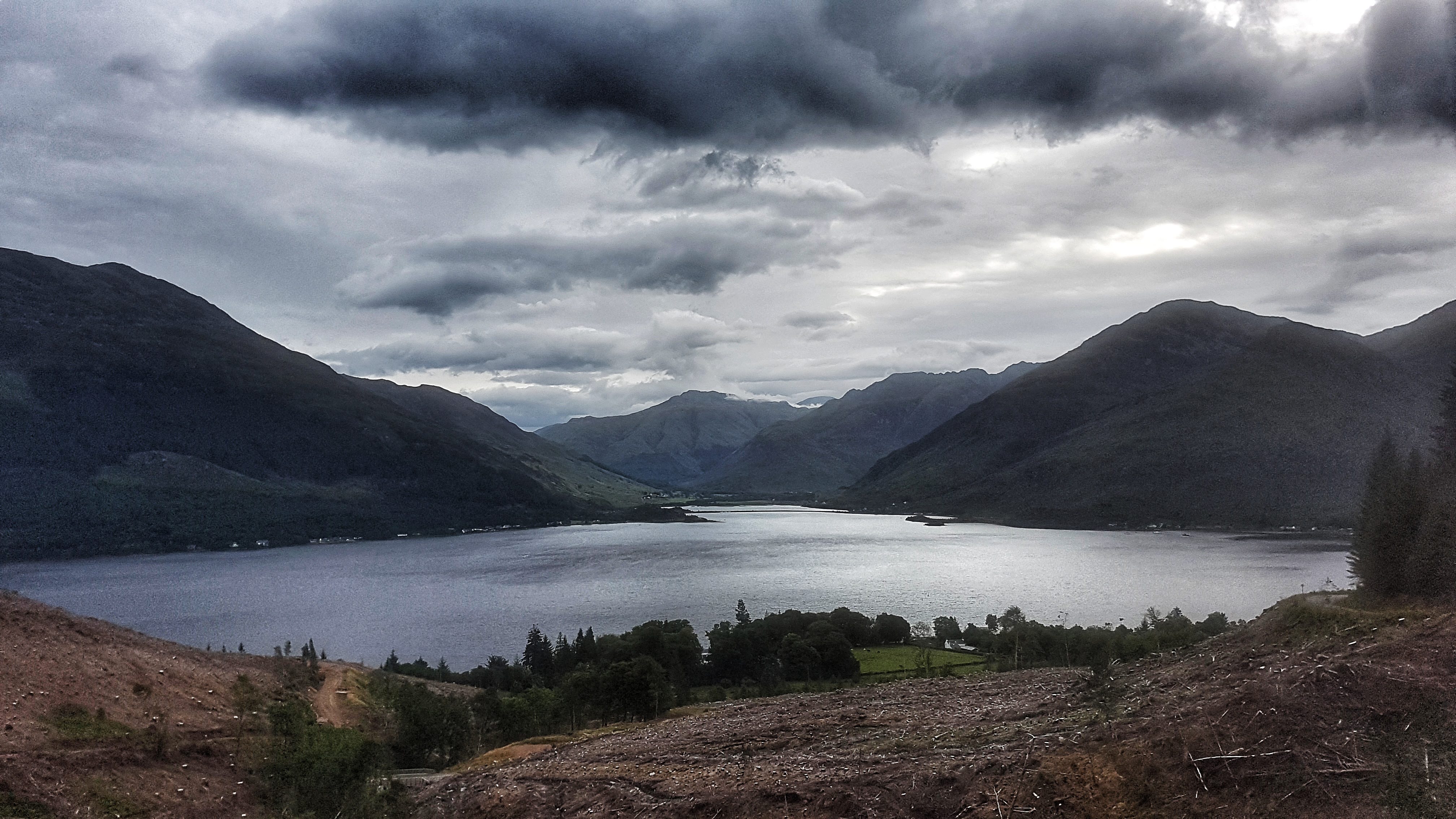 It began as a drag and then as I worked my way further and further up it began to steepen: 8%, then 10% then, as it approached where I assumed was the top it was signposted as 18% average but in places felt much steeper – not quite the 30% the Strava segment suggests, but probably short sections were around 20-25%.
Slowly making my way up I stopped briefly to take a photo before taking on the final onslaught via a set of steep hairpin bends which made my running feel like a crawl to the extent where walking felt like it could have been a quicker option.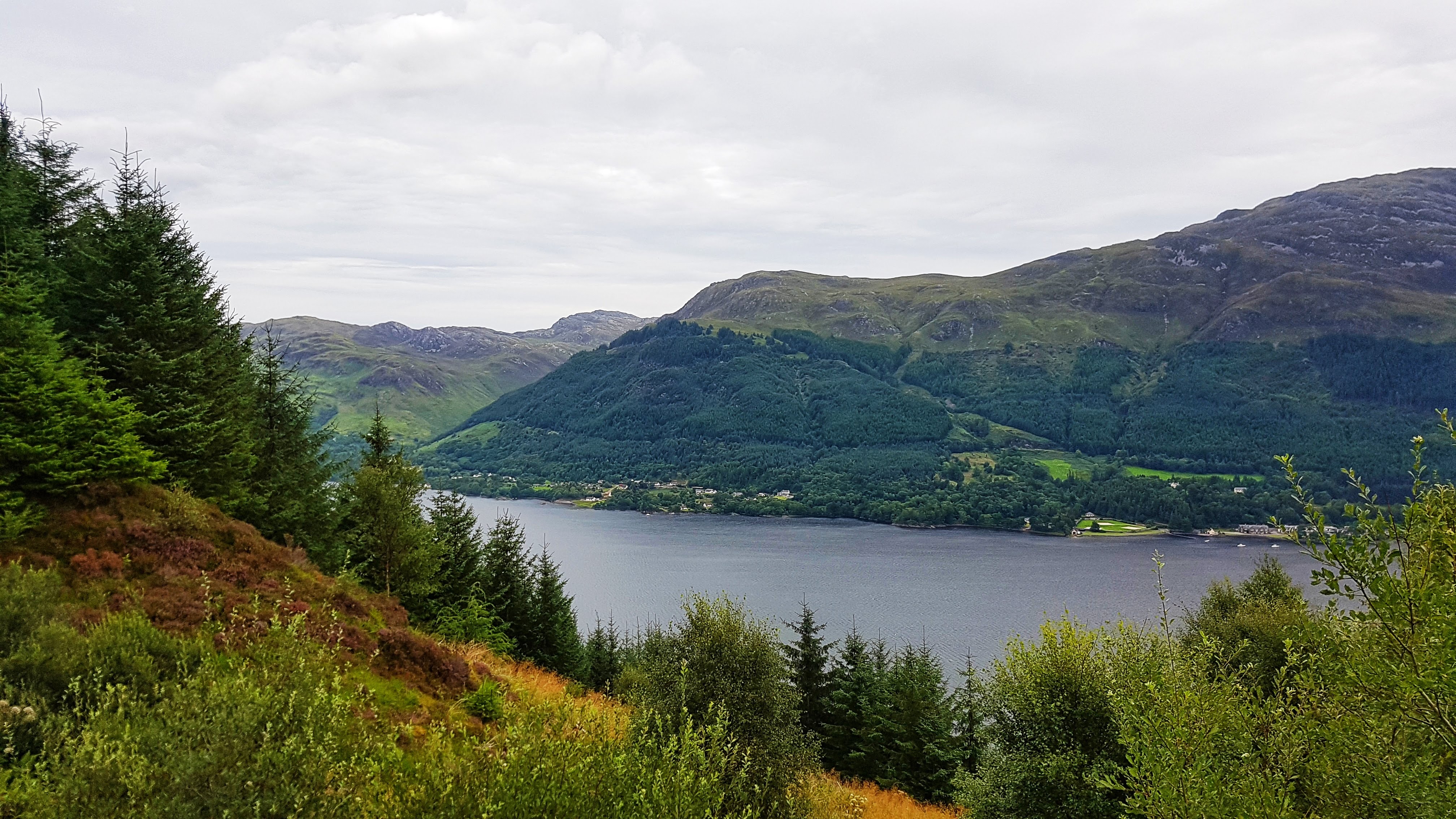 With one final effort I finally reached the Mam Ratagan viewpoint. I stopped briefly to take in the scenery and to take a photo, but as I was sharing the experience with a young couple who had clearly slept the night there in their car (A common occurrence in Scotland where laws on where you can stay overnight are different from the rest of the UK) were thankfully doing nothing more than brushing their teeth, I kept the visit short. While the view there was good, the abundance of growing trees at this point, made the vista slightly lower down the hill, in my opinion, slightly superior.
A little later on in the day, it was a surprise when I uploaded my run to the world that I had claimed both the Old Military Road Climb segments on Strava despite at least one stop to take photos. That said, the road is not exactly over frequented by runners, based on the single digit numbers of those who have uploaded to Strava and covered the segment. It may though be more popular with cyclists as it features in the Scotland edition of the seminal Britain's Greatest Cycling Climbs. I only discovered this by chance from a club mate who noted my effort on Strava and wondered if I'd deliberately targeted it. I was a bit disappointed to find out that I never quite made it to the top of the climb as described in the book. It's a long way to go back to finish the job!
The out section of the run covered with just under six miles on the Garmin I knew it was going to be run closer to 12 miles than the customary 10. As I plunged down the steepest section of the climb I had some severe pains in the quads which normally precedes a bout of debilitating cramp. I tried my best to relax and not tense the legs and was relieved when the gradient reduced a little and the pains subsided, not to the point of them disappearing, but enough for it to not affect the remainder of the run.
Having taken a hit with the uphill (a 7:05 and a 7:59 mile, although Strava GAP has them both as sub six minute miles) the average pace for the run recovered as I continued the 2.4 mile downhill run back to Shiel Bridge, running 5:58, 6:15, and 6:28 for miles 7-9. Back on the A87 I decided that it was probably best to continuing pushing rather than easing up as far as the quads were concerned, so continued with 6:37, 6:30 and 6:29 miles, not stopping at any point of the run, to end the 12 miles in 1:21:43 at an average of 6:47. This was pretty pleasing considering the severity of the climb I'd run as I passed the halfway mark in the Tour of Britain.
Split Summary
===
1) 1m – 7:35(7:35/m) 124/138bpm 88cal 7.91/8.97mph
2) 1m – 6:55(6:55/m) 132/140bpm 89cal 8.67/9.18mph
3) 1m – 6:46(6:46/m) 135/143bpm 86cal 8.87/9.75mph
4) 1m – 6:48(6:48/m) 138/147bpm 85cal 8.83/10.98mph
5) 1m – 7:05(7:05/m) 153/165bpm 108cal 8.47/9.35mph
6) 1m – 8:00(8:00/m) 160/169bpm 122cal 7.5/9.85mph
7) 1m – 5:58(5:58/m) 133/138bpm 50cal 10.06/11mph
8) 1m – 6:15(6:15/m) 139/148bpm 72cal 9.59/10.54mph
9) 1m – 6:28(6:28/m) 146/150bpm 86cal 9.29/9.87mph
10) 1m – 6:37(6:37/m) 149/152bpm 92cal 9.06/9.43mph
11) 1m – 6:30(6:30/m) 151/155bpm 91cal 9.22/10.27mph
12) 1m – 6:29(6:29/m) 148/156bpm 81cal 9.25/9.83mph
13) 0.04m – 17(7:22/m) 146/146bpm 3cal 8.15/8.83mph
Best Strava Segment Performance:s Old Military Road Climb – 1st/12; Old Military Road Climb – 1st/7; Down Old Military Road to Shiel Bridge – 1st/2; Keeping Safe on the A87 – 1st/72; From the A87 to Morvich – 1st/28

Day 12 – Monday 13th August 2018 – Loch Duich – high and low

Having tackled the only obvious footpath on the Saturday and the only real safe road on the Sunday, I must admit I was wondering where I was going to run for the third and final run in Morvich. It was only when I was driving back along the A87 near Inverinate with the family from a trip to Kyle of Lochalsh and a rainy Plockton, that I spotted on the side of the road a sign for a footpath into woodland. This looked as though it could be just what I needed!
A long journey to the Isle of Skye was planned for later in the day so it was out of the caravan fairly early at 8 am for the Monday morning run. The first mile was fairly slow and tortuous while the legs struggled to wake up on the road out of Morvich. I wasn't long on the A87 when I spotted a different path to the woodland than the one I'd seen the day before, and grabbed the opportunity to explore without hesitation.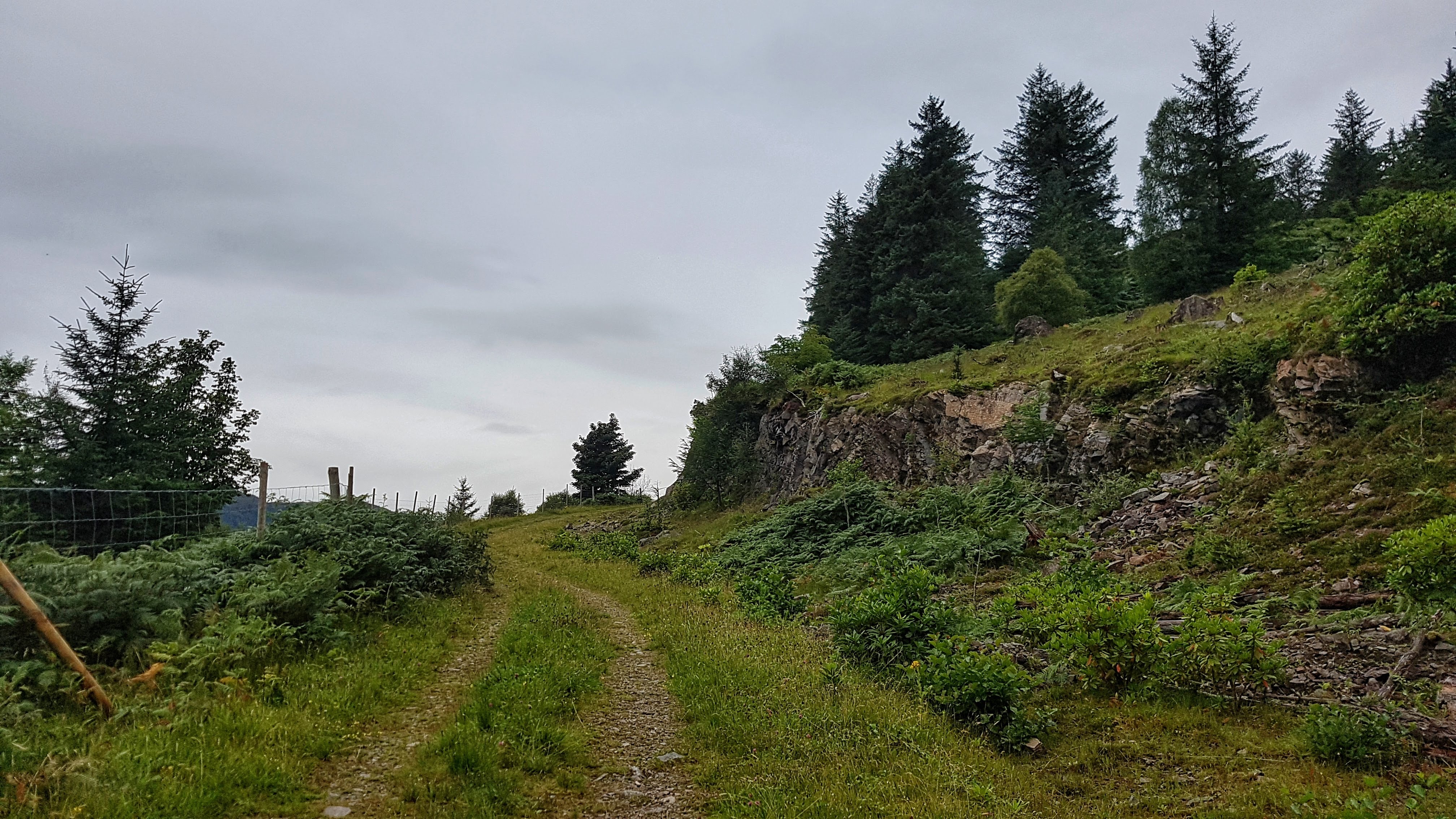 I soon began heading upwards: rocks, trees, and the occasional stream to the right of me, trees, trees, and more trees to the left. It was quite hard work as I climbed a not especially steep gradient, the legs still a little unwilling to activate. Mile three was a pedestrian 9:01, although Strava GAP reckons it was worth a 6:45 once the elevation is taken into account.
After a mile and a half of climbing the hill levelled off and there was quite a rock formation to the right of me and quite a remarkable view to the left of me, with a splendid vista of Loch Duich around 200 feet below me.  I stopped to reel off some photos and take stock of the view before carrying on along the track. Alas as the track became less pronounced and the abundance of grass more apparent I feared the end was nigh and indeed it was that the path came to an abrupt end.
There was little else to do but turn around and head back from where I came – this time quicker thanks to gravity but not especially fast – this was not a day where any world records would be set. Two thirds of the way down I spotted what looked like an alternate route but reckoned it would be prudent to stay on the path I knew. This took me back on the A87, but with only just over five miles covered, I knew I had to do some more exploring to make up the distance.
So I headed up the A87 back towards Inverinate, knowing there was a pavement beside it for a good deal of the way. I passed some houses and a small primary school; once the houses ceased a fairly long uphill drag commenced. I spotted the gate to the woodland path I'd spotted in the car the day before and tried to get in. However I couldn't get the gate to open and the sight of an unleashed dog staring at me with angry eyes in the distance made me think better of this route and went back to the main road.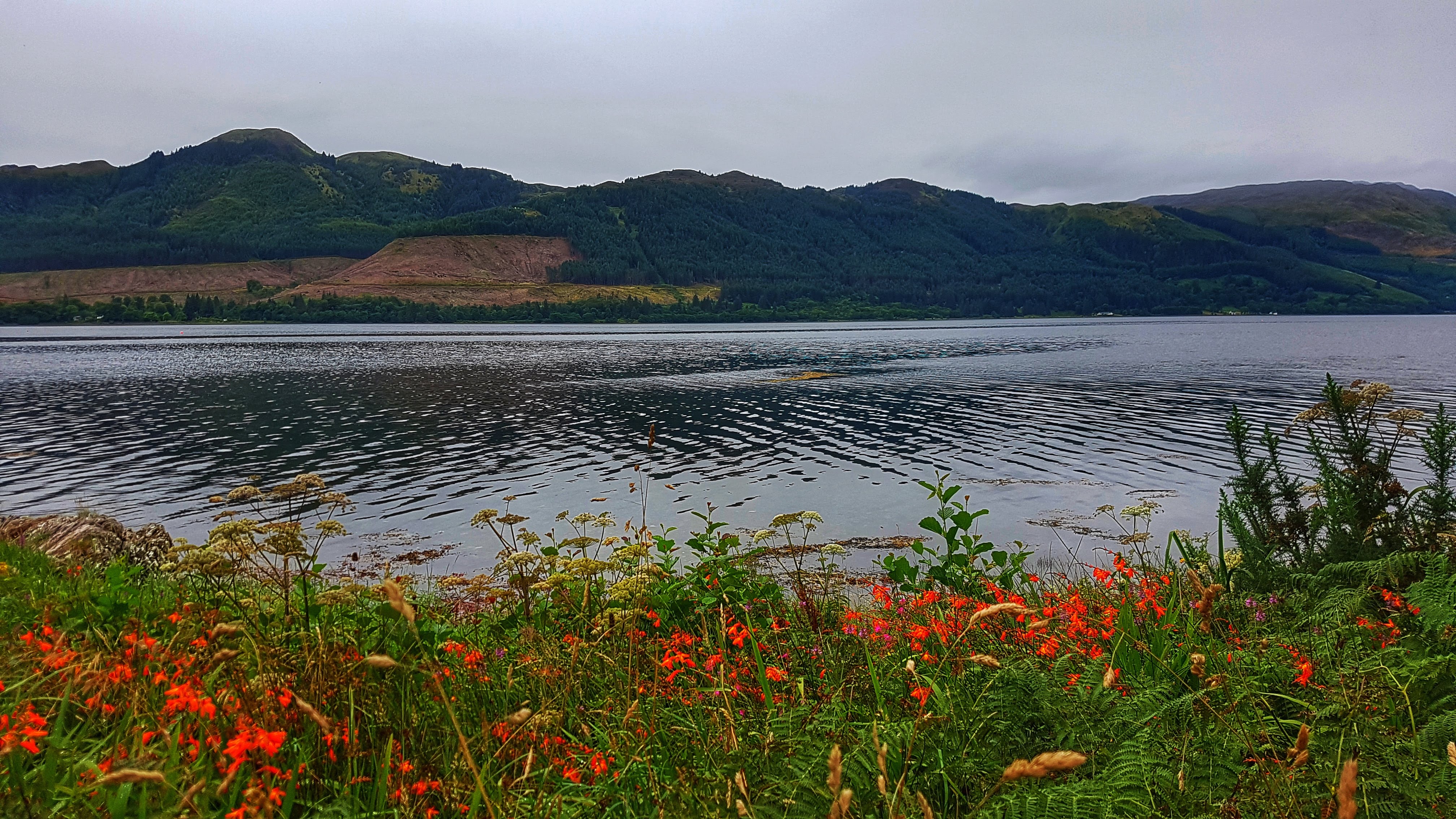 After a mile and a half or so I reckoned I could turn around and head back and clock 10 miles by the time I reached the Caravan Park. This I did via a small diversion from the A87 down a small footpath and a quiet road where the select group of residents could enjoy a most tranquil view of Loch Duich each and every morning. Buoyed on by quite a long gentle down hill run I was able to maintain a good steady pace for the remaining couple of miles in 6:35 and 6:25 respectably. This couldn't prevent however, at 7:20 per mile, this run being the fourth slowest of the Tour. But what it lacked in pace it made up with one of the most memorable Surprise Views of the holiday.
Split Summary
===
1) 1m – 8:03(8:03/m) 122/134bpm 90cal 7.45/8.33mph
2) 1m – 8:04(8:04/m) 129/143bpm 96cal 7.44/9.2mph
3) 1m – 9:01(9:01/m) 139/151bpm 117cal 6.65/7.58mph
4) 1m – 7:31(7:31/m) 124/146bpm 65cal 7.98/8.87mph
5) 1m – 6:49(6:49/m) 121/136bpm 52cal 8.8/9.27mph
6) 1m – 6:57(6:57/m) 127/140bpm 66cal 8.64/9.5mph
7) 1m – 7:10(7:10/m) 137/149bpm 85cal 8.36/10.6mph
8) 1m – 6:46(6:46/m) 132/146bpm 67cal 8.88/9.91mph
9) 1m – 6:35(6:35/m) 142/147bpm 88cal 9.1/9.73mph
10) 1m – 6:25(6:25/m) 146/152bpm 89cal 9.36/10.18mph
11) 0.05m – 23(7:04/m) 143/145bpm 5cal 8.48/9.31mph
Best Strava Segment Performance: From the A87 to Morvich – 1st/28
Leg Four Summary
Distance Run: 32.7 miles. Average Pace: 7:03 per mile. Accumulated Time: 3:50:27. Average HR: 138; Total Ascent: 1174 meters.