I was planning on making today a rest day – Friday has been my most frequent day off from running for some years now and with the final day of F1 testing in Jerez, the only chance I would have got to head out and run would be in the evening: a Friday night run is something I can count on the fingers on one hand I have done.
But the planned rest was planned before I realised yesterday I could break my mileage record for a calendar month. After yesterday's effort I calculated I needed to run seven miles. As the day wore on I found myself less inclined to head out; the weather looked and sounded truly horrible – wet, windy, and, by all accounts, cold. I tried to talk myself out of it but in the end the lure of a PB of sorts proved too great and so it was, at 7:30pm, I left the comfort of my home to run seven long miles.
Once again this week I got lucky in that the icy cold rain had relented and all I was faced with was a stiff wind, which, although cold, was thankfully not the arctic blast I'd been hearing so much about on the TV weather forecast. the first couple of miles were a real trial – the legs were stiff, bits ached, and the mind was constantly asking why? why? as I struggled into the wind and up the first of two climbs.
Salvation came, not for the first time this week, from the Sansa Clip, who almost seemed to sense my mental frailty and chose  to play, once again, Kingdom of Rust by Doves. Despite my legs determination to not run easily, the song seemed to override the pins and before I knew it I was running 7:20 miles and getting quicker. It helped too that I'd literally turned a corner and the wind was a cross come tail wind that began to blow me ever quicker back towards home.
Heading up to Barrowby Gate, it was Strava's turn to will me on as I knew there was a trophy to be had if I just upped the pace a touch along this hilly road. That tackled, the run was psychologically as good as done with just a mile and a half of downhill or flat running to tackle. Before I knew it I was home – seven and a half miles run, Best of all, I managed to make it indoors just as the heavens opened again.
I barely had time to shower before I was uploading my run to Fetcheveryone and Strava. Fetch was the most important, official confirmation of my mileage was up and there for all to see.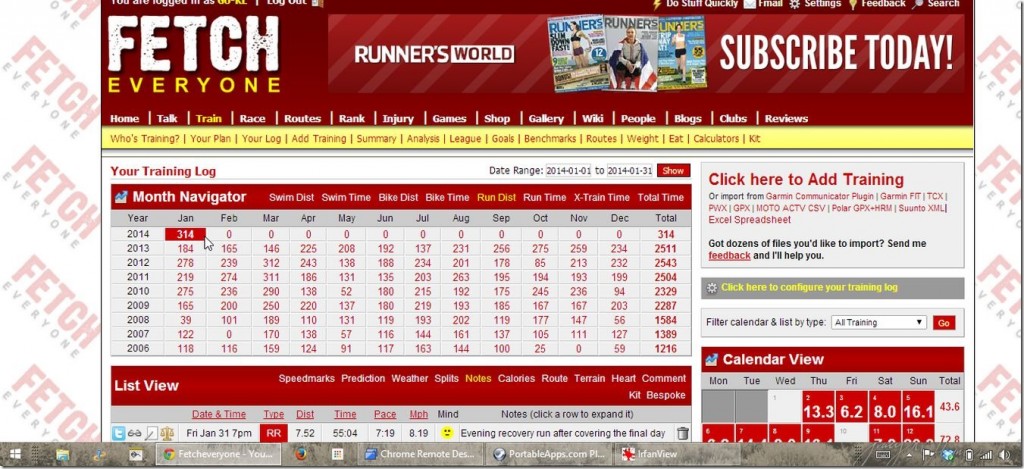 314 miles – two more than March 2012 when I was training for the London Marathon that I was unable to run and then took part in the Shakespeare Marathon that wasn't (That story is for another day, it took many months to come to terms with that one and it still winds me up just thinking about it…).
Hopefully this year my marathons go to plan. If they don't well at least I have my Strava Gold Trophy for Barrowby Gate to treasure (although someone could easily beat that). January is done. All in all a very good month, as good as I could have hoped for, and well on track to, hopefully, Sub 2:45.